Celebrity Kids All Grown Up Now: from varsity cheer leading captain and senior prom queen to being voted "Most Beautiful" or "Most Likely to Succeed," everyone remembers high school where the most popular and most beautiful girls turned heads with their perfect skin, beautiful hair and glowing personalities. Add in the fact that many of these girls usually had parents who were local celebrities in the form of city officials, real estate moguls or news anchors and their popularity skyrocketed off the charts.
Now that you've traveled down memory lane, however, imagine growing up with someone truly famous as your parent – someone like Mick Jagger, Angelina Jolie or Kevin Costner. How different would your high school experience be? Would you even go to high school or would you be home schooled? Would you take acting classes and follow your parent's footsteps or would you choose your own path?
When it comes to celebrities, some of the biggest stars in music and film have blessed the world and shared their legacy with beautiful daughters. While some of these daughters have cashed in on their parents' connections to rise to fame, others have paved their own way to stardom. So who are these stunning daughters and what are they doing now? Here are 18 of the most beautiful celebrity daughters whose beauty is off the charts even by Hollywood standards! Let's take a look!
#18 – Emma Roberts (Eric Roberts)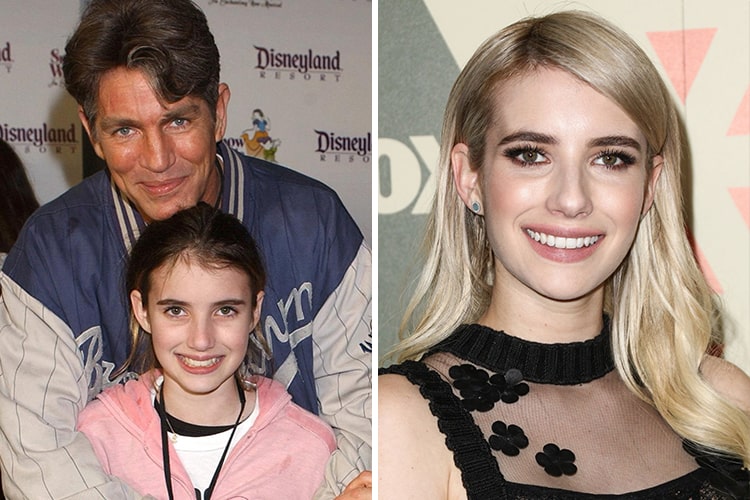 With Hollywood the topic of conversation around the family dinner table, few were surprised when Emma Roberts made her way to the silver screen right behind her father Eric and aunt Julia. Having appeared in over 150 films between 2013 and 2015 alone, Eric set a shining example for his daughter long before she was born by earning an Academy Award nomination for his performance in the 1985 hit Runaway Train. As for his sister and Emma's famous aunt, who doesn't love Hollywood's favorite Pretty Woman?
Following her aunt and father to the hills of Hollywood, Emma made her acting debut at nine years old in the 2001 drama Blow. From there, Nickelodeon gave the young actress her first real taste of stardom when they cast her as Addie Singer in Unfabulous. Since then, the 24-year-old has become a household name with appearances in popular movies like Scream 4 and We're the Millers with leading roles in American Horror Story: Freak Show and Scream Queens. Now that should make her dad and her aunt extremely proud!
On the edge of your seat and can't wait to read more? Or hey, maybe feeling even just a little entertained? If so we hope you please consider clicking the share and like buttons below. Thanks so much!
Celebrity Kids All Grown Up Now #17 – Amber Le Bon (Simon Le Bon & Yasmin Le Bon)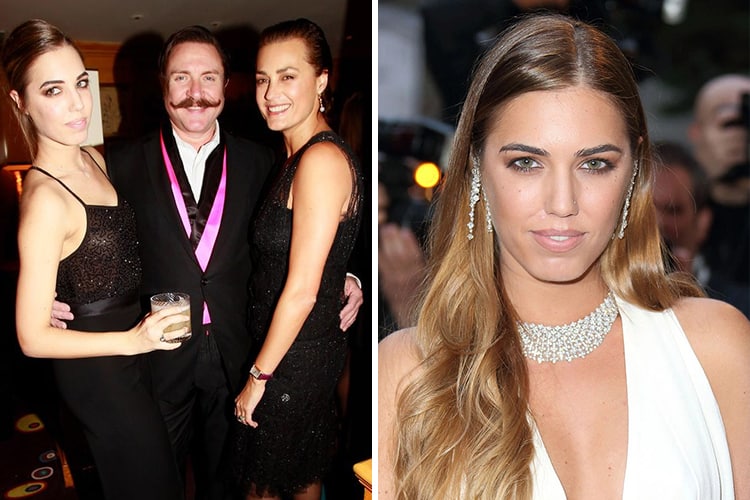 "And I'm hungry like the wolf." Recognized as one of the biggest pop groups of the 1980s, Duran Duran took the United Kingdom and the United States by storm with hits like "The Reflex," "Girls on Film" and "Hungry Like the Wolf." Joining the group in 1980 as the lead singer, Simon Le Bon's music career wasn't the only thing that took off when, amid the band's early fame, he met and married supermodel Yasmin Parvaneh and welcomed three daughters, the eldest of whom is Amber Rose Tamara Le Bon.
Born on August 25, 1989, Amber was a straight-A student in music and art while attending the finest prep schools in London. A career in music, however, simply wasn't in the cards for this Duran Duran offspring. Following in her mother's footsteps, Amber was voted the "World's Hottest Celebrity Daughter" in 2009 and has since become the premiere model for "forever 21." Add in her work as the face of Myla swimwear and Pantene shampoo and we have no doubt that this gorgeous daughter will stick around for many years to come.
#16 – Zoe Kravitz (Lenny Kravitz & Lisa Bonet)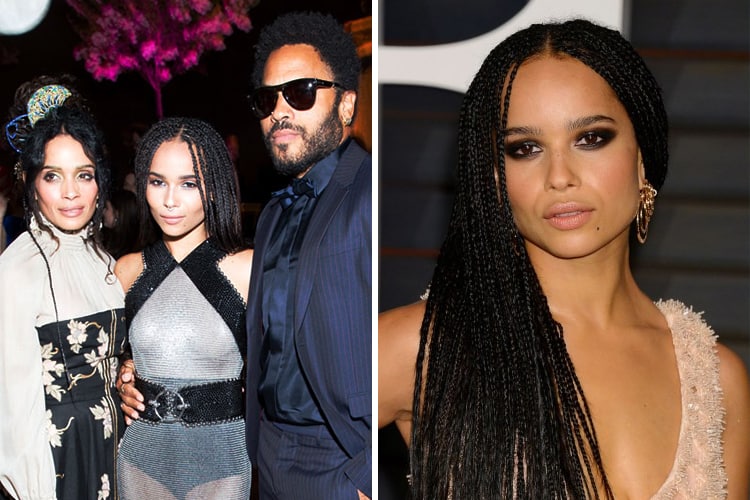 "Oh I want to get away. I want to fly away!" For decades, four-time Grammy Award winner Lenny Kravitz has rocked the music world with his blended retro style featured in hits like "Again," "Are You Gonna Go My Way" and "Fly Away." Long before finding mainstream success, however, Kravitz created his own success at home when he married actress Lisa Bonet of The Cosby Show and A Different World. Spending six years together and raising three children, including Zoe Kravitz, the couple parted ways in 1993.
With a rocker dad and silver screen star mom, Zoe has proven to be multi-talented like her parents after having a successful career as a model, actress and singer. Perhaps best known for her acting, she made her debut in the 2007 hit No Reservations with Catherine Zeta-Jones and has since starred in X-Men: First Class, The Divergent Series and Mad Max: Fury Road. As for her music career, Zoe continues to prove her rock star roots as the lead singer of Lolawolf when she's not busy working on the set.
#15 – Rumer Willis (Demi Moore & Bruce Willis)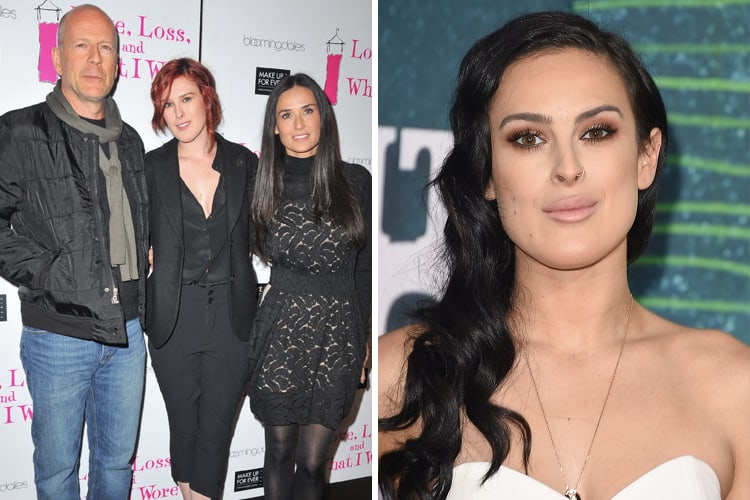 When two of Hollywood's sexiest stars like Bruce Willis and Demi Moore get together and have kids, beautiful daughters like Rumer Glenn Willis are born. With her mom as the star of films like Ghost, St. Elmo's Fire and A Few Good Men, Rumer's award-winning dad made a name for himself as John McClane in the Die Hard series as well as in hits like Pulp Fiction, Armageddon and The Sixth Sense.
Born in Paducah, Kentucky in 1988, Rumer made her film debut at seven years old alongside her mom in the 1995 hit Now and Then. Appearing with her father in The Whole Nine Yards in 2000 and Hostage in 2005, Rumer landed smaller roles in film and television including The House Bunny, Workaholics and Hawaii Five-O. Returning to the stage once again, the 27-year old danced her way to victory in 2015 on Dancing with the Stars and made her Broadway debut as Chicago's Roxie Hart later that same year. How's that for a busy dance card?
#14 – Hailey Baldwin (Stephen Baldwin)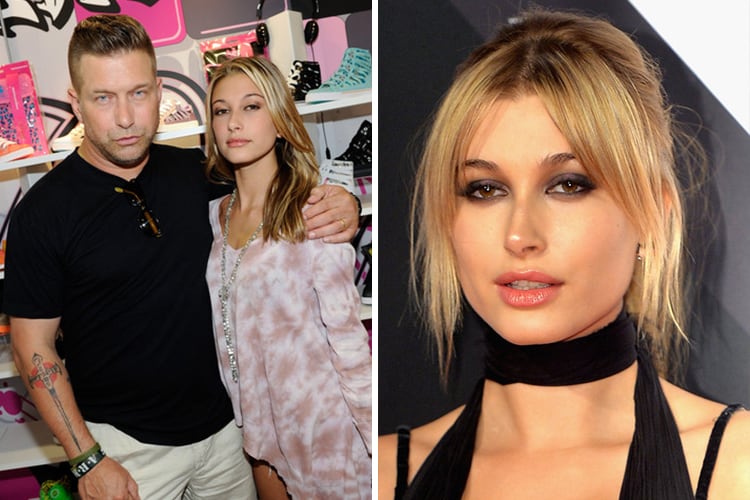 Who hasn't heard of the Baldwin brothers of Hollywood fame? With the Baldwin family legacy spanning 20 years in acting thanks to Alec, Daniel, Billy and Stephen, Hailey Baldwin has her father and her uncles to thank for paving the way to stardom. Despite Alec being the most famous of the Baldwin brothers, Stephen has his own claim to fame with hit films including The Usual Suspects, The Flintstones in Viva Rock Vegas, The Flyboys and Bio-Dome, not to mention his beautiful daughter Hailey.
Now only 19 years old, Hailey launched her career as a fashion model with the Ford Models agency only to make the switch to Heroes Models after a few short years. Since then, she has landed major campaigns with brands like Ralph Lauren, Brandy Melville and French Connection. Taking a cue from her wild uncles, she's also made an even bigger splash in the tabloids after being caught kissing Justin Bieber in January 2016. Looks like the dating rumors have only just begun!
Celebrity Kids All Grown Up Now #13 – Ivanka Trump (Donald Trump & Ivana Trump)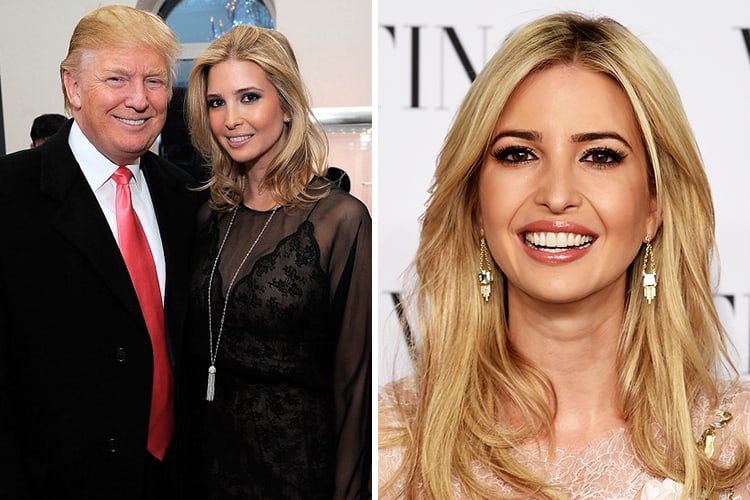 From savvy businessman and real estate developer to brutally honest reality television star and 2016 Presidential nominee, Donald Trump has been on the forefront of American minds for nearly five decades. While very few Presidents have ever been through a divorce, Trump would certainly be among the few with three ex-wives, the first of which is Ivana Zelnickova (1977 to 1991) who is the mother of his beloved daughter Ivanka.
Obviously getting her mother's beauty and her father's business savvy, Ivanka worked as a model in the 1990s before joining her father's company as Executive Vice President. Now at 34 years old, Ivanka has been featured on multiple magazine covers and has launched her own successful lines of fine jewelry and accessories known as the Ivanka Trump Fine Jewelry and Lifestyle Collections. Married to Jared Kushner since 2009, Ivanka spends most of her free time at home raising their two – soon to be three – children and future heirs to the Trump legacy.
#12 – Corinne Foxx (Jamie Foxx)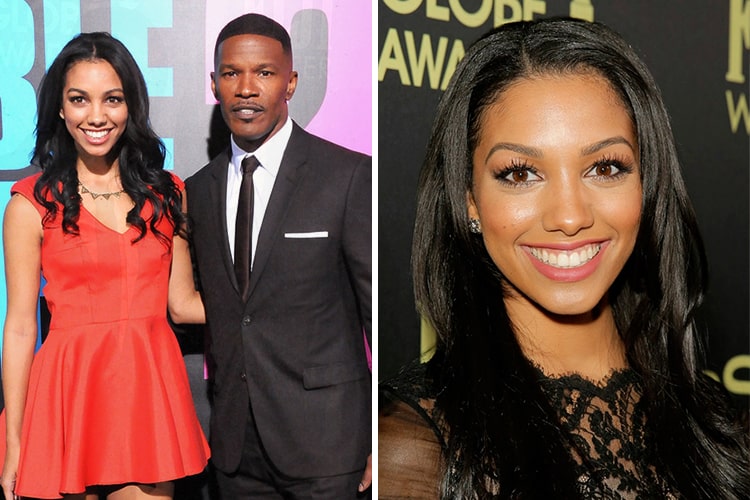 Grammy Award-winning musician, Golden Globe and Academy Award-winning actor and comedian, Jamie Foxx has proven his wide range of talents since making his standup debut in 1989. Since then, he has recorded hit songs like "Blame It," "Fall for Your Type" and "You Changed Me" while headlining films like Django Unchained, Collateral, Ray and The Amazing Spider-Man 2. Add in his beautiful daughter Corinne and this A-lister has plenty to smile about.
Now 21 years old, Corinne takes her place as the 12th hottest celebrity daughter on our list after joining her father as his good luck charm on the red carpet since she was 10 years old. Currently attending the University of Southern California, Corinne is also making a name for herself in fashion and in Hollywood after debuting in 2014 at le Bal des debutantes in Paris and then being named Miss Golden Globe for the January 2016 awards show. Hopefully, we'll see plenty more of this father-daughter duo in the years to come!
#11 – Kate Hudson (Goldie Hawn & Bill Hudson)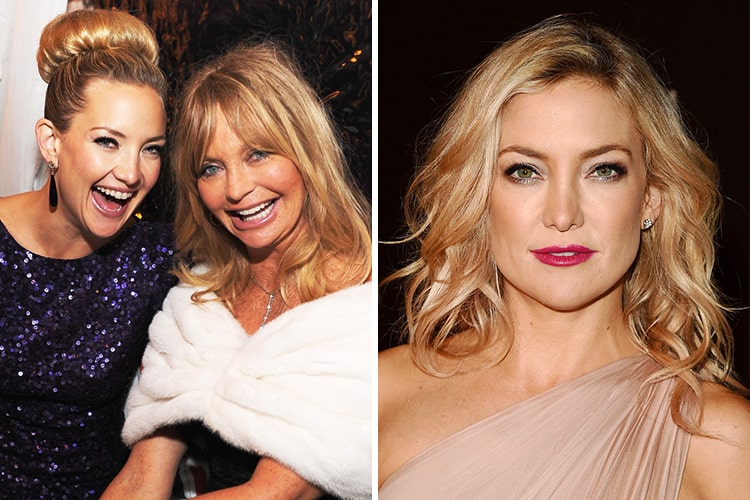 The princess of romantic comedy and one of the most beautiful blondes in Hollywood, Kate Hudson's star power runs deep thanks to her famous parents – singer Bill Hudson of The Hudson Brothers and actress Goldie Hawn. Hawn was a huge name during her prime and won an Academy Award for Cactus Flower in addition to starring in hit films like Overboard, The Sugarland Express and The First Wives Club.
Kate, who is now 36 years old, is our 11th hottest celebrity daughter on the list as well as one of the most popular. Winning a Golden Globe and earning an Academy Award nomination for her breakout role in the 2000 hit Almost Famous, Hudson has starred alongside Hollywood's hottest hunks including Matthew McConaughey, Owen Wilson and Matt Dillion in films like How to Lose a Guy in 10 Days, Raising Helen and You, Me and Dupree. As for 2016, keep an eye out for this hot Hollywood daughter as she stars alongside Jennifer Aniston and Julia Roberts in Mother's Day and plays Mark Wahlberg's wife in Deepwater Horizon.
Celebrity Kids All Grown Up Now #10 – Bria Murphy (Eddie Murphy)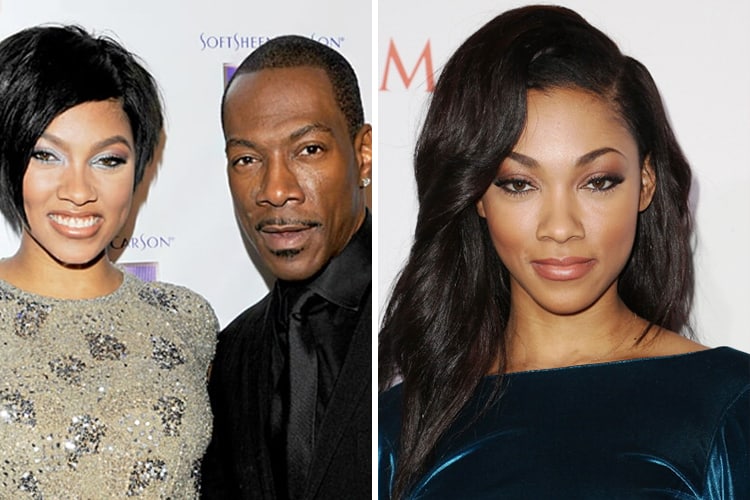 Ranked #10 on Comedy Central's list of the 100 Greatest Standups of All Time, Eddie Murphy changed the face of comedy in the 1980s when he became a regular on Saturday Night Live. Earning the spot as the fifth highest grossing actor in movie history, Murphy is best known for his roles in blockbuster hits like Beverly Hills Cop, Shrek, The Nutty Professor and Dreamgirls among dozens of others.
Hollywood's favorite funnyman is also the father of 26-year-old Bria Murphy who lands in the top ten of the most beautiful celebrity daughters on our list. With dreams of following in her father's star-studded footsteps, Bria launched her career as a model when she became the face of Dark and Lovely hair color and later landed smaller roles in television shows like The Game and Mr. Box Office. With her movie career on the rise thanks to the 2015 film Conflict of Interest and the upcoming 2016 release of Amateur Night, there's little doubt that Bria will have any trouble making it in the spotlight!
Celebrity Kids All Grown Up Now #9 – Georgia May Jagger (Mick Jagger & Jerry Hall)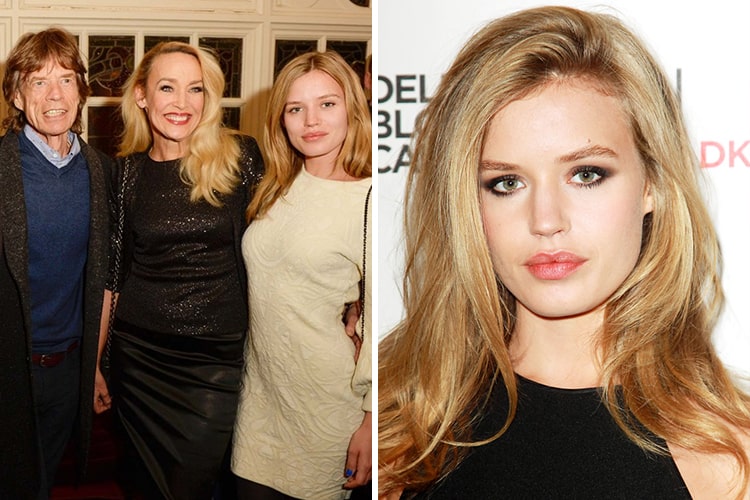 "I've got the moves like Jagger." With a career spanning 50 incredible years, Mick Jagger is often recognized as "one of the most popular and influential front men in the history of rock and roll" (and, for good reason). Best known for taking his spot alongside Keith Richards with The Rolling Stones, the Rock and Roll Hall of Famer is a music legend thanks to hits like "Paint It Black," "Gimme Shelter" and "Satisfaction."
As far as rock and roll groupies go, Jagger has had his fair share over the years including model Jerry Hall whose 20-year relationship gave him his youngest daughter, Georgia May, in January 1992. Earning the ninth spot on our list, the 24-year-old Georgia May followed in her mother's footsteps by pursuing beauty over music when she launched her modeling career in 2008. Modeling for huge brands like Versace, H&M and Chanel, Georgia May has obviously found her niche as one of the biggest celebrities on Instagram and Twitter with plenty of pictures and fans to prove she's a star of her own.
#8 – Miley Cyrus (Billy Ray Cyrus)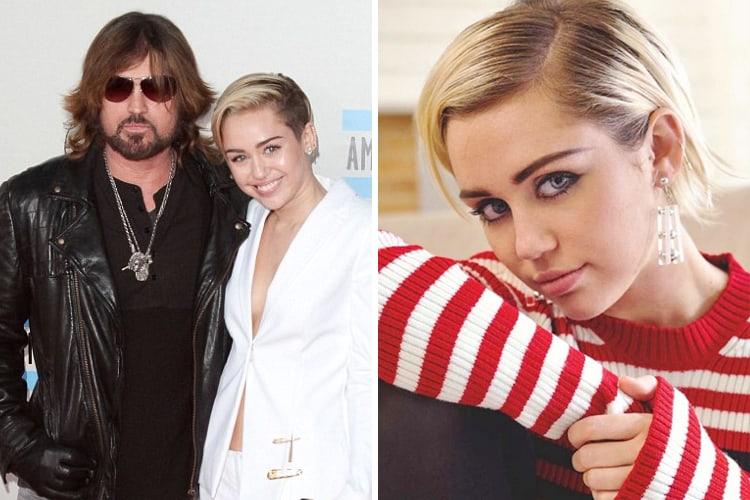 "I came in like a wrecking ball…" The 1980s and 1990s were an era when one-hit wonders like Billy Ray Cyrus could lure in music fans overnight with hit singles like "Achy Breaky Heart" only to fall off into oblivion shortly after. Fortunately for Cyrus, his claim to fame was far from over when he and his fiancé (now wife) Leticia "Tish" Finley welcomed their first daughter, Destiny Hope, into the world on November 23, 1992. They just so happened to nickname her "Miley."
Better known today by her nickname, Miley belongs to the celebrity Kids All Grown Up category! Now is one of the few daughters on our list who has achieved just as much fame, if not more, than her parents. Catching her first major break on the Disney Channel's Hannah Montana, Miley has become one of the biggest names in pop music with hits like "Wrecking Ball" and "We Can't Stop." At only 23 years old, Miley's talent isn't the only thing that has caused quite the stir after her nearly nude performances on live television have become quite controversial and scandalous, much to her delight.
#7 – Lily Collins (Phil Collins). Celebrity Kids All Grown Up Now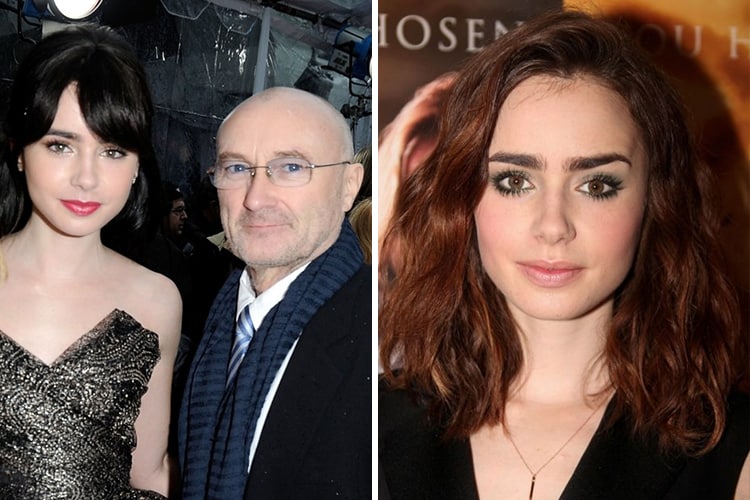 Traveling across the pond once again, England has blessed the music industry with talented musicians like Phil Collins who joined the rock band Genesis in the 1970s only to skyrocket to stardom as a lead singer and drummer. By the 1980s, Collins had launched a successful solo career with hit songs like "In the Air Tonight," "Another Day in Paradise" and "Easy Lover" only to add to his growing collection of accolades including seven Grammys, two Golden Globes and an Academy Award.
While married to his second wife Jill from 1984 to 1996, Collins welcomed his second daughter Lily to the world in 1989. Seventh on our list and at just 26 years old, Lily left making music up to her dad and, instead, has focused on her career as an actress. Making her acting debut at just two years old, Lily's breakout role came in the 2009 hit The Blind Side. Since then, she has starred in a variety of roles in films such as Priest, Mirror Mirror, The Mortal Instruments: City of Bones, Stuck in Love, The English Teacher and Love, Rosie.
Celebrity Kids All Grown Up Now #6 – Allison Williams (Brian Williams)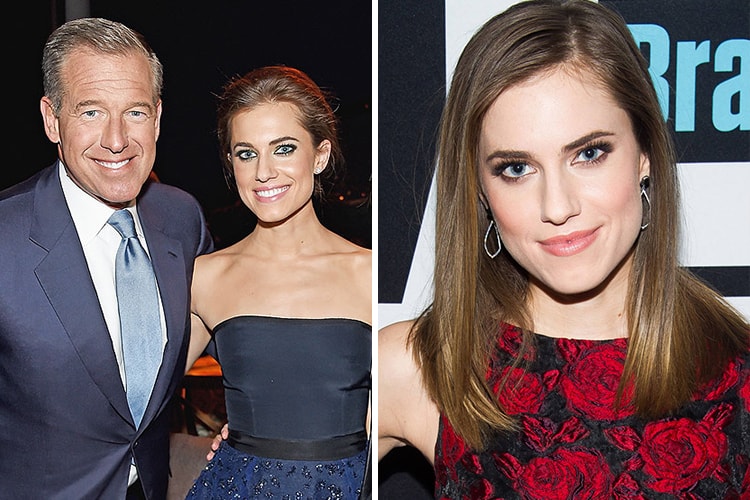 The first and only journalist on our list, NBC Nightly News anchor and managing editor Brian Williams is also one of the most polarizing figures in the media today. Earning a Peabody Award in 2004 for his journalistic coverage of Hurricane Katrina, Williams has since become quite the center of controversy after misrepresenting events during his coverage of the Iraq War in 2003. Having since returned to his anchor seat, we can only hope his daughter Allison has learned from her father's mistakes.
Launching her career on the entertainment side of Hollywood, 27-year-old Allison Williams is as funny as her dad is serious. Graduating from Yale in 2010, Allison became an overnight YouTube sensation after posting a mashup online. Catching the eye of talented producer and director Judd Apatow, the young starlet was given a role on the HBO series Girls. Having since appeared on television shows like The League, The Mindy Project and The Simpsons, Allison also landed the starring role on NBC's Peter Pan Live in 2014.
#5 – Lily Costner (Kevin Costner)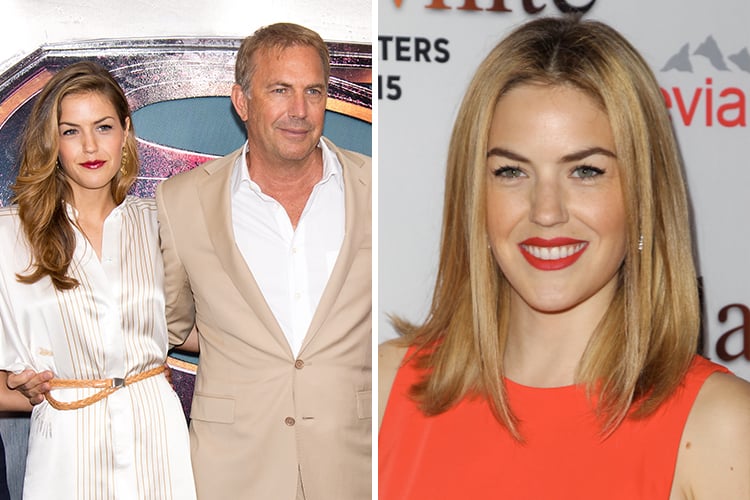 Spending the last four decades as one of the hottest and sexiest men in Hollywood, Kevin Costner is a mainstay in the industry with two Academy Awards, three Golden Globes and an Emmy among dozens of others. Starring in classic films like The Untouchables, Field of Dreams, JFK and The Bodyguard, Costner has even proven his talents as a director, producer and musician with his greatest title to date as "Dad."
Married to Cindy Silva from 1978 to 1994, Costner and Silva had three children together -including the fifth hottest celebrity daughter on our list, 29-year-old Lily Costner. Born on August 4, 1986, Lily has made a few red carpet appearances alongside her father and has even launched a career of her own in Hollywood with The Baby-Sitters Club in 1995 and The Postman in 1997. Named as the 2004 Miss Golden Globe, we hope Hollywood is lucky enough to welcome a second Costner to the red carpet again very soon.
Celebrity Kids All Grown Up Now #4 – Katie Cassidy (David Cassidy)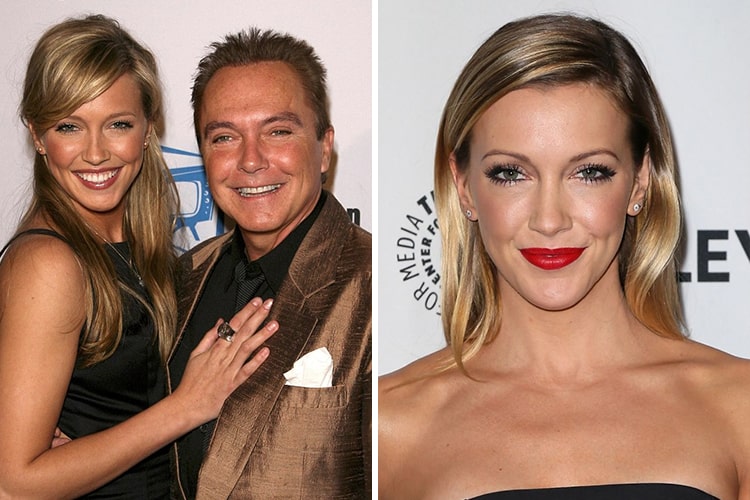 While fans under the age of 35 might not recognize the name David Cassidy, they just might know his beautiful daughter Katie. Reaching the peak of his popularity in the 1970s as one of the biggest teen idols of all time, David launched his career on The Partridge Family only to have his Hollywood stardom sizzle over the next two decades with guest appearances on shows like Malcolm in the Middle, Less than Perfect and CSI: Crime Scene Investigation.
Though David's career has slowed down, Katie's has blossomed after earning a reputation as Hollywood's "scream queen" thanks to numerous horror film roles including A Nightmare on Elm Street, When a Stranger Calls and Black Christmas. Thankfully, Katie's focus has shifted recently as superhero fans can spot her playing Laurel Lance on the hit CW series Arrow where she serves as a lawyer by day and sexy vigilante by night. Who's a scream queen now?
#3 – Dakota Johnson (Melanie Griffith & Don Johnson)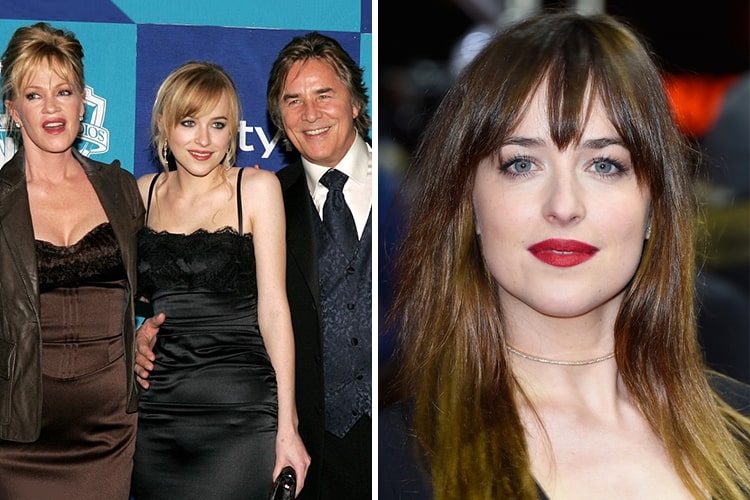 Following suit with celeb couples like Bruce and Demi or Bill and Goldie, one of the most popular Hollywood couples of the 1980s was Don Johnson and Melanie Griffith. While Johnson became a household name as the star in Miami Vice, Griffith took the silver screen by storm with movies like Body Double, Something Wild and Working Girl before giving birth in 1989 to the third hottest celebrity daughter on our list, Dakota Johnson.
Long before 2015, fans recognized Dakota as another rising Hollywood star thanks to her outstanding performances in The Social Network and 21 Jump Street. It wasn't, however, until she landed the role as Anastasia Steele in Fifty Shades of Grey that she truly became a household name (steamy sex scenes and all). Since then, she's continued to expand her talents with appearances in films such as Chloe and Theo, Black Mass, A Bigger Splash and the upcoming release of How to Be Single. Needless to say, the camera loves this third-generation Hollywood star and so do we!
Celebrity Kids All Grown Up Now #2 – Rashida Jones (Quincy Jones)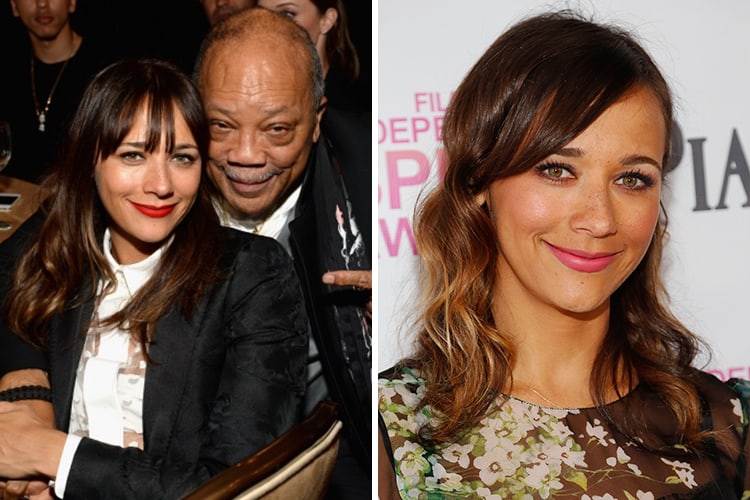 One of the titans of the music industry with a career spanning over 60 years, Quincy Jones has been influential in changing the face of many different genres of music. As a producer, Quincy was a key part of some of the most iconic albums ever made including Michael Jackson's Thriller and Bad as well as Frank Sinatra's It Might As Well Be Swing and Aretha Franklin's Hey Now Hey. Yet, despite his fame, two of his biggest hits will always be his beloved daughters.
Married to Peggy Lipton from 1974 to 1999, Quincy welcomed his youngest daughter Rashida on February 25, 1976. Growing up immersed in the music industry, Rashida took a different path to stardom when she graduated from Harvard and headed to Hollywood. Becoming a star as Karen Filippelli on The Office, Rashida has since joined the cast of NBC's Parks and Recreation where she plays Ann Perkins. Fans can even find her in movies like The Social Network and I Love You, Man as she continues to turn heads thanks to her skills as a writer, comic book author, producer and screenwriter. Now that's a woman of many talents!
Celebrity Kids All Grown Up Now #1 – Angelina Jolie (Jon Voight & Marcheline Bertrand)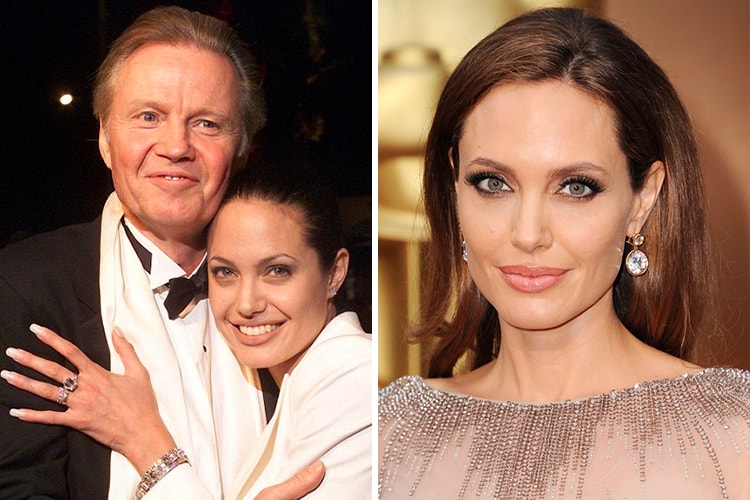 The hottest celebrity daughter on our list is also arguably the most famous as 40-year-old Angelina Jolie is the daughter of legendary actor Jon Voight and the late actress and producer Marcheline Bertrand. Voight's career spans five decades with hit films including Midnight Cowboy, Deliverance and Coming Home, which earned him an Academy Award for Best Actor.
Like her father, Jolie is an Academy Award winner herself after taking home the Best Supporting Actress title for Girl, Interrupted in 1999. Now one of the biggest (and most beautiful) movie stars in the world, Jolie has appeared in blockbuster hits like Wanted and Salt but is perhaps best known as half of Hollywood's famous couple. Married to fellow A-lister Brad Pitt, the couple is busy raising six children while continuing to build their reputation as humanitarians focused on giving back to those in need.