Work at Home Agent
An Interview With Online Support Specialist Jeri Hector
Jeri Hector has been working in customer service and call center positions for years. Recently, as a long-time employee of AFNI, Inc., he has been able to work at home on the phone and online. AFNI calls this position WAHA (Work At Home Agent), and other companies use the simpler CSS (Customer Service Specialist), but Hector prefers the more accurate title of Online Support Specialist. Many people would like to have that ten-second commute to work, of course, so I asked Jeri a few questions about how he got the job and what the advantages and disadvantages are.
What did you do before you started working for AFNI?
I worked at several different occupations depending on what was available, mostly construction or restaurant work. Just prior to working at AFNI, I worked in another call center.
How did you get started with AFNI, and what kind of work is it?
After leaving the Sear's Parts Plus call center, I tried to figure out how to make my living on the Internet. Therein lies a story in itself. I learned a great deal, but never made a dime.
How long have you been working for the company, and when did you start working from home?
I shall have worked for AFNI for five years on Monday 8 August 2011 and I began to work at home on 1 June 2011 after beta testing systems for almost a year.
Was it your idea to work at home or the company's?
It was definitely AFNI's idea, eagerly accepted by me.
Do you work some days at the office still?
No, I have been back to the call center just once to pick up another headphone/microphone set. All communication is video/audio conferencing or using chat rooms.
Most of us like the idea of a work-at-home job, but what specific advantages have you found to be most meaningful?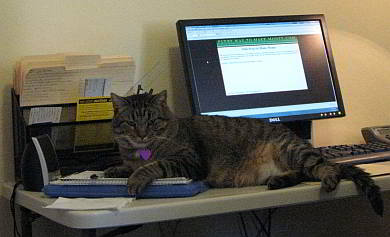 That is inherently a long list. I do not have to put on my face, do my hair or decide what to wear. There is no commute, which is a savings in time and money. One of the most important reasons is that there is no background noise in my apartment. This means that it is much easier to help my customers and lowers my irritation factor greatly. My home office is much cleaner and more comfortable than the one at work. It is much easier to eat right with my kitchen a few feet away. The view is great. The air is cleaner and I can control the temperature, humidity and other environmental factors. Another thing I really enjoy is that I am working with cutting edge technology.
Are there any disadvantages?
I have not yet found any.
Do you enjoy the work for the most part?
A: That is one thing that hasn't changed, it is the same job. It is often stressful but easier to handle in my own home.
Do you think these positions where you get work at home on the phone and online are becoming more common?
Yes, there is no doubt that it is the wave of the future. The most important factor is money; it costs a lot of money to keep a call center operating 24/7. Another key is that the labor pool goes from being a reasonable commute to the call center, to anyone in the world who is reasonably fluent in English.
Any advice for those who want a position like yours?
It takes someone who is disciplined enough to work on their own. This job offers much more structure than being totally in charge. Management can listen to me and watch my computer at any time. They do have to have my cooperation to see me on camera.