Starting an airboat tour business is an exciting opportunity for those who love adventure, nature, and the outdoors. It allows you to transform your passion for navigating waterways and observing their unique ecosystems into a thriving business.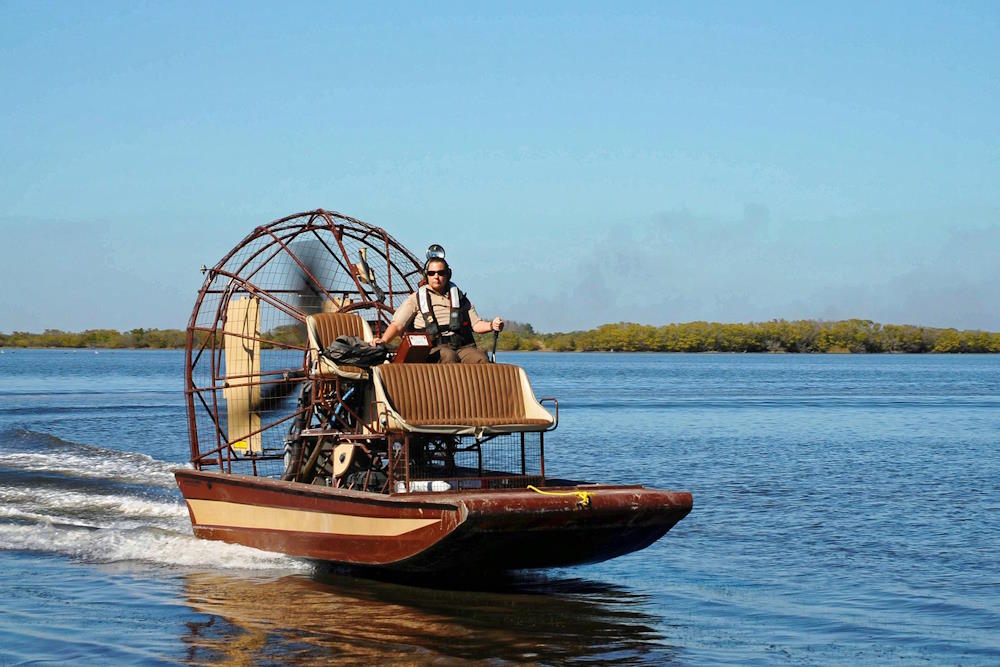 Airboats, known for their flat-bottomed design and powerful engines, are ideal for exploring shallow waters and marshy locations, making them the perfect vessel for immersive sightseeing tours.
Before embarking on this venture, it is crucial to identify a target market and develop tours that cater to their interests. This typically involves selecting a scenic location either abundant in wildlife or with historical significance, ensuring that your customers will be entertained and captivated throughout their airboat adventure. Additionally, keep safety and customer satisfaction as top priorities when planning your tours. This will aid in building a reputable and successful airboat tour business.
Investing time in obtaining proper training, adhering to regulations, and crafting a solid business plan will put you on the right track to launching your airboat tour company. By combining your knowledge of the local area with a genuine dedication to delivering unforgettable experiences, you can create a thriving business that stands out in the travel and tourism industry.
Understanding the Airboat Tours Business
Market Research and Target Audience
When starting an airboat tours business, conducting comprehensive market research is crucial to understanding the potential customers and areas with high demand for such services. Tourists and locals alike who are seeking unique, thrilling, and educational experiences should be the target audience. Gather information about demographics, preferred activities, and factors affecting travel choices to tailor services according to the market's needs.
Value Proposition and Sightseeing Highlights
A well-defined value proposition helps set your airboat tours apart from the competition. Focus on providing exceptional experiences, like exploring diverse ecosystems, observing wildlife up close, and learning about the local environment. What makes your airboat tours unique? Are they safari-themed, eco-friendly, or historical? Determine the highlight attractions and features that appeal to your target audience. Ensure to design experiences that combine excitement with education, allowing guests to discover new aspects of the region they might have never known.
Competition Analysis and Identifying Competitors
Competition analysis is essential in the airboat tours business to gauge market saturation and find potential gaps for your own unique offerings. Research your competitors, check their online presence, and analyze their services and prices. Take note of customer reviews to understand their strengths and shortcomings. This information can help you develop a robust strategy to create your niche, stand out from the competition, and captivate your target market.
Remember to maintain a friendly tone of voice throughout your promotional materials and interactions with customers, as this approach can make your airboat tours more welcoming, approachable, and enjoyable for all participants.
Launching Your Business
Creating a Business Plan
When starting an airboat tour business, the first step is to create a comprehensive business plan. This plan should include an overview of your business concept, target market, and competitive analysis. Additionally, outline your marketing strategies, operational plan, and financial projections. A well-defined business plan serves as a roadmap for success and helps attract potential investors.
Startup Costs and Revenue Projections
Estimating your startup costs is essential. Initial expenses may include the purchase or lease of airboats, safety equipment, docking fees, and advertising costs. It's also crucial to set aside a budget for unexpected expenses.
When it comes to revenue projections, consider factors such as the number of tours conducted per day, tour pricing, and any additional services offered (e.g., souvenirs or refreshments). Assess the market demand and ensure your pricing strategy is competitive within the industry.
| Startup Expenses | Example Costs |
| --- | --- |
| Airboats | $30,000-$50,000 per boat |
| Safety Equipment | $3,000-$5,000 |
| Docking Fees | $300-$500 per month |
| Advertising and Marketing | $1,000-$3,000 |
Obtaining Licenses, Certificates, and Insurance
Before starting your airboat tour business, ensure you meet all the necessary licenses and certificates requirements. These may vary depending on your location, so consult with a local business attorney or your city's business licensing department. Typical requirements may include a business license, coast guard approval, and boating safety certificates.
In addition, adequate insurance is vital to protect your business against liability claims or accidents. Obtain boat, property, and general liability insurance coverage, as well as worker's compensation if you plan to employ staff.
Choosing and Training Boat Captains
Your airboat tour business's success will heavily rely on skilled boat captains. Captains must have the appropriate licenses, a solid understanding of airboat operations, and excellent customer service skills. Invest in their training and ongoing professional development to ensure the best experience for your customers.
In conclusion, starting an airboat tour business requires careful planning, budgeting, compliance with local regulations, and investing in your staff. By following these guidelines, you can successfully launch your new venture and make it a memorable experience for your clients.
Finding the Right Boat and Location
Tour Boat Selection and Maintenance
When starting an airboat tour business, the first thing to consider is selecting the right airboat. Airboats are designed to operate in shallow water, which makes them perfect for exploring areas like mangroves and swamps. Make sure to choose a boat that is well-maintained and has the necessary safety features to ensure a comfortable and enjoyable ride for your passengers. Conduct regular inspections and maintenance to keep the airboat in top-notch condition. A well-maintained airboat results in fewer breakdowns and less downtime, helping your business run smoothly.
Some factors to consider when selecting an airboat for your tours include:
Size: Ensure the boat accommodates the number of passengers you plan to carry.
Engine: Choose a reliable engine with adequate power for the touring area.
Noise: Consider noise reduction features, as airboats can be loud and disturb wildlife.
Seats and safety equipment: Ensure there are comfortable seats and the necessary safety gear.
Selecting the Perfect Touring Area
Choosing the right location for your airboat tours can have a significant impact on the success of your business. When considering potential touring areas, it's important to evaluate factors such as:
Accessibility: Ensure the area is easily accessible to tourists and can accommodate your airboat.
Scenic beauty: The touring area should have picturesque vistas and interesting wildlife to attract visitors.
Safety: Assess the safety of the area, including water conditions and potential hazards such as submerged objects or dangerous wildlife.
Tourist interest: Research popular tourist areas and look for spots that may benefit from the addition of an airboat tour. Areas with mangroves are excellent places to consider, as they provide a unique ecosystem for tourists to explore.
After selecting the perfect touring area, make sure to secure any necessary permits or permissions from local authorities. This may also involve liaising with private landowners and obtaining relevant licenses.
In conclusion, starting an airboat tour business involves selecting the right boat and maintaining it properly, as well as identifying the perfect touring area that appeals to tourists and provides a safe environment. Focus on areas like mangroves to ensure your tours offer a unique and exciting experience for your passengers.
Online Presence and Marketing Strategies
When starting an airboat tours business, it's crucial to establish a strong online presence and implement effective marketing strategies. In this section, we will discuss the importance of creating a website and blog, leveraging social media for promotion, and garnering reviews and testimonials.
Creating a Website and Blog
A well-designed website serves as the digital face of your airboat tours business. It should be visually appealing, easy to navigate, and showcase your unique offerings. Your website should include essential information, such as pricing, tour schedules, location, and contact details. Incorporating a blog can be an excellent way to provide valuable content to visitors, enhance your SEO efforts and position yourself as an expert in the airboat tour industry. Here are some ideas for blog content:
Safety tips for airboat tours
Wildlife spotting guides
Behind-the-scenes looks at your tours
Leveraging Social Media for Promotion
Social media platforms, such as Facebook, Instagram, and Twitter, allow you to reach a wide audience and engage potential customers. Use captivating images, informative videos, and exclusive promotions to showcase your tours and attract new clients. By using social media for your business, you can boost your revenue and build a strong brand presence. Here are a few tips for utilizing social media:
Share customer testimonials and positive experiences
Post stunning visuals of your tour locations
Offer special promotions and discounts to followers
Garnering Reviews and Testimonials
Positive reviews and testimonials can significantly impact your airboat tour business's reputation and credibility. Encourage satisfied customers to leave reviews on platforms such as Google My Business, TripAdvisor, or Yelp to increase your online presence. By building relationships with affiliate partners, like TripAdvisor, Expedia, and Klook, you can further promote your tours and expand your business. Keep these tips in mind for garnering reviews and testimonials:
Request feedback from customers through post-tour email follow-ups
Respond promptly and professionally to both positive and negative reviews
Share positive testimonials on your website and social media platforms
By implementing these online presence and marketing strategies, your airboat tours business will be well on its way to success in the digital realm.
Considering Franchising Opportunities
Pros and Cons of Franchising
When starting an airboat tours business, one option to consider is franchising. Franchising offers numerous benefits, such as a proven business model, brand recognition, and access to a support network of experienced professionals. However, it also comes with certain drawbacks, like potentially high upfront costs and a lack of flexibility in decision-making.
Pros:
Established business model: A franchise provides a proven system for operating and managing an airboat tours business, reducing the risks associated with starting from scratch.
Brand recognition: Customers are more likely to trust a known brand, which can lead to increased bookings for your airboat tours.
Support and training: Franchisors often offer training programs and ongoing support, helping you effectively run your airboat tours business and navigate any challenges that may arise.
Cons:
Upfront costs: Franchise fees can be significant, and you may also need to invest in specific equipment or meet other requirements set by the franchisor.
Lack of flexibility: As a franchisee, you must follow the franchisor's rules and guidelines, which could limit your ability to implement your own ideas or make decisions for your business.
Exploring a Franchise Directory
If franchising seems like a good fit for you, start by exploring a franchise directory to discover potential opportunities within the airboat tours industry. A franchise directory is a valuable resource for researching and comparing different franchise offerings. It often includes information on the franchisor's background, the initial investment required, ongoing fees, and the type of support provided.
When browsing a franchise directory, take time to thoroughly research each opportunity and identify which ones align with your specific goals and interests. Once you have a shortlist of potential franchises, contact the franchisors and arrange to speak with current franchisees to gain deeper insight into their experiences and the realities of operating an airboat tours business under that particular franchisor.
By considering franchising opportunities and weighing the pros and cons, you can make an informed decision on whether this route is the best fit for starting your airboat tours business and achieving success in the industry.
Expanding Your Airboat Tours Business
Collaboration with Tour Platforms
One of the most effective ways to increase your airboat tour business is by collaborating with online tour platforms, such as GetYourGuide. These platforms help your business reach a larger audience and attract more tourists. Partnering with GetYourGuide allows your airboat tours to be easily discovered and booked by potential customers all around the world. Offering your tours on multiple platforms can result in increased bookings and overall growth for your business.
Broadening the Entertainment Offering
In addition to partnering with tour platforms, another way to expand your airboat tours business is by broadening the entertainment offering. Many tourists are looking for unique and memorable experiences while they travel. By providing a variety of entertainment options, you can cater to a wider audience and increase the appeal of your airboat tours. Some ideas for enhancing the entertainment offerings of your airboat tours include:
Whale watching

: If your airboat tours take place in an area where whales or other marine life are common, consider adding a

whale watching

component to your tours. This can provide your guests with an unforgettable experience and attract more customers who are interested in marine life.

Educational activities

: During the tour, you can provide guests with educational information about the local wildlife, ecosystems, and cultural history. This can add value to your tours, making them more than just a thrilling ride through the water.

Special events

: Organize events or themed tours to attract guests who are looking for something unique. Some examples could be sunset cruises, holiday tours, or even incorporating local music and food into the tour experience.
By collaborating with tour platforms like GetYourGuide and extending your entertainment offerings, you can effectively expand your airboat tours business and stand out from the competition.
Seeking Advice and Support
When starting an airboat tours business, it's important to seek advice and support from experienced individuals who can guide you through the process. This can help you avoid common pitfalls and set your business up for success.
Learning from a Business Mentor
One of the best ways to seek advice is by finding a business mentor. A business mentor is an experienced business owner who can provide guidance, support, and insights based on their own experiences in the industry. They can:
Help you develop a solid business plan
Offer advice on operational and logistical aspects of your airboat tours business
Provide valuable industry connections and networking opportunities
Share insights on marketing strategies and customer service best practices
To find a suitable business mentor, consider attending industry events, joining relevant online forums or social media groups, and reaching out to local business owners in your area. Be sure to also utilize resources like SCORE, a nonprofit organization that connects entrepreneurs with experienced mentors.
Once you've connected with a potential mentor, establish a clear communication plan, outlining goals and expectations for both parties. Meet with your mentor regularly, whether in person or via video conference, to discuss your progress and address any challenges that may arise.
Remember, starting an airboat tours business involves numerous factors such as safety regulations, local requirements, marketing efforts, and day-to-day operations. By seeking the advice and support of a knowledgeable mentor, you can learn from their expertise and set your business up for success.