Make Money Giving Airboat Tours
We wanted to check out the airboat tours when we were in Naples, Florida recently, so we drove south on Highway 4, took a right onto Highway 29, and a few miles along came to Totch's Island Boat Tours, just before the bridge to Everglades City. There are a number of airboat ride companies here, but my wife and I had a coupon for this one, worth $10 off for each of our fares.
Now, this isn't a bad job if you like to work outdoors and guide people into the wilderness. Well, the wilderness was filled with other tour boats at times, but it was still beautiful. Captain Stan took us around the docks first, to see if he could locate the Manatees that had been hanging out in the area, and then we went into the dark narrow tunnels of mangroves, speeding along in less than a foot of water at times.
It is actually quite a thrill going fast through the narrow channels, whipping past the tree branches that are a few feet to either side. At a few places we stopped and the captain told us about the trees, the alligators, or the numerous broken and abandoned boats (they are taken into the mangroves for protection when storms come, and left there if damaged too badly). Totch's also offers an open water tour that stops at an island they own.
Here's a video of an airboat ride in Florida (it also provides a good example of what not to do: don't ever stick your hand in the water to attract alligators):
If you like water and heat and working with people, this could be the job or business for you. Our airboat tour was about an hour, and I would guess our captain had about six trips lined up for him that day. Totch's Island Boat Tours had at least six captains and boats that we saw.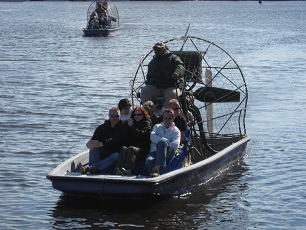 How Much Can You Make?
It is difficult to find wages in the job listings found online (and there aren't that many openings). As I write this, in February 2011, one company is advertising that it pays $120 per day, and the captains keep their tips, but the captain also has to clean and maintain the boat assigned to him. I suspect that others are paid less than this, perhaps not much more than $10 per hour plus tips. In one forum a couple former airboat captains did say tips are good.
According to salaryexpert.com, boat captains in Naples, Florida make just $37,000 annually, substantially lower than captains in other areas (a lot of part-timers?). Wages or salaries for airboat captains are not specifically mentioned.
To make big money you will want to be the owner of the business someday, naturally. It is difficult to say what you might make doing this with a business, but the rates charged to customers seem to vary widely. We paid less than $80 with taxes for the two of us for about an hour, and there were three couples on the boat. A company on the other side of the Everglades, operating near Fort Lauderdale, advertises their "Intro" package - their cheapest one - at $350 for a couple, and they primarily do two-person tours.
Manta.com lists a few airboat tour companies with annual revenues of over $1 million including one in Everglades City.
Ways to Make More | Related Opportunities | Tips
As a captain you have the inside scoop on what works and what doesn't with customers. This allows you to prepare to someday open your own tour business, perhaps targeting the desires customers have expressed but aren't getting fulfilled with the existing companies.
Qualifications / Requirements
In Florida the law requires a coast guard masters license to captain an airboat for commercial tours, although my perusing of the forums suggest that some operators do not have this qualification. An "Inland Guide License" might be sufficient for some companies, if not entirely within regulations. Ask various operators what they require in areas where you think you might like to work.
First Steps
Take a tour or two to see if you like the working environment (watch out for alligators and mosquitoes). Then ask a few operators what their requirements are and start preparing. Ask where some of their captains trained.
Some companies, like Airboat Safety and Training, in Lake Wales, Florida , offer safety classes, which might make you more appealing as a potential employee, even if this is not a strict requirement or regulation.
Resources
Totch's Island Tours - This company has airboat tours into the mangroves and out into more open water to visit Totch's Island.
How to Become a Captain - Though not specifically about becoming an airboat captain, this articles covers some of the necessary steps.