Restaurant Cliff Diver - Tyler Harding
When most people think of cliff diving, they either think of a man jumping into the ocean from high in the rocks at some exotic location, or of college kids stepping off the edge above rivers and lakes. But Tyler Harding has an actual job as a cliff diver, and it doesn't even require him to go outdoors.
He works at Casa Bonita, a family restaurant in Denver, known for its interesting decor and entertainment. He jumps from a rocky waterfall/cliff into a 14-foot tropical-looking pool of water, sometimes from as high as 30 feet, while diners watch. I asked him a few questions about his work.
What job did you have before this one, and how did you decide to become a cliff diver inside a restaurant?
Unlike most people, I actually started working at Casa Bonita—it was my first job—when I was seventeen, doing the stage shows. Being a cliff diver, in some ways, fell into my lap. It wasn't until after about a year working there that I was approached with the opportunity to audition for a Diver spot; having no previous diving experience, I figured it was worth a shot. After about an hour of semi-competent diving (don't worry, I'm much better at it now)—and about a week to worry if I was good enough—I roped together all the courage I could muster, and did my first dive shift and never looked back.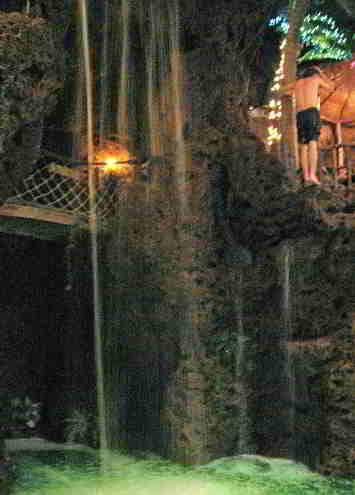 Is it a full time job, and is there more than one person doing this at the restaurant?
For me it is a full time job; I'm at Casa Bonita almost every day (as manager of the whole entertainment department, I ought to be around most of the time) diving and doing the shows. There are over fifteen people working in the department currently, six of which are divers; the divers themselves work in three shifts: one diver for the morning, one for the afternoon, and one for the evening—because we entertain all day, 363 days out of the year.
Watching you climb up the rocks s quickly and do so many different dives from several locations, I have to ask: Have you ever injured yourself?
I have endured a few cuts and scrapes, but nothing horrendous. I've been fortunate in that circumstance (of course, now that I've said that…)
I see that there are other acts as part of the entertainment, including a wild west shootout and a gorilla that escapes into the dining area. Do you participate in these as well?
Yes, all divers—myself included—are a part of each stage show that happens. Typically, the diver plays the villain in whatever show is being performed on the stage, be it the Gunfight, the Gorilla show, the Pirate show—which you did not get to see, unfortunately—or anything else.
Are you attending college at the moment, and will you continue working at Casa Bonita after you graduate?
I just graduated from the University of Northern Colorado, in May 2010, with a Bachelor's degree in Theatre Arts. I have worked at Casa Bonita, as a seasonal employee, during the time I spent at school—and, I imagine, I will be there for some time to come.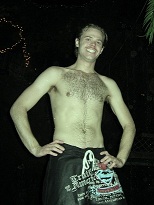 What kind of qualifications would a person need to get a position like yours, and how often is there an opening?
In order to become a diver, diving experience is most important (I was lucky I picked up on it as fast as I did), but not necessarily the most important thing. Of course the diving should be impressive—swan dives are only entertaining for so long—but any kind of formal training with acting is also recommended; my philosophy on being an entertainer at Casa Bonita revolves around the idea of being well-rounded in terms of ability: an awesome cliff diver who is uninteresting on stage is about as desirable as motorcycle with one wheel. And no matter how cool it looks, it's still missing the vital component that makes it worthwhile.
Have you ever dived off of cliffs outside of the restaurant?
A couple times, yes, but it is tough to find places like that, especially in Colorado. I only know of one—it's a giant crater—but diving at Casa Bonita is more appealing to me (warmer water).
Do you enjoy being a cliff diver?
Like all jobs, there are good days and bad days; however, I have always enjoyed cliff diving, mostly because I love performing. And I figure if I can brighten someone's day, simply by diving and acting on stage, that makes it a good place to be. Being shirtless for a job is nice—no uniforms to wash—but the best part about diving is the knowledge that I may be in hundreds of people's photo albums, and etched into the memories of every man, woman, and child that enters Casa Bonita. It's like being a part of a special day in someone's life every day, and that's what keeps me going more than anything else.