Landscape architecture is a creative and rewarding career choice for those who have a passion for designing outdoor spaces while protecting and enhancing the environment.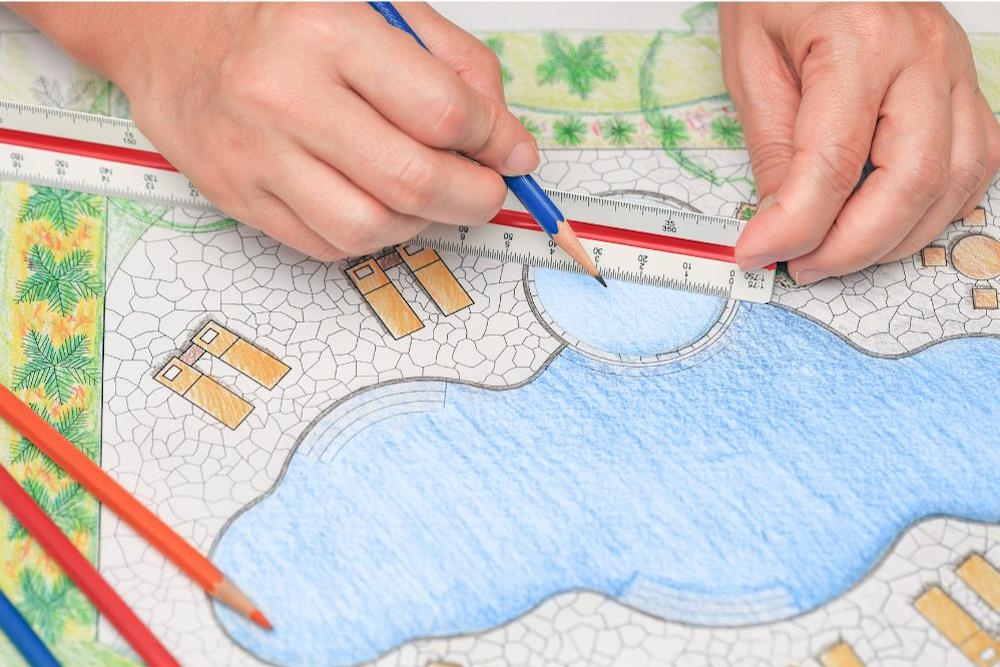 As a landscape architect, you'll be responsible for creating inspiring and functional outdoor environments, ranging from public parks and residential gardens to commercial landscapes and urban planning projects. This profession allows you to combine your artistic vision with scientific principles to shape the world around us, creating spaces that are not only visually appealing but are also sustainable and ecologically responsible.
To become a landscape architect, you'll need to follow a series of steps, starting with obtaining a bachelor's degree in landscape architecture or a related field. Landscape architects require a minimum of a Bachelor's degree in Landscape Architecture, and in many cases, a graduate degree is also required to build and develop in this career. Additionally, landscape architects must obtain a license to practice, with requirements varying depending on the specific country or region. In the United States, for example, all states require candidates to pass the Landscape Architect Registration Examination (LARE) administered by the Council of Landscape Architectural Registration Boards.
Gaining practical experience through internships or apprenticeships is also crucial in this field, as it provides valuable hands-on training and exposure to real-world projects. In many cases, state licensing requirements call for 1-4 years of work experience as an apprentice before becoming a registered, licensed landscape architect. As you embark on your journey to becoming a landscape architect, remember that the road ahead may be challenging, but the end result is a fulfilling career that combines your creativity, passion for the outdoors, and commitment to environmental stewardship.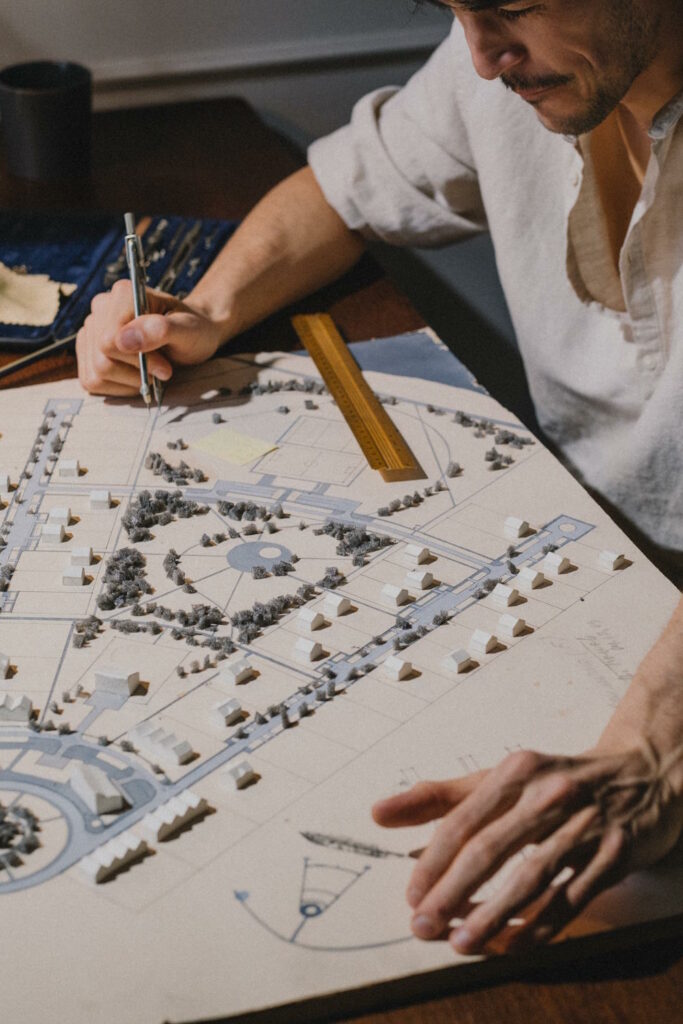 Becoming a Landscape Architect
Education and Degrees
To become a landscape architect, you need to complete a minimum of a Bachelor's degree in Landscape Architecture. This degree will equip you with the knowledge and skills required to design and plan outdoor spaces. Some programs may offer a Bachelor of Science in Landscape Architecture or similar degrees with a focus on design and environmental sciences. Consider the following while pursuing your education:
Accreditation: Ensure that the program you choose is accredited by the Landscape Architectural Accreditation Board (LAAB) to guarantee quality education.
Coursework: Study subjects like environmental design, horticulture, landscape ecology, and site engineering in your curriculum.
Licensing Requirements
Landscape architects are licensed in all 50 states and the District of Columbia. Each state has different requirements for licensure. However, all states require passing the Landscape Architect Registration Examination (LARE), administered by the Council of Landscape Architectural Registration Boards. To maintain your license, adhere to your state's continuing education requirements.
Job Training
It is essential to gain job training through internships and apprenticeships during or after completing your education. This training will provide you with real-world experience, helping you become more familiar with the ins and outs of the profession. Be prepared to work as an apprentice or intern for up to 4 years, as state licensing requirements often call for 1-4 years of work experience before granting licensure.
Certification
Although certification is not a mandatory requirement, consider advancing your career through various certifications offered, such as those by the American Society of Landscape Architects (ASLA). By enhancing your knowledge and demonstrating expertise in specific areas of landscape architecture, you'll be better equipped to compete in the job market and excel in your profession. Additionally, join professional organizations to stay up to date with the latest industry trends and network with fellow landscape architects.
Remember to develop essential soft skills such as creativity, problem-solving, communication, and teamwork to excel in your career as a landscape architect. This combination of education, licensure, job training, and certification will set you on the path to success in this exciting and rewarding field.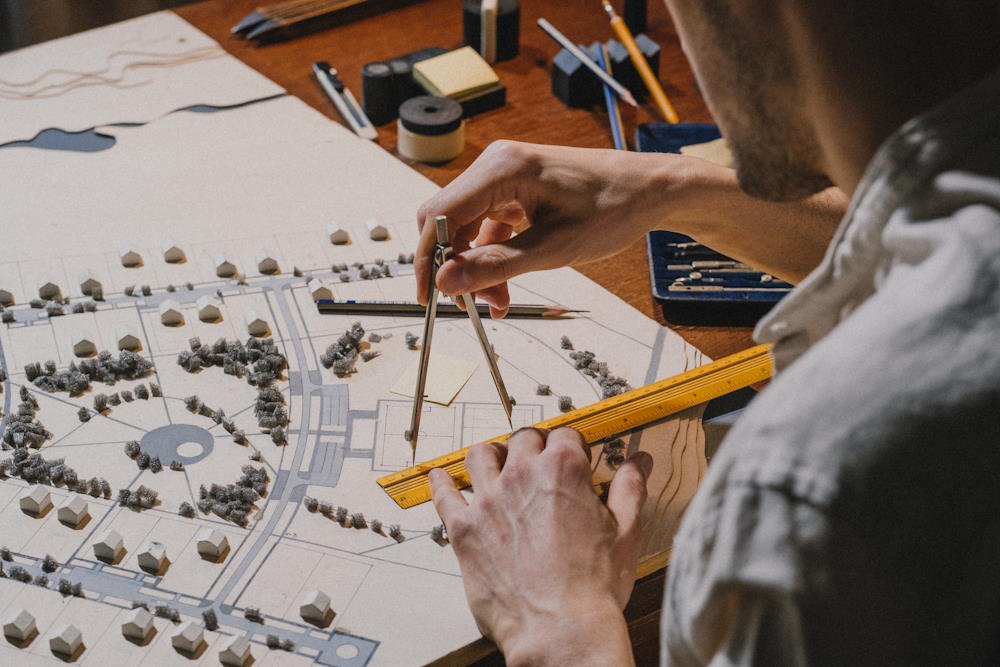 Key Skills and Traits
Analytical Skills
Landscape architects need strong analytical skills to understand the content of designs and the various factors that impact the project. For example, when designing a building's drainage system, they must consider how the building's location and surrounding land affect each other. They must also have an in-depth understanding of environmental regulations and design codes.
Communication Skills
In the field of landscape architecture, communication skills are crucial as they need to collaborate with clients, engineers, and other professionals. Landscape architects should be able to:
Explain design ideas clearly and concisely
Provide constructive feedback on designs and suggestions
Adapt their communication style to various situations and audiences
Using visual aids, such as site plans, renderings, and 3D models, can help landscape architects convey their ideas effectively.
Creativity
Landscape architects must possess a passion for design and have the ability to think outside the box. They need to combine art and design with practical solutions to achieve various project goals, such as:
Enhancing the natural surrounding beauty
Creating sustainable designs
Balancing aesthetic and functional aspects
Moreover, they should always seek inspiration and continuously develop their creative skills.
Management
Finally, landscape architects need to be proficient in project management. They have to juggle multiple responsibilities, such as:
Coordinating with clients, contractors, and stakeholders
Supervising construction processes
Ensuring timely completion of projects
Staying within budget constraints
By developing these skills and traits, aspiring landscape architects can excel in their careers and deliver the best possible outcomes for their projects.
Career Path and Job Titles
Landscape architects play a crucial role in designing and planning outdoor spaces, ensuring aesthetic harmony and environmental sustainability. This section will discuss the various job titles and career advancement opportunities available to aspiring landscape architects.
Entry-Level Positions
There are several entry-level positions available for those who have completed a bachelor's degree in landscape architecture or a related field. Some common positions include:
Landscape Designer: In this role, you'll assist in creating design plans and concepts for various outdoor spaces such as parks, gardens, and residential areas. You'll also collaborate with senior landscape architects and other professionals.
Junior Landscape Architect: As a junior landscape architect, you'll work under the guidance of experienced professionals on various projects and gain valuable experience that can help pave the way for your career growth.
Landscape Technician: This position involves hands-on work, such as maintaining and caring for plants, soil, and other landscape elements. You'll also assist in the implementation of landscape designs.
Landscape Project Coordinator: You'll be responsible for managing schedules, budgets, and communication between clients and the landscape architecture team, ensuring projects are completed on time and within budget.
Career Advancement
As a landscape architect, there are numerous possibilities for growth and career advancement. Some options to consider include:
Obtaining a license: Licensed landscape architects have better job prospects and the ability to work independently. Licensing requirements may vary by country, but typically involve meeting educational and work experience standards, as well as passing an exam.
Pursuing advanced education: Earning a graduate degree in landscape architecture or a related field can lead to more senior positions or specialization opportunities.
Acquiring certifications: Certifications in specific areas of landscape architecture, such as sustainable design or urban planning, can add to your resume and enhance your chances of career growth.
Transitioning to management positions: With experience, you can advance to roles such as Senior Landscape Architect, Project Manager, or even own a landscape architecture firm.
Entering academia or research: Obtaining a PhD or significant experience in the field can enable you to pursue academic careers, research, or become a recognized expert in landscape architecture.
Remember, a successful career in landscape architecture entails continuous learning, networking, and adapting to new trends and technologies within the field.
Role and Responsibilities
As a landscape architect, you will have various roles and responsibilities which include:
Design and Planning
One of the primary responsibilities of a landscape architect is design and planning. You will create aesthetically pleasing and functional outdoor spaces by designing the layout of parks, gardens, housing estates, or city centers. This involves drawing designs and creating site plans to ensure that these spaces are environmentally sustainable and meet the needs of individuals and communities.
Collaboration with Professionals
Landscape architects frequently work in collaboration with other professionals such as engineers, scientists, and architects. These collaborations are crucial to the success of a project as it ensures that the plans developed are not only visually appealing but also technically sound and viable. An essential part of this collaboration is working together with engineers, surveyors, contractors, and laborers to ensure the smooth execution of projects.
Client Communication
An essential aspect of a landscape architect's role is client communication. You will be responsible for meeting with clients to discuss their goals and preferences for the project. This ensures that you understand what they want and can tailor your designs to meet their needs and expectations.
Project Management
In addition to design and planning, landscape architects are involved in project management. This includes:
Putting together specifications and cost estimates for projects.
Ensuring that all aspects of the project are completed on time and within budget.
Monitoring project progress and making necessary adjustments.
As a landscape architect, you will use your skills in design, planning, collaboration, and project management to create beautiful, functional, and sustainable landscapes that enrich the lives of individuals, communities, and the environment.
Landscape Architecture in Action
Parks and Green Spaces
Landscape architects play a vital role in designing parks and green spaces that provide recreational areas, improve air quality, and support the natural environment. They collaborate with ecologists, engineers, and community stakeholders to develop innovative solutions for the integration of vegetation, water management, and diverse amenities. By considering aspects such as user needs, existing ecosystems, and accessibility, landscape architects create welcoming, functional, and sustainable public spaces.
Streetscapes and Plazas
Transforming urban landscapes into lively and attractive streetscapes and plazas is another crucial aspect of landscape architecture. These public spaces serve as essential gathering spots, fostering social interactions and community engagement. Landscape architects consider factors like accessibility, safety, and aesthetics, incorporating elements such as:
Pedestrian-friendly design: Ensuring easy and safe movement through the space, including sidewalks, ramps, and crosswalks
Green infrastructure: Introducing trees, planters, and rain gardens to mitigate stormwater runoff and enhance the environment
Seating and amenities: Providing comfortable and accessible options for visitors to rest and socialize
Campuses and Communities
Landscape architects contribute to the planning and design of campuses and communities, enhancing connectivity, sustainability, and quality of life. By carefully considering factors like climate, topography, and cultural context, they develop resilient and adaptive landscapes that promote health, well-being, and social cohesion. Key components in campus and community design might involve:
Resilient landscapes: Integrating native plants or low-maintenance vegetation to support biodiversity, adapt to climate change, and minimize resource consumption
Multi-modal transportation: Designing pathways and routes for pedestrians, cyclists, and vehicles, promoting active transportation and reducing carbon emissions
Recreational and gathering spaces: Developing diverse leisure options, from playgrounds and sports facilities to informal seating and relaxation areas, fostering social interaction and mental health
Industry Trends and Job Market
Market Growth and Opportunities
Employment of landscape architects is projected to show little or no change from 2021 to 2031, with about 1,500 openings each year on average over the decade. Despite the limited growth, opportunities may arise from the need to replace workers who transfer to other fields or retire. The US is expected to need 6,100 landscape architects over the next 10 years, that number is based on 1,600 additional landscape architects and the retirement of 4,500 existing professionals12.
Government and Private Sector
Landscape architects work in both the government and private sectors. Many are employed by the government to design public spaces, parks, and recreational facilities, while others work in private industries like residential and commercial landscaping. Some may even find opportunities in the environmental field, focusing on ecological conservation and restoration projects3.
The average salary for landscape architects as of May 2020 was $70,630. The top 10% in the field earned more than $115,660, and the lowest 10% earned about $42,500. Job demand for landscape architects is projected to show little to no change between 2020 and 20303.
American Society of Landscape Architects (ASLA)
The American Society of Landscape Architects (ASLA) is a professional organization that supports and promotes the landscape architecture profession. By becoming a member, landscape architects can gain access to valuable resources, networking opportunities, and continuing education programs. ASLA also advocates for policies and initiatives that benefit the profession and the environment.
As we look to the year 2023, landscape professionals are cautiously optimistic about the trends and opportunities in the industry4. To become a successful landscape architect, it is essential to stay updated on industry trends, network with professionals, and join organizations like the ASLA to enhance your skills and knowledge.
Footnotes