Mel Robbins is a famous American podcaster and motivational speaker. Her job is to help people feel as though they can accomplish great things. Mel Robbins' husband is a successful entrepreneur too. But what is Mel Robbins' net worth?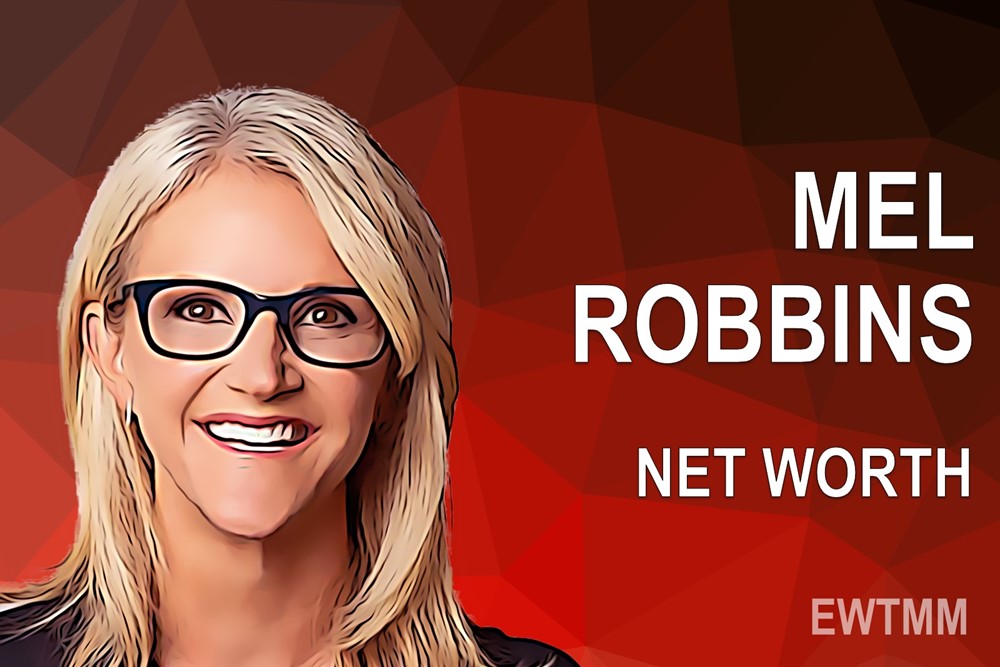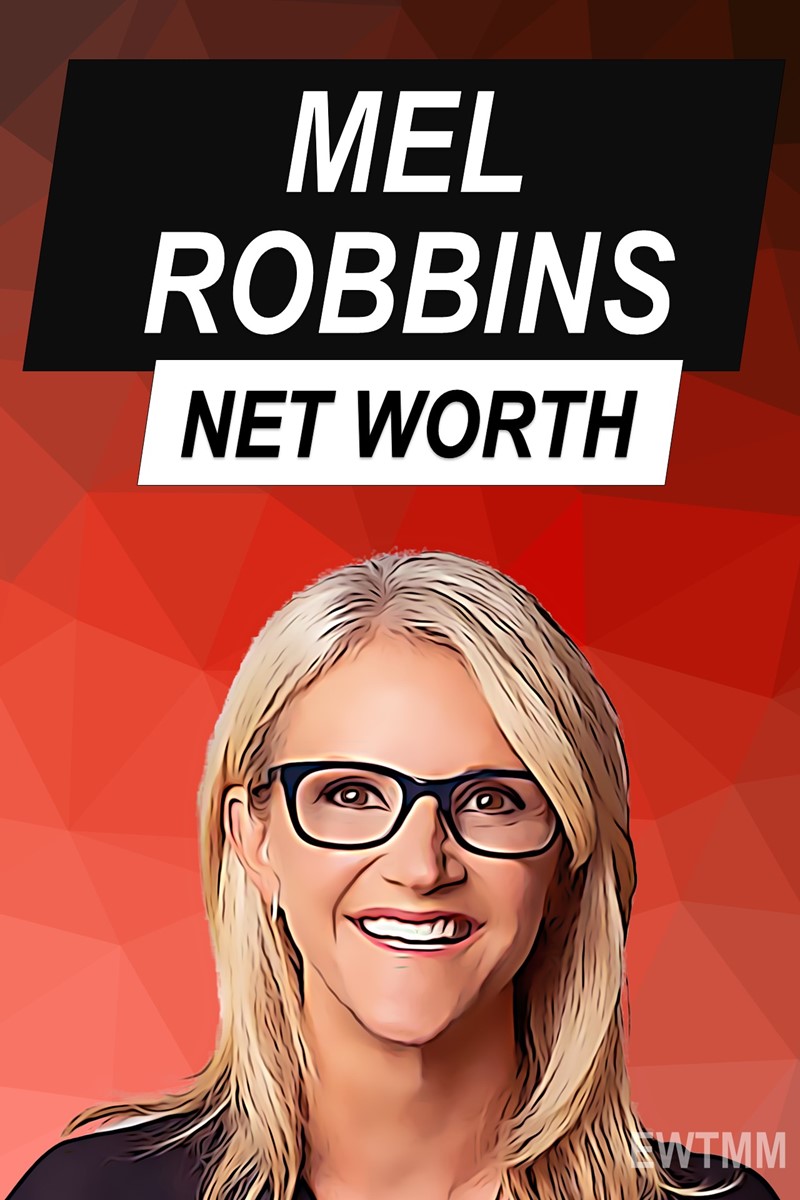 | | |
| --- | --- |
| Net Worth 2023: | $9 Million |
| Born: | October 6, 1968 |
| Age: | 54 |
| Height: | 5 ft 7 in (1.70688 m) |
| Native Country: | United States |
| Place of Birth: | Kansas City, Missouri |
| Source of Wealth (SOW): | Public Speaking, Broadcasting |
| Updated: | August 19, 2023 |
She may be appreciated for her sense of humor, as well: her most noted TED Talk is "How to Stop Screwing Yourself Over."
What is the net worth of Mel Robbins, author, speaker, and overall machine of motivation? The only way to find out is to keep reading.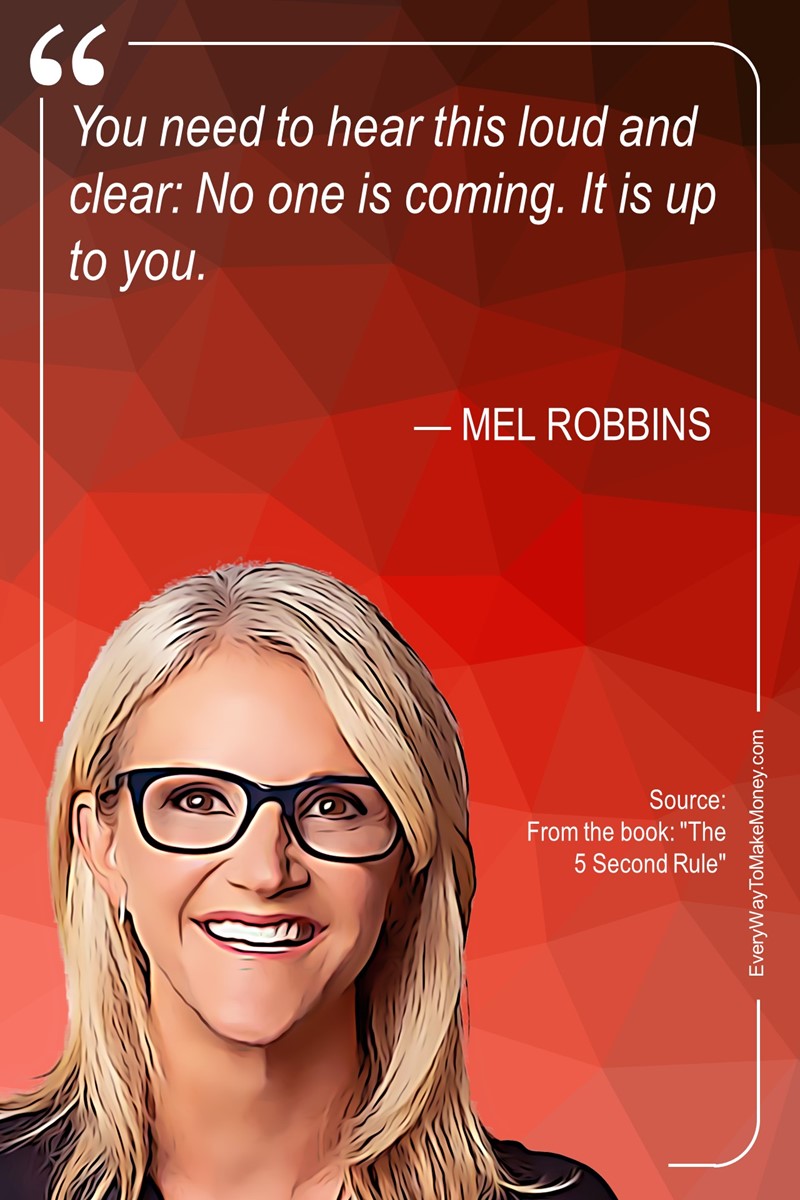 Mel Robbins–Education and Early Career
Mel Robbins was born Schneeberger in Kansas City, MO, but grew up mostly in Northern Michigan. While it's a long way from rural Michigan to the Ivy League, that is exactly the trek Robbins chose, attending Dartmouth College.
From there, it was Boston College Law School, where she earned her J. D. in 1994. If you go to law school, you may as well become a lawyer, and that's just what Mel Robbins did.
Mel Robbins' carreer took her from one extreme, representing corporations, to the other, defending less fortunate people in NYC as a public defender.
During these years, Robbins definitely experienced some success, but also endured up and downs. She fought anxiety and battled the kind of insecurities many professionals do.
To make matters worse, she lost a job; a business she started fell through. It is then that Robbins discovered the five-second rule.
Mel Robbins' Five-second Rule
You may think that Ms. Robbins is telling you that you can eat food that has fallen on the floor as long as it hasn't been there for five seconds.
But this is not so. The five-second rule came when she didn't want to get out of bed one day during her darkest time.
I mean, how is Mel Robbins so rich if she can't even get up to meet the day? Well, her five second rule was that she had to get out of bed in five seconds.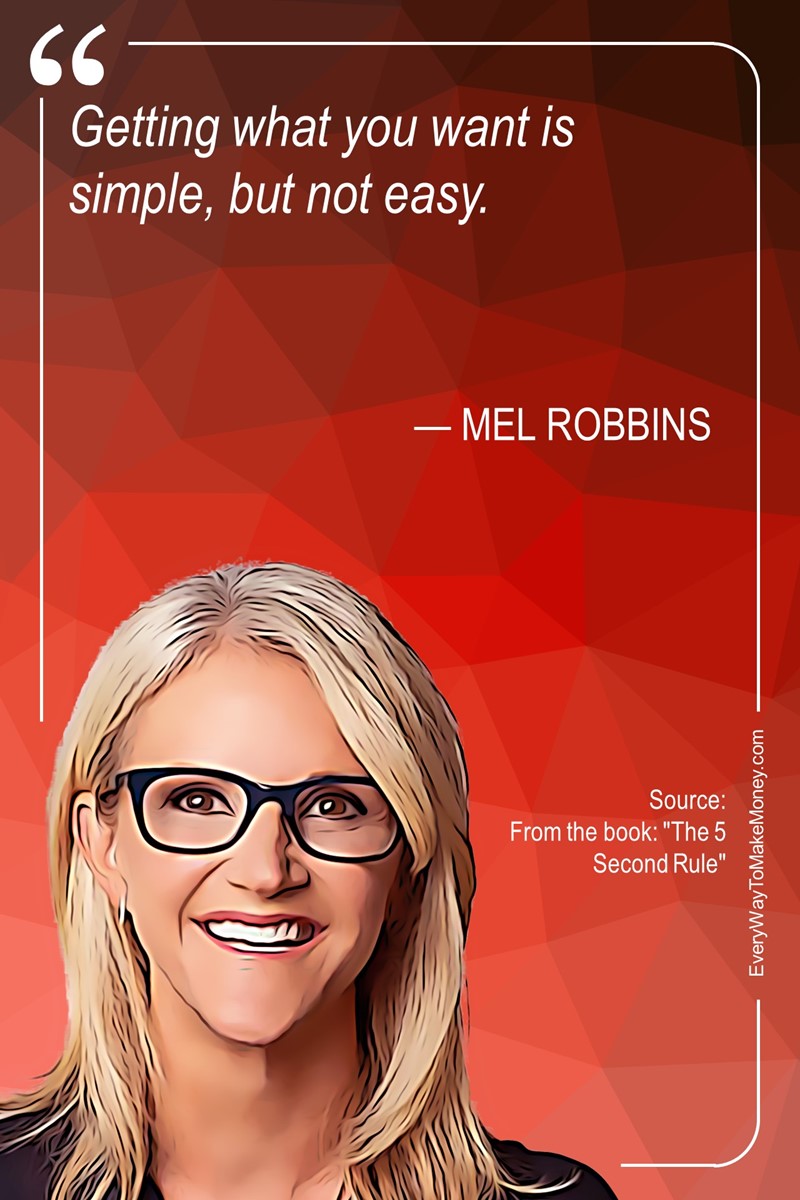 So after that, any time she got the notion to do anything, she would do it within five seconds. Now, that sounds like a fun time to me!
Mel Robbins' TV Career
Once Robbins started feeling her own self-help, she supercharged her own career. She moved up–or at least over–a notch in the legal Eagle world, becoming a legal analyst with CNN.
Not long after that, a Floridian named George Zimmerman fatally shot a 17-year-old boy named Trayvon Martin, and subsequently went on trial.
The contentious and well-watched George Zimmerman trial was one of the first that Mel Robbins covered. Mel Robbins' net worth would soon be on the rise.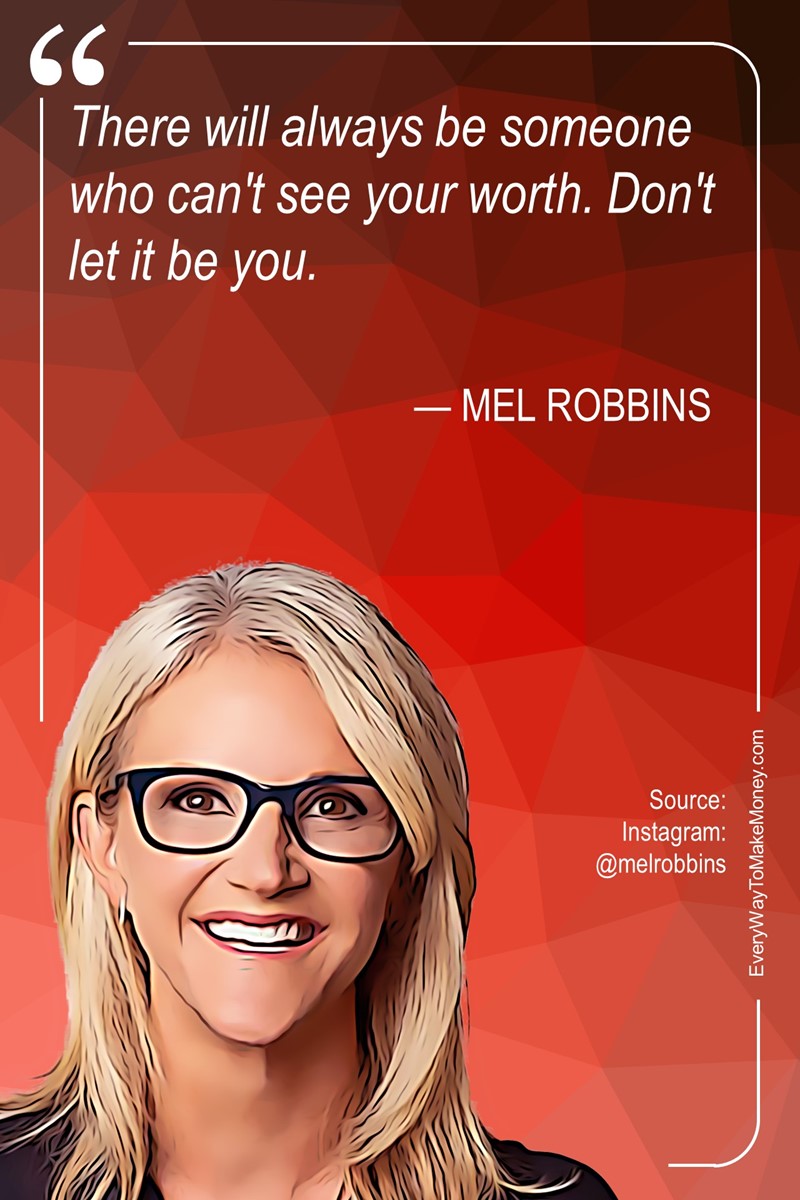 It didn't hurt that she won a 2014 Gracie Award for News Talk Show Host. That makes her in demand, and we'll discuss her public appearances later.
Anyway, in addition to covering trials, Mel hosted multiple shows produced by CNN's owner Cox Media Group. These include The Mel Robbins Show, Someone's Gotta Go, Monster in Law. What a star!
Mel Robbins, Public Speaker
Mel Robbins' income really blasted off the pad when she started her public speaking career. It all started when she rocked a TedX San Francisco talk that was themed around her new book How to Stop Screwing Yourself Over. It wasn't just the live talk that helped Robbins' reputation.
The talk earned more than 32 million views on YouTube. From there, Robbins became a staple on the public speaking circuit.
She has quite a few brief and punchy ideas that can be simply expressed, and that skill is always in demand.
According to her website, she develops custom, active events for each corporate speaking engagement, and then charges a serious fee.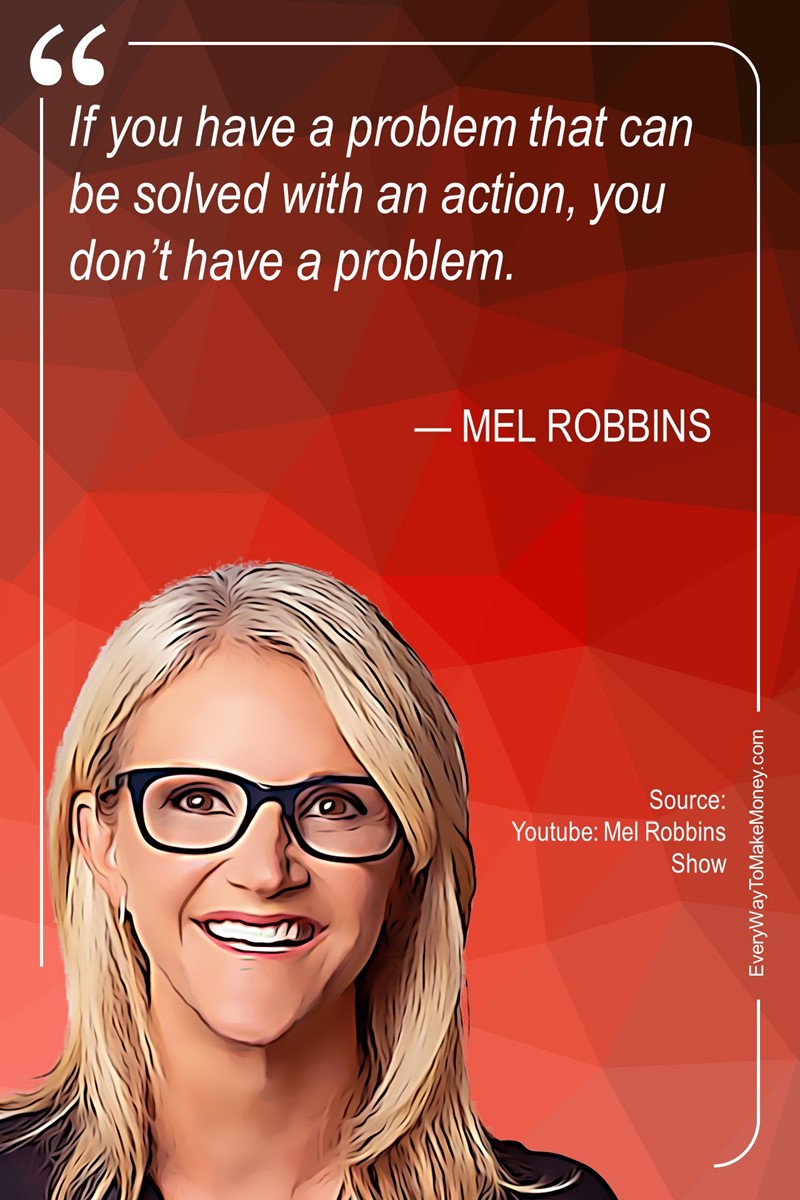 Think of Wendy Rhoades from the hit TV show, Billions.
Mel Robbins on social Media
Mel Robbins has a strong social media presence, with a large following on Instagram, YouTube, TikTok, Facebook, and Twitter. As of 2023, her Instagram account (@melrobbins) has 4 million followers, her YouTube channel (@melrobbins) has 2 million subscribers, and her TikTok account (@melrobbins) has received 13 million likes. On Facebook, she has 2 million followers, and on Twitter, she has 201K followers.
| | |
| --- | --- |
| Mel Robbins | Social Media |
| Instagram handle: | melrobbins |
| Instagram followers: | 4M followers |
| YouTube handle | @melrobbins |
| YouTube subscribers: | 1M subscribers |
| TikTok handle | @melrobbins |
| TikTok likes: | 13M likes |
| Facebook handle | melrobbins |
| Facebook followers: | 2M followers |
| Twitter handle | melrobbins |
| Twitter followers: | 201K followers |
| Updated: | August 19, 2023 |
Mel Robbins, Author
As mentioned, Mel Robbins, like most analysts and motivational speakers, has written a few successful books. Her debut title, Stop Saying You're Fine: Discover a More Powerful You, came in 2011.
It sold many copies by promising to help readers unlock their hidden potential for maximum The follow-up was 2017's The 5 Second Rule: Transform Your Life, Work, and Confidence with Everyday Courage. This, of course, revolved around the aforementioned 5 Second rule.
This became a best-seller, and was published in audio and other formats in addition to the original print.
Mel Robbins' Personal Life
Mel Robbins attended to her education and got her career underway before starting a family. At the age of 28, in 1996, Mel Robbins married Christopher Robbins, a successful entrepreneur.
Mel Robbins and her husband have three children, Sawyer Laurel Robbins, Oakley Robbins, and Kendall Iris. While Robbins suffered post-partum depression after the birth of their third child, she and her husband used their "be awesome" skills to work through it and develop a happy family life.
Together, the family enjoys listening to the music of the English band Dire Straits.
Mel Robbins' Net Worth
We have reached the moment of truth, friends. It is left only to announce Mel Robbin's net worth, a considerable sum, to be sure.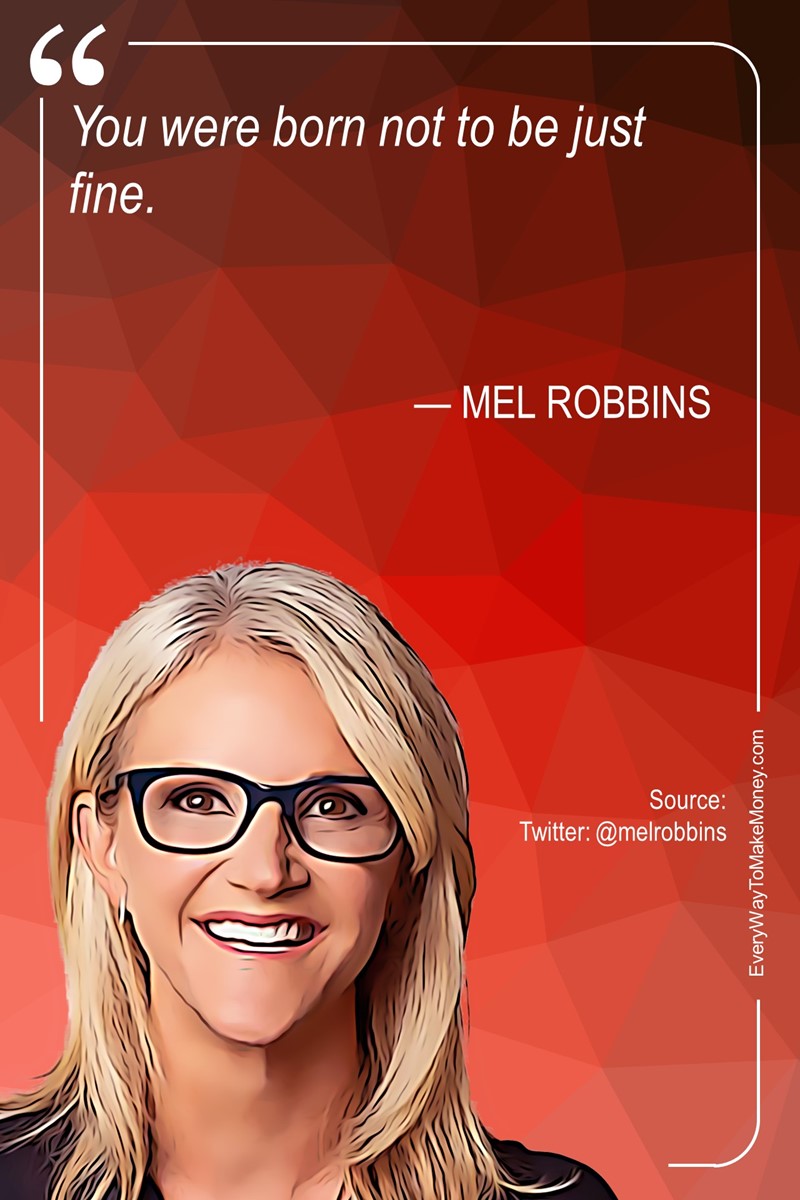 She began to build up an awesome net worth just from her CNN salary. Once the book deals began to roll in, she and her husband became ultra-rich.
She now does some work as a motivational coach for corporations, fetching $350 per hour. We estimate her net worth as roughly $9 million.
Whether or not you choose to implement the 5-second rule, Mel Robbins' net worth speaks for itself. Her story is a testament to being aggressive when going after what you want.
She set her sights after some initial failures, and seems to have taken off in a frenzy.
Mel Robbins' net worth FAQs
Is Mel Robbins Married to Tony?
Mel Robbins is married to Christopher Robbins, who is no relation to the motivational guru Tony Robbins.
How Much Does Mel Robbins Charge to Speak?
Mel Robbins' custom motivational programs start at $50,000, but in one case, ran as high as $1 million.
How old is Mel Robbins?
As of 2023, Mel Robbins'age is 29430.
What is Mel Robbins' net worth?
As of 2023, Mel Robbins' net worth is estimated at $9 million. Mel Robbins got wealthy through her successful career as a motivational speaker.
It should be acknowledged that the net worth of Mel Robbins is not a matter of public record and the exact number cannot be confirmed.