Water Taxi | An Interview With Andy Nottidge
The Naples Bay Water shuttle runs a route in Naples, Florida, stopping at waterfront restaurants, bars, and hotels. As the company website explains, this fixed route makes it more of a water bus service than a water taxi. Customers pay just $5 to get on and off as many times and at as many places as they like during the evening. My wife and I used the service more than once when we were in Naples, getting on board at the Bayfront Inn, where we were staying (just north of Tin City). We loved the boat, the ride, the scenery - and the $3 beer and wine sold on board!
The boat, called the Blue Pelican, can hold up to 24 passengers. Our captain was Andy Nottidge. His partner, Dan, runs the shuttle on alternating days. I asked Andy a few questions about their business.
What did you do before you stared your water taxi business?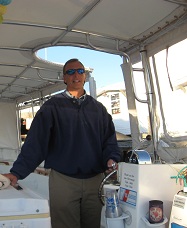 Both Dan and I have full-time jobs. We started this up as a side business in the evenings. I work in HR and Dan works in retail management.
What made you decide to start this business?
My love of water, boats, and a distinct need for this service in Naples. Can you imagine a waterfront community without a water taxi? :)
You sell beer and wine, which is a wonderful extra for passengers. Was it difficult to get a license to offer these?
No, actually that was the easy part. Getting the business approved through the city was the hardest part and working through the logistics.
You also offer chartered trips for groups. What types of trips are commonly requested, and do you make more money from these or from the regular route you run each evening?
Charters can be lucrative. If the price is right and the amount exceeds the average take for that particular night, I will accept a charter. However, I will never do too many as to disrupt the reliability of the taxi service.

Naples is a destination for quite a few wealthy and/or famous individuals, and there was at least one congressman on the boat when we were onboard. Have you had many celebrities use your service?

We have. We have fortune 500 CEOs, sports figures, etc. However, we never make them feel any different than the other passengers. I value everyone equally because they are all paying the same fare to ride. But it is cool to see someone famous on your boat!
It must have been a major investment - particularly in the boat - to start this service, but I understand you survived your first year just fine and might make a decent profit this year. Do you have a goal for revenue and net profit in the coming years, and can you tell us what it is?
My initial goal was to make a profit at year 5. We are well ahead of that. We should make a modest profit this year ...all of this has been done without spending a dime on advertising. We rely solely on word of mouth.

If someone wants to start something like this in their own community, what tips can you offer based on your experience so far?
Offer a good product at a good price and exceed expectations...the people will come and, more importantly, come back. Don't get too greedy and out price your customers. Remember it's about the fun of running a business that is your own...if the profits come...then you know you are doing a good job.
Do you enjoy your work?
Love it!
For more information visit the website of the Naples Bay Water Shuttle.