How to become a wig maker?
Become a wig maker ? Really? Yes, wig making is a specialized form of cosmetology.
While there are a number of courses that purport to teach you everything you'll need to know in half an hour, the reality is that, like cosmetology school, you need to take a number of courses to get really good at this business.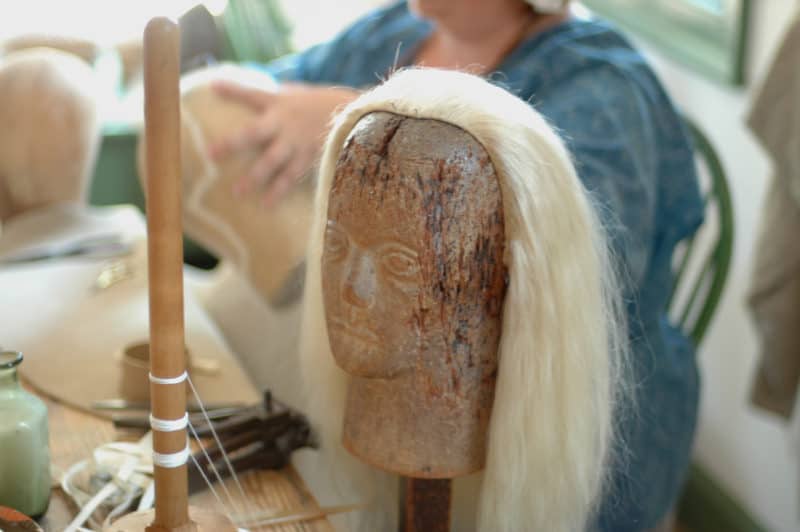 Wig makers work with a wide variety of people.
Some specialize in working with cancer patients, in which case you need to be extremely sensitive to women and girls who are losing their hair.
[internal_links connector='becoming a wig maker' type='1′]
Wig maker are part therapist…
You'll be part therapist and part wig maker when working with such people.
Other wig makers specialize in working with ultra Orthodox Jewish women.
Ultra Orthodox married Jewish women believe it is forbidden for anyone to see their own hair except for their husbands.
Therefore, they often purchase wigs to cover their natural hair (a tiny subset of this group even shaves their hair and replaces it with a wig, though this is extremely rare – most just cover it).
Still others may work with costume designers or on crafting men's toupees rather than women's wigs.
How Much Can You Make?
According to Salary Expert, the average salary for a wig maker ranges from as little as $28,622 to as much as $43,918.
Of course, you can often expect to get tips as well so your salary can go up a bit beyond the base salary.
[internal_links connector='becoming a wig maker' type='2′]
Ways to Make More | Related Opportunities | Tips
If you do a search for "how to become a wig maker" on the Internet, you'll find lots of people offering videos or simple courses that claim to teach you how to become a master wig maker in just a few minutes.
What these people will actually teach you for your money is how to glue on hair extensions.
While this can be valuable information in and of itself, you should attend a cosmetology school if you want to be a professional wig maker.
Explain to the school that you are interested in a career as a wig maker and ask them if they have a track that covers that.
Consider also working as a hair dresser in the interim.
The same skills you'll need in order to be a wig maker will serve you well as a hair dresser.
The only additional feature you'll need to make wigs is how to weave the hairs onto a pattern and how to attach the wig effectively.
Qualifications / Requirements to become a wig maker
While no formal requirements exist for wig makers, you should take a course in a cosmetology school and ideally become a certified beautician as part of your training.
As previously noted, the half hour courses being offered online are not really useful except to get you started.
[internal_links connector='becoming a wig maker' type='3′]
First Steps
This is where those short courses (you can often find some material on YouTube) can be helpful. Watch them and find out how wigs and hair extensions are done.
Once you feel comfortable, you can experiment on friends or family (make sure they're comfortable with having you experiment on them).
Then, contact your local cosmetology school and ask about becoming a professional wig maker.
Resources
Check out these helpful resources to find out more about becoming a wig maker:
Wig Makers World – A website which focuses on the business of wig making and offers all the supplies you'll need.
Hair Finder: Wig Making – A short, but important article that discusses schools that offer to teach you the art of wig making.
Image by
Jeff Kubina
via
Flickr