Meet Carson Wentz, an American football player, a quarterback most known for the handful of years he played for the Philadelphia Eagles. But what is Carson Wentz's net worth?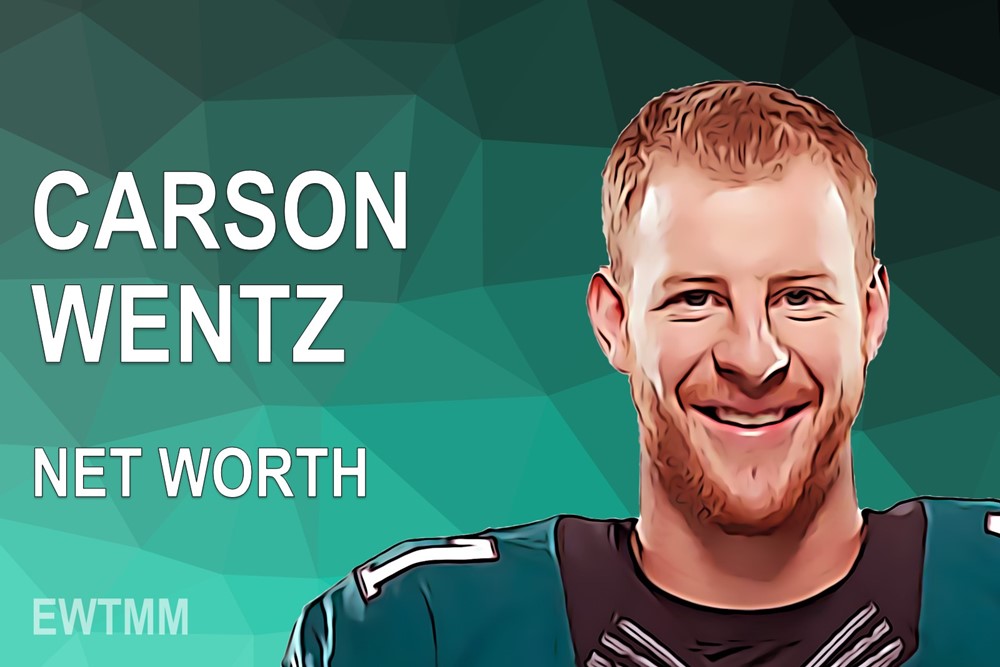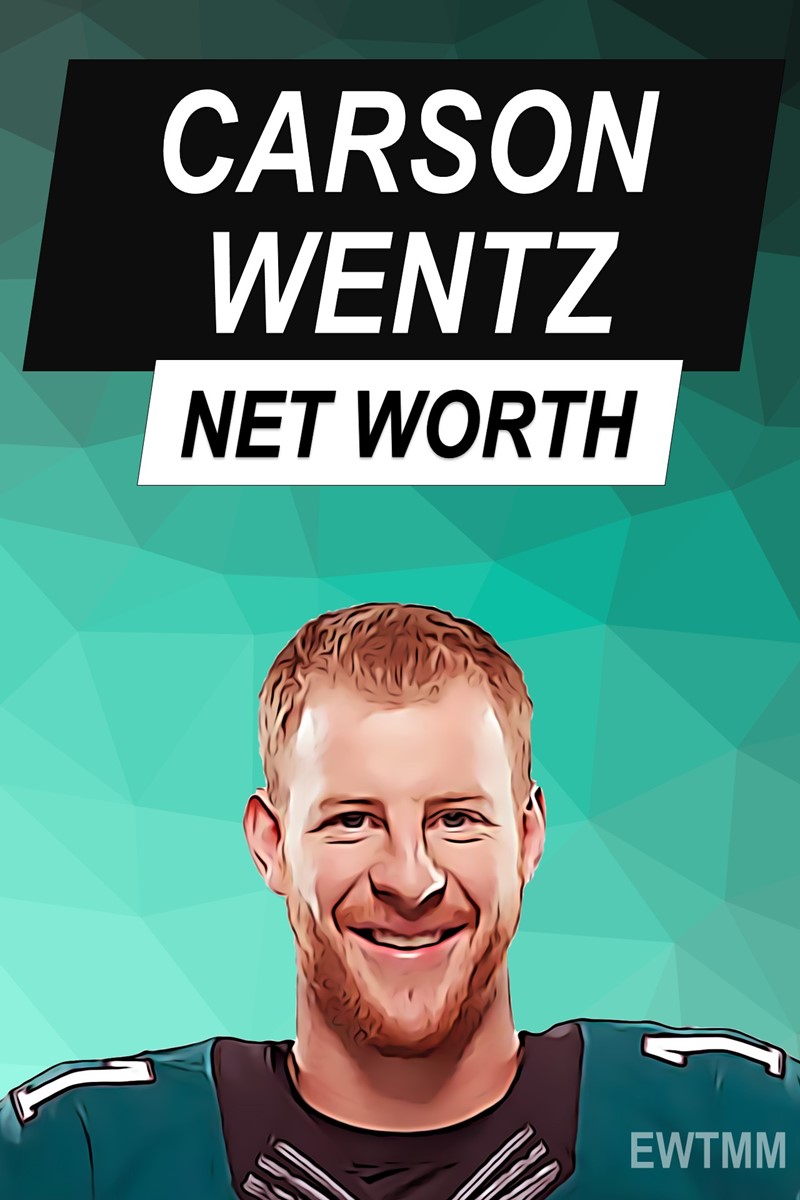 | | |
| --- | --- |
| Net Worth 2023: | $46 million |
| Born: | December 12, 1992 |
| Age: | 30 |
| Height: | 6 ft 6 in (1.98 m) |
| Native Country: | United States |
| Place of Birth: | Raleigh, NC |
| Source of Wealth (SOW): | Professional Sports |
| Updated: | August 19, 2023 |
Wentz is a Super Bowl champ and an NFL Pro-Bowler. Ever wonder what Carson Wentz's net worth is? Boy, we sure do.
Let's unwind the story of how Carson Wentz got so rich, and let's assess his net worth.
Carson Wentz Early Life and College
Have you ever been to North Dakota? Well, this snowy state bordering Canada to the south is the land of Carson Wentz's childhood (even though he was born in North Carolina).
Carson James Wentz grew up on the stark plains of this state, which is between Minnesota and Montana. The state takes its name from the Dakota Indians, one of many tribes to call this great land home, whether in days gone by or to the present.
Wentz was, of course, a high school football star–at Century High in Bismarck. He wasn't widely recruited, but did get a scholarship offer from North Dakota State University.
He played backup for his first two years, but eventually became a starter, partially due to his brains (he was the valedictorian of his high school), which helped him pick up the Bisons' offense.
Two-Time Champ
It was his junior and senior years that brought Carson Wentz football glory. North Dakota State competes in the Missouri Valley Conference, an NCAA Division I conference which includes such schools as Illinois State, University of North Dakota, and Youngstown State.
Importantly, they are also a part of the FCS, or Football Championship Subdivision. This subdivision has 128 teams from some of the smaller conferences like the MVC.
These schools have a hard time recruiting 300-pounders and super-athletes, who go to schools in conferences like the Big 10, Pac 10, SEC, and the Big 12.
Therefore, a championship was established for these schools to increase fan engagement and level the playing field a bit.
Two years in a row, Wentz led his NDSU Bisons to the FCS championship. The first year, 2014, he threw for 3,111 yards and 25 touchdowns.
If you're not familiar with the ways of American football, these are outstanding stats. 2015 was more of the same.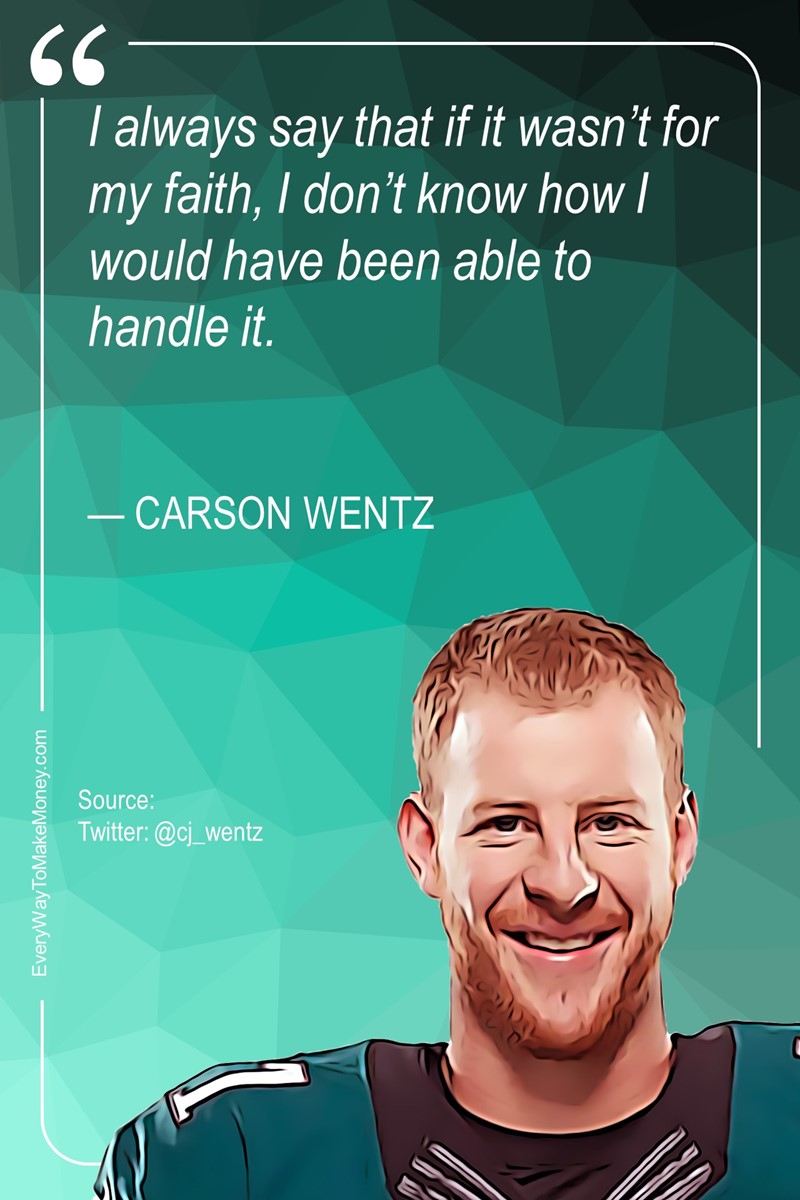 The Bisons won the championship and Wentz put up huge stats. He was named Division 1-AA MVP for the second straight year.
We're in the high-rent district with these achievements. But let's not forget academics. Although his major wasn't exactly nuclear physics (it was, instead health and physical education), he ground out a 4.0 GPA, not too shabby.
The only question was how his excellence in a minor college conference would translate into the NFL. He hadn't been playing primarily against the best of college football, so playing against only the elites that made NFL rosters wasn't going to be easy. And how high would Wentz be drafted?
NFL Draft and Early Career
Well, on draft day, 2016, Wentz and his family didn't endure much suspense. Wentz went number two, chosen by the Philadelphia Eagles.
What a magnificent achievement for a small-town boy from a small state and a very small college athletic conference.
Carson James Wentz's net worth really skyrocketed: his 4-year contract was worth a tidy $26. 7 M. Unlike many rookie quarterbacks, Wentz got the starting nod right away, throwing a couple of TD's to lead the Eagles to a win in Week 1.
For his efforts, Wentz was awarded the Pepsi NFL Rookie Award for the week. Perhaps Carson Wentz' salary appeared fully justified at this point.
Although the Eagles ended the season with a losing record (7-9), Wentz started all 16 games and set both league-wide and team records for rookies.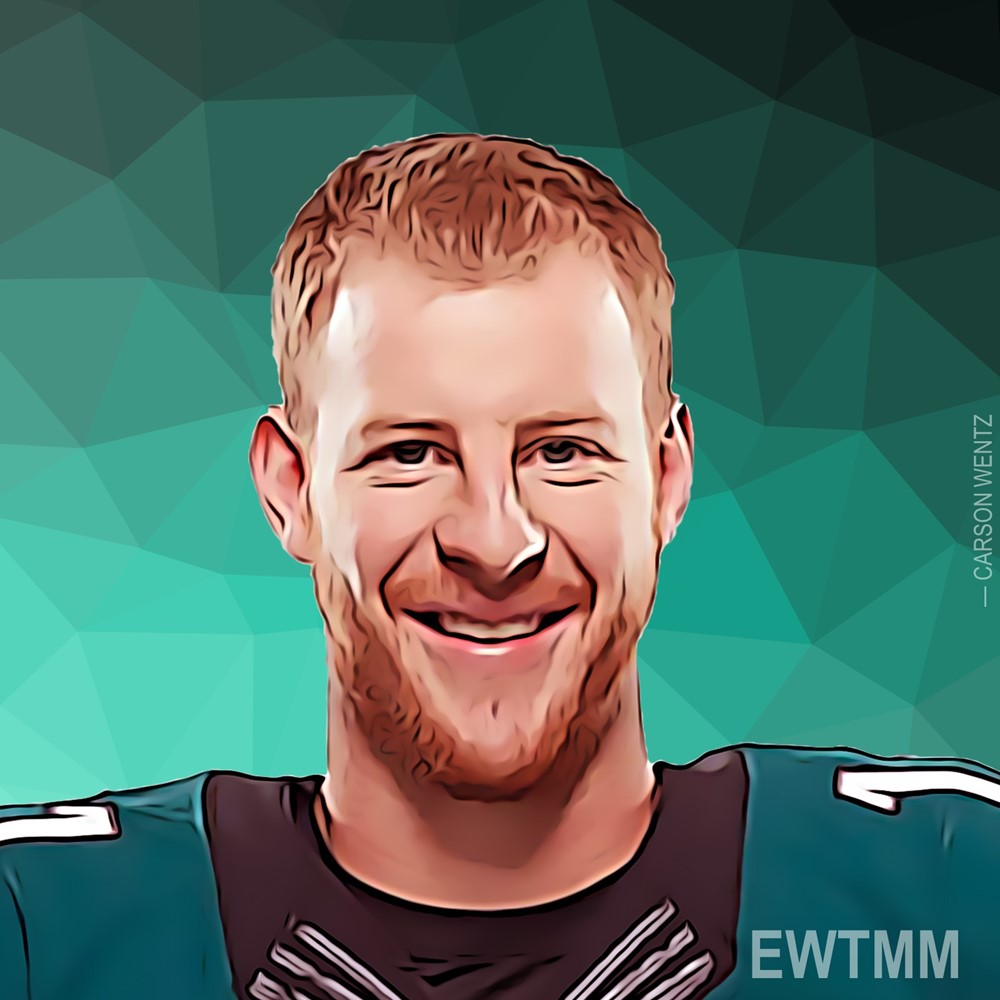 In 2017, he won the Bert Bell Award, which goes annually to the top player in the NFL! Top of the world, ma!
Super Bowl Champs
2017, just Wentz's second season, was a huge watershed for the Eagles. With Wentz having a great season, the team won the NFC championship.
However, Wents tore his ACL and had to undergo surgery. Therefore, he missed not only the playoffs, but also Super Bowl LII.
Using backup quarterback Nick Foles, the Eagles beat the Patriots, winning the first ever championship for the team.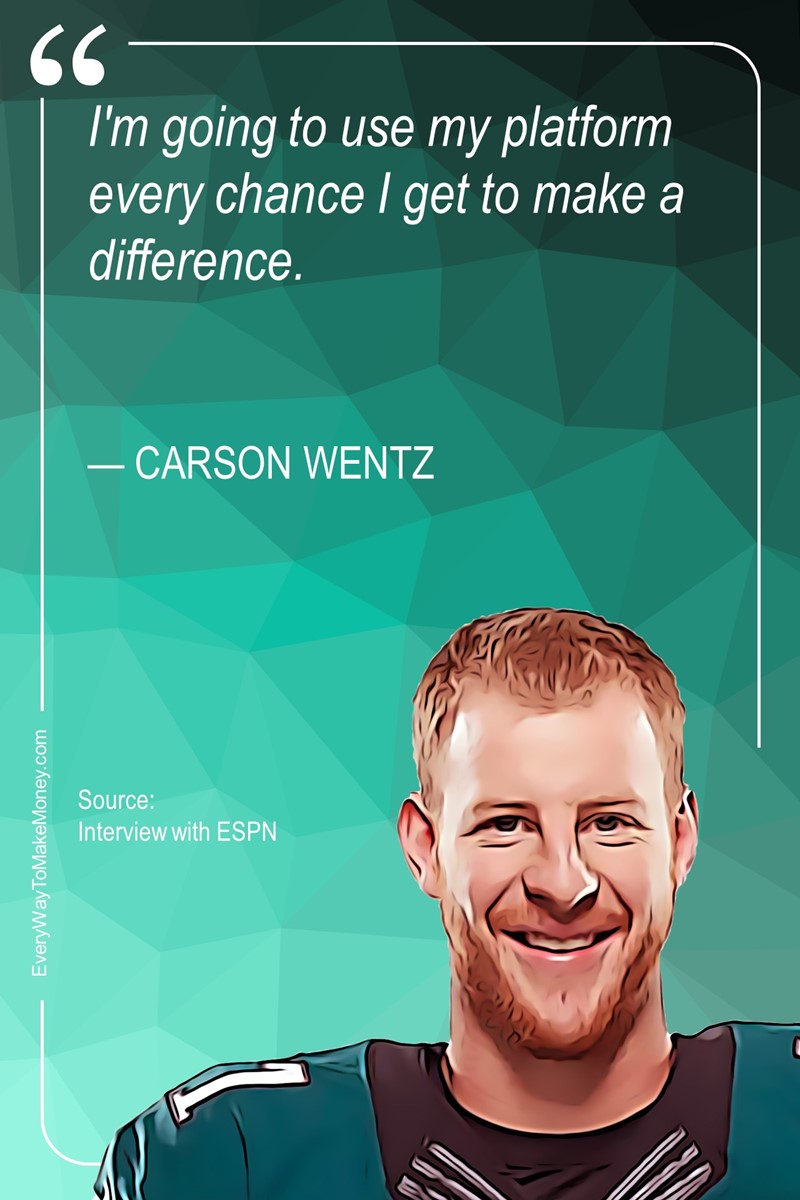 Wentz created controversy by openly lamenting the fact that the team had done well while he was injured. In fact, more than controversy, the statements led to a near fistfight between Wentz and a teammate.
A New Contract
In addition to Wentz's strange comments during the team's Super Bowl run, he was generally known as a self-oriented teammate, though some of his teammates dispute this assessment.
However, his performance on the field was outstanding. Wentz racked up several Philadelphia Eagles records, and when his first contract ran out, the team used its fifth-year option.
Philly boosted Carson Wentz's net worth by signing him to an extension of 4 years for $128 million, with $107 guaranteed.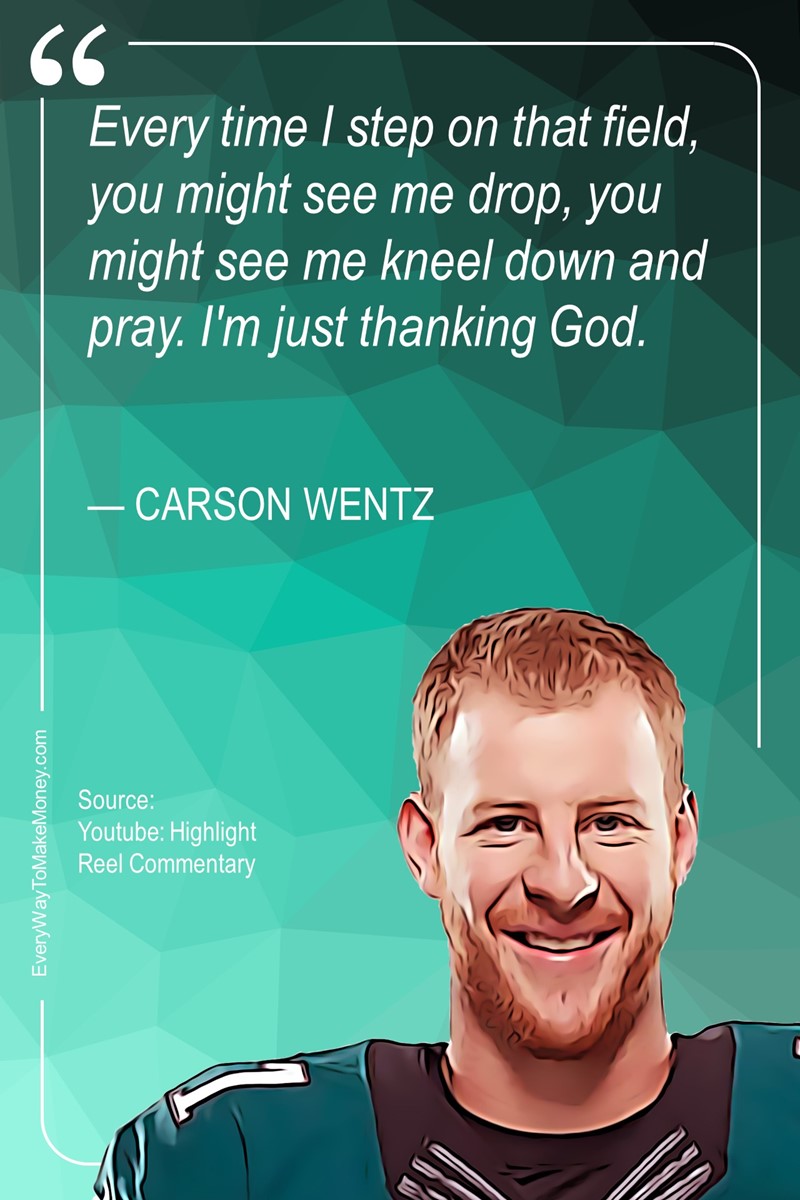 That year, 2019, Carson broke a major NFL record, becoming the first QB to ever pass for more than 4,000 yards.
Fans and teammates complaining about the money Carson Wentz is making were silenced. But once again, Wentz got hurt, this time in the playoff game against the Seattle Seahawks, when a Seahawk hit Wentz in this helmet with his helmet.
The team lost the game without its QB.
Multiple Trades, Multiple Teams
Yet, in 2020, Wentz had some off games and was traded to the Indianapolis Colts. His year had some ups and downs, but the Colts failed to make the playoffs.
Once again, a team decided to trade Wentz to try another quarterback. He landed with the Washington Commanders and tried to help them to glory.
However, they lost their last regular season game and just barely missed the playoffs. The Commanders then took the bold step of releasing Wentz, meaning just cutting him from the team rather than getting anyone in exhange for him in a trade.
At the end of the 2022 season, Wentz was without a team. While there were rumors of him playing for the Los Angeles Rams, he is presently without a club.
One imagines an organization will sign him before long. Remember, he was a first-round draft pick.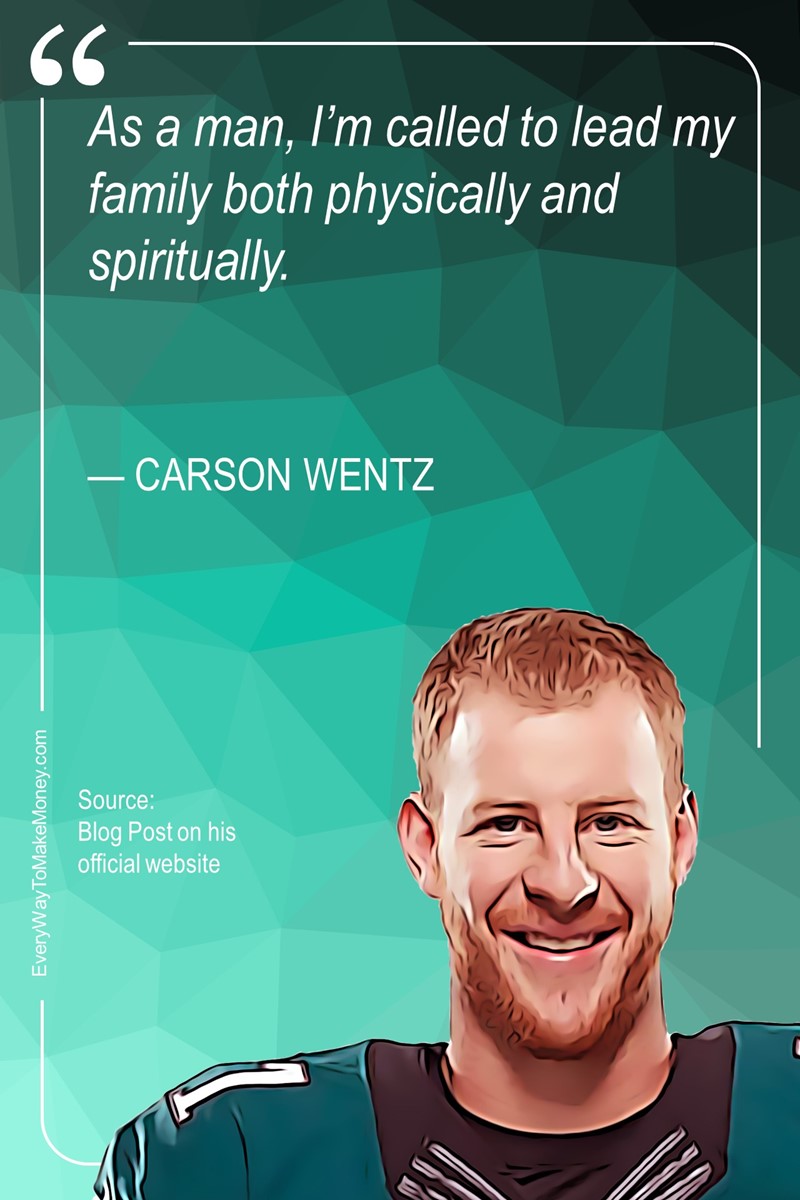 Carson Wentz' Net Worth
Here it is, the moment we've all been waiting for. Wentz is now one of the richest unemployed people ever. We estimate his net worth at $46 million million.
As you can see, he pulled in $130 million in the NFL. We imagine he has properties and cars that could increase Carson Wentz' net worth if he liquidated them.
He is married, with two daughters, and one imagines he spent a pretty penny on the wedding and the ring. Carson also helped build a sports complex in Haiti, and that explains where some of his amazing salary has gone.
Carson Wentz' net worth has come from overachieving as a small-timer. Eventually, his career took a dark turn, but his talent could bring him back.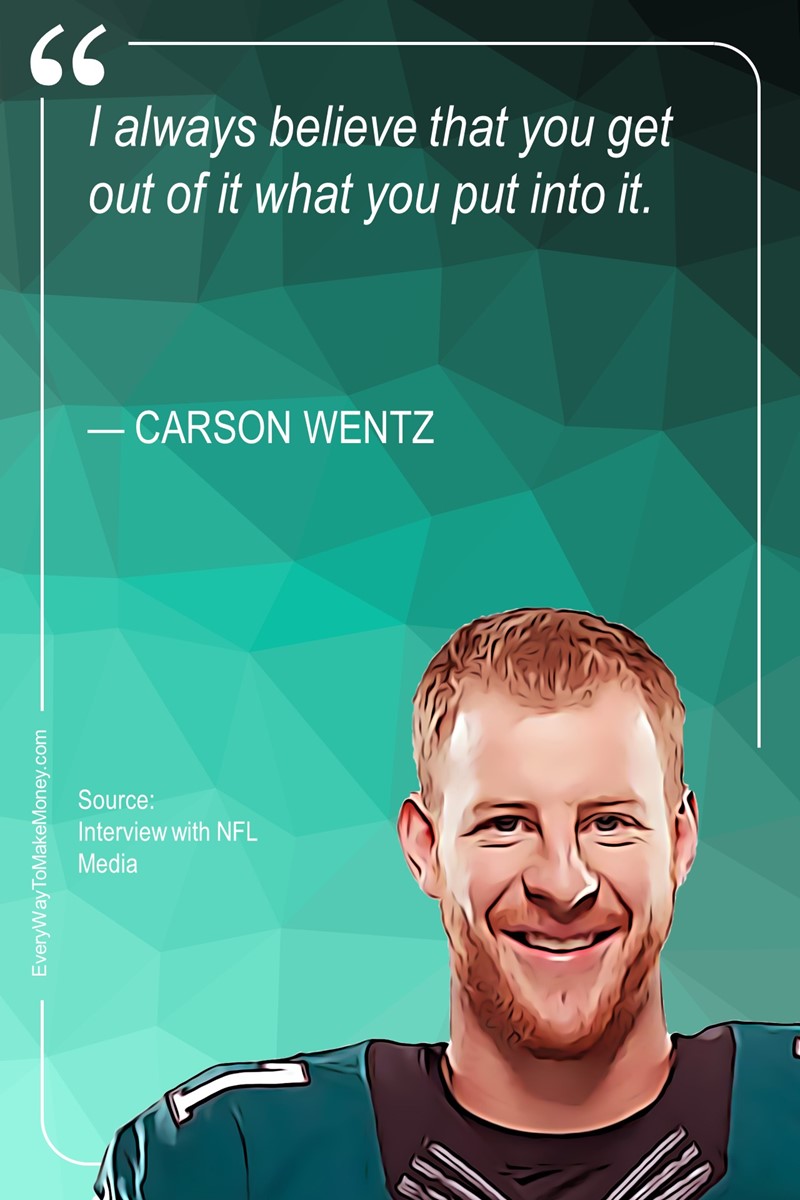 Carson Wentz on social media
Carson Wentz is active on several social media platforms, including Instagram, Facebook, and Twitter. As of August 19, 2023, he has 935K followers on Instagram, 126K followers on Facebook, and 1 million followers on Twitter.
| | |
| --- | --- |
| Carson Wentz | Social Media |
| Instagram handle: | cj_wentz11 |
| Instagram followers: | 935K followers |
| YouTube handle | @channel |
| YouTube subscribers: | 181 subscribers |
| Facebook handle | Carsonwentzfanz |
| Facebook followers: | 126K followers |
| Twitter handle | cj_wentz |
| Twitter followers: | 1000K followers |
| Updated: | August 19, 2023 |
Carson Wentz's net worth FAQS
How much money has Carson Wentz made in his NFL career
Carson Wents first signed with Philadelphia for $26 million. He then signed a $128 million, 4 -year extension to his contract with the Eagles in 2019.
All told he has made $128 million dollars with three NFL teams.
What is Carson Wentz's net worth?
As of 2023, Carson Wentz's net worth is estimated at $46 million. Carson Wentz acquired wealth through his successful career as an NFL quarterback.
It is important to bring attention to the fact that the net worth of Carson Wentz is not publicly available and the specific amount cannot be determined.