Tulsi Gabbard is an American political figure, a sometimes-presidential candidate, and a former U.S. Congresswoman, representing Hawaii. But what is Tulsi Gabbard's net worth?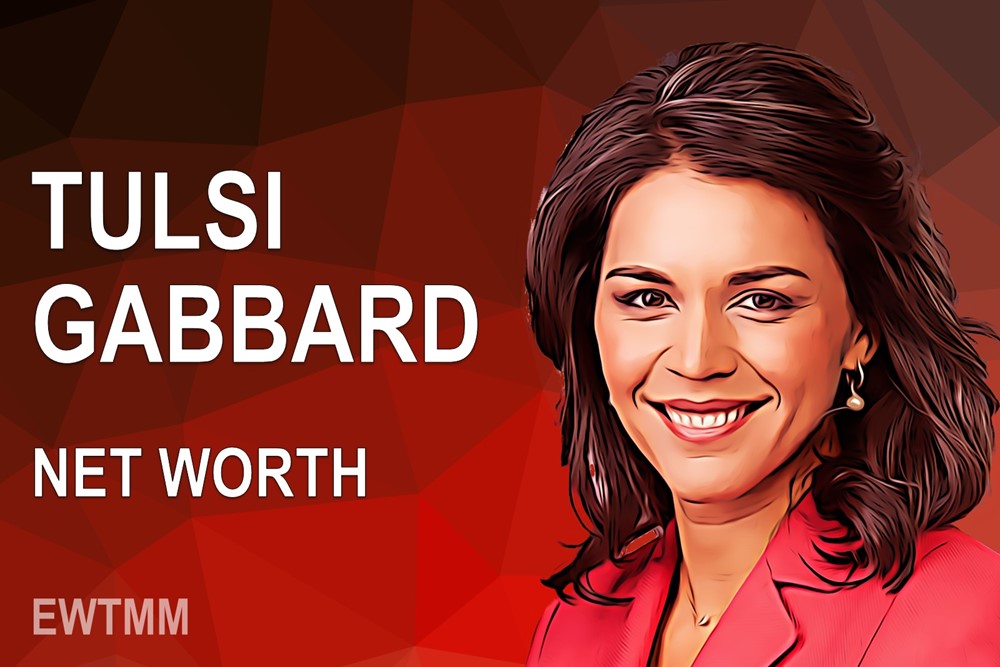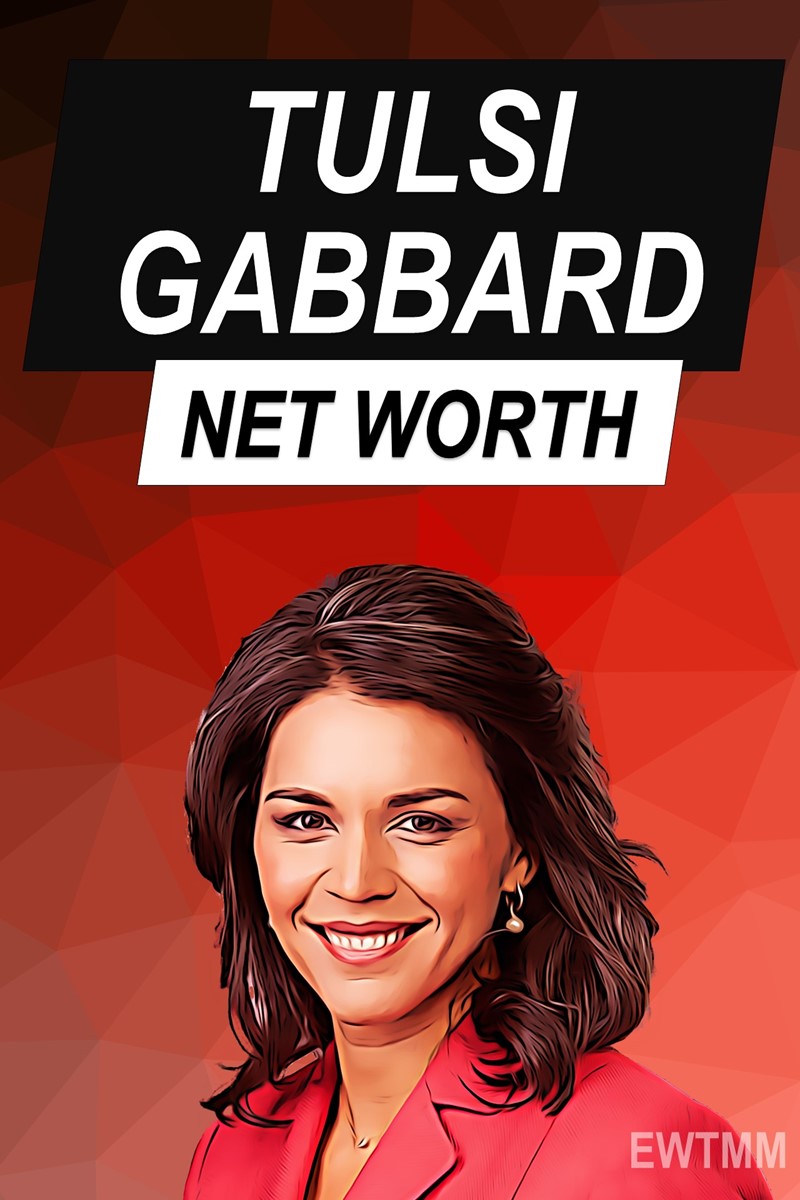 | | |
| --- | --- |
| Net Worth 2023: | $9 million |
| Born: | April 12, 1981 |
| Age: | 42 |
| Height: | 5 ft 2 in (1.58 m) |
| Native Country: | Hawaii |
| Place of Birth: | Honolulu |
| Source of Wealth (SOW): | Politics |
| Updated: | August 19, 2023 |
She is also a former medical officer in the military. Her beliefs cause a wide variety of strong reactions.
But, more to the point, what is Tulsi Gabbard's net worth? How much has she saved up, and where is it coming from? Inquiring minds want to know.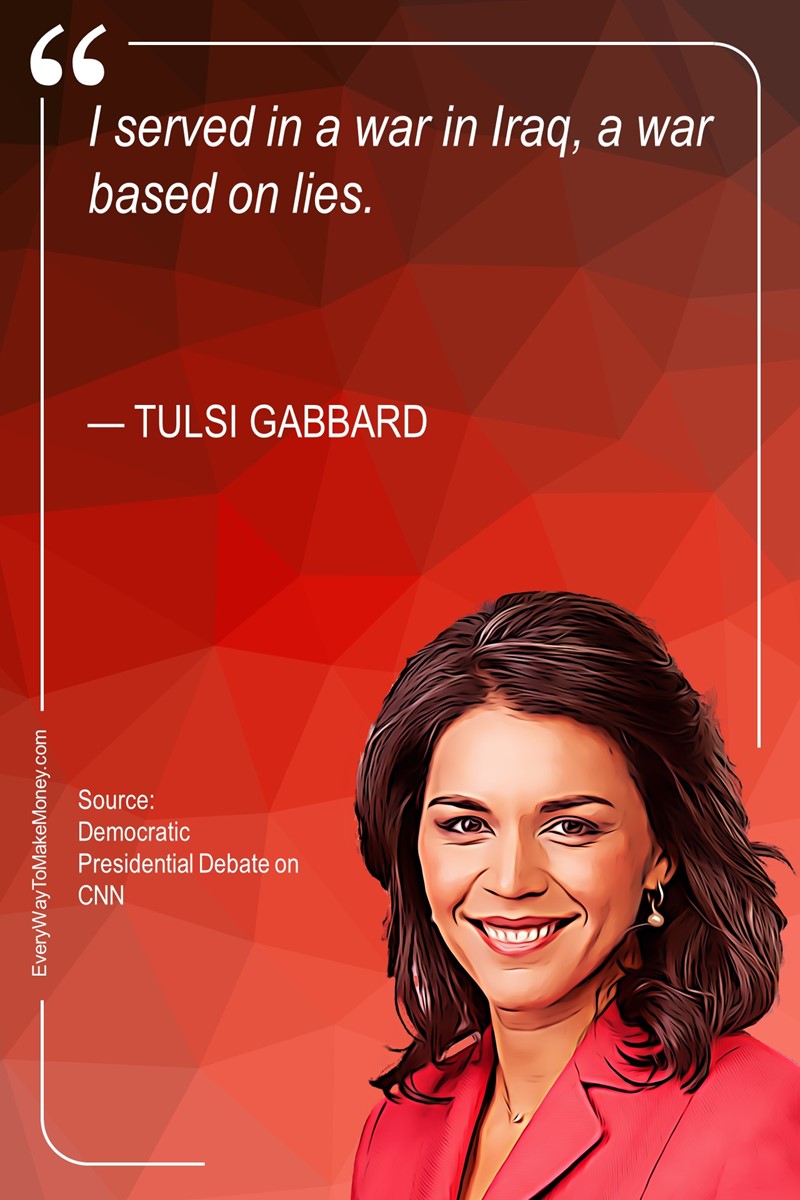 Congressional Terms
Tulsi Gabbard has a lot of "first"s associated with her. She knows how to break through glass ceilings. In 2002, Ms. Gabbard became the youngest person (at 21) ever elected to the Hawaii State Legislature. Her victory also made her the youngest woman ever elected to any state house in the nation.
She served a 2-year term but decided not to run again in favor of serving in Iraq in the military. After a stint on the Honolulu City Council, Gabbard decided to run for U.S. Congress, representing Hawaii, in 2012. While she started as an underdog in the primary, she won; her speech at the 2012 Democratic National Convention made her a rising star in the Democratic party.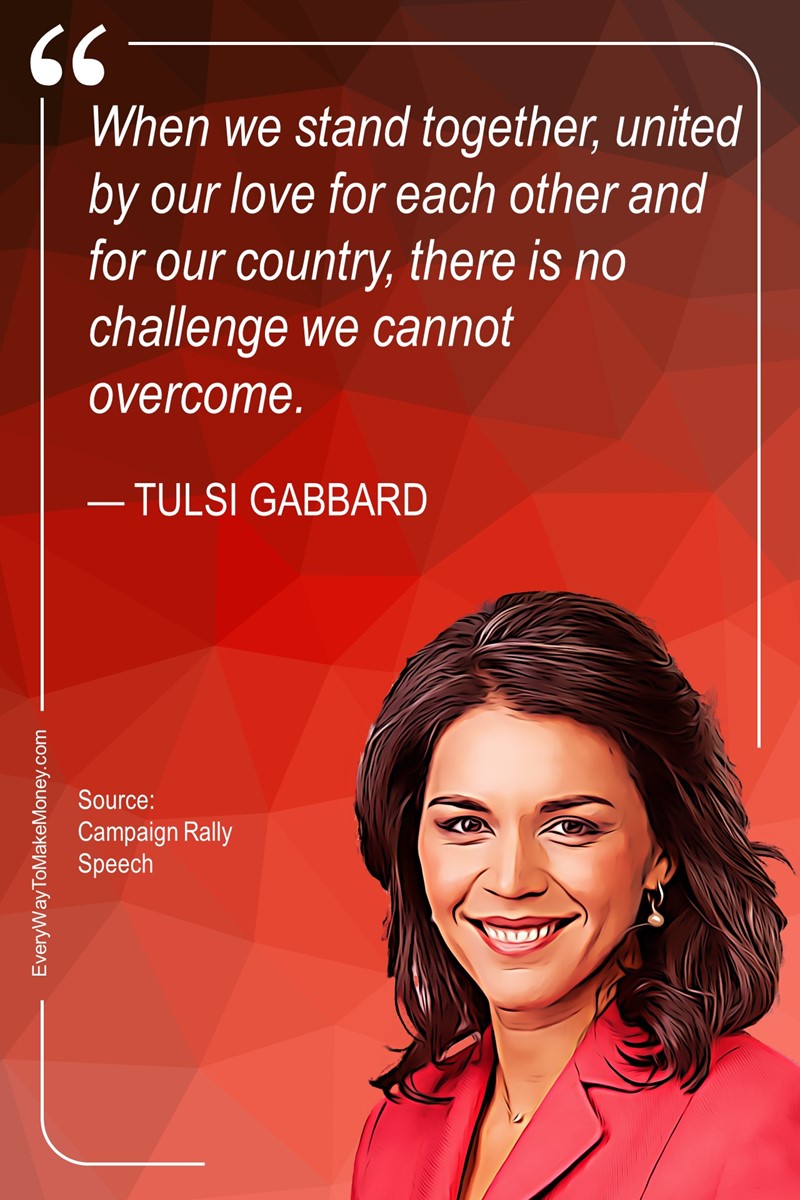 Hawaii is a very liberal state, so in general elections, Democrats are heavily favored. Gabbard won, becoming both the fist Hindu to serve in a U.S. legislature and the first Samoan-American to do so. Smash those glass ceilings, Tulsi!
U.S. Congress
Gabbard would go on to serve 4 (2-year) terms in The U. S. Congress. Many of the bills she introduced pertained to the military, including Talia's law, meant to prevent child abuse on military bases.
She also fought for gay rights, renewable energy, voting rights, and the power of Congress, not the president, to declare war.
Tulsi Gabbard's Presidential Run
In 2019, Gabbard announced that she would not run for another Congressional term. Instead, she would be running for president.
The incumbent was, of course, the polarizing Donald Trump. Hopefuls for the Democrat nomination included Bernie Sanders, Amy Klobuchar, and Pete Buttigieg.
Another was Vice President Joe Biden. Tulsi Gabbard's platform in 2020 included such policy positions as abolishing for-profit prisons and cash bail; raising the federal minimum wage to $15/hr; and slashing the military budget and returning troops to American soil.
In many ways, then, her views are far "left," but she also wants to overhaul the health care system and isn't expressly in favor of medical care for all.
Due to poor showings in the early polls, Gabbard didn't make eligibility requirements for any of the debates after the second one.
She angrily left the campaign, endorsing Bernie Sanders. Joe Biden, of course, ended up winning the primary and then the general election.
Gabbard is considering–and hinting at–a run for the 2024 presidential race.
Tulsi Gabbard's Military Service
Gabbard enlisted in the Hawaii Army National Guard in 2003, which was actually during her term in the Hawaii state legislature.
How often do elected officials sign up for military service? What a unique person is Tulsi Gabbard! How is Tulsi Gabbard so rich if she does things like enlisting in the national guard?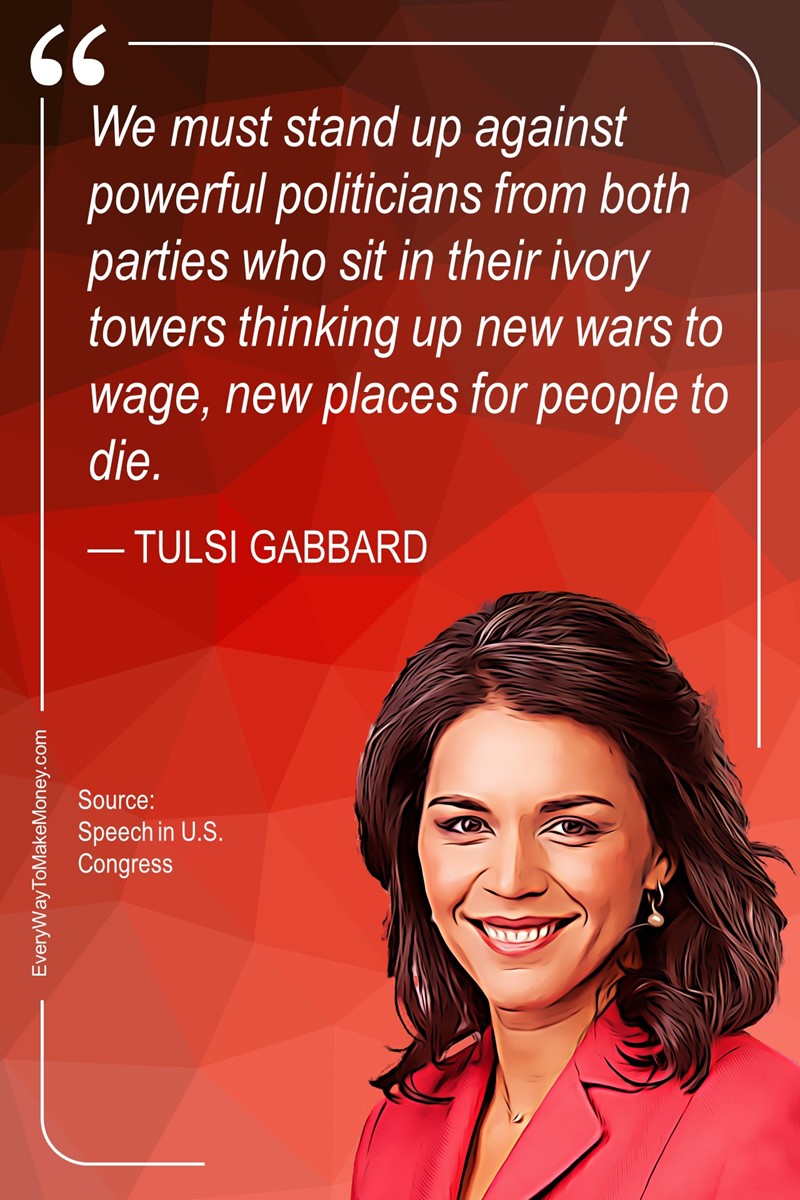 Keep reading to find out! Anyhow, Ms. Gabbard was sent into the belly of the beast, Iraq, where she worked as a medical specialist at a logistical support area.
But she was just getting started. In 2007, she became a lieutenant and began serving as an MP (military police).
How cool is that? She then went to Kuwait and became the first woman to win a Kuwait National Guard's award of appreciation.
There's no doubt that she served well and has been recognized by the military administration. To date, having won many awards and promotions, Tulsi Gabbard has risen to the rank of Lieutenant Colonel.
Will she inspire many girls to enlist in the military? Time will tell. And before long, you will know Tulsi Gabbard's net worth.
Early Life and Education
Tulsi Gabbard was born in American Samoa on April 12, 1981. Her parents are Mike Gabbard and Carol Porter Gabbard.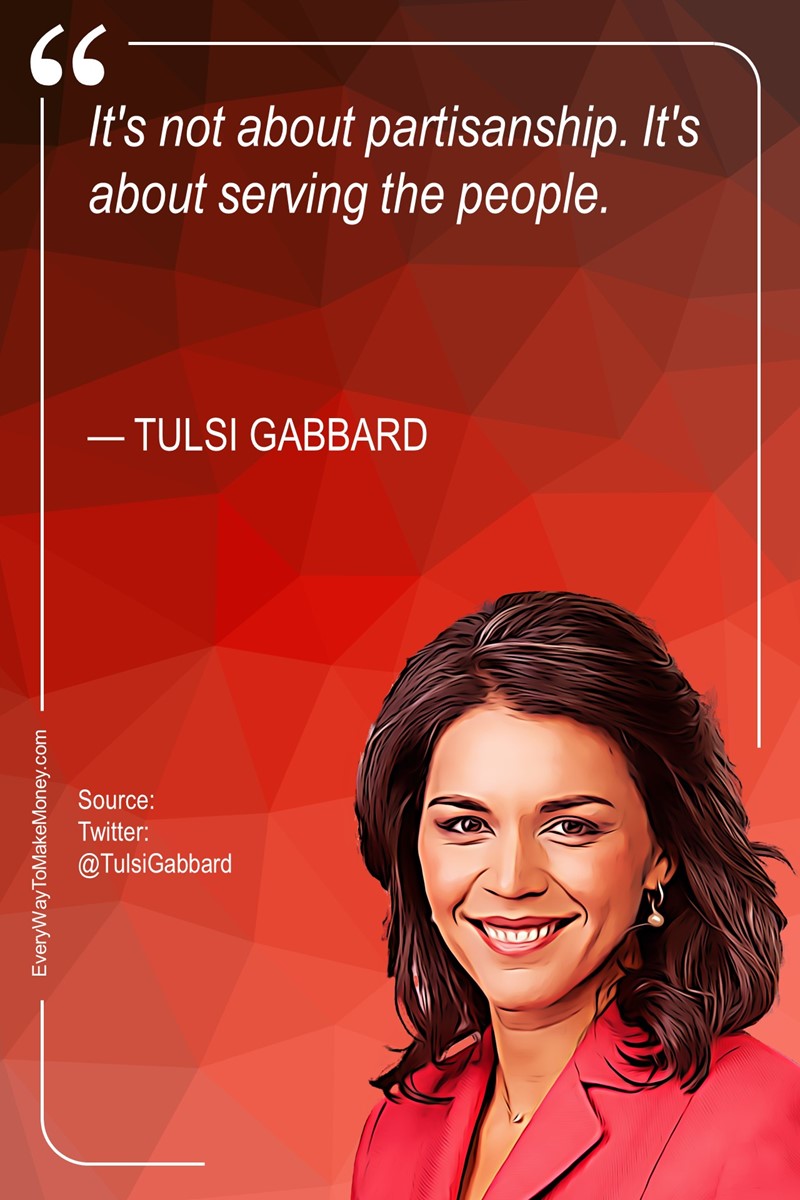 Well, her mother (who grew up in Michigan and Indiana) was entrenched in Hinduism and chose "Tulsi" as a name.
The Sanskrit word "Tulasi" means "holy basil. " As for higher education, it was a process for Tulsi, who of course served in the military.
She was enrolled at Leeward Community College in Pearl City, HI when she heard the calling to run for office.
Thus, she dropped out in 2002. Eventually, she would graduate from Hawaii Pacific University, in 2009.
Tulsi Gabbard on social media
Tulsi Gabbard is active on several social media platforms, including Instagram, YouTube, TikTok, Facebook, and Twitter.
As of August 19, 2023, she has 843K followers on Instagram, 591K subscribers on YouTube, followers on Facebook, and 2 million followers on Twitter.
| | |
| --- | --- |
| Tulsi Gabbard | Social Media |
| Instagram handle: | tulsigabbard |
| Instagram followers: | 843K followers |
| YouTube handle | @TulsiGabbard |
| YouTube subscribers: | 591K subscribers |
| TikTok handle | @tulsigabbard |
| TikTok likes: | 8M likes |
| Facebook handle | TulsiGabbard |
| Facebook followers: | 743K followers |
| Twitter handle | TulsiGabbard |
| Twitter followers: | 2M followers |
| Updated: | August 19, 2023 |
Tulsi Gabbard, FOX News Contributor
In October of 2022, Gabbard began a lucrative gig as a paid contributor on the controversial FOX News channel.
This came a couple of months after she officially left the Democratic Party, dismaying the Democratic National Committee.
Early in life, Tulsi had worked with her father in anti-gay-marriage organizations; also, her policy of no military interventions earned her criticism of being in league with Russia.
These views differ from those of many "liberals" or Democrats, and that explains to some how Gabbard could work for a conservative news network.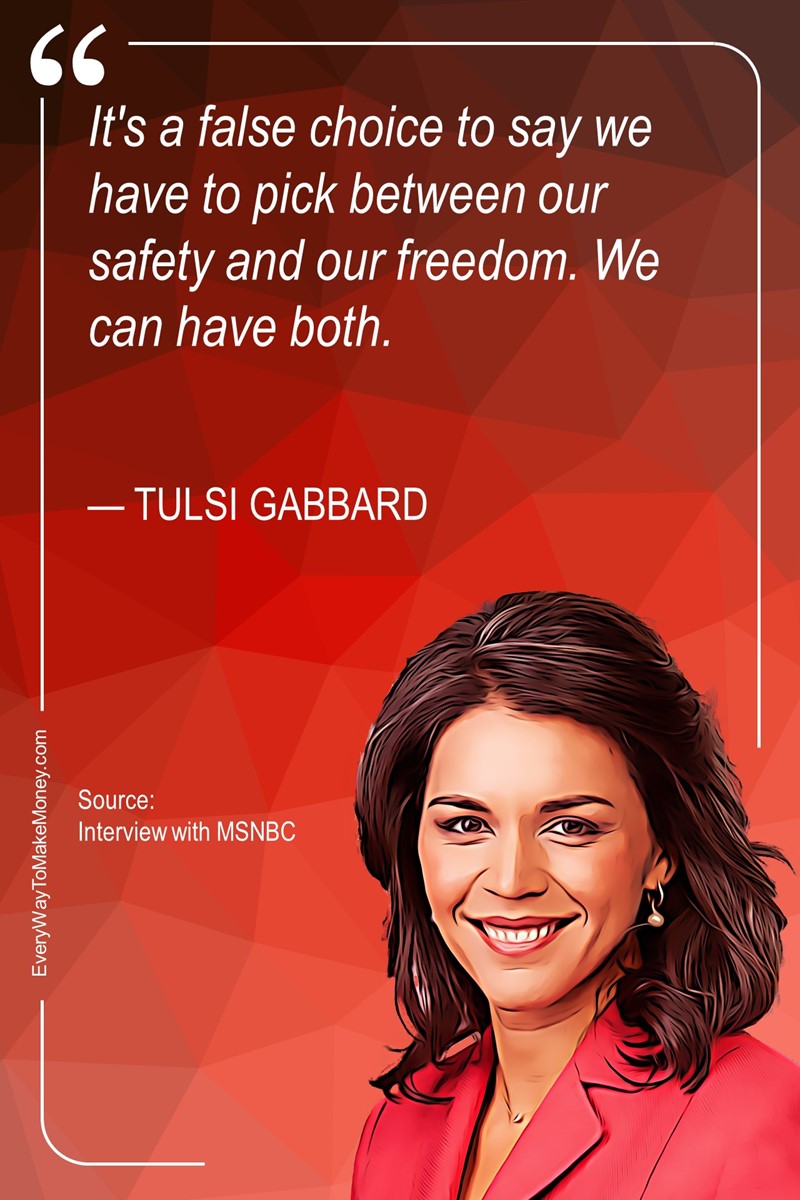 For those asking "how is Tulsi Gabbard so rich? " the FOX News gig goes a long way in answering, since cable news jobs always pay well.
Tulsi Gabbard's Net Worth
Today, we estimate Gabbard's net worth at [this_year_net-worth], not counting her investments, whose worth will fluctuate.
In addition to her FOX News salary, Gabbard has published two books, Is Today the Day? and For Love of Country: Why I Left the Democratic Party. The latter is slated for publication in January, 2024.
Gabbard is known to own four expensive cars and one yacht, in addition to her 6 properties. There is also a rumor she is in line for a $10M family inheritance. So her net worth should blow up.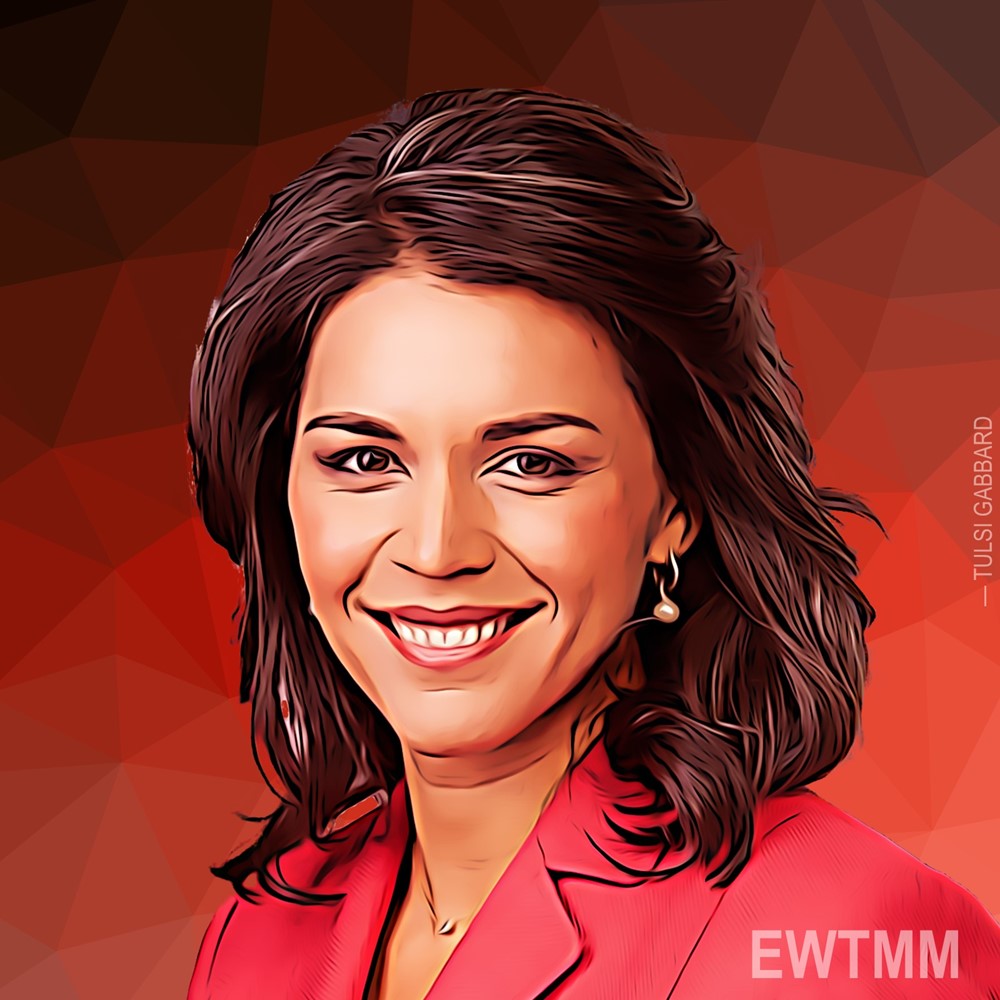 Tulsi Gabbard's Net Worth FAQ's
How much does FOX pay Tulsi Gabbard?
Tulsi Gabbard is on a 2-year contract with FOX, earning $1M per year.
Who is Tulsi Gabbard's Husband?
Tulsi Gabbard is married to Abraham Williams, a filmmaker. It is her second marriage.
What did Tulsi Gabbard actually do in the military?
Gabbard has served in both Iraq and Kuwait as a medical officer and a military police officer. She has won many awards and her rank is Lieutenant Colonel.
What is Tulsi Gabbard's net worth?
So how did Tulsi Gabbard get wealthy? Tulsi Gabbard attained financial success through politics and investments. As of 2023, Tulsi Gabbard's net worth is estimated at $9 million.
It is important to mention that the exact net worth of Tulsi Gabbard is not publicly available and cannot be confirmed.