Think you've done well with credit card points and cashback offers?
A man who calls himself Joe Taxpayer bought $50,000 worth of debit gift cards, in order to take advantage of a temporary 10-percent cash-back promotion on his MasterCard.
After paying the purchase fees ($4.95 for each $500 card), he netted $4,500.
I made over $2,700 profit from credit cards last year.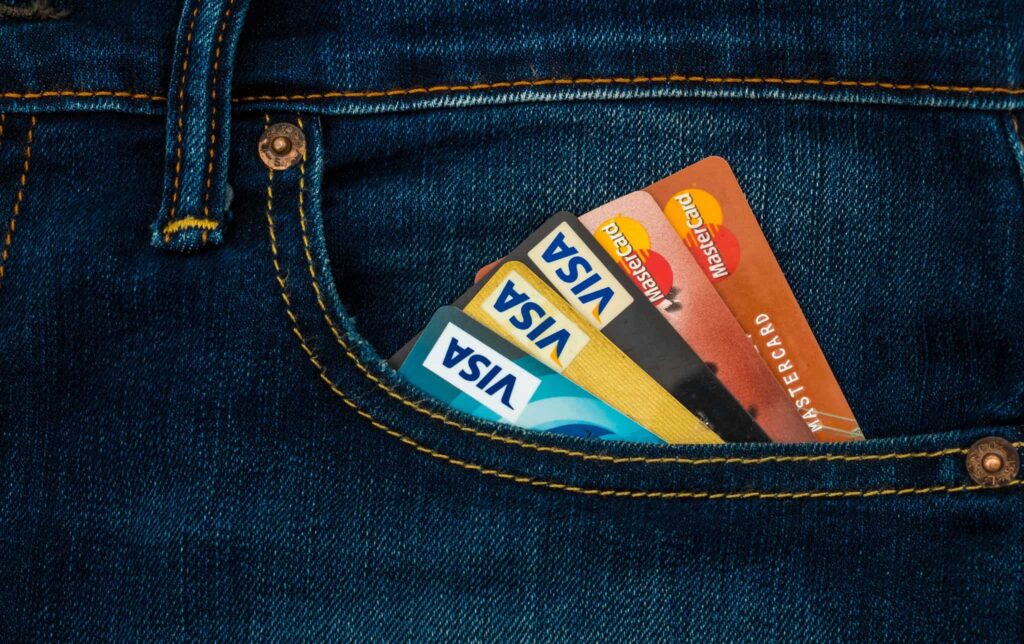 But that's mostly from sign-up bonuses.
After reading Joe's inspiring story — and burning through most bonus offers out there — it was time to play the credit-card-points game more seriously.
So I began my research in earnest.
I discovered that there are many ways you can get more money, hotel rooms, flights, and other rewards from your cards — without going into debt or buying things you don't need.
It all starts with…
Choosing the Right Cards
There are reviews of credit cards online, but choose according to your circumstances.
If you have a big family you'll want a card that offers more cash-back for grocery store purchases.
If you drive a lot find a card that offers more cash-back at gas stations.
You also have to consider the kind of rewards you get.
Cash back is nice, but some travel cards offer 25 percent more for your points if you use them for flights, car rentals, or hotels.
That's a nice bonus if you travel much (or want to).
Others have merchandise rewards, although usually there are also cash-equivalents like gift cards for stores at which you regularly shop.
The offers come and go, but a couple cards are worth mentioning specifically, because they can be so profitable…
Discover Card – Their 1 percent cash-back is nothing special, but there are 5 percent cash-back categories that rotate quarterly.
And at the moment they offer to double all of your cash-back after one year.
So, for example, that when grocery stores are one of the 5-percent categories, you can load up ($1,500 limit per quarter) and get a total of 10 percent back.
Chase Freedom – This card also has 5 percent cash-back categories that rotate quarterly.
Plus you get a $100 sign-up bonus if you spend $500 on the card in the first three months.
Citi Double Cash Card – No keeping track of categories with this card.
You simply get 1 percent cash back when you buy and another 1 percent when you pay the bill, for a total of 2 percent on everything.
How to Maximize Points and Cash-Back
There are two basic strategies for making your points add up more quickly:
Pay for everything (as much as possible) using your reward credit cards.
Use the cards that give you the most points for each type of purchase.
It's not always apparent how to pay for everything with a credit card, but there are ways.
It can also be tough to maximize your points on those 3 and 5 percent cash-back categories.
Here are some tricks for implementing both strategies.
Use Credit Cards for Utility Bills – Most utility bills can be paid by credit card.
For example, I now pay my water bill using a credit card, with no extra fee.
If there is a fee be sure it's less than the point value you'll get; otherwise you're better off paying by bank debit or check.
Pay for Insurance Using Credit Cards – This is a good one for racking up the points because auto and home insurance bills are usually hundreds of dollars.
Pay Your Taxes With a Credit Card – The IRS has a list of companies authorized to process tax payments by credit card.
If you have a business you can pay quarterly payments in this way as well.
The lowest fee at the moment is 1.87 percent, so you'll need to use a card that offers you at least 2 percent cash-back or travel points equal to that.
Pay Loans Using Credit Cards – Some travel hackers suggest using ChargeSmart.com to pay student loans and even mortgages with credit cards.
But look closely at the fee to see if it makes sense for the points you'll receive.
Buy Gift Cards to Make Category Points – How do you maximize that 5 percent cash-back when the category is stores at which you don't normally shop?
Buy gift cards for places you do shop at regularly.
My 5 percent Discover Card category this quarter is home improvement stores, so I'll be buying gift cards for other stores at Home Depot.
Buy Discount Gift Cards – When you use your credit card to buy discounted gift cards online you get the points on your card, but you also get a nice discount on normal purchases.
For example, I was recently going to buy some things at Kmart, so I first bought two $25 Kmart digital gift cards online for $21 each, getting points and saving $8 on my purchases.
Mark and Carry Several Cards – My cards are tagged for "gas," "office supplies" and such, so I know which one to use to get the most points or cash-back for those categories.
You can do this with a small sticker or tape on the side of the card away from the swipe bar or chip (so the tag doesn't get in the way).
Pay Your Rent by Credit Card – Services like RentMoola.com and RentShare.com let you pay rent with your credit card.
Unfortunately the typical 2.75 percent fee is more than the cash value of the points you can get on most cards.
But this can be a good way to meet minimum spending requirements to earn a credit card sign up bonuses.
Credit Card Points: Advanced Strategies
The serious credit-card-points gamers use manufactured spending.
Essentially you buy cash equivalents like store gift cards or prepaid cards in order to rack up points.
Then you convert those purchases into cash in various ways.
Here are a couple examples.
Buy PayPal Reload Cards – Buy a $500 PayPal reload card at a CVS drugstore with a 2 percent cash-back card and then load your PayPal account with the $500.
You can spend that money on your PayPal debit card or transfer it to your bank account.
The net result is that with the purchase fee of $3.95 you'll pay $503.95 for the reload card and get $10.10 cash back, a profit of $6.15.
That small profit may not be worth the trouble normally.
On the other hand, this can also be a way to meet a minimum spending requirement on a card to get a sign-up bonus worth $100 or $200.
And serious players don't stop at one card.
They buy several at a time, loading their PayPal account with up to $4,000 monthly (the limit).
Note: PayPal may suspend or close your account if you do this too often.
Buy Debit Gift Cards on Sale – Office supply stores regularly have debit gift card promotions.
For example, at the moment Office Max is offering $15 off if you buy at least $300 in Visa debit gift cards.
Buy two $200 cards and that discount more than covers the fees ($13.90 total for two cards).
I used a similar promotion at Staples, buying $400 in gift cards with a card that gives me 5 percent cash back at office supply stores, for a profit of $21.10 after fees.
There are reports that Citibank cards sometimes run these purchases as cash advances, so avoid using those cards or you'll be hit with additional fees.
You can use the debit cards for normal purchases, but the serious practitioners of manufactured spending use them to load Bluebird accounts, so they can then transfer the money back to their bank accounts (Note: at the moment this is no longer working — Bluebird changed their rules).
And they buy the cards several at a time, sometimes "spending" thousands of dollars weekly to generate points.
If these advanced strategies seem like too much work, just put your best cards in your wallet and remember to pay for everything with them.
Image by
Infusionsoft
via
Flickr