There are plenty of jobs for animal lovers!
Jobs for animal lovers are not difficult to find or to create: wildlife advocates Jim and Jamie Dutcher actually lived with a wolf pack in a 25-acre enclosure for six years.
Their home, a large tent near the Sawtooth Wilderness in Idaho, had no electricity or running water.
While living with and studying the wolves, the Dutchers made documentaries and wrote books about them.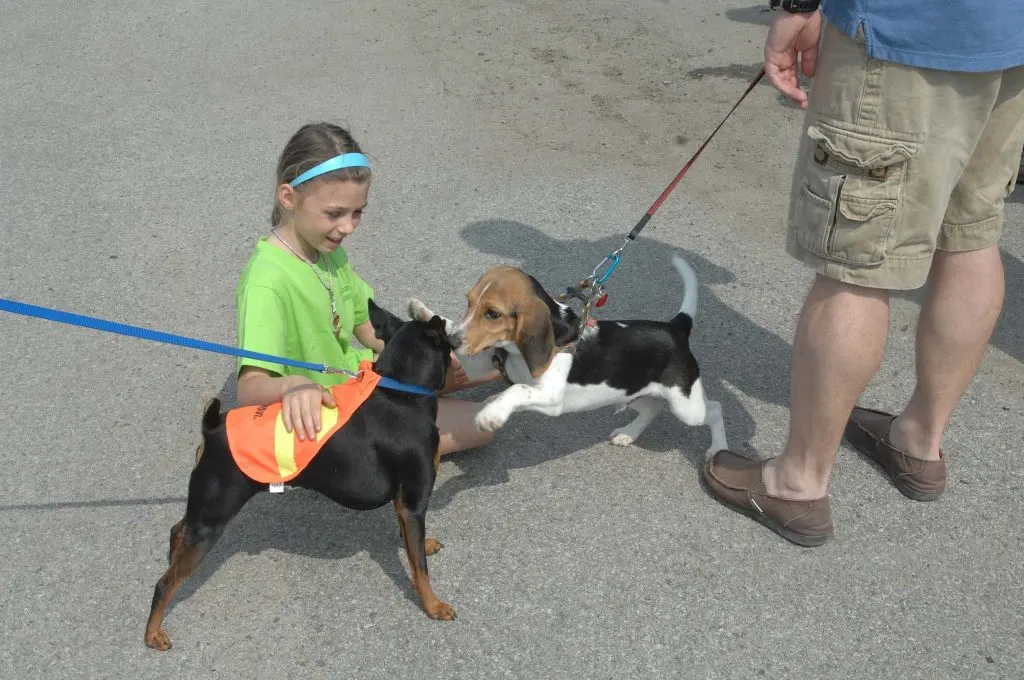 Interesting work if you can get it.
Maybe you prefer to keep your modern amenities, but you still want to work with animals.
Fortunately there are plenty of other jobs for animal lovers.
Yes, for some you'll need an advanced degree, but the pay can make the investment in time and money worthwhile.
For others you can probably apply today, with or without previous experience.
Which Jobs for Animal Lovers are Available Right Now
Enter the word "animal" in the search box on Indeed.com and you'll see thousands of job postings.
Here's what's on the first page of results as I write this (when searching with no geographical area specified):
Community Outreach Manager – In Fairport, New York the Humane Society needs someone to organize events to advance their animal advocacy work. You could qualify with any of various college degrees.
Kennel Supervisor – In Las Cruces, New Mexico a kennel needs someone to oversee operations, and lists the salary as between $30,935 and $46,402 annually. You need previous experience.
Penguin Exhibit Intern – You need to be currently in college to qualify for this position. It involves learning about and caring for African penguins. Surely on of the best jobs for animal lovers!
Rehabilitation Assistant – In Lake Oswego, Oregon a veterinary office needs help with animals which are recovering from injuries. You need a vet tech degree.
Animal Caretaker Helper – The national park service needs workers to care for mules and horse in Sequoia National Park, California. You'll make from $15.68 to $18.30 per hour, and you do not need previous experience.
Animal Care Manager – A pet hotel in Rockville, Maryland is looking for a manager to oversee a staff of 5 to 20 employees. You need one year of relevant experience.
Animal Caretaker – A petting zoo wants someone to care for their animals and work with the public. You'll make only $8 per hour, but you do not need any prior experience.
Digging beyond the first page of postings, other positions included one at an animal rescue facility, the usual veterinary technician jobs, and taking care of the residents at a dog food manufacturer's taste-testing facility.
Want to know more about jobs for animal lovers? Check this new article on a similar topic.
Make More Money Working With Animals
To make really good money working with animals you need to invest big in education.
At the top of the list below you'll find the job you would expect; veterinarian.
But there are many other jobs to consider, and some pay decently without requiring quite as many years in the classroom.
Veterinarian – You'll spend years in school and probably graduate with a lot of student debt But the median wage of veterinarians is a healthy $87,590, and the demand is high enough in most places that you can probably choose where to live. You can also specialize according to your interests, perhaps working with horses or starting a cat hospital.
Vet Tech – You need 2 or 4 years of college to be a vet tech, depending on whether you become a veterinary technician or veterinary technologist. Either way you'll be assisting a veterinarian with various tasks, for less than half of what she makes.
Fish and Game Warden – As a game warden (also known as a conservation officer) you get to protect animals and perhaps have a bit of excitement chasing poachers. Although you might start at about $36,000 per year, the mean annual salary is close to $50,000. These are mostly state positions, for which you need at least a relevant associate's degree (zoology, wildlife management, forestry, etc.).
Marine Biologist – Do you want to study creatures of the sea and document how they interact with their ecosystems? Become a marine biologist. In the database of the Bureau of Labor Statistics (BLS) the job falls into the category of "zoologists and wildlife biologists" for which the median annual pay is $57,710.
Animal Nutritionist – This position is part of the "animal scientists" category in BLS data, which includes many jobs working with farm animals. But you might also find yourself working for pet food manufacturers, either creating healthier foods or testing existing ones. You need a minimum of a bachelor's degree (and often more), but the mean annual wage of $72,590 will help you pay off the student debt.
Animal Right's Lawyer – You first have to become a lawyer to get this position, and the jobs are not exactly common. But organizations like the Animal Legal Defense Fund have openings from time to time. The work is varied; one current job posting says you'll help legally challenge the "harmful practices of industrial animal agriculture." Of course, the $113,530 median annual wage of lawyers may be higher than many non-profit organizations are willing to pay. Definitively one of the the highest paid jobs for animal lovers!
Easier-to-Get Animal Lover's Jobs
Maybe you don't want to go to school for seven to nine years to become a vet, or your master's degree in ancient Semitic languages just doesn't qualify you for highly-paid jobs working with animals.
Or maybe you have nothing but a high school diploma.
Fortunately there are still options.
They pay less, but hey, there are other rewards, right?
Veterinary Assistant – As a vet assistant you can work in veterinary offices or research laboratories. You assist in the care of animals. The BLS says most people in these positions have only a high school diploma, and that learning on the job is typical. Of course that easy qualifying is reflected in the median annual wage of just $23,130.
Animal Attendant/Kennel Worker – Every animal shelter hires attendants from time to time, as do many kennels. You get to feed and care for the temporary residents. You also get the dirty work of cleaning up after them. And, if you become attached easily, you might face some tough separations. All that work and drama comes with a median wage of $19,690 annually.
Groomer – If you like to work really closely with animals, become a groomer. Washing dogs and combing through cats looking for fleas is usually something you learn on the job — no experience required. Check with the big box pet stores that offer grooming services. Pay is low, but you might consider it paid business training if you plan to open your own pet grooming business. PetGroomer.com has postings for pet groomer jobs.
Animal Control Officer – You probably won't use the old title, "dog catcher," and as an animal control officer you'll work for the animals as much as for public safety. You'll investigate cruelty cases and take abandoned animals off the streets. The median annual wage is $34,370. You need at least a high school diploma and experience working with animals. Some employers require certification by an organization like the National Animal Care and Control Association, or prior experience as a police officer.
Zoo Jobs – If you want to work with more exotic animals, head for the nearest zoo. A search of Indeed.com using the keyword "zoo" turns up many openings around the country. You need a degree for some of them, but others require nothing more than a high school diploma. Those include positions feeding animals, helping visitors, and cleaning. As you might suspect, they don't pay very much.
Want to know more about jobs for animal lovers? Check this new article on a similar topic.
Other Ways to Make Money Working With Animals
Many jobs involving animals are not really jobs but self-employment and business opportunities.
The pay is less certain, but the potential for making money without extensive (and expensive) education is greater.
The Penny Hoarder (where I often write) has profiled some of these freelance and business opportunities involving animals.
Here are a few examples:
Be a Cat Behaviorist – Charge up to $100 per hour, and you don't need a college degree or license. one of the funniest jobs for animal lovers!
Pet Sitting – Make up to $100 per night while you watch TV and play with the cat.
Rent Chickens – That's right; people will pay hundreds of dollars to borrow your chickens.
Want to know more about jobs for animal lovers? Check this new article on a similar topic.
And that's not the end of this list.
Here are a few of the ways Abbie Mood reported in her post on how to get paid to hang out with dogs:
That's a lot of ways to make money while working with animals with jobs for animal lovers.
And I didn't even have room to include more than a quick mention of these other jobs for animal lovers:
There you have it: More than 40 ways to work with animals for a paycheck or a profit.
Your Thoughts: Do you like the idea of working with animals, and would you consider any of these jobs and businesses?
Image by
USAG- Humphreys
via
Flickr