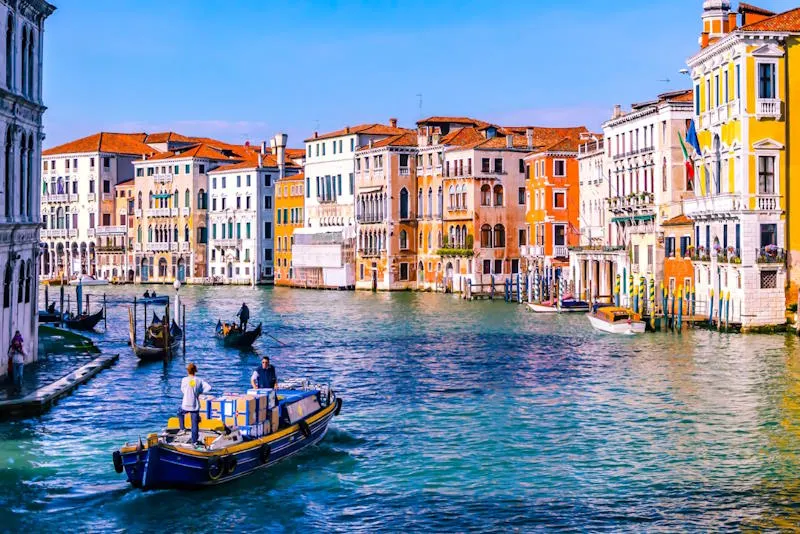 Venice, often referred to as the "City of Canals," is a mesmerizing destination that captivates visitors with its unique charm, history, and romantic ambience. This enchanting Italian city, built on a network of islands connected by picturesque canals, offers a treasure trove of experiences waiting to be explored. To make the most of your trip, it's essential to prioritize your time wisely. Whether you're a first-time visitor or returning for another rendezvous, here's a guide on what you should prioritize in Venice.
Exploring the Grand Canal
One of the quintessential Venice things to see is the Grand Canal, the city's main waterway. This winding watercourse is lined with an array of magnificent palaces, historic buildings, and vibrant markets. To experience its allure, consider taking a vaporetto, Venice's water bus, for a scenic journey along the Grand Canal. This leisurely ride provides an excellent opportunity to admire the architectural splendour and the daily life that thrives along its banks. Don't forget to snap some photos of the iconic Rialto Bridge and the enchanting Basilica di Santa Maria della Salute as you glide along the canal.
St. Mark's Square and Basilica
St. Mark's Square, or Piazza San Marco, is the heart of Venice and a must-visit location for any traveller. Surrounded by historic buildings and cafes, this bustling square is a great starting point for your Venetian adventure. At its centre stands St. Mark's Basilica, a breathtaking example of Byzantine architecture. Its intricate mosaics, ornate domes, and stunning artwork inside are a testament to Venice's rich cultural heritage. Be sure to visit the basilica early in the day to avoid the crowds and enjoy its beauty in relative peace.
Venice's Hidden Gems
While the iconic sites are essential to any Venice itinerary, don't forget to explore the city's hidden gems. Wander through the charming, narrow alleyways known as "calli" and discover quiet squares where you can savour the true essence of Venetian life. Take a leisurely stroll to the historic neighbourhoods of Dorsoduro and Cannaregio, where you'll encounter local markets, artisan shops, and quaint cafes. These areas offer a more authentic and less crowded experience of Venice.
Venice's Artistic Treasures
Venice has a rich artistic legacy, and its museums and galleries house some of the world's most priceless treasures. The Gallerie dell'Accademia is a treasure trove of Venetian art, featuring works by renowned painters such as Titian, Tintoretto, and Veronese. Another must-visit is the Peggy Guggenheim Collection, housed in a picturesque palazzo along the Grand Canal, showcasing an impressive array of modern and contemporary art.
Venice's Culinary Delights
No visit to Venice is complete without indulging in its delectable cuisine. Savour fresh seafood dishes like risotto al nero di seppia (squid ink risotto) or sarde in saor (sweet and sour sardines) at local trattorias. Be sure to pair your meal with a glass of Veneto's finest wines, such as Prosecco or Valpolicella. Don't miss the opportunity to try cicchetti, Venice's answer to tapas, at charming bacari (wine bars) scattered throughout the city.
The Venice Lagoon and Islands
Venture beyond the city's borders to explore the enchanting Venice Lagoon and its neighbouring islands. A visit to Murano is a must, where you can witness master glassblowers at work and admire their exquisite creations. Burano, known for its colourful houses and intricate lacework, is another island worth exploring. You can easily reach these islands by taking a vaporetto from Venice.
What to Pack for Your Venice Adventure
When preparing for your Venice journey, it's crucial to pack wisely. Venice is known for its fluctuating weather, so bring comfortable walking shoes for exploring the cobblestone streets and bridges. Dressing in layers is advisable, as temperatures can vary throughout the day. Don't forget essentials like sunscreen, a hat, and a reusable water bottle to stay hydrated while exploring the city. Most importantly, be respectful of Venice's unique environment and its fragile ecosystem by avoiding single-use plastic items and disposable water bottles.
In conclusion, Venice is a city unlike any other, offering a magical blend of history, art, culture, and culinary delights. Prioritizing your time and exploring its iconic sites, hidden gems, and culinary wonders will ensure a memorable and fulfilling experience. As you embark on your Venice adventure, remember to pack sensibly, and most importantly, savour every moment in this captivating city of canals.