Writing a career objective is one of the most difficult parts of the resume but is also the most important.
Right at the very top of your resume is where most people pace their career objective – a short, one or two sentence summary of what they hope to accomplish in their professional careers.
Known by many names, including: objective, career objective, objective summary.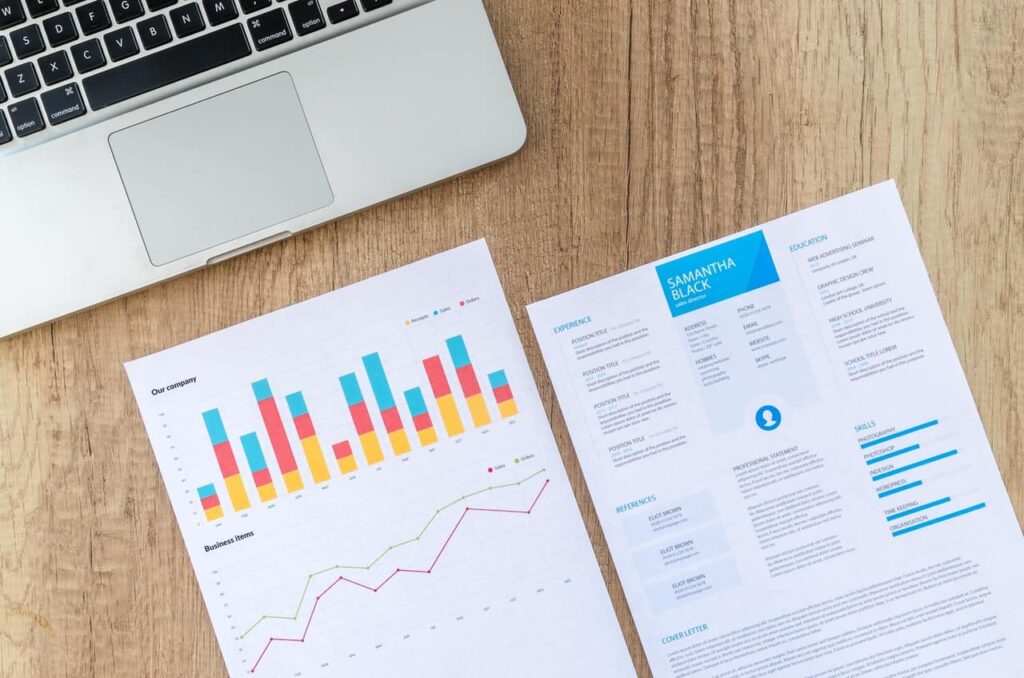 This small section is often incredibly challenging to write. Yet those that are able to successfully write an impressive objective put themselves in a great position to get the job.
In this article, we'll look at who writes objective statements, how to write an career objective, and give several examples of well written career objectives that you can use as a model to figure out how to create your own.
Do You Need A Career Objective At All?
Before you decide to write your career objective, first make sure that you need one at all. In many professions, especially in the corporate world, people are switching to what's known as a "professional summary" – an alternative to career objective statements that may be more likely to help you get the job.
Professional summaries are small paragraphs that provide a quick overview of the many reasons you should be considered for the job.
They are generally between 4 to 6 sentences, and provide a brief synopsis about what the person will find on your resume if they were to continue reading. In a way, the professional summary gives context that the hiring manager can use to understand your achievements.
Objective statements are the first thing a hiring manager will see after your cover letter.
Career Objective: "To utilize my problem solving skills and career experience in an environment that promotes outside of the box thinking, as well as professional growth."
Professional Summary: "Respected sales management professional with experience analyzing and managing lead pipelines. Capable of training and encouraging unique teams of sales leaders. Skilled at interpersonal communication and relationship building, with consistent positive feedback from both clients and coworkers."
The difference between these two could not be more stark. One is selling yourself, and the other is simply sharing what one of your goals may be.
That is why many people have switched to the professional summary, and why the professional summary is now a common part of our resume templates here at EveryWayToMakeMoney.
For many jobs, the professional summary is simply a better way to attract attention from the hiring manager.
So it will be up to you to decide whether you want to write a career career objective at all.
But there are still many people – and even some hiring managers – that prefer the career objective. It is also a good idea for specific types of applicants:
Those that do not have a strong work history and entry level workers.
Those that are applying to be in non-profits and volunteer work.
Those that are changing careers.
Those that have a career objective worth sharing.
Interestingly, even though career objectives are often most commonly used by entry level employees, they are also frequently seen on the resumes of CEOs, Vice Presidents, and other high-end managers.
That is because managers often have a vision for themselves and the company, and the career objective helps to reflect that.
In the end, the choice to place a career objective or a professional summary depends largely on your experience, template, the job that you are applying for, the industry, and which one you do a better job writing.
Common Mistakes
Objective statements are also a frequent source of mistakes.
For many it is an afterthought – something that they write at the last second when the rest of their resume is completed, and they usually write something corny in a hurry to get the resume "over with."
With a career objective, it is almost more important to avoid mistakes than it is to write an amazing career objective.
That is because the career objective is the first thing that hiring managers see, but represents some of the least important details in your resume – an career objective is unlikely to get you the job, but it can prevent you from getting the job.
Some of the most common mistakes with career objective include:
Non-Work End Goals – Many recent college graduates use their career objective to tell them their personal goals, not their career goals. One of the most common includes: "to secure a position that will help me get accepted to graduate school." These types of objective statements are essentially a way to say "my goal is to leave your company." Not good.
Overly Simple – Every single word on your resume should be chosen to impress the employer. In other words, your resume should not be overly clichéd, boring, and without any identifying information. For example, avoid statements like "to secure a position where I can use my skills to help the company grow." There is nothing special with this type of statement.
Not Relevant to Job – Your career objective is still a part of your application for the job. It should be relevant to the position and the company. For example, imagine you are applying to a very "corporate" style company, where every day you come 9 to 5 in a suit and tie. If your career objective is "to work at a relaxed, growing, friendly coming that is prioritizes work/life balance," you are not going to get the job, because that's not what they do there.
Complaining About Previous Company – Don't use your career objective to complain about your previous company. For example, a statement like: "to find employment with a group of people that are accepting and friendly…" because you were previously employed with negative and unaccepting people is not a good use of the career objective section of the resume.
Self-Centered – Even though it is a career objective, it should be something that shows you're going to be a great employee. It should help set a tone for the hiring manager that you're there to help make an impact, and that if they hire you, you are going to be someone that is an asset to their staff.
Avoiding these mistakes is possibly more important than writing a great career objective, because this objective will always be the first thing that hiring managers see, and you want to make sure you start off your resume without a negative first impression.
How to Write A Career Objective
Now that you know what to avoid, it is time to talk about how to write the resume objective. A career objective is designed to share the following:
What your professional goals may be.
What your talents are that help achieve those goals.
What drove you to applying to the job/industry/company.
Remember that a career objective is more common for people that have either little work history, or are changing careers.
Why? Because resume objectives give you a chance to share what your objective is in a way that isn't apparent on your resume:
Looking to start a new journey in business strategy, using my experience as an accountant and manager to provide unique insights into potential sales opportunities.
This type of career objective shows your actual objective. It explains why your resume may not have information that is specifically related to the job you're applying for (in this case, a business strategy job), but that you're convinced that your skills will still be relevant, and you'd like the hiring manager to envision it from that point of view.
Most career objective start with the word "To." But they do not necessary need to. You can start with a brief description of yourself ("Experienced data specialist seeking…") or you can start with the action word ("Seeking employment with…").
There is nothing wrong with starting with the word "to" but you do not need to limit yourself to that word.
The career objective itself should have several qualities:
It should be a real objective. It should show that you have some type of professional goals that you can achieve if you get hired at this job.
It should have specifics. Vague words may seem "safe" but they do not add anything to your resume. What makes you different? That is what your resume needs to answer, and being specific will help with that.
It should have good words. This is related to using specifics. There is nothing inherently wrong to say something like "to use my experience…" but then there is nothing impressive about that type of statement. Words matter on a resume, and finding a way to make sure you seem interesting with your word choice will help you stand out.
Always write your objective with these ideas in mind, because your resume is your way to market yourself to the company, and an objective that doesn't match the above qualities will not help you make the sale.
What Are Some Examples?
In the next section, we'll look at actual sample objective statements. But before we begin, let's answer a very quick question – what should your career objective be?
Career objectives are, by their very nature, something personal to you.
They are supposed to be your work goals. Of course, "to make a lot of money" is probably the most accurate goal, but that won't get you the job.
Your objectives should be focused more on ways you can grow professionally in a way that is relevant to the job that you're applying for. Your goals should also have some relationship to your skills and experience. They should help answer the question of who you are as a person.
So some example career objectives might be:
Helping a startup become a larger company.
Identifying areas of need within an organization.
Helping people (such as in the case of working for a non-profit).
Something numerical, such as increasing revenue or efficiency.
Starting on a job that addresses a new type of skill you have learned.
They should be something that works from your point of view, and the recipients point of view.
Will you be able to convince the hiring manager that you are someone impressive based on your career objective? Does it also represent some type of real objective, in the sense that it's something that could realistically describe you? If it doesn't meet these qualities, you may need a new one.
Resume Career Objective Samples That Make An Impact
The following are several examples of excellent objective statements. Consider these statements as a reference as you decide what objective summary you should create for yourself and your own experiences. Note that since every job is different, yours may be nothing like the examples below. They are only meant to be inspiration for your own objective:
Recent graduate of University of Washington Business School looking to take some of the newest in marketing tips and innovations and implement them in a growing tech startup.
Seasoned IT manager seeking a new team to encourage and lead. Ready to bring a unique, outsider perspective to an already successful program, and see how to identify needs and promote individual strengths.
Warehouse specialist with experience using NetSuite WMS ready to fulfill a need in a busy distribution center, and seamlessly integrate into the existing logistical system.
Former sales executive ready to embark on a fulfilling path in the non-profit sector. Great with people, and able to help with fundraising and networking efforts.
Experienced middle school teacher looking to use knowledge of secondary school education to assist elementary school students with preparation for common core standards and success.
Energetic and organized recent high school graduate ready to immediately engage in the workforce and use his interpersonal skills and educational background to help a company operate and grow.
Test engineer specializing in Design for Test in IoT devices looking to become a part of a company that is leading the way in innovative Internet-of-Things technology.
Design professional with a background in freelance social media graphic arts looking to become a part of a team and assist in UI/UX graphic design.
Cosmetologist with nail art training and experience seeking employment with a salon with an excellent social media presence to build and share my talents.
Former babysitter and camp counselor with early childhood education experience seeking a career with a local pre-school and help start children on their path to academic success.
As you can see from these examples, there are many ways to introduce your career objective in a unique and specific way.
Many of the samples above are for entry level careers or recent graduates, yet they still share a specific goal that shows intention, and that intention is what will show employers that you have a real goal that can be appreciated.
An Excellent Career Objective – If You Must
More and more applicants are using professional summaries in place of objective statements. But the resume objective can still impress employers, especially when written correctly and for the right reasons.
Use the instructions above to craft a killer resume objective, and you'll quickly see an uptick in your call backs from employers.
For more information on resume formatting click here.