Pen Repair as a Business
By Eric Hammer
Believe it or not, pen repair is a real business in which real people make real money every day. It's a rarefied business to be certain since pens are mostly a throwaway commodity today, however there are still people who appreciate quality pens and who will pay to have them repaired.
In essence, pen repair is intended for high end pens such as Mont Blanc, Schaefer and some high end Parker pens. You will not be getting calls asking if you can repair a Bic pen purchased for 99 cents. A big part of pen repair is also working on fountain pens, which often need replacement pieces put in as parts get worn from usage.
Again, it's a rarefied business and somewhat difficult to get into, however it is possible to make money doing it. You'll need to have a lot patience and the ability to work like a jeweler since the pens you'll work on repairing will be worth hundreds or even thousands of dollars. Therefore, there will be no rough and tumble pen repairs.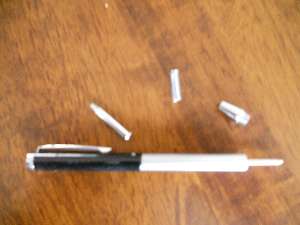 How Much Can You Make?
It's difficult to quantify since this is such a rarefied business, however a typical Schaeffer pen repair service charges between $25-$50 per pen that they repair so there is definitely money to be made in this business.
Ways to Make More | Related Opportunities | Tips
You'll need a sharp eye to be able to work on pen repair since you'll often be called upon to restore antique pens to their former glory without destroying the things that make them unique.
For those wishing to go into business for themselves, you may want to consider also working on jewelry and or watch repair as the business of pen repair is not always going to be one that brings in enough business unless you become known as a world renowned expert.
Qualifications / Requirements
There are formal training programs available in pen repair for certain types of expensive pens which you can take. In other cases, it's enough to simply purchase the appropriate manuals and to learn well how to do pen repair.
First Steps
Start by reading some books on pen repair. A number of them are in the resources section below. Then, either contact companies that do pen repair and find out how to get a job with them or hang out your shingle and offer your services on your own.
Resources
Check out these helpful resources to learn more about pen repair:
The Book of Fountain Pens and Pencils by: Stuart Schneider, George Fischler and Schneider Stuart , Schiffer Publishing 1994 - An introduction to all kinds of expensive pens that might require pen repair.
Richard's Pens: Repair and Restoration - A company that specializes in pen repair.
Pen Repair: A Practical Repair Guide for Collectable Pens and Pencils by: Jim Marshall and Laurence Oldfield, The Pen and Pencil Gallery, 2008 - While intended primarily for fountain pen enthusiasts, this book does provide a good grounding in pen repair for those wishing to do it professionally as well.