Have you ever wanted to combine your love for Elvis Presley with the passion for ministering and serving others? Becoming an Elvis minister allows you to do just that, making your journey as a spiritual leader even more enjoyable and unforgettable.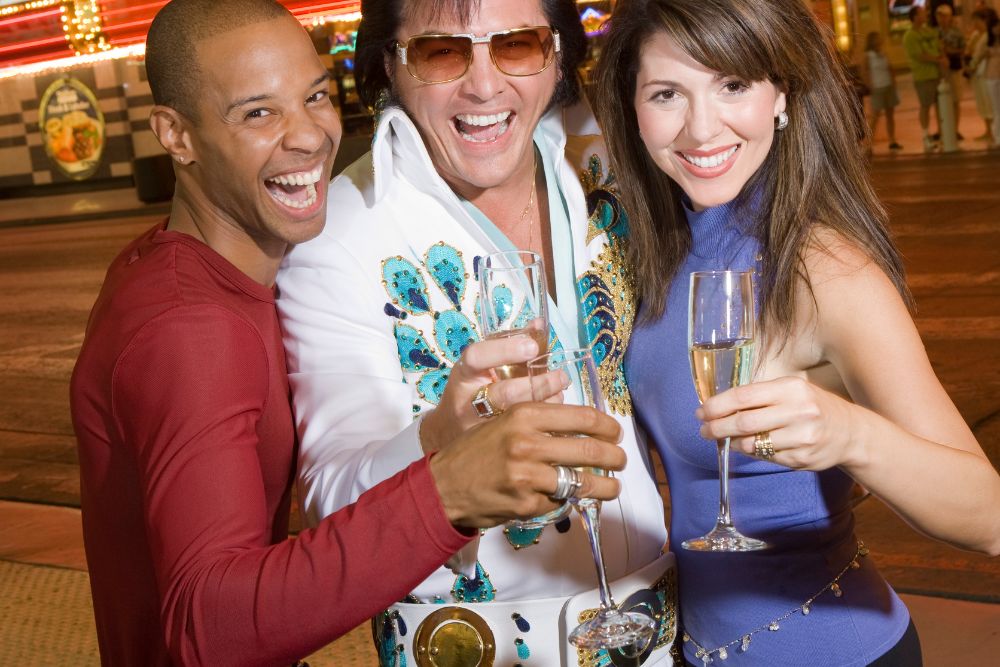 This fascinating role combines the ability to marry people legally and performing Elvis impersonations, to create memorable wedding ceremonies and other special events.
There are two main aspects to becoming an Elvis minister: getting ordained as a minister and perfecting your Elvis impersonation act. While getting ordained might seem like a serious and potentially challenging process, many reputable organizations offer easy online ordination applications, such as the Universal Life Church. On the other hand, learning how to impersonate Elvis might require more in-depth practice, research, and dedication as you master the King's unique style, speech patterns, and stage presence.
In this endeavor, you will find joy in creating unforgettable moments and bringing a touch of excitement to your ministerial journey. By blending your passion for Elvis with your commitment to helping others, you'll be able to forge a career that's both satisfying and truly unique. So, get ready to put on your jumpsuit and start practicing your "Blue Suede Shoes" dance moves as you embark on this remarkable adventure!
Becoming an Ordained Minister
Online Ordination
Becoming an ordained minister is the first step in your journey towards becoming an Elvis minister. One of the easiest ways to accomplish this is by pursuing an online ordination. Various organizations offer this service for people with different religious beliefs and educational backgrounds. The process is often simple and only requires completing an online ordination request form, after which you will receive a confirmation email.
Universal Life Church
The Universal Life Church is a well-known organization that provides online ordination training. By following three simple steps, you can become an ordained minister through the Universal Life Church:
Visit their website and click on the "Become an Ordained Minister" button.
Complete the online ordination request form.
Check your email for a ULC ordination confirmation.
Once you are ordained, you can order your official legal ordination credential from the website.
Letter of Good Standing
When you become an ordained minister through an organization like the Universal Life Church, it is advised to obtain a Letter of Good Standing. This document serves as a recommendation and proof of your legitimacy as an ordained minister. In some cases, you may be required to present this letter to officiate weddings or other ceremonies, so it's essential to have it on hand. The Universal Life Church allows you to acquire this document through their website, ensuring your credentials are in order and recognized.
By following these steps and becoming an ordained minister, you will be one step closer to achieving your dream of becoming an Elvis minister, able to officiate weddings and other events with a distinct touch of the King.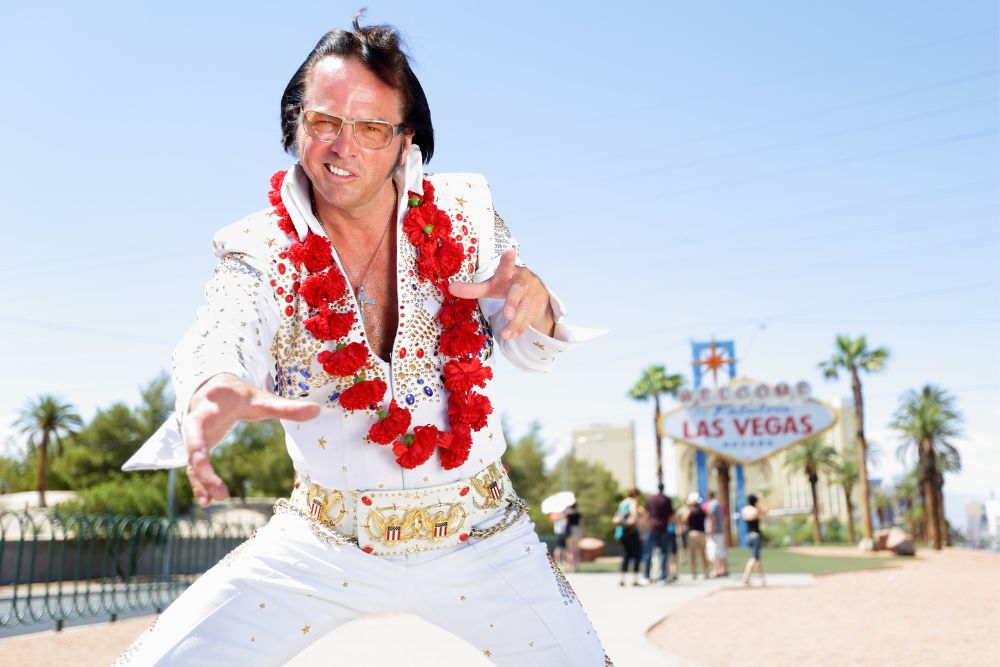 Elvis Minister Training
Developing Your Impersonation Skills
Becoming a convincing Elvis minister starts with perfecting your impersonation skills. Study footage of Elvis Presley's performances, interviews, and mannerisms to truly immerse yourself in his persona. Some essential aspects to focus on include his signature moves, vocal style, and distinctive fashion.
It's important to practice regularly, either in front of a mirror or with friends who can provide feedback. Remember, even a poorly executed Elvis impersonation can still accurately capture the essence of the King.
Mastering Elvis Songs
To truly embody the Elvis minister persona, it's essential to be familiar with his most iconic songs. Start by learning his top hits, such as "Hound Dog," "Jailhouse Rock," "Can't Help Falling in Love," and "Love Me Tender." Focus on his vocal techniques, as well as the energy and emotion he brings to each performance.
Consider practicing with karaoke tracks or joining a tribute band to hone your skills further. As a minister, it's also a good idea to explore Elvis's gospel music, as it can add a spiritual touch to your ceremonies.
Resources and Courses
There are numerous resources and courses available to help you become a skilled Elvis minister. First, you'll need to become an ordained minister, which can be done online through organizations such as the Universal Life Church.
Once you've got your ministerial credentials, invest in some professional training to enhance your impersonation skills. Joining Elvis tribute artist communities, attending workshops, or even taking voice lessons can all contribute to your development.
In summary, to become an Elvis minister, focus on honing your impersonation skills, mastering his songs, and utilizing available resources and courses to guide you through the process. Keep practicing, be authentic, and soon, you'll be the King of wedding ceremonies.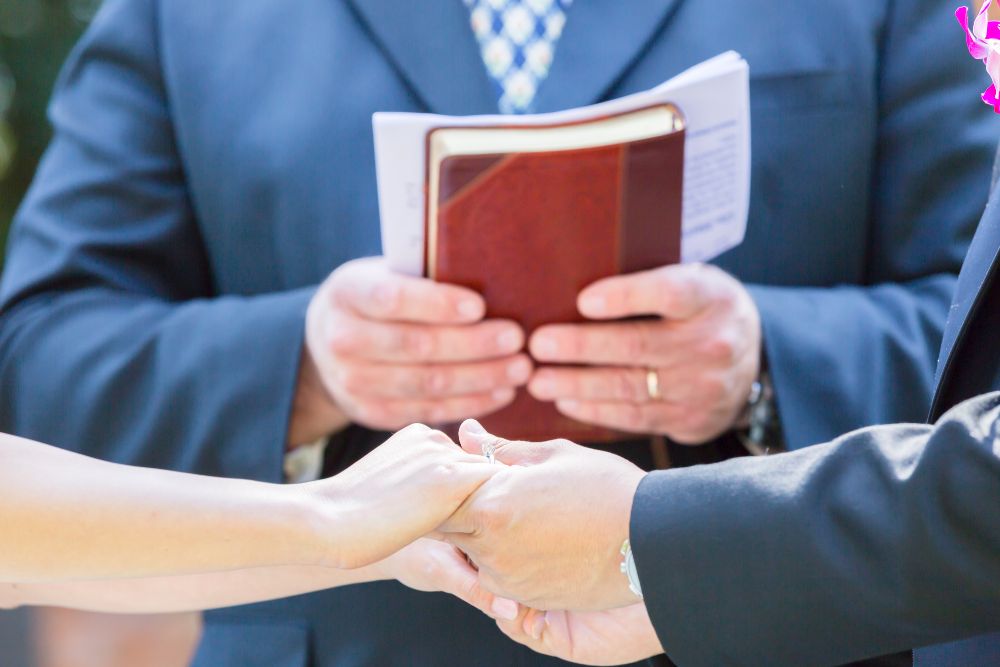 Legal Requirements and Licensing
When considering a career as an Elvis minister, it's essential to understand the legal requirements and licensing process. In this section, we will discuss the necessary licenses and certifications, as well as the county clerk requirements.
Licenses and Certifications
To become an Elvis minister, you will need to start by getting ordained. You can do this by speaking to your local church, or through organizations like the Universal Life Church. Keep in mind that your ordination needs to meet the licensing requirements in the state where you plan to officiate weddings.
Having a letter of good standing from the ordaining church or organization is often required, as it verifies your authority to perform marriages. Additionally, some states may require you to have specific certifications, depending on your religious denomination.
County Clerk Requirements
After obtaining your ordination and required certifications, you must register with the county clerk to perform weddings. For example, if you plan to be an Elvis minister in Las Vegas, you should register with the county clerk to legally officiate weddings in that jurisdiction.
The county clerk's office will usually require you to provide your ordination certificate, letter of good standing, and any additional credentials, such as counseling certifications, if applicable. Be prepared to pay a fee for registration, which varies depending on the county.
Remember to adhere to the specific requirements of the county where you intend to perform weddings. Once you are registered with the county clerk, you can start approaching various wedding chapels and venues to offer your Elvis minister services.
By understanding the legal requirements and licensing process, you'll be well on your way to becoming a phenomenal Elvis minister!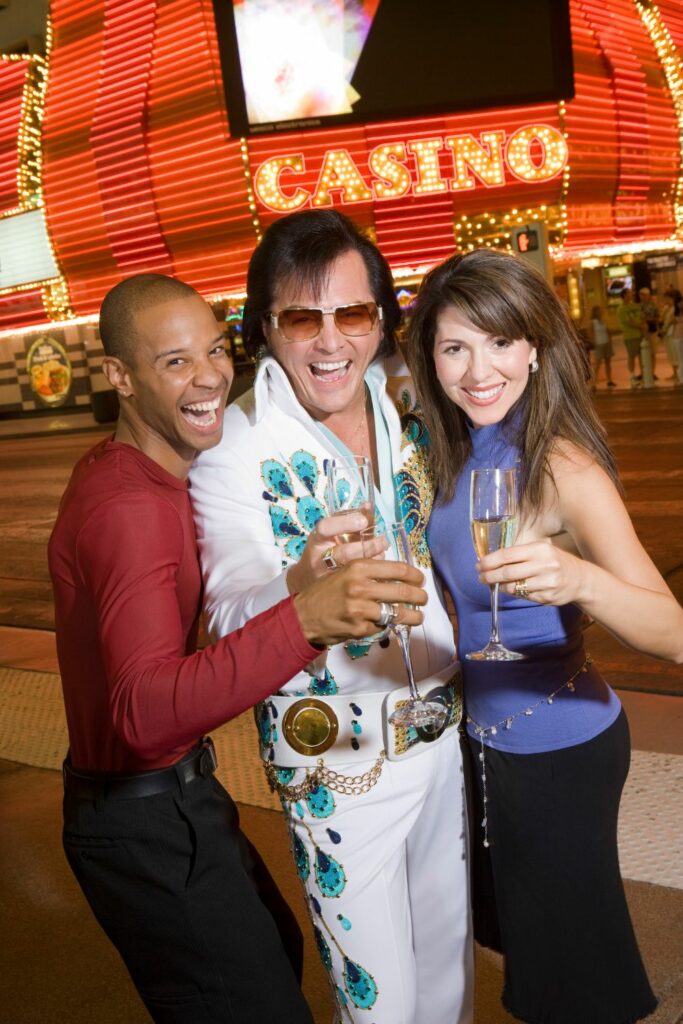 Conducting Elvis-Themed Ceremonies
Weddings in Las Vegas
Las Vegas is known for its unique and entertaining wedding ceremonies, including those inspired by the King of Rock 'n' Roll, Elvis Presley. To become an Elvis minister, you need to be ordained, register with the county clerk to perform weddings, and connect with various wedding chapels in the city. Wedding tourism in Las Vegas is a $2.75 billion industry, with Elvis-themed weddings contributing significantly to the numbers.
When conducting an Elvis-themed wedding, you can expect to:
Dress up as Elvis and perform his iconic songs
Escort the bride down the aisle
Personalize the ceremony with Elvis-themed vows
Many couples who opt for an Elvis-themed wedding also incorporate other elements related to the King, such as decorations, cake toppers, and even wedding attire.
Baptisms and Funerals
Elvis ministers can perform other ceremonies besides weddings, such as baptisms and funerals. Although these events may not have the same level of entertainment as a Las Vegas wedding, they can still incorporate elements of Elvis's music, style, and personality. Some ways to tie in Elvis elements into baptisms and funerals include:
Playing Elvis's gospel music during the service
Using Elvis-inspired readings or poems
Decorating the event space with Elvis memorabilia
Incorporating Elvis Elements into Church Services
Elvis ministers might also find opportunities to integrate elements of Elvis's legacy into regular church services. This could involve:
Creating an Elvis-themed sermon series exploring his music and values
Hosting an "Elvis Sunday" where the congregation is encouraged to dress up and participate in themed activities
Organizing an Elvis tribute concert to fundraise for the church or a local cause
Incorporating Elvis elements into church services can reinvigorate the worship experience and provide a fun and engaging way for the congregation to connect with their faith and community.
Building Your Ministry
Creating a Social Media Presence
Building a strong social media presence is essential for an Elvis minister. It's an effective way to showcase your unique style, share your faith, and connect with people who are interested in Elvis-themed ministry. Start by creating profiles on popular social media platforms like Facebook, Instagram, and Twitter. Regularly post engaging content such as images, videos, and messages that highlight your work as a leader and your passion for Elvis. Also, be sure to engage with your audience by responding to comments, direct messages, and participating in relevant online communities. This will help with building relationships and maintaining an active follower base.
Television Appearances
Television appearances can be an excellent way for an Elvis minister to reach a larger audience. Reach out to local TV stations to inquire about guest opportunities, particularly on shows that focus on faith, music, or unusual professions. Come prepared with engaging stories or anecdotes about your ministry and how it has impacted your followers. Don't be afraid to show off your talent by singing a few lines and demonstrating your dedication to spreading positivity through the music of Elvis.
Networking and Collaborations
Forming connections with other religious leaders, faith-based organizations, and Elvis enthusiasts can help build your ministry. Attend local networking events, conferences, or faith-based gatherings, and introduce yourself to fellow ministers and community leaders. Collaborating with other Elvis ministers, musicians, or religious leaders can also generate fresh ideas and potential opportunities for your ministry.
Advice and Support
Offering advice and support is an essential part of being an Elvis minister. As a leader in both faith and appreciation for Elvis, use your platform to provide guidance for followers who may be facing challenges or seeking spiritual inspiration. Post themed prayers, bible verses, or video messages related to Elvis and his impact on faith. Additionally, creating a blog where you share your thoughts on relating aspects of Elvis' life and music to one's spiritual journey can provide valuable direction to your followers. Remember to be open to feedback and engage in conversations with those who reach out to you for guidance or simply want to share their own experiences.
Remember, consistency and dedication are crucial to the growth and success of your Elvis ministry. Utilize the tools available to you, such as social media, television appearances, networking opportunities, and offering advice to your followers, to make a positive impact on the lives of those who are inspired by the King of Rock 'n' Roll.