Ever wondered how to Become a Pilot Car Driver?
How to become a pilot car driver is not a mystery.
It's one of those jobs that unless you have a reason to know about, you're not likely to run across.
However, it is an important job nonetheless and it's one you can easily get if you are interested in it.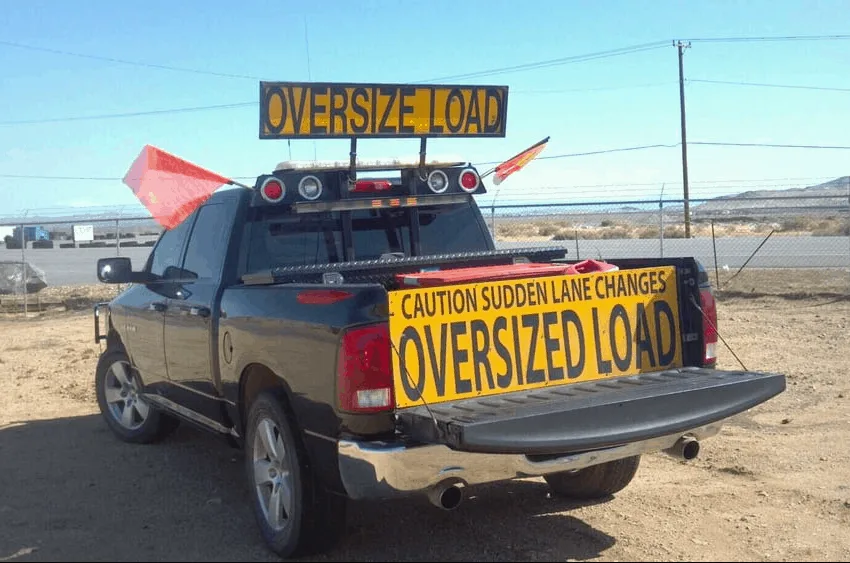 Pilot car drivers drive pilot cars.
These are cars that travel in front of wide body trucks which are carrying things such as mobile homes and aircraft wings.
They have flashing lights and sirens intended to warn traffic up ahead that an especially large load is heading their way and they'd best clear a path.
Becoming a pilot card driver is not difficult to do.
In fact there is no requirement for a college degree and in most states, you don't even need a high school diploma.
Editor's note: The following recent article from the Bellingham Herald shows that the requirements for getting the job are not all that burdensome. However the position does carry a lot of responsibility: Pilot car driver 'horrified' by bridge collapse
Want to know more about how to become a pilot driver? Check this new article on a similar topic.
How Much Can You Make as a Pilot Car Driver?
Most pilot car drivers work for themselves in their own companies.
You'll simply need a car and some basic training in order to do the job.
However, if you were to take a job with a pilot car company, you could expect to earn around $34,000 per year on average.
Working in your own company, you set your own income levels based on how much work you want to do.
However typical prices are around $200 for the first 100-150 miles and then $1.30-$1.50 per additional mile beyond that.
Ways to Make More | Related Opportunities | Tips
If you wanted to make even more money or you were interested in steadier work (pilot cars are only required for oversize loads).
Then you may want to look into being a truck driver in addition to or instead of a pilot car driver.
This way, when there is no work for you as a pilot car driver, you'll be able to continue to earn a living.
Keep in mind that your job will entail moving ahead of a wide load truck. If you need to pay for classes to learn how to do this safely, check out title loan requirements online and see if you fit the criteria for a loan!
This means moving slowly so that the wide load truck can keep up with you and this also means having maps and knowledge of the road.
Pilot car drivers also need to know how to direct traffic and of course, you need to be really comfortable in your car.
Because you will be spending a great deal of time in it for your work.
Want to know more about how to become a pilot driver? Check this new article on a similar topic.
Qualifications / Requirements
Generally, you need to have a driver's license at the very least in order to become a pilot car driver.
Different states have different rules regarding further licensure procedures with some states requiring additional course work or licensure.
Other states require that you merely follow the rules for pilot car drivers (though it's up to you to learn the rules).
First Steps
Start by talking to a pilot car driver in your area.
Most are happy to discuss the business with someone else who may be interested and will show you the ropes.
Ask if you can ride along for a few of their jobs so you can get the feeling for the job.
Be sure to check with your new friend what laws (if any) govern pilot drivers in your state so that you can become fully licensed.
Resources
Oversize Load Superstore – This a store where you can buy all the equipment you'll need to become a pilot car driver. Basically, you'll need special signs and a siren attached to your car.
http://www.pilotcarmanager.com/ – Membership site that lets you find driving jobs.
US & Canada Pilot Cars – This a good place to advertise your new business if you decide to strike out on your own as a pilot car driver.
Truck Info: Pilot Car Network – Another good place to advertise as a pilot car driver.
Image by
Tom P.
via
Yelp