For a while, the small casino where I worked in the 1990s offered customers a $10 roll of quarters when they walked in the door.
It was meant for the slot machines.
The casino didn't monitor whether people played the machines or not, so couples could — and did — collect $20 between them and walk back out the door to go to lunch.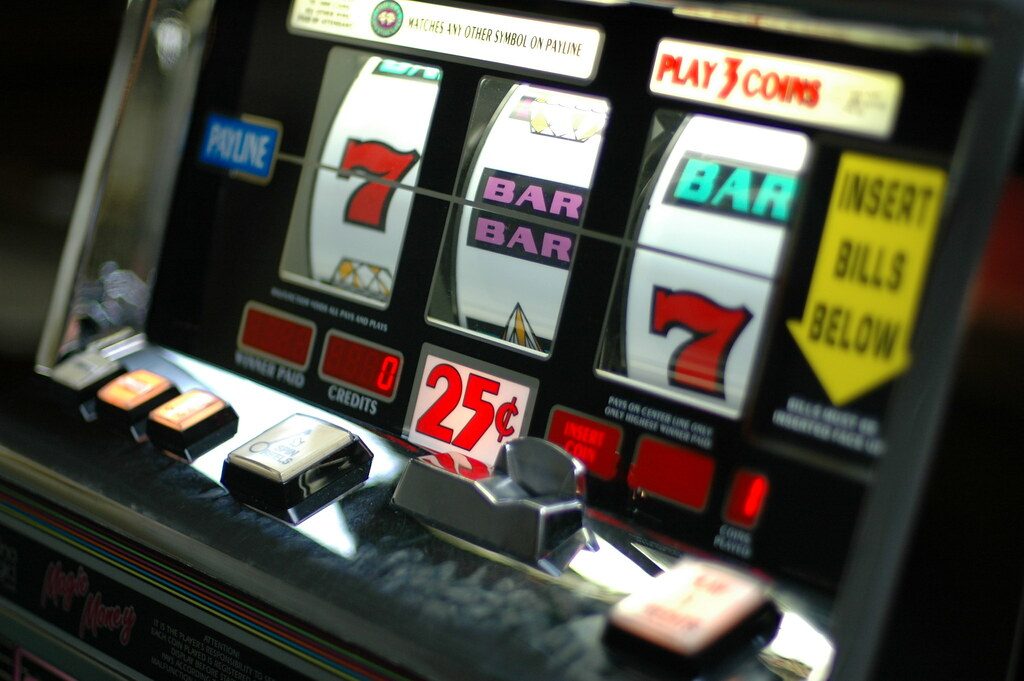 Some elderly couples were caught returning in disguise, trying to make $40 or more per day (the limit was one roll each).
So back then, at least in that casino, you could make a little money playing slot machines, as long as you played only briefly (or not at all) to conserve most of your free quarters.
Cash giveaways like that are long gone, but there are still ways to win more often when playing slot machines, or at least ways to lose less and get more value out of your gambling trip.
Here are some of the best slot machine strategies.
Join the Players Club
You can find a list of casinos with players clubs on LasVegasAdvisor.com — almost every casino has one that's free to join.
Some allow you to sign up online, although you'll probably have to get your card when you arrive.
You'll want to use that card every time you play a slot machine (and even for table games).
As long as it's in the card reader while you play, you'll earn points, which are redeemable for casino "comps," including gifts, meals, and hotel stays.
Sometimes members also get special access to free slot tournaments (more about those in a moment).
However, you can't change the payouts of the machines by joining a players club.
You just get extras that make the losses hurt less.
What if you don't want any losses?
Sign up for the clubs that offer special deals or coupons or free play for new members, and use just those free play options.
For example, you might get one free play on a $5 slot machine.
You could win thousands of dollars with it, and as long as you walk away after your free play you haven't lost a thing.
Some casinos offer to add $5 (or $10) in credits to a new member's slot machine when $5 is inserted.
As long as you only play the minimum amount required to get this deal the odds are generally in your favor.
Use Coupons
Many casinos give away "fun books" full of various coupons, including free play or "match play" coupons for slot machines.
These occasionally show up on RetailMeNot.com, and are also given away in many locations around Las Vegas.
Ask at the front desk of your hotel. Also, the latest edition of Steve Bourie's American Casino Guide has coupons in it, some for slot play.
The key to making money playing slots with coupons is to just play using the coupons and then leave.
There really is no way to "beat" the slots without these outside promotions being involved.
There are no cycles or patterns. The American Gaming Association says slot machines use a random number generator (RNG) for every spin of the reels.
In other words you have the same chance of winning a jackpot right after one has been paid out as you do after a long dry spell.
So use the coupons and quit if you want to leave ahead. If you get a match play deal just meet the minimum requirement.
For example, to get $5 in bonus credits added you might have to put $5 of your own money into a dollar-machine and play five times.
So push the "play" button five times, then immediately hit the "cash out" button and leave, whether you've won something or just have your own $5 left.
That's the routine if you want to make money.
If you're in Vegas and have enough coupons you can walk from casino to casino to repeat the process.
Sometimes you'll win, and, with sufficient self-discipline, you won't ever lose, so with a few coupons you should end the day ahead.
Play for Big Jackpots
According to Michael Shackleford, also known as "The Wizard of Odds," there is one time when the odds are in your favor during regular play.
It's when progressive machines have big enough jackpots. These are the slot machines that add part of every dollar played to a big jackpot.
The chance of winning the jackpot is the same any time you play, so when the payoff is much larger the investment odds can tilt in your favor.
Teams of professional players move in on video poker games when progressive jackpots get large enough.
They try to take over all the machines so one of them will get the big payoff.
But Shackleford says that with regular slot machines, "…it is not clear to the player what the odds are of hitting the jackpot so it is not obvious what the jackpot size has to reach for the machine to become profitable."
So if you occasionally play machines with progressive jackpots, it makes more sense to play when the jackpots are large than when they are small.
You're still likely to lose, so to reduce your risk set a limit for your session and quit once you spend that much.
Play in Slot Tournaments
Slot tournaments provide one of the best ways to consistently win when playing slot machines.
Unlike normal play, you don't keep what you win on the machine. Tournaments use designated machines that just rack up credits, and the players with the most credits win cash prizes.
These are timed events (typically twenty minutes per round), and as gambling expert Mark Pilarski points out, there is really only one strategy: Play as fast as you can.
The more times those reels spin the better your chance of racking up enough points to advance to the next round and take first, second, or third place.
Pilarski says it's all about timing.
Push that "play" button as quickly as you can, but not so fast that it doesn't work (some machines will not allow the next play until the credits have been added to the tally).
He suggests that you focus on your machine and ignore the other players.
But since you are playing against other players, not the casino, you can put the odds in your favor with efficient play.
Before entering ask about the prizes and the number of players. Some tournaments pay out all of the entry fees, and those are the best (other than the free ones).
For example, if there are 50 players and the entry fee is $40, the casino takes in $2,000. The payouts might be $1,000 for first place, $750 for second, and $250 for third.
If you're fast enough to take one of those prizes just one out of six times you enter you'll be ahead.
Vegas.com has a list of casinos with regular slot tournaments.
Reduce your risk by playing in good tournaments and leaving immediately afterward…
At the casino where I worked they paid out more than they took in.
For the casino it was a good way to train people to play slot machines quickly, a "skill" which generates big profits for when the players return to regular play.
But you don't have to play when the odds are against you, do you? Leave when the tournament is over.
Eliminate your risk by playing only in free tournaments that offer real cash prizes… Casinos often offer these only to members of their players club, so sign up.
Free tournaments are a no-lose proposition. If there's a free buffet included you profit no matter how many points you get.
Take Advantage of Other Freebies
When my wife and I are in Vegas we go to shows (especially the free ones), because we get bored with gambling.
But every morning we sit at the nickel slot machines and slowly play until the waitress brings our free orange juice and coffee.
Usually I've put less than a dollar into the machine by then. After that we leave.
We repeat the process in the evening to get free beer and wine.
Once in a while we win $20 or $30, and since we make it a point to lose no more than we would have paid for the drinks, it's an essentially risk-free strategy.
Playing a nickel at-a-time slowly while collecting any available freebies is perhaps the simplest way to get more than you pay for when playing slot machines.
Your Thoughts: Do you know any other tricks for winning at slots?