When Walmart opened a store in the small Michigan town where I lived at the time, I bought a bottle of shampoo.
Up to that point I had been paying $1.67 for this brand.
Walmart's price was 99 cents — one example of many, many low prices.
The arrival of that store was like getting a big pay raise, particularly since I earned only a bit over minimum wage at the time.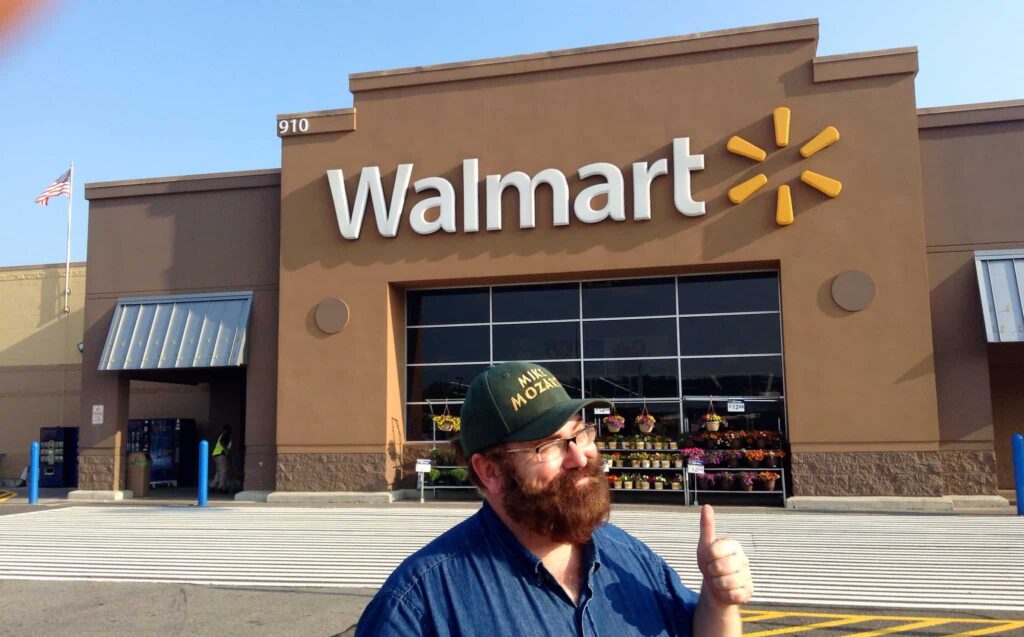 So do you shop at Walmart?
It's true that, according to one poll the public has a more favorable opinion of some airlines than of Walmart.
But that doesn't stop 100 million Americans from shopping there weekly.
The reason is obvious: Whether you like the company or not, Walmart has really low prices.
Simply choosing to do most of your shopping at Walmart is an obvious and easy way to save money.
But to get the most out of your Walmart experience it helps to know the tricks they play on you and the tricks you can use to save even more money.
Walmart's Price Manipulations
All the "rollback" and "new low price" signs in Walmart give the impression that the price of everything is always dropping.
How do they do it?
Simple: They routinely increase prices in order to decrease them and advertise a new low price.
Consumer advocates say that for a store to legally use words like "sale" or "reduced," an item has to have been previously for sale at a higher price for a reasonable period of time.
Hence Walmart just moves prices up and down systematically.
Walmart's Clearance Sales
My wife is wearing a shirt that she bought for $3 at Walmart. She regularly buys clothes for $1 from their clearance racks.
I once bought a dozen pairs of down mittens that had been $15 per pair for $1 per pair from Walmart (I sold them for a few bucks each).
When Walmart wants to get rid of inventory they discount it dramatically, especially the clothing.
Strategy: Check the clearance racks and bins first and only move on if you don't find what you need.
The Best Deals Are Hidden
Product placement science suggests that the items sell best when they're at about eye-level on the shelves.
This is why you'll often find higher-priced, higher-profit-margin brands there.
The better deals are often lower or higher.
For example, I bought the Walmart brand potato chips (which are pretty good) for years before noticing the much cheaper "Magic" brand hiding on the highest shelf — and away from the other chips.
Sometimes the cheaper brands of food are not as tasty, or have lower quality ingredients, but not always.
For example, those cheap chips are all natural, made of potatoes, oil, salt and nothing else — and they taste good!
Strategy: Look high and low and test the cheaper brands there.
You might find a product you love for 20 or 3 percent less than what you normally buy.
Walmart's Ad Match Guarantee
I've covered the Walmart Ad Match Guarantee before, and it essentially works like this: When other stores advertise lower prices for the same items, Walmart will match those prices.
That policy can save you a lot of money or, to look at it another way, you can save a lot of time (and gas) running around to five different stores to get the lower prices.
The Ad Match rules are not too limiting; Walmart will even match buy-one-get-one-free deals.
Walmart has also recently initiated an online price match policy, so they'll match the prices you find on Amazon.com for example (if they carry the exact same item).
Strategy: Circle the products you want in advertising flyers you get and bring them to Walmart to get all those low prices in one place.
Strategy: Look for better prices online, have Walmart match those, and then use in-store pickup so you can get your things fast, cheap, and have easy returns.
Check Unit Prices
If you look closely at the unit price stickers in Walmart, you'll notice that some of the "family sized" items, which presumably save you money, actually cost more per-ounce or per-item than the smaller packages.
For example, as I write this, the 13-ounce box of Nabisco Triscuit crackers (which says "Family Size" prominently across the top), is $3.88, or 29.8 cents per ounce, while the smaller 9-ounce box is $2.50, or 27.8 cents per ounce.
Perhaps it's too cynical to presume that Walmart does this on purpose in order to trick people into paying more for their food.
It may be an unintended effect of their up-and-down pricing strategy — when those 9-ounce Triscuit crackers are at the high end of their cycle they go for $2.99, or 33.2 cents per ounce.
But for whatever reason, it is common for the smaller sizes of many products to have a lower unit price.
Strategy: Check the sticker to see which size actually costs less per ounce or per pound.
The Savings Catcher
Walmart's Savings Catcher is easier to use than the Ad Match policy, and may accomplish the same thing.
If you install the app you can just use your phone to scan your receipt.
Alternately you can use your online account and enter the receipt number within seven days.
Either way, Walmart searches competitor's printed ads and matches the price of any identical items, rebating you the difference.
For example, my wife entered our receipt a few days ago and the next day our account was credited $1.19 for two items that were price lower elsewhere.
When the balance is high enough we'll redeem by way of a Walmart gift card.
Strategy: Download the app and/or open an account online and start scanning or entering those receipt numbers to save money easily.
Discounted Walmart Gift Cards
Discount gift cards are another way to save.
Unlike other retailer's cards, the discount for Walmart cards is typically only 2 to 3 percent, but if you shop there weekly that can add up.
The process is easy enough.
For example, you might buy a physical card (there are also printable ones and codes) that has a balance of $60.07 for $58.25 (a 3 percent discount) with free shipping.
When it arrives in the mail just use the card normally to pay for your purchases, and you'll save $1.82.
Strategy: Visit GiftCardGranny.com monthly to find the sites with the best Walmart gift cards, and buy enough of them to cover your purchases for the next few weeks.
Stack Those Savings
One of the most powerful ways to spend less when shopping is to "stack" your savings strategies.
For example, if you use a 2% cash-back credit card to buy a Walmart gift card with a 2.6 percent discount, and then search the clearance racks that say "75 percent off," you could save a total of almost 80 percent on your next pair of jeans.
Your Thoughts: Do you have some secrets for getting the best deals at Walmart?