Meet Steven Furtick Jr., an American Grammy-award winning songwriter, singer, producer, and pastor. So what is Steven Furtick's net worth?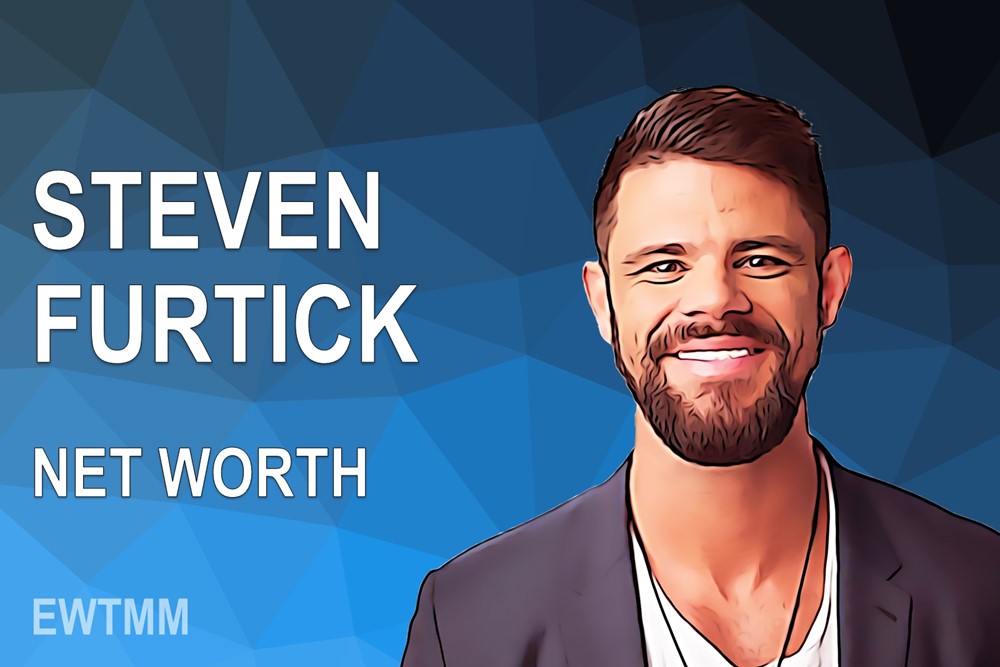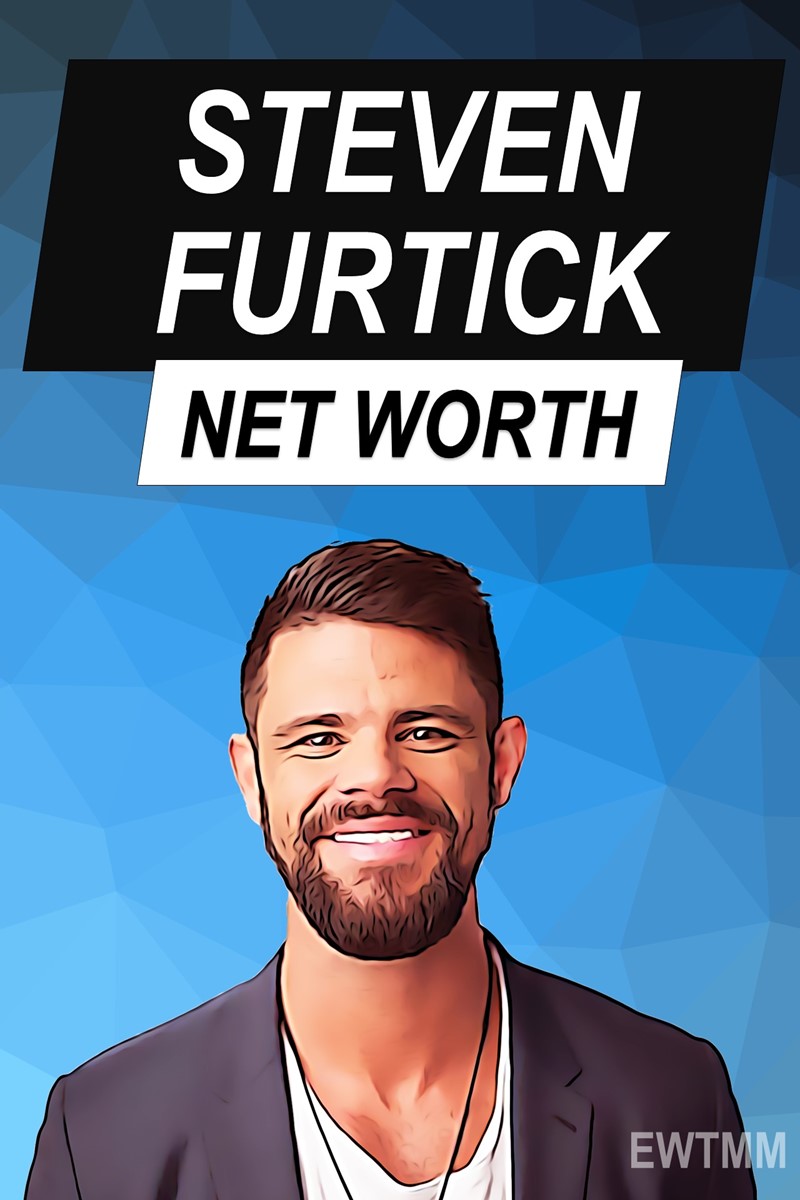 | | |
| --- | --- |
| Net Worth 2023: | $62 million |
| Born: | February 19, 1986 |
| Age: | 37 |
| Height: | 6 ft 2 in (1.88 m) |
| Native Country: | United States |
| Place of Birth: | Moncks Corner, NC |
| Source of Wealth (SOW): | Religious Services |
| Updated: | August 20, 2023 |
Over the years, Steven has built a ministry with a global reach through streaming and music. Steven is an accomplished leader in his community, but what has Steven built in terms of money?
Keep reading and join us as we dive into Steven Furtick Jr.'s life, and figure out Steven Furtick's income.
Steven Furtick's Origin Story
Steven was born in Moncks Corner, South Carolina. A small town in the Berkeley County region of South Carolina. His birth name is actually Larry Stevens Furtick.
Furtick grew up in a Christian household. But it wasn't until reading the book Fresh Wind, Fresh Fire by Jim Cymbala, did Steven begin to believe that he was meant to work for the ministry full time.
After finishing at Berkeley High School, Steven continued to study at North Greenville University. He took on a degree in communication and finished with an undergraduate degree in Arts.
Steven then decided it was time to enhance his theological education. And he studied to earn a Master of Divinity at the Southern Baptist Theological Seminary.
Life Outside The Ministry: Steven Furtick's Personal Life
Looking into Steven Furtick's personal life paints a rather wholesome picture. Furtick lives with his wife Holly in Charlotte, North Carolina. Furtick has been married since 2002.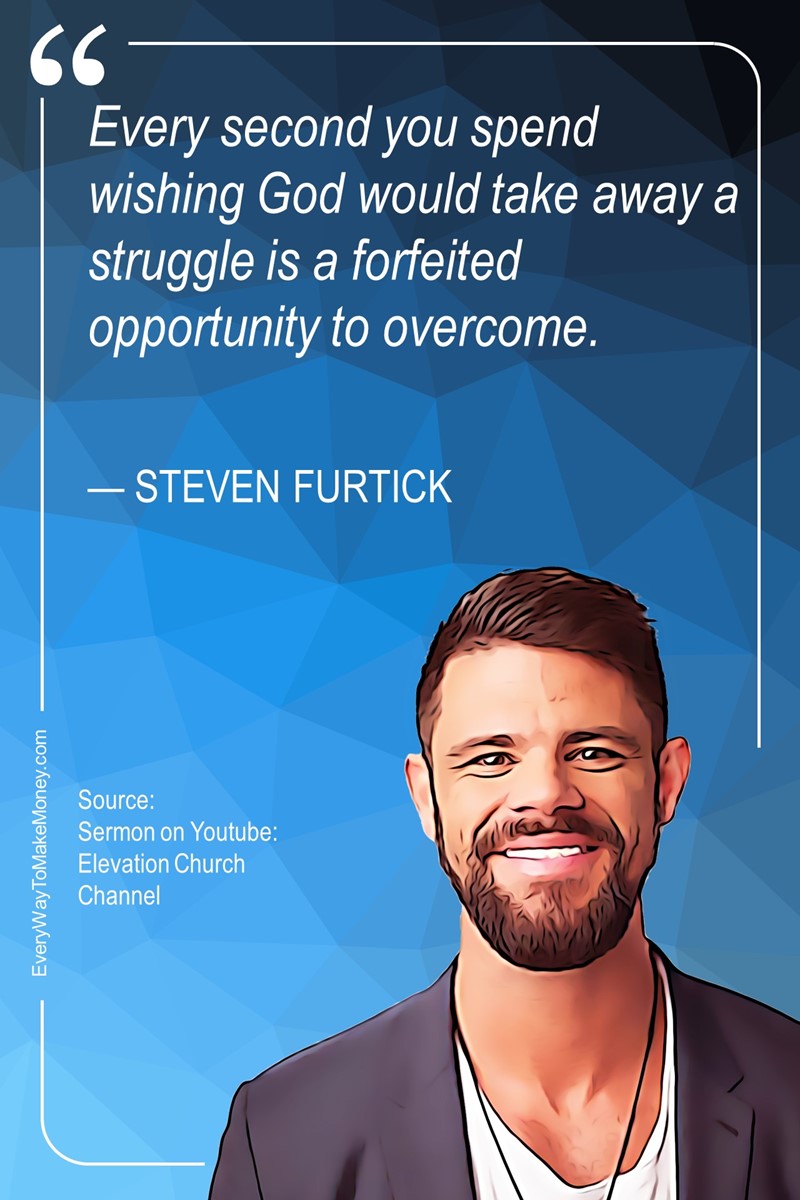 Their household consists of the couple, their two sons, Graham and Elijah, and daughter, Abbey.
The family built their own home on a plot of 19 acres of land. The home is valued at close to $2 million USD.
How Steven Furtick Became A Worship Leader And A Music Leader
Steven Furtick started his religious career for a Baptist church in 2004, spending time as a worship leader for the Christ Covenant Church located in Shelby, North Carolina.
While at the Christ Covenant Church, Steven got to see up close the ins and outs of running a church group. This valuable experience set the base knowledge for starting his own group.
Steven Begins His Own Church
After his time at the Baptist church, Steven Furtick moved to North Carolina, where he would set up a base for his own church. The new church was called Elevation church. And was founded along with Steven's friends and family. The church officially began services on February 5th, 2006.
With Steven at the lead as the church's pastor, the church would gradually build up to have a sizable following.
Now over 17 years later, the church has grown into a mega-church group, with 15 locations in America.
Partnering With The Community
Through his church, Steven has built up strong ties with the city of Charlotte, North Carolina. The church has donated hundreds of thousands in dollars. As well as man hours through volunteer community service projects.
Some of the types of projects the group takes on include cleaning up public property, helping provide resources for the needy, and renovating buildings and amenities for the community.
Building a Global Reach
Elevation Church has more than just an audience in America. The group puts their sermons out online on websites like YouTube, where they can be viewed all over the world. At the time of writing this, the Elevation Church YouTube channel has roughly 2.6 million subscribers. A large following for any channel, religious or not.
Steven Furtick's music group also posts their music on platforms like YouTube. The Elevation Worship music YouTube channel has an even bigger following, with over 5 million subscribers.
Bringing In The Music
A songwriter at heart, Furtick founded the music group Elevation Worship in the year 2007. And began to release his own original songs through the group.
An accomplished producer and songwriter who has been recognized for his contributions to the music industry, Steven Furtick won the GMA Dove award for worship album of the year in 2021 for his work as a producer on "Old Church Basement".
Additionally, he was credited as a songwriter for the single "The Blessing" which won a Dove award for song of the year. Furtick has also received two Grammy nominations for his work.
Elevation Worship has become widely popular across the globe and the group's songs on YouTube receive millions of views.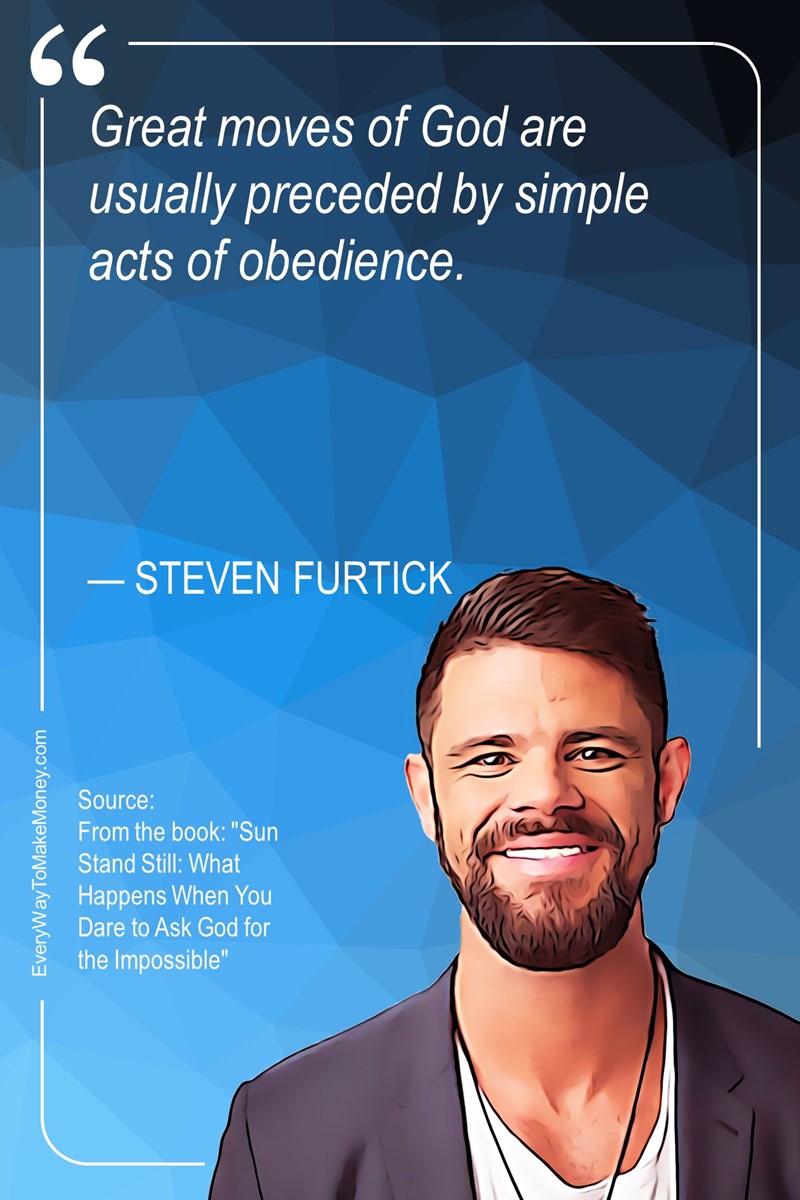 Elevation Worship Controversies And Critics
Furtick, like many famous religious leaders, has come under the scrutiny of the media for his wealth and personal spending. In 2013, some media outlets drew attention to the pastor's personal house build worth $1.7 million USD.
Finding Steven Furtick On Social Media
Steven Furtick isn't hard to find online and has a large online presence on all the major social media platforms. He has 4 million followers on Instagram, 3 million subscribers on YouTube, 11 million likes on TikTok, 7 million followers on Facebook, and 842K on Twitter.
These figures demonstrate the exceptional reach and impact of Furtick's message and work.
His account mostly shows highlights from his speaking events, and spiritual messages.
| | |
| --- | --- |
| Steven Furtick | Social Media |
| Instagram handle: | stevenfurtick |
| Instagram followers: | 4M followers |
| YouTube handle | @stevenfurtick |
| YouTube subscribers: | 2M subscribers |
| TikTok handle | @stevenfurtick |
| TikTok likes: | 11M likes |
| Facebook handle | StevenFurtick |
| Facebook followers: | 7M followers |
| Twitter handle | stevenfurtick |
| Twitter followers: | 842K followers |
| Updated: | August 20, 2023 |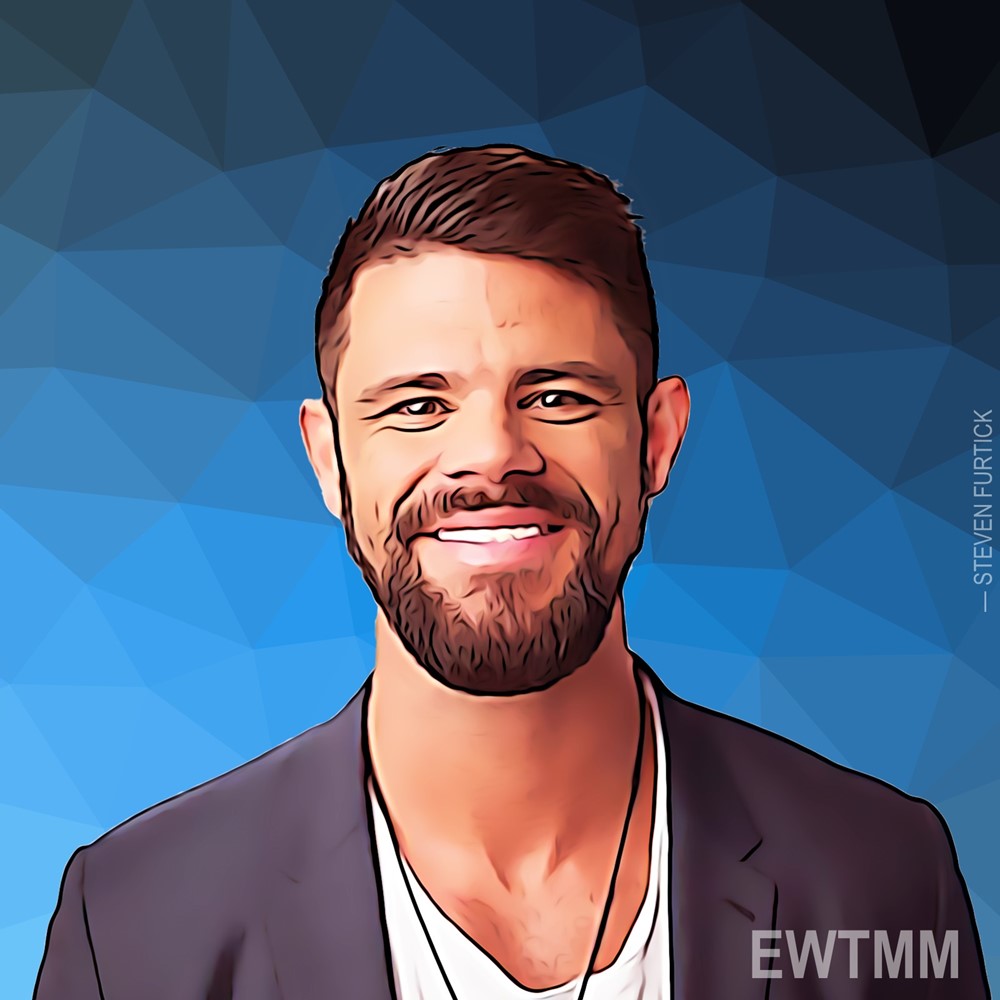 Detailing Steven Furtick's Net Worth
Based on our estimates of Steven's earnings as a songwriter and pastor, it is estimated that Steven Furtick's net worth is sitting at around $62 million.
Although some sources believe it to be higher. Furtick keeps his finances private, so the true net worth of Steven Furtick still remains a mystery.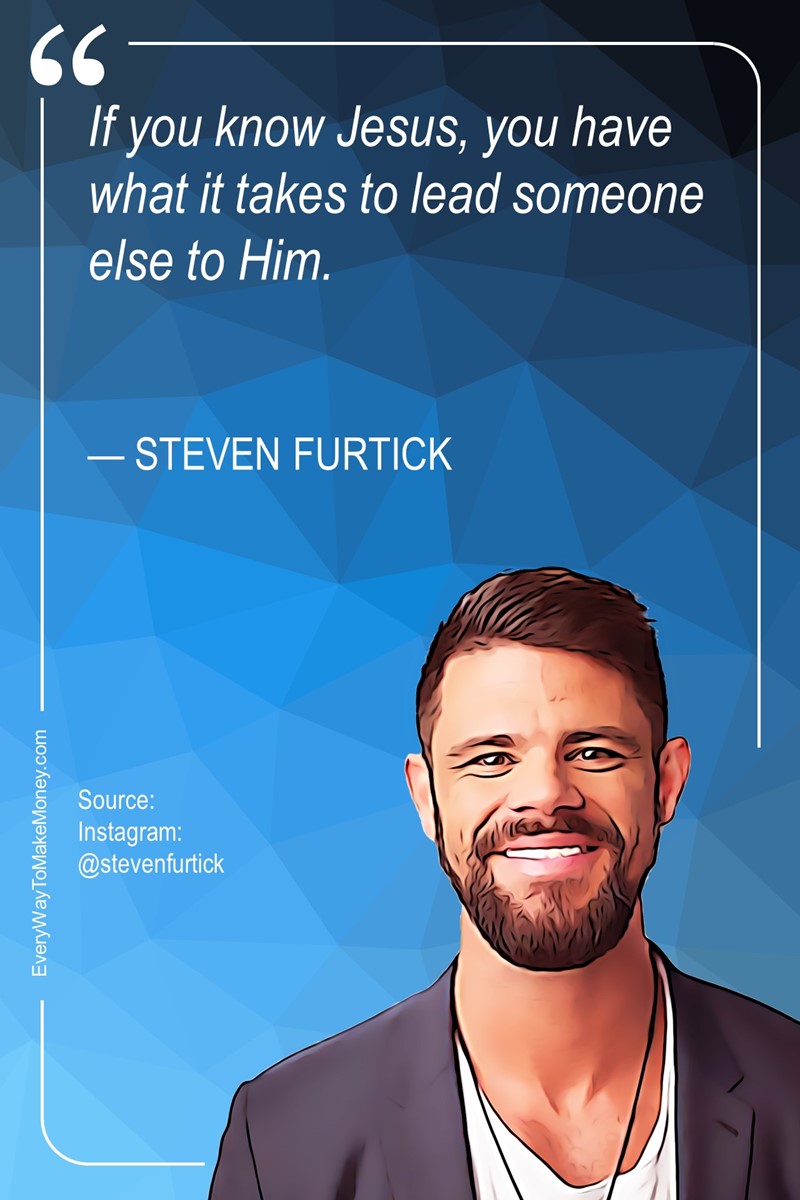 Steven Furtick's net worth: Revenue Sources
In order to build a fortune like Steven Furtick's net worth, you need to earn revenue through multiple streams. One of the first ways Steven earns income is through his work as preacher at his church, which receives tens of thousands of visitors in a week.
Steven also generates income through his YouTube channels. He has one personal YouTube channel, a channel focused on church sermons and speeches, and another channel focused on music. Each of these YouTube channels have millions of subscribers.
Aside from these sources, Furtick also makes money through music sales, and merchandise. Steven occasionally does public speaking events for hire as well.
On top of all that, Steven Furtick published ten books, which also generate passive income through book sales. One of these books even reached the New York Times best-selling list.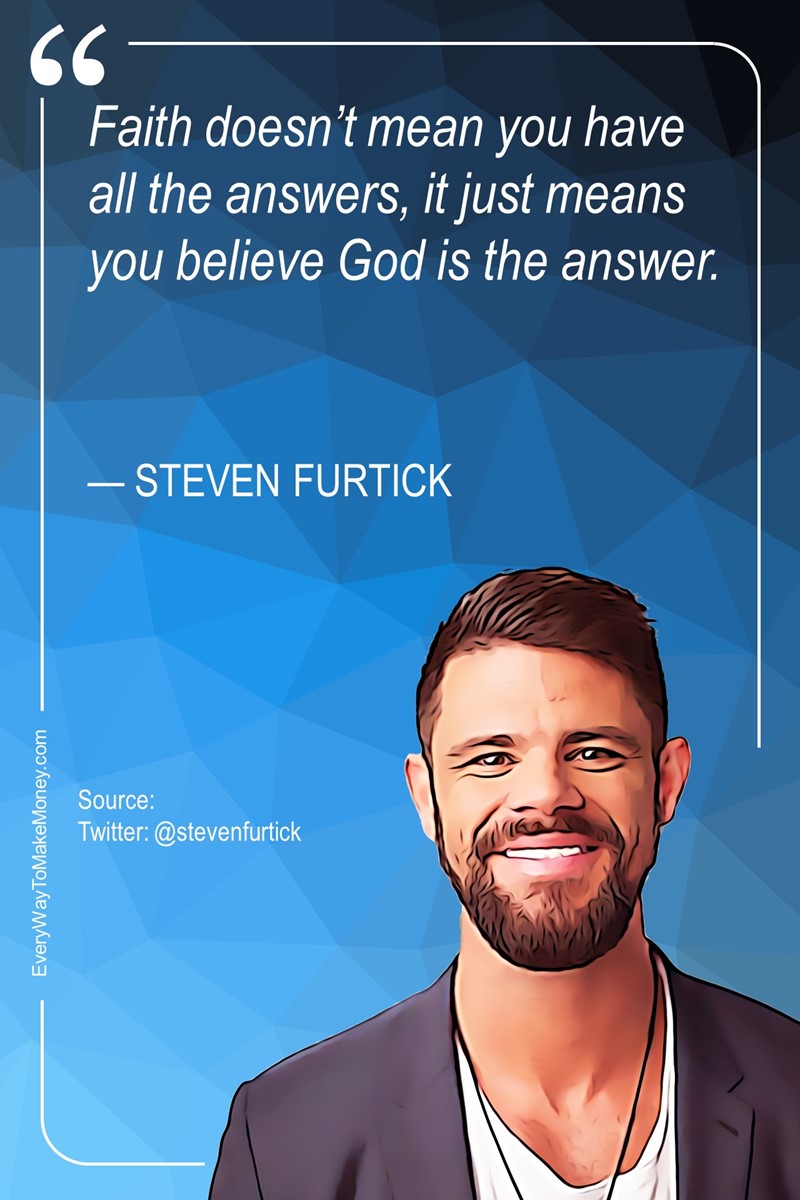 FAQs On Steven Furtick's net worth
What Is Steven Furtick's Annual Salary?
Based on Steven Furtick's estimated net worth of around $62 million. It would put Steven's average annual salary in the ballpark of roughly $3.5 million per year. But it is likely that his earnings are even higher now than they were when he first started his church group.
How Much Money Does Elevation Church Make?
Over time, Elevation Church has become one of the fastest growing church groups in America. The church on average makes around $40 million per year.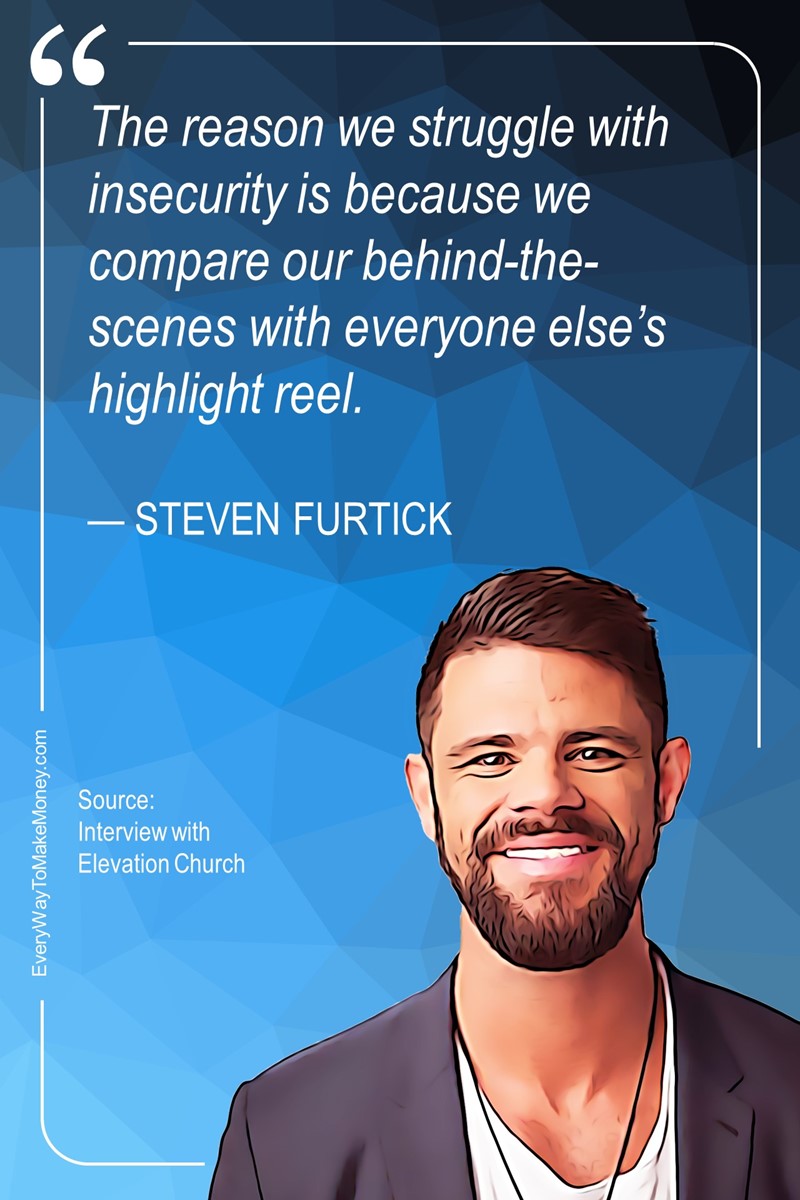 Does Steven Furtick Have Children?
Steven has multiple children with his wife of 21 years. The couple share one daughter named Abbey, and two sons, Graham and Elijah.
Why Did Steven Furtick Become A Pastor?
Steven was first inspired to become a pastor after reading the book Fresh Wind, Fresh Fire. According to Steven, that book lit the fire of passion in him that pushed him to pursue a career in theology.
What is Steven Furtick's net worth?
As of 2023, Steven Furtick's net worth is estimated at $62 million. Steven Furtick achieved prosperity through his mega-church, books, and media appearances.
It is important to mention that the exact net worth of Steven Furtick is not publicly available and cannot be confirmed.