While many people end up gambling their money away in the financial markets, a small percentage of people actually are able to reach substantial levels of wealth investing in the markets. Codie Sanchez is one of them. But what is Codie Sanchez's net worth?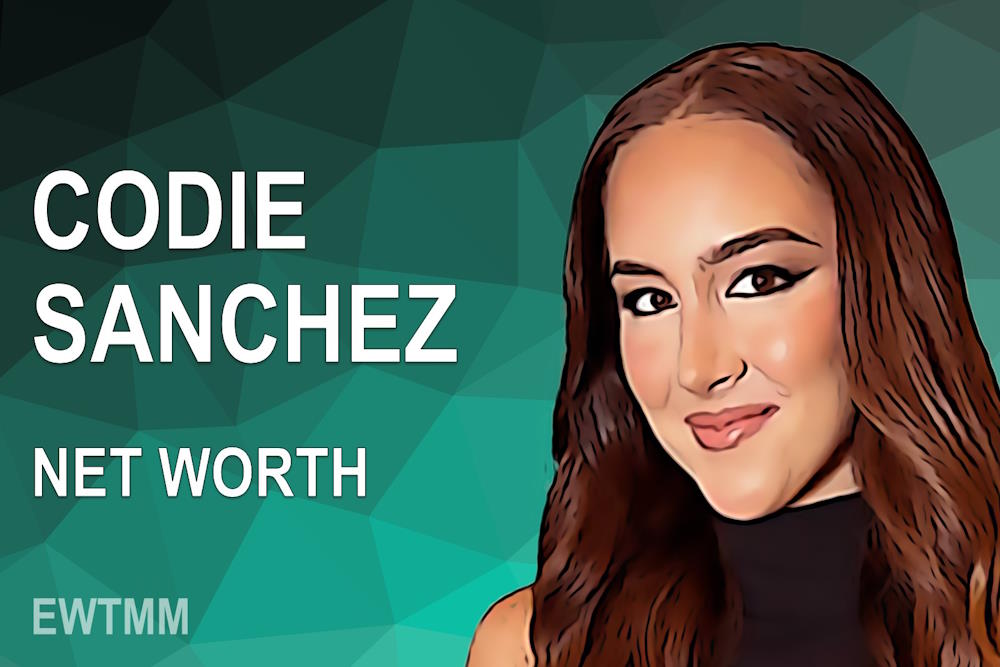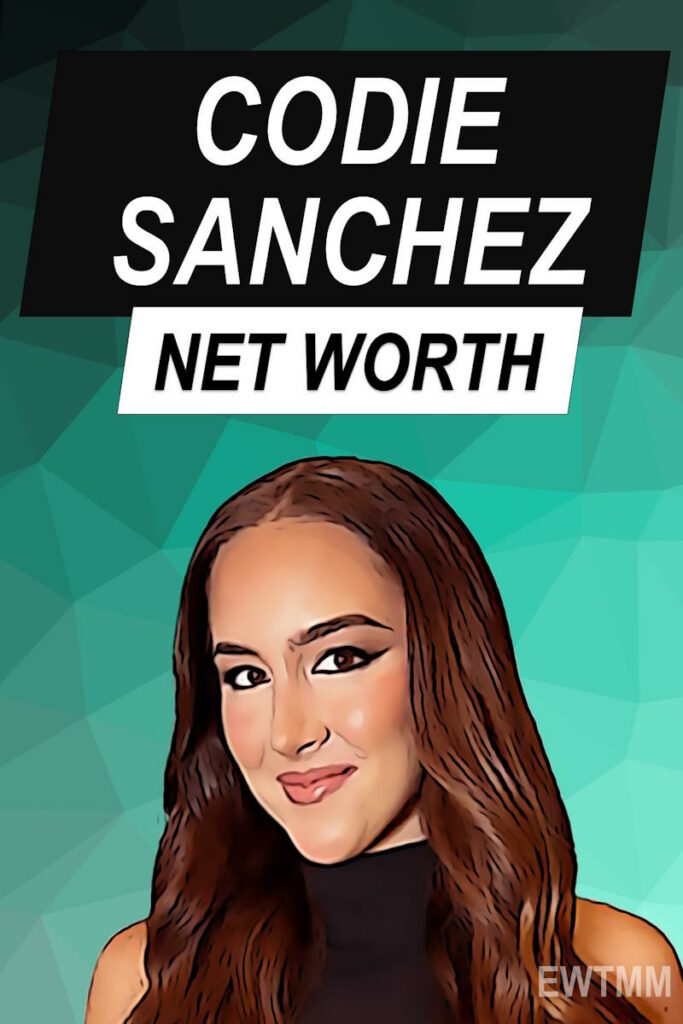 | | |
| --- | --- |
| Net Worth 2023: | $30 million |
| Born: | August 23, 1986 |
| Age: | 37 |
| Height: | 5 ft 8 in (1.73 m) |
| Native Country: | United States |
| Source of Wealth (SOW): | Investment, Entrepreneurship |
| Updated: | August 17, 2023 |
Enter Codie Sanchez. A brilliant investor, entrepreneur, and content creator, who reached a net worth of $10 million by the age of 30.
So who is Codie Sanchez exactly? How did she become such a successful investor? And how much is Codie Sanchez worth these days? Keep reading to find out.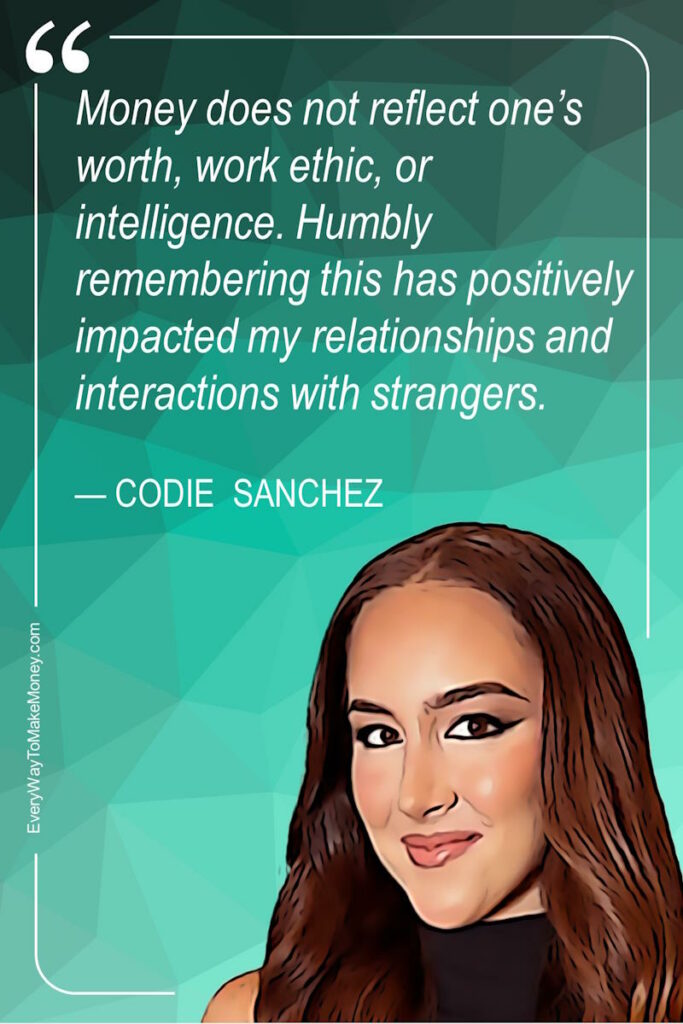 The Early Beginnings Of Codie Sanchez
Codie A. Sanchez was a summer baby and was born on August 24, 1986 in Phoenix Arizona, to a middle class family.
After high school, Codie went on to college at Arizona State University. She was a stand out student, graduating Summa Cum Laude, having Majors in Political Science, Spanish, and Public Relations.
Inside The Personal Life Of Codie Sanchez
Codie currently still is based in Phoenix, Arizona. She lives with her husband Chris, an active Navy SEAL and war veteran.
It isn't known when exactly the two got married, but they have been together for many years.
Codie's Quest For Financial Freedom: From Journalism To Finance
Codie was a go-getter from a young age and began her career in journalism while still an undergrad. She even was chosen for a grant from the Howard Buffett Foundation while still in college.
After a short time working in the journalism field, Codie realized she wouldn't be able to make the kind of money she wanted to.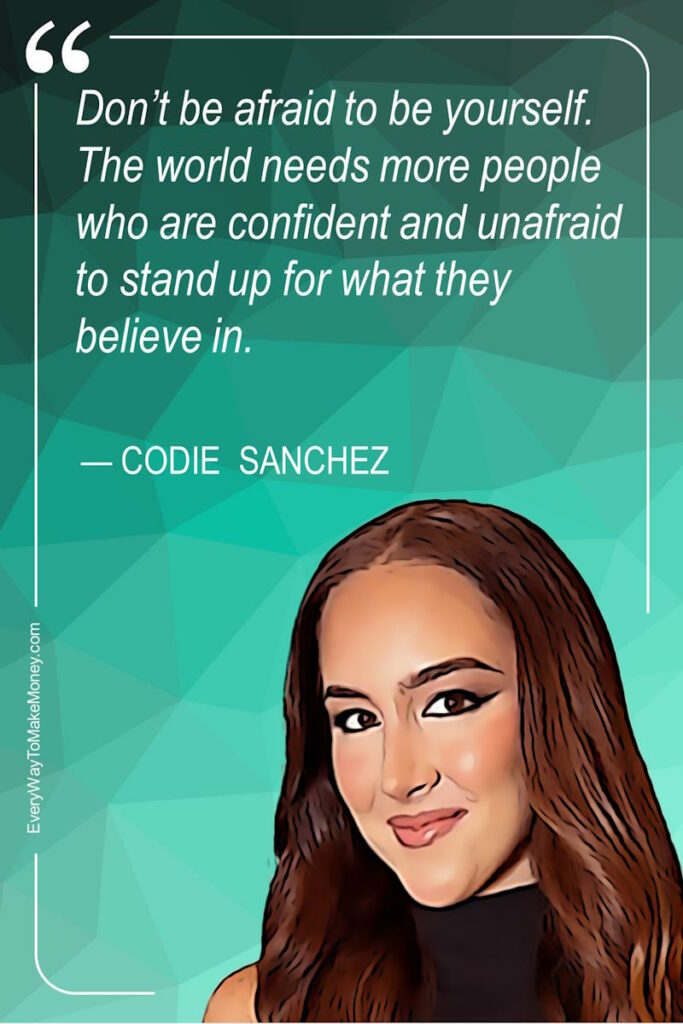 Not wanting to be limited by her earning potential, Codie made the switch over to finance. In order to make finance a career, Codie knew she had a lot to learn.
She immersed herself in the industry, attending as many financial seminars and events as she could. Codie learned early on that being able to network with other professionals at these events was invaluable and eventually found herself talking to a recruiter from Vanguard, who mentored her through taking her first steps in the field.
Seeing the earning potential of the financial services industry, Codie knew it was the career path for her, and jumped into the field as soon as she graduated college.
Codie worked her way up the corporate ladder, holding positions at some of the biggest financial firms in America, including Vanguard Group, Goldman Sachs, State Street Global Advisors, and First Trust Portfolios.
With each position change bringing a generous raise in her annual earnings.
Codie Puts Her Money To Work
While Codie's salary continued to increase, she made sure her spending didn't, and put away a large portion of her extra income into the markets for her own personal investments.
After a few years, Codie built up a large enough bag of wealth to be able to leave her high stress executive job at the financial firm.
Switching Career Avenues
After leaving her career in the financial service industry, Codie switched things up and found another opportunity with high earning potential.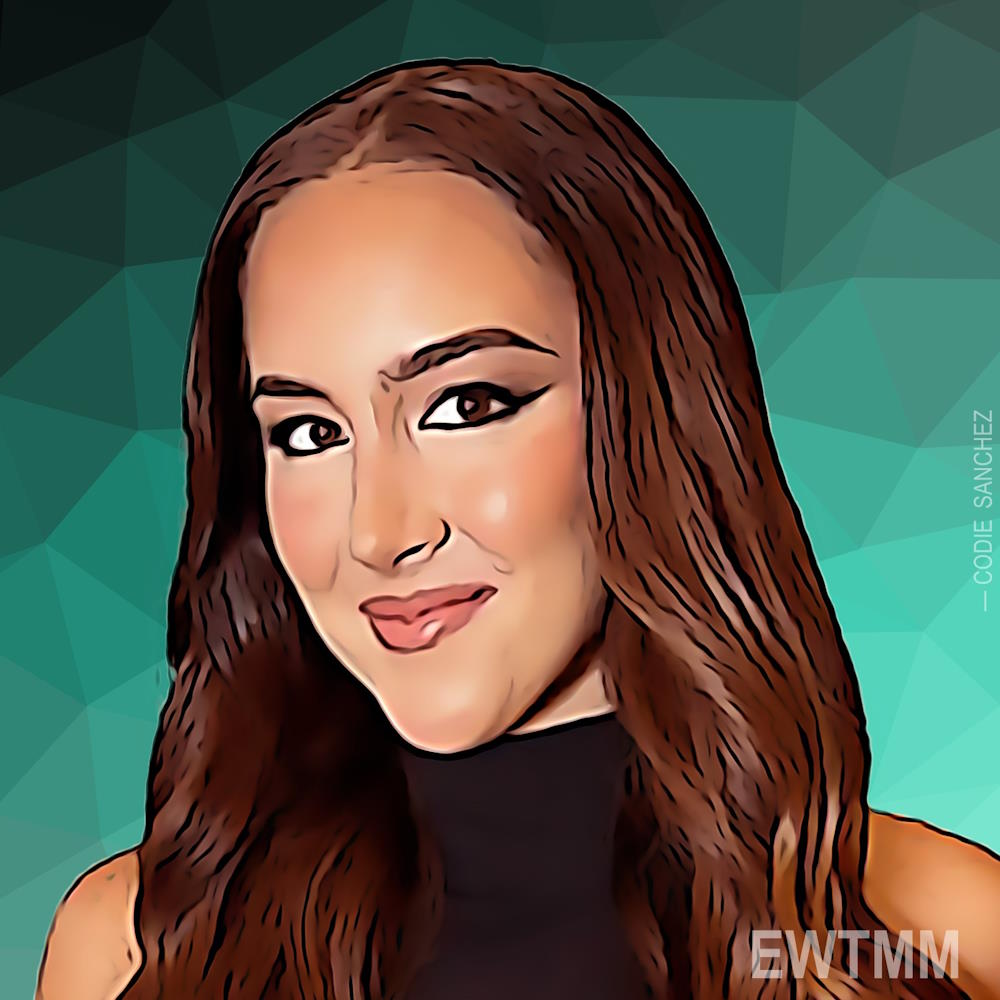 This time as a private equity investor in the Cannabis industry. It was during this time, Codie decided she could create her own businesses.
And she founded Contrarian Thinking, a media business that focused on producing financial content. She also co-founded Unconventional Acquisitions, a company that helps clients to buy and build businesses.
Codie Shares Her Financial Advice
Through her social media accounts such as her TikTok and YouTube channels, Codie shares her insights and the lessons she's learned over the years from her time working in the financial field as well as through her investments she has made on her own.
Her YouTube channel is widely popular, with millions of views. The channel currently has roughly 767K subscribers.
Codie is also active on Twitter where she shares short insights and lessons for success, as well as glimpses into her life.
On Twitter Codie has roughly 383K followers.
| | |
| --- | --- |
| Codie Sanchez | Social Media |
| Instagram handle: | codiesanchez |
| Instagram followers: | 1000K followers |
| YouTube handle | @CodieSanchezCT |
| YouTube subscribers: | 767K subscribers |
| TikTok handle | @realcodiesanchez |
| TikTok likes: | 9M likes |
| Facebook handle | Codie Sanchez |
| Facebook followers: | 12K followers |
| Twitter handle | Codie_Sanchez |
| Twitter followers: | 383K followers |
| Updated: | August 17, 2023 |
Breaking Down Codie Sanchez's Net Worth
Although Codie doesn't publicly disclose her exact net worth, the rough amount can be estimated based on the investments she's made for herself, as well as the business portfolio (valued at around $50 million) she manages with her business partner.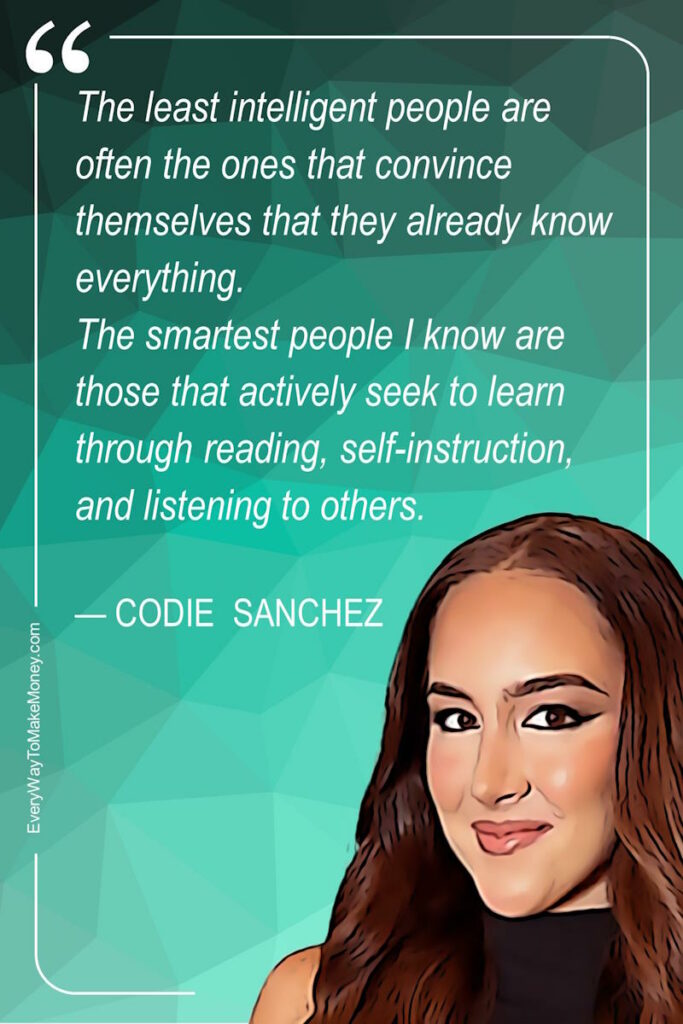 Based on all of her investments and different sources of income, Codie Sanchez's net worth is estimated to be around $30 million.
Codie created this impressive net worth through years of hard work climbing the corporate ladder in the financial industry, continually raising her annual income through seeking higher paying positions.
And then funneling the extra income into high performing assets and investments which grew in value over time.
Codie also earns income through her media company, where she produces content through platforms such as YouTube.
She owns a number of other businesses as well which provide her with even more sources of income.
Codie Sanchez's Net worth FAQs
How Much Does Codie Sanchez Make A Year? Based off of the estimated earnings from Codie's investments, her multiple businesses, YouTube account, and sponsorships.
Codie could be making around $1.2-1.5 million per year.
What Businesses Does Codie Sanchez Own?
Codie Sanchez is the founder and CEO of Contrarian Thinking, a media company focused on providing insights into the world of business.
She is also the co-founder of Unconventional Acquisitions company, a business that helps clients buy small businesses.
Through her holding company, she holds a portfolio of 26 smaller service based businesses.
How Old Is Codie Sanchez?
Codie is currently 29401 years old, making the amount of success she has been able to pull off in her lifetime even more impressive.
How Many Businesses Does Codie Sanchez Have?
Although Codie created two businesses from scratch, she also owns 26 smaller businesses. So in total, Codie Sanchez has 28 businesses to her name.
What is Codie Sanchez's net worth?
As of 2023, Codie Sanchez's net worth is estimated at $30 million. Codie Sanchez achieved prosperity through entrepreneurship, and public speaking.
It is important to mention that the net worth of Codie Sanchez is not a public information and the exact amount cannot be confirmed with certainty.