If you are a Christian in Philadelphia, you may have heard the name Gino Jennings at some point in your life.
Jennings is a religious leader who established the First Church of Our Lord Jesus Christ, Inc.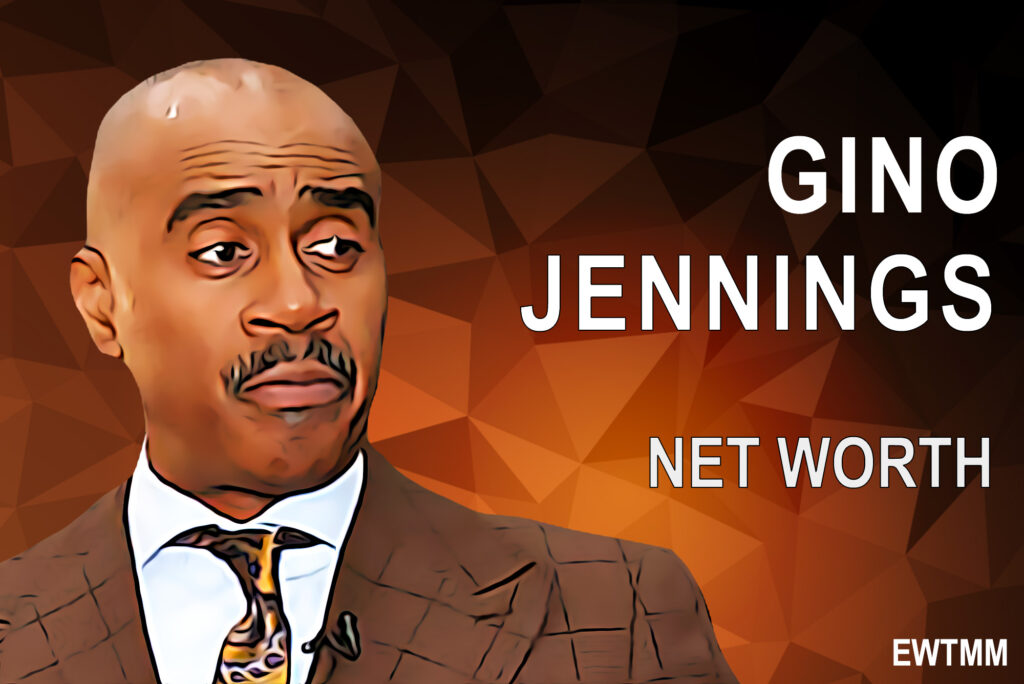 | | |
| --- | --- |
| Net Worth 2023: | $1 Million |
| Born: | February 10, 1963 |
| Age: | 60 |
| Height: | 5 ft 11 in (1.8 m) |
| Native Country: | United States |
| Place of Birth: | Philadelphia |
| Source of Wealth (SOW): | Religious Services |
| Updated: | March 6, 2023 |
This church is under the fundamentalist and holiness denomination, and Jennings has spent a lot of time building up this church under his vision.
Despite the controversies he has faced, Jennings has earned a lot of money throughout his life.
For a man of God and his faith, you won't believe what Gino Jennings' net worth is.
Gino Jennings' Early Life
Gino Jennings was born on February 10, 1963, in Philadelphia, Pennsylvania.
He has been in the church all of his life due to his father's uncle leading his own church.
At the age of 13, Jennings became the third in charge, right underneath Bishop Ernest Jennings.
Gino Jennings was a child preacher as he was a bible reader for the church.
Being third in charge of his family's church, he was heavily involved with religion from the beginning.
While some people would grow away from the church or only be casual followers, Jennings has been devoted for life.
At some point during his adolescence, Jennings claimed that God/the Holy Spirit appeared before him after he went through a period of prayer and fasting.
This vision silenced him for a year. A short time after he began to preach again, he believed to be silenced once again.
Over time, Jennings' devotion grew until he created his church: First Church of Our Lord Jesus Christ, Inc.
Gino Jennings' Education
It is unknown where Gino Jennings went to school or where he went to college.
He graduated high school in 1981, but has not revealed where. Instead, he focuses on the education of the bible with his preaching at his church.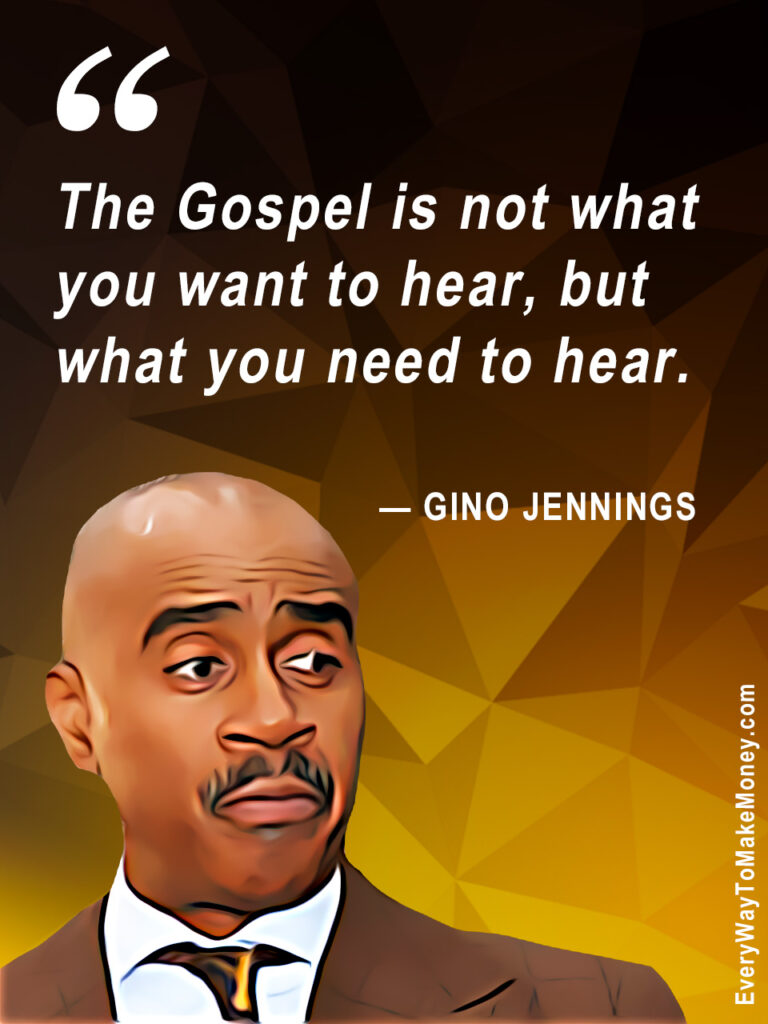 Gino Jennings' Personal Life
Jennings has a large family with several kids and a wife. Gino Jennings married Darlene Gayman and together they had 7 children.
We know they have 4 sons and 3 daughters, but little else is known about them.
During the early years of starting up his church, people gathered in his mother's basement for sermons.
The church started from a very small beginning thanks to the help of Jennings' family.
These gatherings were never large, with only around 10-15 people in the small basement.
However, as his beliefs grew and departed from the teachings of his great uncle, he had to establish a church location of his own.
Gino Jennings' Professional Life
Gino Jennings' professional life is very tied to his personal life because they are both heavily influenced by the church.
Jennings started his church in 1984, though the location of the church changed many times. It started in his mother's basement, as discussed in the previous section.
In 1989, the headquarters were moved to a building in Philadelphia that Jennings rented.
This was an adequate space that got him and the church through many sermons and even a wedding.
With many moves throughout the year, Jennings finally got his more permanent location for his church in 2016.
The current location of the church is on North 5th street in Philadelphia.
This was a huge accomplishment in Jennings' professional life, as now he has a strong and large place for his church to hold many followers.
Gino Jennings' Social Media
Gino Jennings has both Instagram and Facebook. With both of his social media pages, he uses them to promote his church instead of sharing personal details.
However, he is not super active on either of them nor does either of them have large followings that are typically seen with influencers.
On his Instagram, he mostly shares videos taken from his sermons during church. Jennings is more active on his Facebook where he posts weekly.
| | |
| --- | --- |
| Gino Jennings | Social Media |
| Instagram handle: | ginojennings |
| Instagram followers: | 1K followers |
| Facebook handle | truthofgod1 |
| Facebook followers: | 55K followers |
| Twitter handle | truthofgod1 |
| Twitter followers: | 2K followers |
| Updated: | March 6, 2023 |
Gino Jennings' Life Lessons
The main lesson that can be learned from Gino Jennings is that if you can stick to something, whether that be a goal or faith, you can see the results from your efforts grow and succeed.
With Jennings starting his church journey at such a young age, it isn't too surprising to see the large level of success that he has gained throughout the years.
If you were to stick with something for as long of a time, you could see success and progress as well.
Gino Jennings' Net Worth
The moment you've all been waiting for, the net worth of Gino Jennings. As of 2022, Gino Jennings has a net worth of about $1 million.
That is a lot of money for someone who started from his mother's basement.
Gino Jennings' net worth all comes from his church and the money that he gains from the church's donations and pledges.
With him starting his church at a young age, he was able to grow that money into the large amount he is worth now.
However, Gino Jennings is not without controversies. There is much discourse about him due to his beliefs in the church and in general.
It is said that Gino Jennings has stricter beliefs in the Christian religion (in which he is opposed to being connected with Christianity and prefers the term "holiness") that involve misogynistic views on women.
Jennings has been connected to using misogynistic language against women in his preaching and video.
There was also an event where Jennings was disrespectful during a debate with Mr. Vegas that led to him being banned from Australia.
The amount of money that Jennings makes is grand with his net worth being so high. However, it is hard to say how long that will continue with the controversies he faces.
Frequently Asked Questions
What does Gino Jennings do for a living?
Gino Jennings is a pastor of his church First Church of Our Lord Jesus Christ, Inc.
Does Gino Jennings have a wife?
Gino Jennings is married to Darlene Gayman-Jennings. They married in 1989.
Who is Gino Jennings' father?
Gino Jennings' father is Bishop Ernest Jennings, who died in 1991.
Please note that the net worth of Gino Jennings is not publicly disclosed and the exact amount cannot be confirmed.