Tennis is a great sport that many of us enjoy. The energy of athletic events always captures our imaginations.
There is a direct correlation between effort and achievement, and we rarely understand just how much effort it takes to achieve athletic success.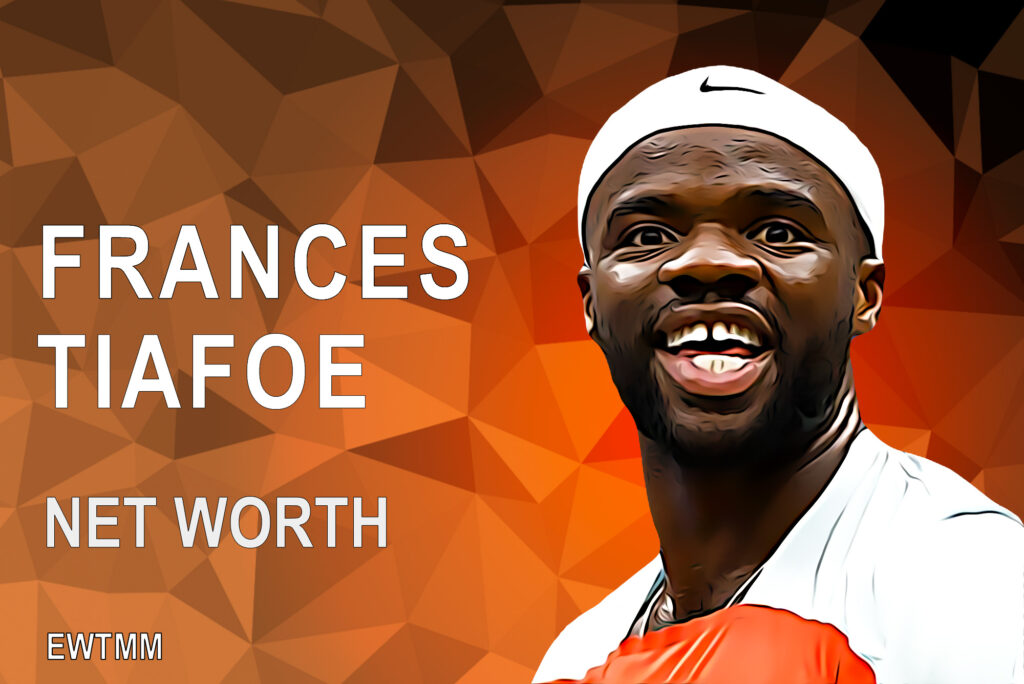 | | |
| --- | --- |
| Net Worth 2023: | $8 Million |
| Born: | January 20, 1998 |
| Age: | 25 |
| Height: | 6 ft 2 in (1.88 m) |
| Native Country: | United States |
| Place of Birth: | Hyattsville, Maryland |
| Source of Wealth (SOW): | Professional Sports |
| Updated: | March 5, 2023 |
The proverb- "If you can see it, you can be it"- perfectly describes American professional tennis player, Frances Tiafoe Jr.
Tiafoe is the youngest male American tennis player to win an ATP tournament in the past 20 years, but the question is: How wealthy is Tiafoe?
Tiafoe's net worth is a reflection of his efforts and only continues to grow with his success.
The American Dream is available to all who work for it. As the son of immigrants, Tiafoe learned the value of hard work in order to achieve his goals.
Tiafoe's Personal Life
Frances Tiafoe Junior is a vibrant 24 year old who was born on January 20, 1998 in Hyattsville, Maryland.
He has a twin brother named Franklin. Tiafoe's parents are Frances Tiafoe Senior and Alphina Kamara.
His family are from Sierra Leone. They immigrated to America to seek opportunities to better their future and live a peaceful life, as Sierra Leone has been ravaged by civil war for many years.
When opportunity knocks, you have to answer it. As fate would have it, Tiafoe's father worked on the construction project for the Junior Tennis Champions Center in College Park, Maryland.
The Junior Tennis Champions Center is part of the USTA national training center circuit.
Frances senior later became a custodian at the Tennis Center, and the twins lived with him for 11 years on the site.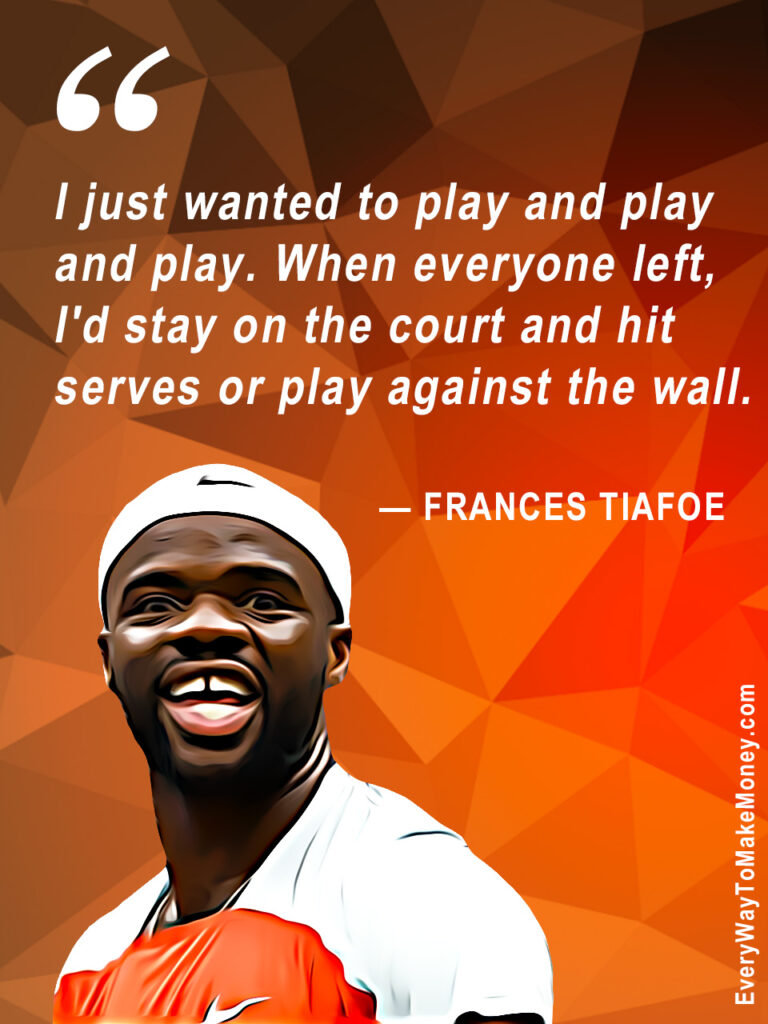 Frances and Franklin started playing tennis at the center when they were just four years old.
Professional tennis coach Misha Kouznetsov helped to propel Tiafoe's career to the professional level.
Tiafoe eventually moved to Boca Raton, Florida, while his twin Franklin remained in Maryland.
A change of scene is always a good idea, and this was proven because moving to Florida created new opportunities for Tiafoe's professional career.
Frances Tiafoe focuses on more than just his professional career. He is currently in a relationship with stunt double Ayan Broomfield.
She recently made an appearance at his US Open tournament in 2022.
Tiafoe's Career Highlights
Early career
During the early stages of competition, it was evident that he would emerge to be the champion that he is today.
At the tender age of 17, Tiafoe made it to the French Open. He matched Michael Chang's 1989 accomplishment of being the youngest American in the main competition.
He also won the 100th USTA Junior National Championship when he was just 18 years old.
Tiafoe's career has had varying highlights along the way. Starting with the ATP Tour main draw, he progressed up the tennis ranks to win his first major title – the ITF Futures tournament.
He progressed to the Challenger level of the tournament, and played in other major events as he climbed up the professional tennis ranks.
He started playing larger events such as the US Open and the Australian Open.
Current Career
Larger professional events exposed Tiafoe to more well-known players such as Roger Federer, who he challenged at the Arthur Ashe Stadium.
With the acclaim that he gained from challenging Federer, Tiafoe was elected as Juan Martin del Potro's replacement in the Laver Cup.
While his tennis career has seen both ups and downs, Tiafoe has kept improving his game.
By 2018, he had made it to the quarter finals of an ATP event. After losing to Kevin Anderson, he continued his quest and entered the Delray Beach Open.
The game with Delray was his window of opportunity, as it paved his way to his first ATP title.
Tiafoe won the Delray Beach tournament, and began what is now known as his win streak.
Tiafoe is well on his way to becoming a highly ranked Tennis Master. Since his grand slam debut, Tiafoe has continued to rival the best in the field, and recently beat Rafael Nadal in the 2022 US Open.
Off the court, Tiafoe has been honoured with the Arthur Ashe Humanitarian Award.
To this day, Tiafoe is still thriving in his professional career.
Tiafoe's Social Media Following
Tiafoe is quite active on major social media platforms inclusive of Instagram and Twitter.
He shares his day-to-day activities, as well as any major sporting highlights as they occur.
| | |
| --- | --- |
| Tiafoe | Social Media |
| Instagram handle: | bigfoe1998 |
| Instagram followers: | 447K followers |
| Facebook handle | bigfoe1998 |
| Facebook followers: | 35K followers |
| Twitter handle | Ftiafoe |
| Twitter followers: | 97K followers |
| Updated: | March 5, 2023 |
Life Lessons from Tiafoe
One major lesson to be learned from Tiafoe's story is that life is what you create it to be.
Work hard, stay focused, and you can accomplish your goals. Even from humble beginnings, you can achieve the life that you desire with hard work, utilising all major opportunities and focusing on your goals.
Tiafoe's Net Worth
Tiafoe's net worth is currently valued at $8 million, and counting.
Tiafoe is a professional athlete and his career has been supported by various enterprises across the years.
Tennis players are known for their fashion sense, and Tiafoe was once sponsored by clothing brands such as Adidas and Nike.
On the luxury market, brands such as Tag Heuer have sponsored him. Brand endorsements are part of his income streams.
Tiafoe's net worth is also made up of his grand slam earnings, which vary according to the size of the competition.
Tiafoe's assets include a home in Florida. He also owns a Porsche 911.
FAQ
How much money has Tiafoe made?
Frances Tiafoe has made approximately 6 million dollars in his professional tennis career. His income is from various streams including earnings from winning tennis tournaments and various professional sponsorship deals.
How much did Tiafoe make at the US Open?
Winning a major grand slam has its perks. Tiafoe made approximately $1.7 million at the US Open in 2022.
Is Tiafoe sponsored by Nike?
Tiafoe signed a contract with Nike in 2017. They have sponsored both his practice wear and on-court wear.
What nationality is Tiafoe?
Frances Tiafoe Jr is American. He was born in Hyattsville, Maryland in the USA. His parents are immigrants from Sierra Leone.
It is noteworthy that the net worth of Tiafoe is not a publicly disclosed figure and the exact amount cannot be confirmed with certainty.