In recent years, the world of fashion and accessories has seen a surge in popularity for unique, sustainable, and affordable creations.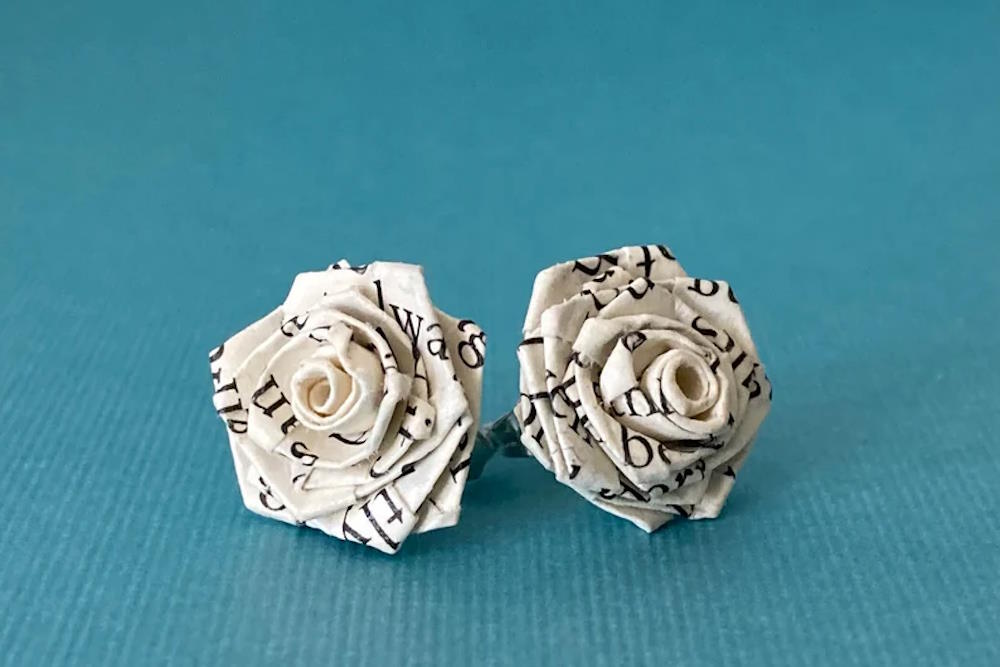 Among these innovative trends, paper jewelry has emerged as a standout option. Not only are handmade paper pieces lightweight, stylish, and eco-friendly, but they are also in high demand for people looking for one-of-a-kind accessories. This presents a fantastic opportunity for entrepreneurial individuals to start their own paper jewelry business and turn their creative skills into a profitable venture.
Paper jewelry involves transforming various types of papers into intricate and attractive designs that can be worn as earrings, necklaces, rings, or bracelets. With a vast array of colors, patterns, and techniques available, aspiring paper jewelry makers can cater to diverse customer preferences while also finding their unique style and niche. Moreover, creating paper jewelry typically requires minimal materials and tools, making it a budget-friendly craft that can generate substantial returns.
To successfully establish a paper jewelry business, it's essential to learn the ins and outs of crafting these delicate pieces while also discovering effective strategies for marketing and selling them. From mastering your designs to harnessing the power of online selling platforms, getting started in the paper jewelry business requires patience, perseverance, and passion for this artisan craft.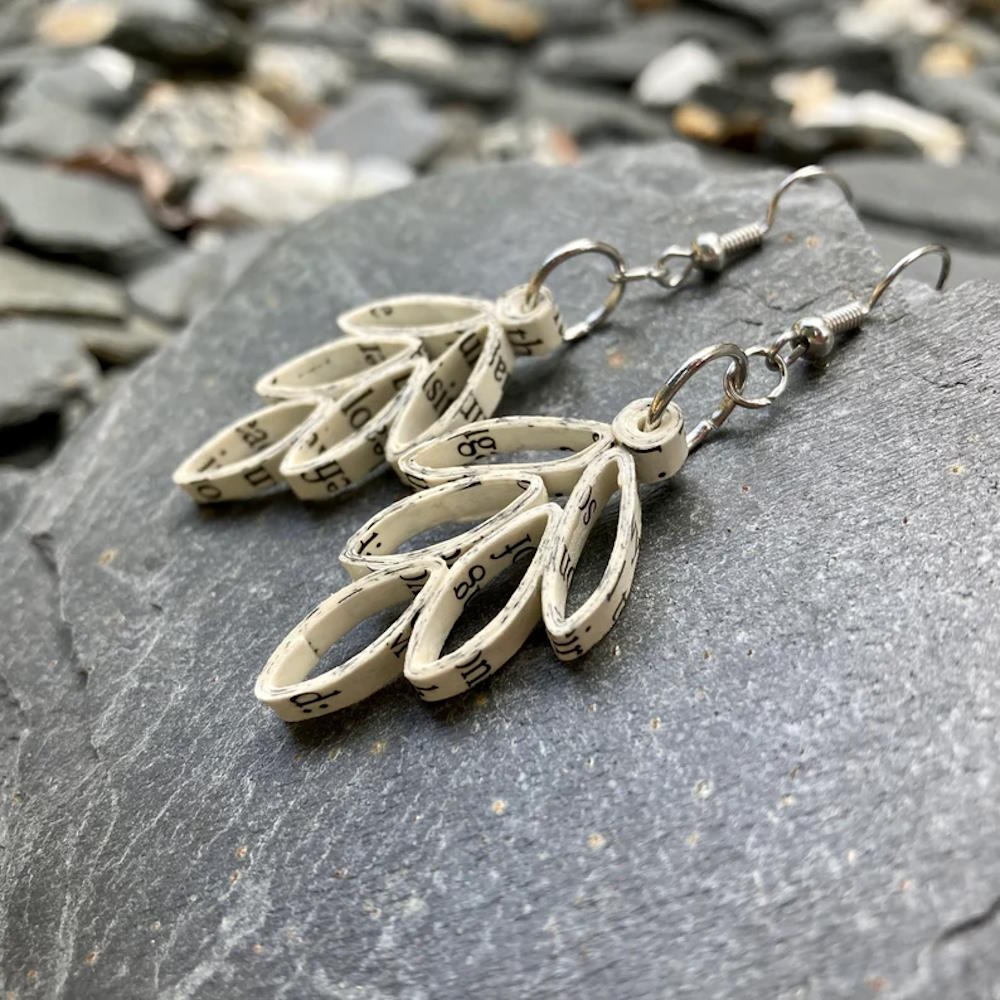 Getting Started with Paper Jewelry
Starting a paper jewelry-making business is an interesting endeavor with the potential for profit. To begin, it is important to gather essential raw materials and basic hand tools.
Essential Raw Materials
When starting to make paper jewelry, having all the necessary raw materials is crucial for a smooth creative process. Here are the common items needed:
Paper: Choose from a variety of types, such as craft paper, textured paper, or even recycled materials.
Cord: Cord is essential for attaching and connecting different parts of your jewelry; options include waxed cotton cord, silk thread, or leather cords.
Glue: A strong adhesive is necessary to ensure the durability of your creations; look for a glue that dries clear and bonds quickly, such as craft glue or jewelry glue.
Chains: Depending on the type of paper jewelry, chains may be used to add an elegant touch.
Wire: Use wire to create connections, shapes, and structure within your designs.
Basic Hand Tools
Having the appropriate tools on hand can significantly enhance your jewelry-making experience by making it easier and more efficient. Here are some basic hand tools to consider:
Scissors: Sharp, precise scissors are necessary for cutting paper and cords.
Pliers: Be sure to have a pair of needle-nose pliers for bending and shaping wire, as well as a pair of flat-nose pliers for gripping and holding items in place.
Wire cutters: A specialized tool for cutting wire, an essential for any paper jewelry-maker.
Craft knife: A craft knife can provide more control and precision in cutting intricate shapes and patterns.
Ruler: To ensure accurate measurements and even spacing, a ruler is a vital tool in your paper jewelry-making toolkit.
This introductory guidance should equip you with the information you need as a beginner to start making stunning paper jewelry. As you progress, you may discover additional materials and tools that suit your personal style and techniques. Good luck in your journey and happy crafting!
Creating Popular Paper Jewelry Items
Paper jewelry is an eco-friendly and affordable option for those who love unique and stylish accessories. This section will cover various types of paper jewelry items that can be made and sold for a profit. We will discuss popular styles and techniques for each item, ensuring that your creations stand out in the market.
Necklaces
When making paper necklaces, consider incorporating beads and gems for added visual interest. Create eye-catching designs by alternating between paper beads, gemstones, and metal fittings. Additionally, use sturdy stringing materials such as nylon or silk threads to ensure durability.
Rings
Paper rings are an interesting alternative to conventional metal ones. They can feature intricate patterns, bold colors, or even upcycled materials. To create a statement piece, consider adding a large paper bead or gemstone as the centerpiece. Reinforce the ring band with glue, wire, or other supports to enhance wearability.
Earrings
Paper earrings come in various styles, including drop or dangle, stud, and hoop. Craft unique designs by layering paper elements, incorporating gemstones, or using other embellishments. To ensure a comfortable and secure fit, use hypoallergenic earring hooks or posts.
Bracelets
When designing paper bracelets, think about the different closure options available. Some popular choices are toggle clasps, lobster claw clasps, and magnetic clasps. Combine paper beads with metal charms, glass beads, or semi-precious stones for a stylish and unique look. Also, consider using elastic cords for added comfort and ease of wear.
Pendants
Paper pendants offer a great opportunity for showcasing intricate designs or artwork. Experiment with different shapes, such as circles, squares, or even abstract forms. To add depth, consider layering multiple papers or incorporating three-dimensional elements. To protect and enhance the pendant's appearance, apply a clear sealant or resin coating.
Lockets
Creating paper lockets can involve enclosing small images, quotes, or decorative elements inside a folded or hinged paper structure. You can also experiment with shapes, such as hearts or ovals, to add sentimental value. Attach a strong and durable chain to the locket for an elegant and functional accessory.
Hairpins
Paper hairpins offer a unique way to express individuality and creativity. Fashion your paper hair accessories in shapes like flowers, butterflies, or abstract designs. Use strong glue to attach the paper elements to a metal hairpin base, ensuring a secure and long-lasting bond.
Improving Your Skills and Creativity
Online Tutorials
To enhance your skills and creativity in paper jewelry making, explore various online tutorials available on different platforms. These resources offer step-by-step instructions for creating intricate and innovative designs. Don't be afraid to explore new techniques, and try to replicate them in your creations. Some notable websites to start with include Creative Fabrica and Every Way to Make Money.
Video Demos
Video demos are another excellent way to expand your knowledge and learn new techniques. Watching experienced artists demonstrate their craft can provide valuable insights into their creative process. YouTube is a great platform to start your search, as it offers numerous channels dedicated to paper jewelry making.
Courses
To further improve your skills, consider enrolling in courses focused on paper jewelry making. These courses typically offer a more structured learning experience, covering specific techniques and design principles. Websites like Udemy or Skillshare offer affordable online courses, allowing you to learn at your own pace and from the comfort of your home.
Live Events
Lastly, attending live events such as workshops or craft fairs can provide valuable opportunities for networking and skill development. These events allow you to engage with fellow paper jewelry makers, exchange ideas, and learn from experts in the field. Keep an eye out for local events or national conferences related to your craft, and don't hesitate to participate.
Building Your Online Presence
Creating a Website
One efficient way to make money selling paper jewelry is by building a strong online presence. Start by creating a website for your business. A well-designed website serves as the digital face of your brand, where potential customers can easily view and purchase your paper jewelry creations. Consider using platforms like Shopify or WordPress with WooCommerce to set up an online store. Make sure to use high-quality photos and well-written descriptions for each product.
Starting a Blog
Another effective strategy is to start a blog related to your paper jewelry business. Share your creative process, inspirations, and tutorials on how to create paper jewelry. A blog not only helps establish you as an expert in the field but also drives traffic to your website, potentially increasing sales. To make your blog more engaging, use a mixture of written content, images, and videos to demonstrate your jewelry-making techniques.
Utilizing Social Media Platforms
Lastly, leverage the power of social media platforms to promote your paper jewelry business. Create accounts on popular platforms like Facebook, Instagram, Pinterest, and TikTok to showcase your products and connect with potential customers.
Facebook: Develop a community around your brand by creating a Facebook page where you can share product updates, promotions, and behind-the-scenes content.
Instagram: Utilize Instagram's visual appeal by posting stunning photos and videos of your paper jewelry, as well as sharing your creative process through stories and IGTV.
Pinterest: Pin high-quality, visually appealing images of your paper jewelry pieces, linking each pin back to your website or online store.
TikTok: Create short, engaging videos showcasing your paper jewelry and share jewelry-making tutorials to attract a broader audience.
Remember, consistency is key! Regularly posting content across these platforms will help you build a loyal fanbase and increase your paper jewelry business's online visibility.
Selling on Online Marketplaces
Selling paper jewelry can be both profitable and enjoyable. One of the best ways to sell your creations is through online marketplaces. In this section, we'll explore a few of these online platforms – Etsy, eBay, Amazon, and Shopify – and discuss how you can leverage them to effectively sell your products.
Etsy and eBay
Etsy is a popular online marketplace for handcrafted and unique items. It's a platform specifically tailored to artists and crafters, so it's an ideal place to sell your paper jewelry. To get started on Etsy, you will need to create a seller account, set up your shop, and list your products with detailed descriptions and high-quality images.
eBay, on the other hand, is a more general marketplace for buying and selling items – including handmade products like paper jewelry. Selling on eBay requires creating an account, listing your items with relevant details, and selecting a pricing format: auction or "Buy It Now". Consider offering competitive prices and clear shipping policies to increase your chances of attracting buyers.
Amazon and Shopify
Amazon is another prominent online marketplace where you can sell your paper jewelry to worldwide customers. To begin selling on Amazon, you'll need to register as a seller, list your products, and optimize your listings with relevant keywords, images, and descriptions. Don't forget to research Amazon's guidelines on handmade items, which may differ from other product categories.
Shopify is an e-commerce platform that allows you to create your own online store, design your website, and manage all aspects of your business. To sell paper jewelry on Shopify, create an account, choose a store theme, and set up your product pages with detailed descriptions and high-quality images. Shopify also provides marketing tools and payment gateways to help you streamline your sales process.
In conclusion, selling your paper jewelry on online marketplaces like Etsy, eBay, Amazon, and Shopify can be an effective way to reach a wider audience and boost your profits. Take the time to familiarize yourself with each platform's policies and features to make the most of your online selling journey.
Showcasing Your Work at Local Events
Bringing your paper jewelry creations to life and making a profit from them is an exciting venture. One of the best ways to showcase your work and attract potential customers is to participate in local events, such as craft fairs and flea markets.
Craft Fairs
Participating in local craft fairs is a popular choice for artists and crafters looking to sell their handmade goods. Before signing up for a fair, research the event to ensure it is a good fit for your paper jewelry. Check if the organizers have any specific guidelines or requirements for vendors, and try to attend some of the fairs in advance to get a feel for the atmosphere.
Once you've chosen a craft fair to participate in, be sure to:
Set up an eye-catching display that showcases the uniqueness of your paper jewelry.
Establish a clear pricing structure based on your material and labor costs, ensuring a reasonable profit margin.
Develop a promotional strategy, including handing out business cards and offering special launch discounts.
Engage with potential customers, demonstrating your passion for paper jewelry and answering any questions they may have.
Flea Markets
flea markets offer another great opportunity to showcase your paper jewelry to a wider audience. As flea markets often attract people with diverse interests, you may find new customers who might not typically attend a craft fair.
To make the most out of your flea market experience, be sure to:
Set up your booth in an easily accessible location within the market.
Use bold signage to draw attention to your booth and paper jewelry.
Network with other vendors to learn more about the market, promote your paper jewelry, and potentially collaborate on future projects.
Offer a broader range of items to cater to the diverse tastes of flea market goers.
By participating in both craft fairs and flea markets, you can optimize your exposure and increase your chances of making a profit from your paper jewelry creations. Remember to present your work professionally while maintaining a friendly and approachable demeanor. Happy selling!
Growing Your Paper Jewelry Business
Marketing Strategies
To grow your paper jewelry business, you must have a strong marketing strategy. Social media platforms, like Instagram and Pinterest, are perfect for showcasing your unique, handmade pieces. Setting up an Etsy store is also a great way to sell your products. Craft fairs, flea markets, and local events are also excellent venues for displaying and selling your paper jewelry.
Market Research
Before starting a paper jewelry business, conduct market research to understand your competition and potential customers. Analyze which designs and styles are popular and identify any gaps in the market. Understanding your target audience and staying updated on jewelry trends can help you create more appealing designs that sell.
Business Plan
Developing a business plan is essential when starting a paper jewelry business. Your plan should outline your goals, target market, marketing strategies, potential expenses, and anticipated revenue. A well-structured business plan will help you stay focused and make informed decisions as your business grows.
Starting a Paper Jewelry Making Business
When you're ready to start your paper jewelry making business, make sure you have the necessary materials and skills to create quality products. Practice different paper jewelry techniques, and ensure your work is polished and professional before offering it for sale. Consider investing in a professional manufacturer if you want to scale your business while maintaining control over the design process.
Cons of a Paper Jewelry Making Business
There are some challenges when running a paper jewelry making business. With 65% gross margins, covering expenses and maintaining profitability can be difficult. Additionally, work and income may be inconsistent, which might affect your financial stability. Moreover, as a self-employed entrepreneur, you'll be responsible for securing your insurance and paying self-employment taxes, which can be time-consuming and costly.
Additional Tips and Resources
Craft Stores and Wholesale Suppliers
When starting your paper jewelry business, it's essential to source materials from reliable and cost-effective suppliers. Craft stores and wholesale suppliers can be found both locally and online. Consider comparing prices and quality before deciding on the best option for your business. Some popular online platforms for sourcing craft supplies include Etsy and Amazon.
Product Photography
High-quality product photography is crucial for showcasing your paper jewelry and attracting potential customers. Invest in a good camera or smartphone that can capture sharp images. Set up a small photo studio with a clean, uncluttered background and proper lighting to enhance the appearance of your pieces. You may also consider hiring a professional photographer or learning photography techniques through resources like YouTube tutorials.
Product Descriptions
Writing compelling and accurate product descriptions is vital for selling your paper jewelry online. Focus on highlighting the unique features, materials used, and craftsmanship of your products. Use clear language and incorporate relevant keywords to improve search engine visibility. Proofread your descriptions for any grammatical mistakes or inconsistencies.
Here are some tips for writing product descriptions:
Use descriptive language: Describe the colors, textures, and materials used in the paper jewelry.
Highlight the unique aspects: If your products have a unique selling point, make sure to emphasize it.
Include measurements and dimensions: Helps customers visualize the size of the jewelry.
Add care instructions: Provide guidance on how to maintain and clean your paper jewelry.
Community of Founders
Joining a community of founders and fellow crafters can provide valuable support, advice, and networking opportunities. Look for online forums, Facebook groups, or local meetups where people share their experiences in running an online business or creating handmade jewelry. Engaging with your peers can also boost your motivation and inspire new ideas for your paper jewelry creations. Some popular online communities to consider joining include Etsy Seller Teams and Handmade at Amazon.