Rich People House: did you really think that the richest man in the entire United States would live in a three-bedroom house in the suburbs with a nice lawn and maybe a pool in the backyard?
Guess again! With an estimated net worth of $81.5 billion, Bill Gates likes to spend his money frugally and is well-known for his countless charitable donations.
However, when it came to his house, the founder of Microsoft decided to splurge for once in order to build the home of his dreams.
Estimated to cost $63 million to build (the most on record for an American residence) and taking seven years to complete, the stunning home is nestled among the hills of Medina, Washington where it is sure to impress.
Stretching an incredible 66,000 square feet and nicknamed Xanadu 2.0 as a nod to Citizen Kane, we found 18 rare photos from inside this exquisite home.
Sit back, relax and get ready to be impressed!
#18 – Reception Hall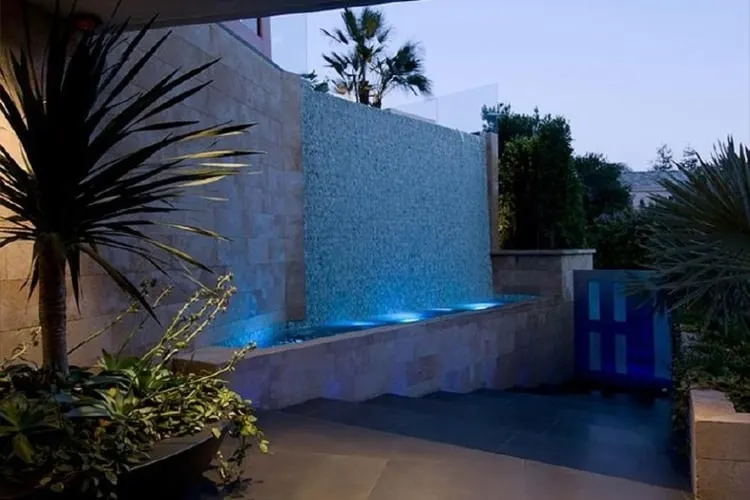 Now estimated to be worth at least $123 million, Gates' Xanadu 2.0 estate is sure to be the site for some of the biggest parties in billionaire history.
And why not? Located just off the main house down from the stone fountain wall pictured here, a 2,300 square-foot reception hall can seat 150 guests for a sit-down dinner or 200 for a lively cocktail party.
Features like a 6-foot wide limestone fireplace and a 22-foot wide display of 24 40-inch television monitors make this one of the most high-tech reception rooms in the state of Washington.
On the edge of your seat and can't wait to read more? Or hey, maybe feeling even just a little entertained?
If so we hope you please consider clicking the share and like buttons below.
Thanks so much!
Rich People House #17 – Garage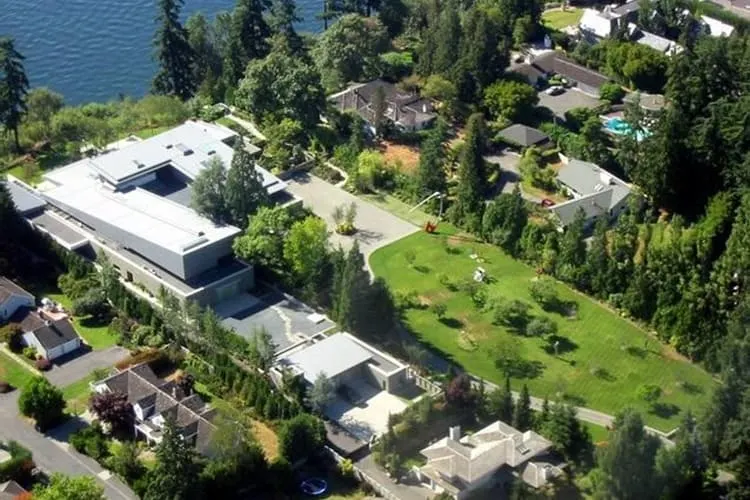 When it comes to billionaires and cars, the two seem to go hand and hand – don't you agree?
The Xanadu 2.0 estate features a variety of different garages throughout the property that can accommodate a total of 23 cars.
One of the most interesting garages is an underground cave that holds 10 cars between its concrete and stainless steel walls that give it a rough deconstructed feel of a genuine "man cave."
No, we seriously doubt Gates is storing a Honda in there!
#16 – The Guest House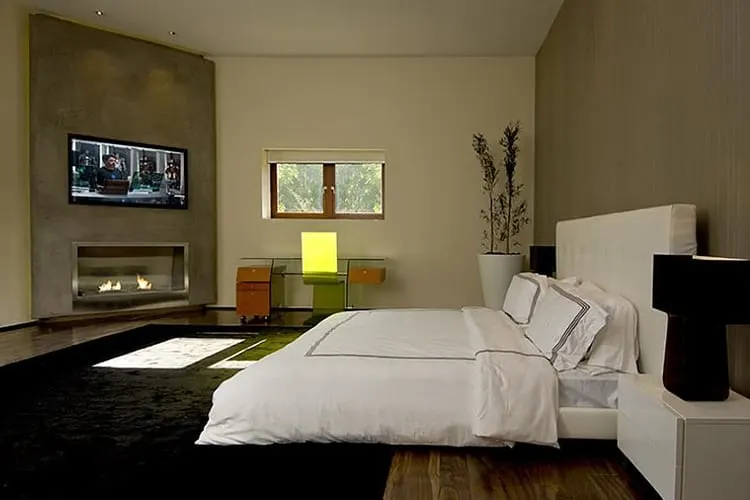 It would be rude, of course, for Gates to have completely forgotten or ignored the comfort of his visitors.
In true Gates fashion, the 1,900 square-foot guest house was the first building constructed on the property and features a modern kitchen, living area, luxurious bedroom and spacious bathroom leaving visitors little need to venture into the main house other than for entertainment.
Initially built to test the technology intended for the main estate, the guest house is a miniature version of the larger home as it is filled the same modern technology and amenities.
Rich People House #15 – Home Theatre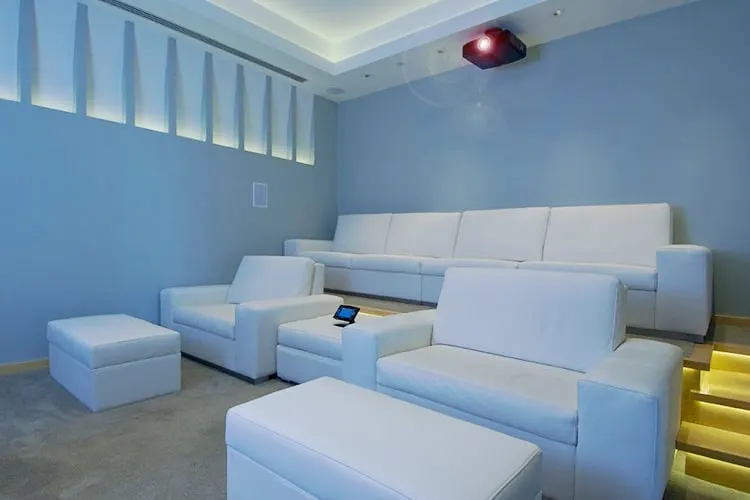 Speaking of guests and entertainment, the Xanadu 2.0 doesn't shy away from having a little movie night fun.
Designed in Art Deco style, the 1,500 square-foot theatre seats 20 guests comfortably in plush chairs and couches.
The theatre even features a popcorn machine that makes every movie lover's dreams come true with the perfect ratio of buttery goodness!
Now that's a theatre we'd like to see!
#14 – Library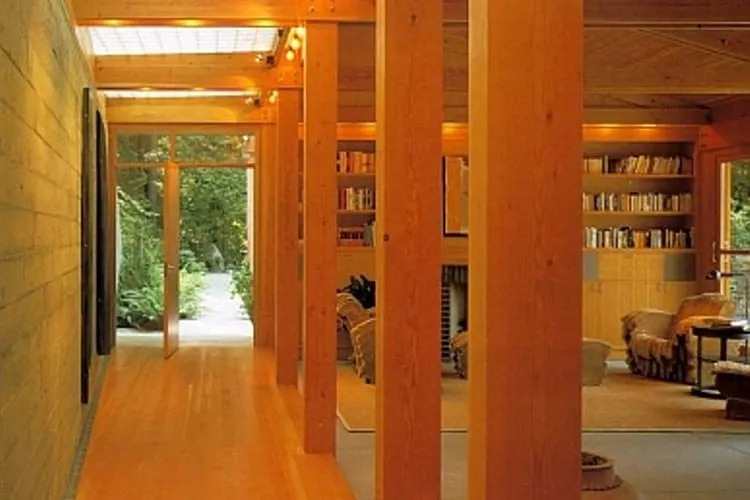 One of the most unique rooms in the entire estate, Gates spared no expense when it came to furnishing his 2,100 square-foot private library.
Complete with a domed roof and two secret bookcases (one of which reveals a hidden bar), the room features a quote from The Great Gatsby on the ceiling that reads, "He had come a long way to this blue lawn, and his dream must have seemed so close that he could hardly fail to grasp it."
What makes the room even more special, however, is that it's home to Leonardo da Vinci's 16th century Codex Leicester, which Gates purchased for $30.8 million in 1994.
Rich People House #13 – The Digital Aquarium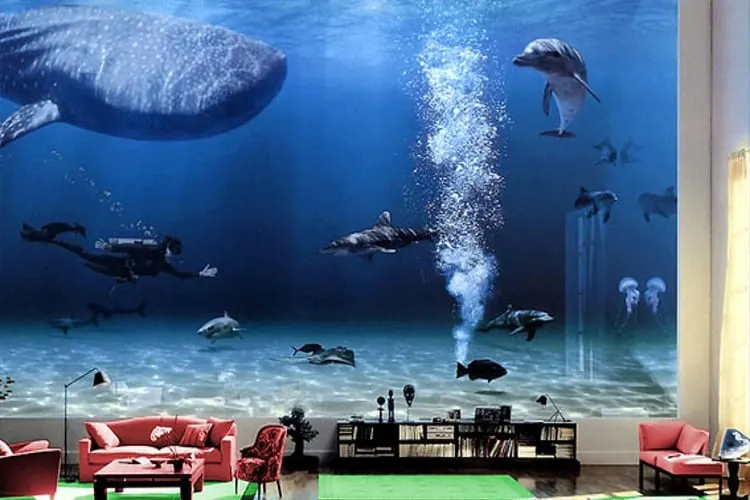 In a high-stress world of business, Gates made sure that his home offered relaxation and tranquility.
Here, you see a massive aquarium with a living-room style setting that offers a beautiful and exquisite view into the world of rare marine animals.
From dolphins and whales to sea creatures and sharks, Gates went to great lengths to ensure that the marine inhabitants would thrive and never do harm to one another.
#12 – The Dust Room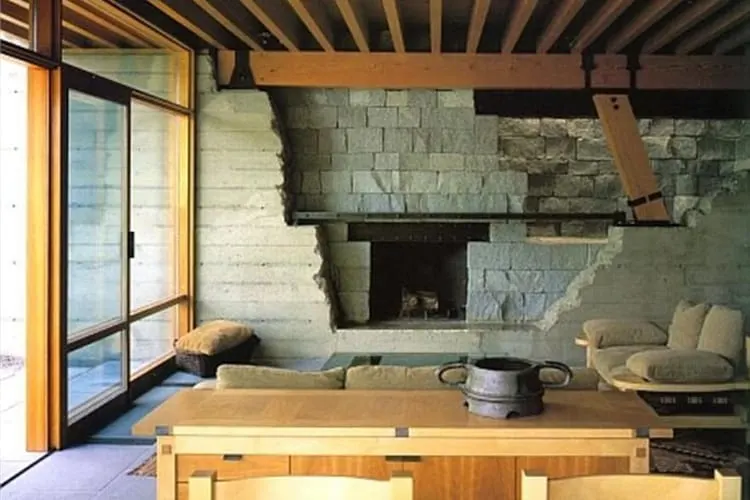 Often considered one of the messiest rooms in any home, this dust room at Gates' Xanadu 2.0 estate proves to be the exception.
Exposed wood beam ceilings and a unique stone grey fireplace make this a stunning room to enjoy even the rainiest Seattle days.
We especially love the wood table and the natural color palette that seamlessly transition the home's modern interior to the beautiful Washington outdoors.
#11 – Natural Lakefront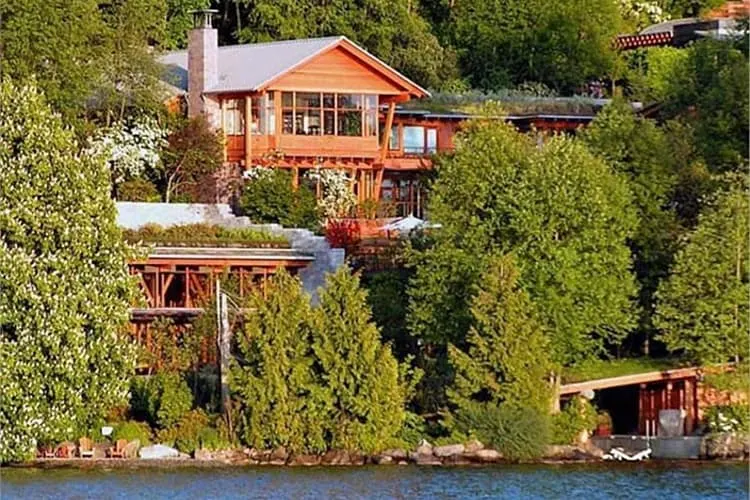 The exterior of the Gates home is just as impressive as its interior. Located off the shore of Lake Washington, the estate offers exquisite views of Seattle from every window in the house.
Built into the hilly landscape to help the structure regulate temperature more efficiently, the residence and exterior additions were constructed using half a million board feet of lumber from 500-year-old Douglas fir trees as over 300 construction workers nestled the home into the surrounding evergreens.
Everything from the boat ramp and the upper parking area to the imported Caribbean sand on the shoreline is well-planned and breathtakingly remarkable.
Rich People House #10 – Glass Walls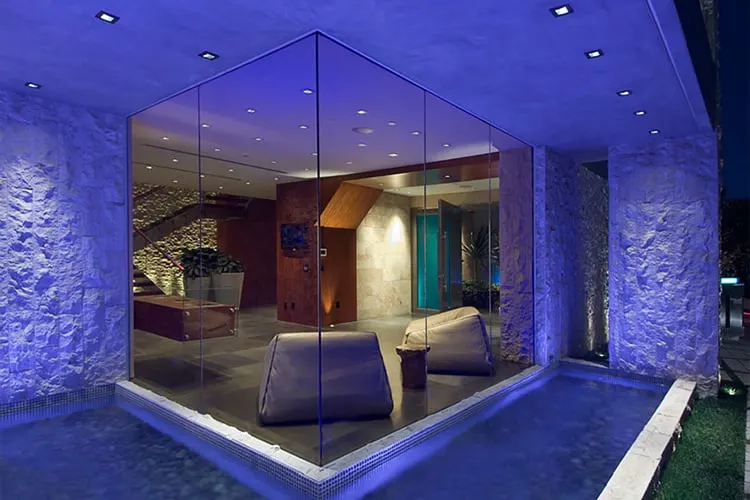 With beautiful views of Lake Washington and Seattle, glass walls seem like an obvious choice throughout many of the rooms.
To make the views even better and the rooms even more relaxing, Gates included a moat-type water feature and intimate blue lighting inset into a stone ceiling.
Add in gorgeous slate interior floors and plenty of lighting to illuminate the space and it's no wonder that a Microsoft employee donated $35,000 during Microsoft's annual charitable auction for a private tour of more rooms like this in Xanadu 2.0.
#9 – Living Stream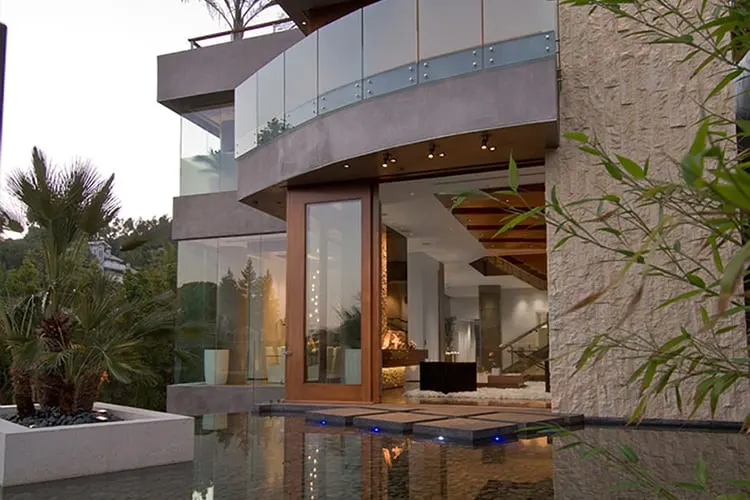 Wanting to ensure his home was environmentally friendly, Gates did more than simply have contractors build the estate into the hillside.
He took things a step further by asking landscapers to add ponds and artificial streams throughout the property to resolve runoff problems caused from the property's large walls impacting the surrounding landscape.
Incorporating streams and wetland estuaries, Gates now stocks Xanadu's streams with salmon and sea-run cutthroat trout.
Rich People House #8 – Modern Style & Grand Staircase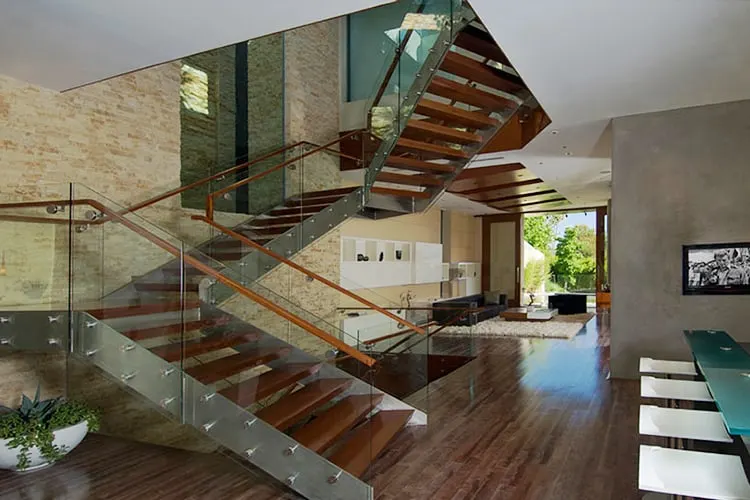 Where modern meets natural elegance, every inch of the Xanadu 2.0 embodies ultimate luxury.
The grand staircase pictured here features a modern and streamlined design incorporating steel, wood and glass elements seen throughout the rest of the house.
Visitors daring to ascend to the estate's stainless steel roof where walls of glass, concrete and stone open to a view of Seattle must climb the 84 steps stretching 92 feet long and 63 feet high to experience the view of a lifetime.
Timid guests are welcome to take the elevator just down the hall.
#7 – Modern Home Gadgets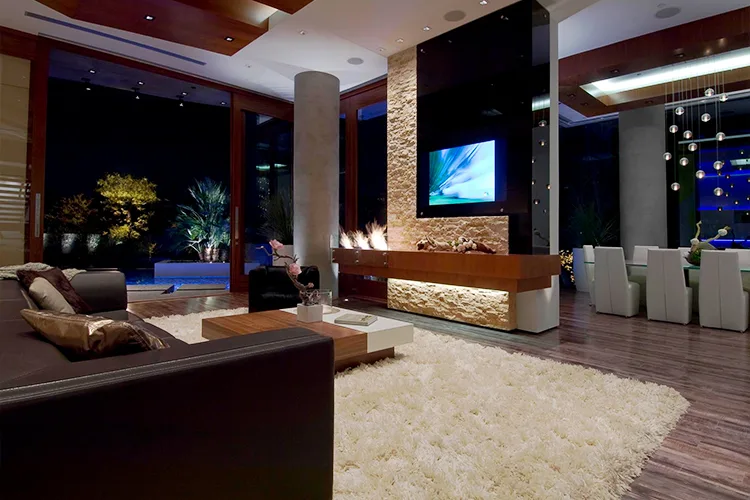 It wouldn't be a true Gates estate if technology wasn't involved. Modest in terms of gadgets but filled with smart technology, Xanadu 2.0 features a high-tech sensor system that allows guests to control the temperature and lighting simply by walking into a room.
Additionally, guests can interact with the artwork throughout the estate thanks to $80,000 worth of computer screens and $150,000 worth of storage devices that let guests change the artwork displays to their favorite paintings or photographs at the touch of a button.
#6 – The Master Bathroom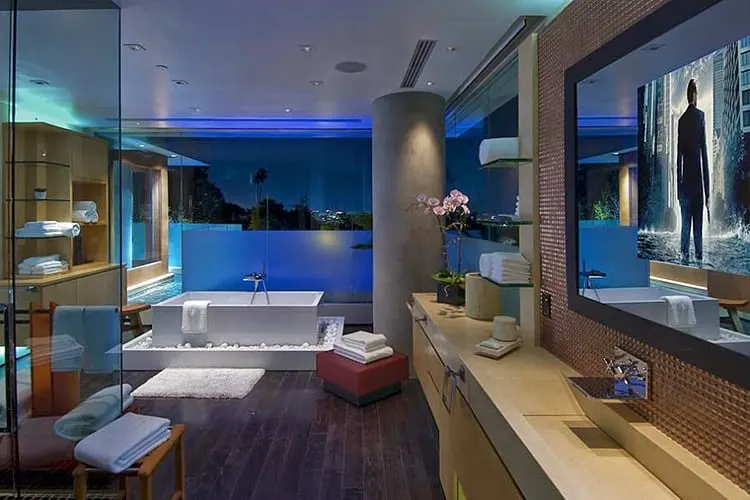 The biggest of 24 total bathrooms (10 of which are full baths), the master bathroom features the same glass walls and blue lighting we've seen in other rooms throughout Xanadu 2.0.
Here, the bathroom offers an array of textures and colors in its design from the tiled wall and sinks to the massive round column itself.
The large square tub helps anchor the room as the prime spot for relaxation and tranquility thanks to its surrounding pebble-filled moat and lush backdrop of the cityscape.
Rich People House #5 – Walking on a Cloud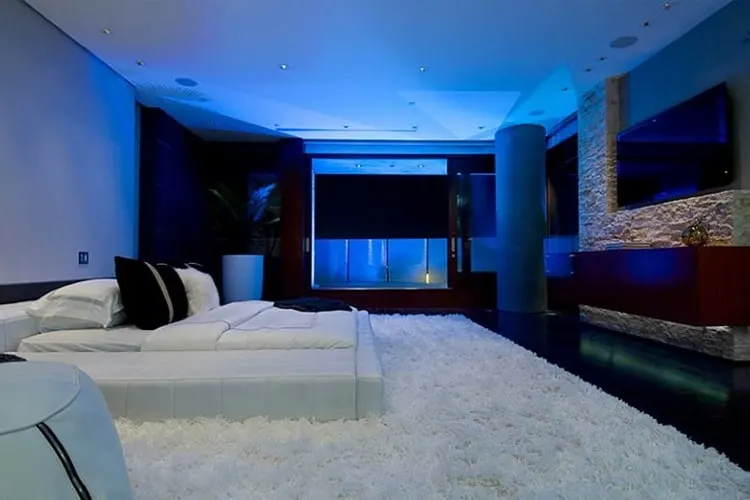 We imagine that the plush white carpet in this room makes Mr. Microsoft himself feel as though he's walking on a cloud.
But, in all honesty, the floor does far more than even we could ever imagine.
With luxury and safety as his top two priorities, Gates combined both in one of the most innovative features of his home.
The floors throughout the entire house are pressure sensitive and allow for security to know exactly which family member or guest is in the residence simply by the weight of their footsteps.
Not even Gates gets to walk on a cloud after all!
#4 – Pool Overlooking the Lake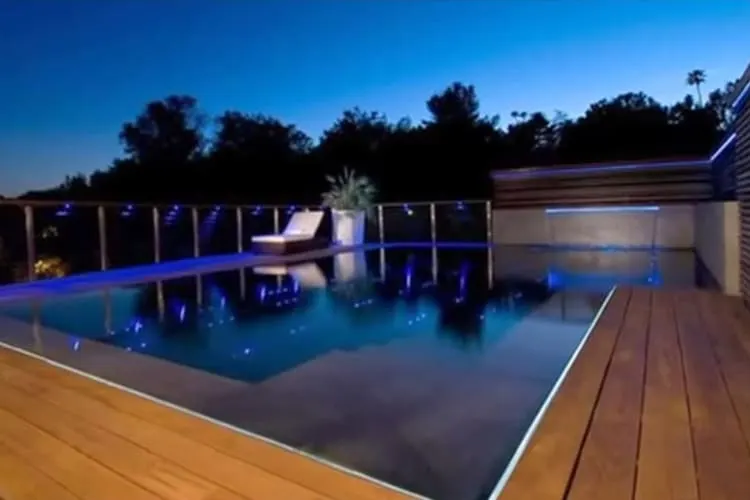 The Gates pool is so crisp and clean that it seems like it's an extension of the deck floor.
Did you miss it at first glance? Located in its own 3,900 square-foot building, the 60-foot pool is filled with crystal clear water and features a floor painted in an ornate fossil motif.
Swimmers can even enjoy the underwater music system as they dive under a glass wall and emerge outside near the terrace.
With minimal furniture and décor, the pool is made even more luxurious by its amenities the best, of which, is the view of Lake Washington and the city of Seattle.
Rich People House #3 – The Master Bathroom Sinks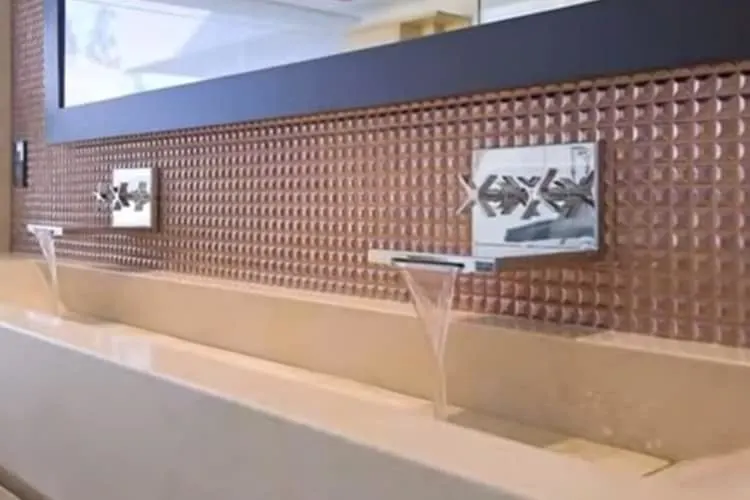 These sinks in the master bathroom most likely cannot be found anywhere else than in the Gates home.
Wall-mounted fixtures extend to an oval ring that distributes the water in a funnel-shape.
While the fixtures are fascinating and simple, we can't help but also love the gorgeous copper tile that truly enhances the stone sink and stainless faucets!
We can only imagine what the other 23 bathrooms look like!
#2 – A View to Kill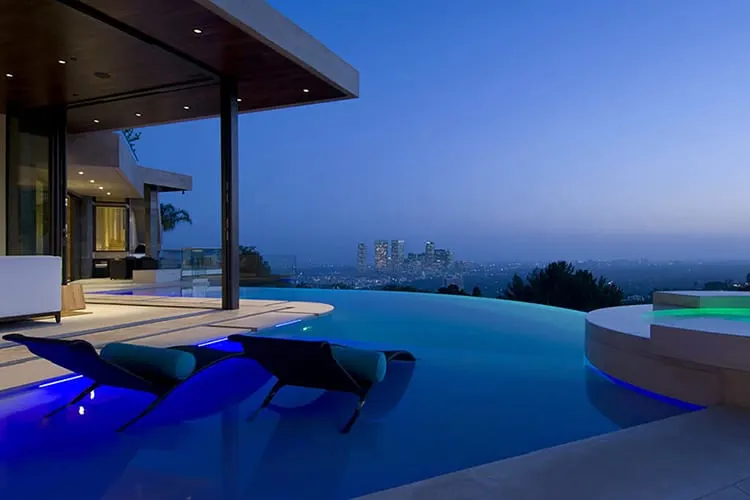 One of the most breathtaking views from the Gates home is on the top floor of the house and is tucked away in its corner.
A traditional covered patio opens to a blue-floor illuminated by blue lighting and offering exquisite views of Lake Washington and Seattle.
From the minimalistic seating to the way the blue lighting seamlessly transitions into the horizon, this is our favorite spot in the house and, we imagine, is one of Gates' favorites as well.
Rich People House #1 – Modern Kitchens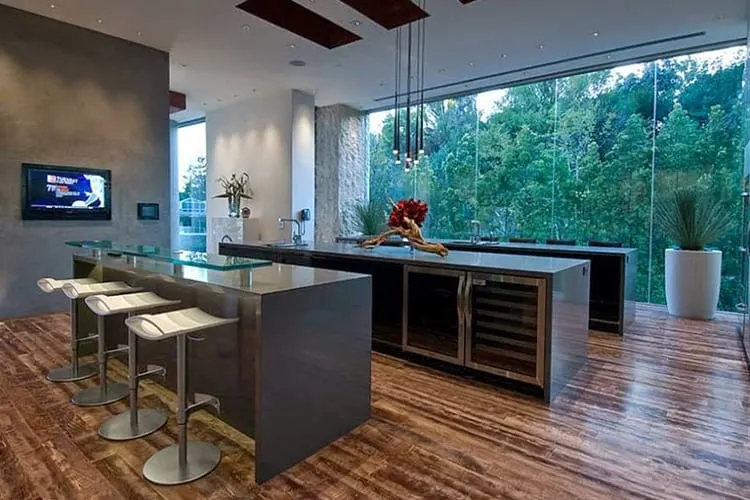 Much like the other rooms in the house, the luxury of six kitchens situated throughout the 66,000 square-foot estate is always subtle.
One of main kitchens pictured here features a floor-to-ceiling glass wall offering landscaped views and natural wood floors.
Dedicated to entertaining guests (and why not with a house this big), this kitchen offers a refrigerator as well as wine storage and two more bar areas on each side of the center island.
We can only imagine what the other five kitchens have to offer!