Shaunie O'Neal, now known as Shaunie Henderson, is a reality TV star and TV show producer. As well as being the ex wife to the NBA super star Shaquille O'Neal. Shaunie has had a life full of amazing experiences in the world of business, basketball and reality TV, but what is Shaunie O'Neal's net worth?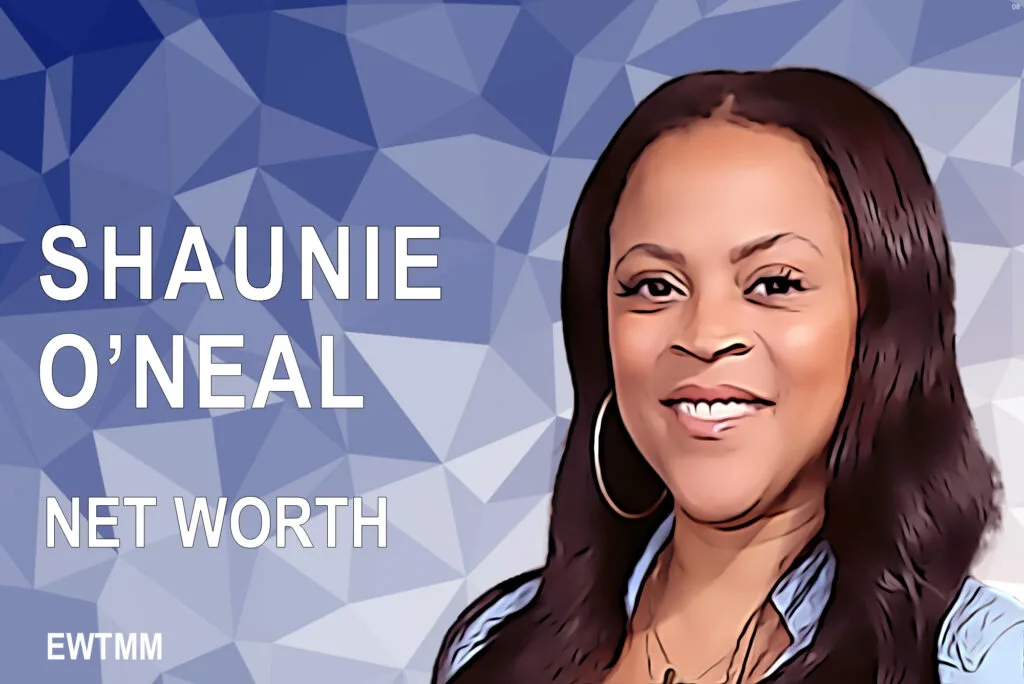 | | |
| --- | --- |
| Net Worth 2023: | $40 Million |
| Born: | November 27, 1974 |
| Age: | 49 |
| Height: | 5 ft 7 in (1.7 m) |
| Native Country: | United States |
| Place of Birth: | Wichita Falls, Texas |
| Source of Wealth (SOW): | Entertainment |
| Updated: | May 12, 2023 |
Getting To Know Shaunie O'Neal
Shaunie is originally from Wichita Falls, Texas, and was born on November 27, 1974. Shaunie's birth name is Va'shaundya Karlette Nelson.
When Shaunie was 10 years old, her family packed their bags and moved to the big city of Los Angeles. Shaunie was hardworking even as a young woman and went on to graduate from the University of Southern California.
Digging In To Shaunie O'Neal's Personal Life
Shaunie continued living in Los Angeles, where she eventually wound up meeting NBA player Shaquille O'Neal.
Shaunie And Shaquille's Early Years
Before and while the two were married, the couple would have a total of four kids. While Shaunie and Shaq were still dating in the year 2000, they gave birth to their oldest son Shareef Rashaun O'Neal on January 11.
One year later, they welcomed Amirah Sanaa into the world. Amirah is their second child and their oldest daughter.
After two years of dating, the couple engaged, and would marry another two years after.
Winter Surprise Wedding
Shaunie and Shaquille had a winter wedding, marrying one day after Christmas, on December 26, 2002. The private wedding reportedly happened at the Beverly Hills Hotel in California.
Apparently, the couple kept the location and date of their wedding secret, even from their guests. Up until moments before the wedding, many of the guests were kept out of the loop, unaware the event was going to happen.
After marrying, the couple had their third kid, Shaquir Rashaun, who was born on April 19, 2003. Shaunie has one son, from a past relationship.
Shaq also has a daughter from before the marriage.
The Marriage Breaks Down
Due to Shaq's high profile life and career. It wasn't long into the marriage before rumors of his cheating began to creep up.
After five years, the couple could no longer stay together due to the problems with the relationship. Shaunie and Shaquille separated on September 4, 2007.
The couple tried to work things out but found no success. Shaunie filed for divorce on November 10, 2009. And after making it clear there was no coming back, the divorce was officially put through in 2011.
Where Is Shaunie Today?
Shaunie has now moved on and is married to a big name pastor named Keion Henderson. Shaunie had her second wedding in May 2022.
Despite Shaunie's sour history with Shaq, the two maintain a good relationship. And Shaq and Shaunie both remain a large part of their four children's lives.
Shaunie and Shaq's oldest son, Shareef, would go on to follow in his fathers footsteps. And is currently a professional basketball player in the NBA G League.
In her free time, Shaunie enjoys swimming and expressing herself through dance.
From T.V To Footwear: Shaunie O'Neal's Career Life
In her earlier years, Shaunie was a film marketer, working for FOX Entertainment. But she would begin making programs of her own, after dating Shaquille O'Neal.
Shaunie now has many years of success working in the media and entertainment industry. Where she has been both an American TV personality, as well as a producer.
Shaunie's Creative Career And Charity work
Shaunie has starred and produced in a handful of TV series. One of the shows she is most known for is Basketball Wives on VH1, where she was the executive producer.
The show followed the adventures of the girlfriends and wives of NBA players and high profile basketball players.
Basketball Wives was an expose on the lavish lifestyle led by basketball stars and their family. The show also focused on universal themes such as motherhood, parenting, and parent child relations.
Since the divorce, Shaunie has continued to roll out new reality TV series. One of her most recent shows, Shaunie And Keion's Destination I Do, followed her marriage with pastor Keion Henderson.
Shaunie has also dipped her toes in the footwear industry. In 2011, she released her own designer footwear collection. She called the footwear line Shaunie's Must Haves.
Shaunie is active in helping others in the community. She has involved herself in a number of initiatives mainly to help oppressed children, and people in poverty.
In the years 2012 and 2013, Shaunie joined in the Mission Christmas Eve for the Homeless.
Shaunie O'Neal's Social Media Presence
Shaunie is active on multiple social media platforms including Instagram and Facebook. On her Instagram, she shares posts revolving around her personal and work life.
Shaunie has over 295 followers on Instagram.
| | |
| --- | --- |
| Shaunie O'Neal | Social Media |
| Instagram handle: | shaunie_onealrp |
| Instagram followers: | 295 followers |
| Updated: | May 12, 2023 |
Putting Together Shaunie O'Neal's Net Worth
From Shaunie's social media posts, it looks like she has no shortage of money. So how is Shaunie O'Neal so rich?
Although Shaunie had many problems during her marriage with NBA star Shaquille O'Neal. Being in a relationship with one of the biggest basketball icons has some perks, especially financially.
After her divorce with Shaq, Shaunie would have likely received a good slice of Shaq's money from the divorce settlement.
And seeing as Shaq was being paid hundreds of millions a year at the time. That divorce settlement money could easily be in the millions.
It is hard to know exactly how much Shaunie O'Neal's net worth is, but it has been estimated to be around$40 million.
Although these numbers haven't been confirmed. Shaunie has also worked, and continues to work in the T. V industry, which also contributes to her net worth.
FAQ's on Shaunie O'Neal's net worth
Why Did Shaq Leave His First Wife?
Being faithful to his marriage was a challenge for Shaq, who was constantly being surrounded by adoring fans. And Shaq and Shaunie's relationship was continually marred by Shaq's infidelity.
Who Was Shaquille O'Neal's First Wife?
Shaunie O'neal (now Shaunie Henderson), was Shaquille O'Neal's first wife. The two married on December 26, 2002. Although Shaq has a daughter from a previous relationship.
How Did Shaunie Meet Shaq?
In 1996, Shaquille moved to Los Angeles for his new gig with the Los Angeles Lakers. After arriving in the new city, he met Shaunie. It wasn't long before the two found they had a special connection.
What is Shaunie O'Neal's net worth?
As of 2023, Shaunie O'Neal'S' net worth is estimated at $40 million. Shaunie O'Neal's got wealthy through her careers in television and business.
It is important to mention that the exact net worth of Shaunie O'Neal is not publicly available and cannot be confirmed.