If there was ever a profile in courage, it's Tabitha Brown.
If there's ever a person who can inspire any struggling artist of any kind, it's American actress Tabitha Bonita Brown.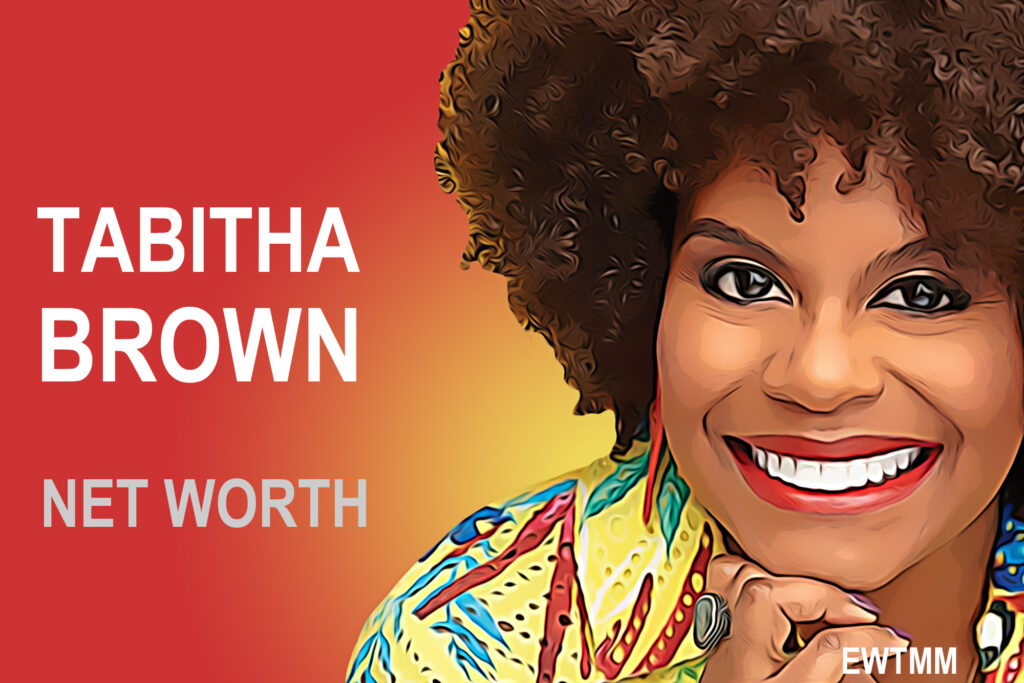 | | |
| --- | --- |
| Net Worth 2023: | $3 Million |
| Born: | February 4, 1979 |
| Age: | 44 |
| Height: | 5 ft 5 in (1.64 m) |
| Native Country: | United States |
| Place of Birth: | Eden, North Carolina |
| Source of Wealth (SOW): | Digital Media |
| Updated: | March 12, 2023 |
Brown went from being an actress whose career wouldn't quite catch fire to an Uber driver to making an incredible amount of money on social media, and in turn using that fame to get more parts as an actor.
When you find out Tabitha Brown's net worth, you'll just about jump out of your seat! What a wealthy and successful person Tabitha Brown has become.
Tabitha Brown, American Hero: The Early Years
Tabitha Brown's date of birth is Feb. 4, 1979. After Tabitha's birth in Eden, North Carolina, her family moved to another N.C. town, Stoneville.
Living a long way from the glitz and glamor of New York or Los Angeles, Tabitha knew she wanted to be famous one day.
She had an energetic, outgoing personality, and she figured one day people would be asking "how is Tabitha Brown so rich?" With goals like that, she honed her acting skills.
After graduating high school, Brown started at Miami International University of Art & Design, studying fashion design.
But the show biz bug had gotten her, so she decided to move to Los Angeles. After that stereotypical short stint in the City of Angels, Brown ran out of money, as so many before her had.
Well, she went back to North Carolina, this time to Greensboro.
Brown nabbed an interesting opportunity that would really inspire her, co-hosting a late-night show. In this gig, Brown interviewed celebrities who were in town entertaining. How cool, right?
Tabitha Brown Breaks Into Acting
During this time in her life, Tabitha Brown married Chance Brown, thus taking his last name (her maiden name is unknown).
But the young couple didn't just settle down, and Tabitha didn't settle for a life of domestic comfort. Instead, the two of them headed out to L.A., where Tabitha began booking gigs as a stand-up comic.
As you can see, Brown is very versatile, and wanted to try anything to raise her net worth and raise her profile.
Well, Brown worked hard and earned some good news. She began getting parts in movies. Brown earned parts in videos and shorts, and movies such as "Caution to the Wind."
What's more, this young actress landed starring roles in movies like "Thug Love," and "Outrighteous."
The only problem was that these movies weren't critically-acclaimed and didn't include any of the big stars of the 2000s.
In 2011, Tabitha Brown got a large (no pun intended) role in a TV series called LBs.
Have you heard of it? Well, in English LBs is the abbreviation for pounds (the counterpart to kilograms, as in weight), coming from the Latin Libra, since the illustration for Libra is a set of scales.
Anyway, if you're not familiar with this short-lived TV show, it centers around a morbidly obese man who gets into an online community for other very large people.
This series only ran for a short season lasting only a few months, and Brown was out of a job.
By 2013, she was realizing that it was taking longer to break into the competitive world of Hollywood than she'd thought.
Life Before the Big Breakthrough
By this point, it was starting to look as though Tabitha and her husband chance were going to settle into an everyday life. Chance got a job with the Los Angeles police department.
Things were not great for Tabitha. She'd been in a car accident in her teen years, and had to have multiple surgeries.
Though the timeline is unclear, at some point, she contracted mumps, a very serious disease. Through good medical attention, she was able to keep the symptoms under control.
To earn a living, Tabitha Brown drove an Uber, a job in the gig economy.
This supplemented her husband's salary as a police officer, but it wasn't the career Tabitha had envisioned.
Social Media and Fame
If ever there was a person who could turn a "lemons" situation into lemonade, it's Tabitha Brown.
One element of her sickness was that she had to begin eating vegan foods. While her working was limited and her acting was on hold, she could still make short online content.
Her acting skills were just the thing to make her a great social media personality.
So, what kind of content did she produce?
Well, content having to do with the Vegan lifestyle, of course! She took a painful and disappointing situation and turned it around! What could be more awesome than that.
| | |
| --- | --- |
| Tabitha Brown | Social Media |
| Instagram handle: | Iamtabithabrown |
| Instagram followers: | 4M followers |
| YouTube handle | @iamtabithabrown |
| YouTube subscribers: | 901K subscribers |
| TikTok handle | @iamtabithabrown |
| TikTok likes: | 89M likes |
| Facebook handle | ActressTabithaBrown |
| Facebook followers: | 3M followers |
| Twitter handle | IamTabithaBrown |
| Twitter followers: | 293K followers |
| Updated: | March 12, 2023 |
A review of a vegan BLT from Whole Foods Market achieved viral status, and that was just the spark that Tabitha Brown needed! It was also the spark that Tabitha Brown's net worth needed!
She was now really in the public eye and continued to produce video content on vegan cooking and recipes, yet also general topics like advice on family relationships and similar topics.
Tabitha Brown's Net Worth Explodes
What an inspiring story–a young woman who wanted to be a comedian or actress who had worked and worked, and had been kept in check by the tragic circumstances of health problems, finally breaking through in a big way.
Due to her social media success she started landing roles in mainstream productions such as "All Between Us," "I Hate LA," and "Stone-Cold Christmas."
This kind of great work made Tabitha Brown's income skyrocket.
Her net worth is now estimated at $3 million. Now, that's amazing and incredible!
Controversies
Sometimes when a person gets a high profile and his or her net worth really skyrockets, there can be controversies surrounding them. It's not always just fun and games.
For example, after Tabitha Brown's husband retired from his job, Wendy Williams, host of a talk show by the same name, said that he might squander Brown's money, and that it wasn't a good idea to let him retire.
Brown gave a response that Williams should learn to understand other people's circumstances.
In Conclusion
There's no doubt that Tabitha Brown has encountered many obstacles. She has worked past them to build up a tremendous net worth of at least $3 million and should be very respected as such.
Tabitha Brown FAQ
How did Tabitha Brown become rich?
Some of Tabitha Brown's riches came from her social media presence, which really blasted off due to a video on vegan BLTs. From there, she got even richer as an actor and talk-show host.
What is Tabitha Brown's net worth?
Tabitha Brown's net worth can change at any time. She may get a big part in a movie or get some huge endorsement. However, as of 2023, it is estimated that Tabitha Brown's net worth is $3 million.
Who is Tabitha Brown's daughter?
Tabitha and her husband have several children. Not much is known about them, including her daughter, but we know her name is Choyce Brown.
It should be acknowledged that the net worth of Tabitha Brown is not a matter of public record and the exact number cannot be confirmed.