You're here to find out what we mean by that, aren't you?
I doubt you'd be inquiring about Druski's net worth if you didn't know he was the "what do you mean by that" guy.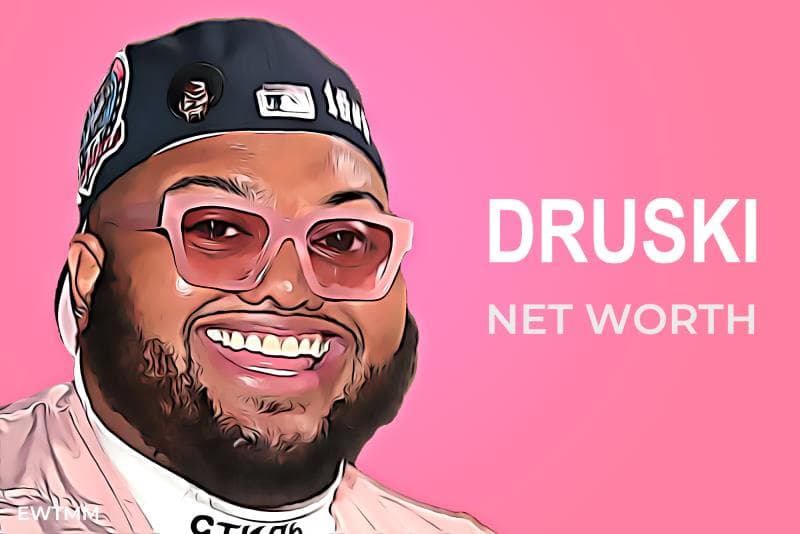 | | |
| --- | --- |
| Net Worth 2023: | $2 Million |
| Born: | September 12, 1994 |
| Age: | 29 |
| Height: | 6 ft 2 in (1.88 m) |
| Native Country: | United States |
| Place of Birth: | Baltimore, Maryland |
| Source of Wealth (SOW): | Digital Media |
| Updated: | March 12, 2023 |
Druski is an online personality, video star, and sort of rapper who has made a handsome living just making a lot of noise.
If you're a Druski fan, you're going to want to learn all sorts of fascinating facts about the man. What's he all about, and what's his net worth? You're in the right place.
Druski and "What do you mean by that?"
It's no shame if you don't know what the "what do you mean by that?" phenomenon is all about. That's what we're here for. In December of 2020, this affable social media personality was hosting one of his very popular Instagram Lives.
He interviewed a rapper named Grillz (who definitely sported a grill in his mouth) about some of the rapper's life experiences. Grillz started talking about gang-related exploits, getting more and more detailed.
At some point he referred to "taking lives." As expected Druski was slightly taken aback, so he chimed in with "taking lives? What do you mean by that?" As he spoke, he stroked his chin dramatically and cracked a smile.
Not much of a big deal, right? But not only did some online-always folks find it just funny, but there's always a need for a "what do you mean by that?" mean to spring on people on your socials, and the chin rubbing only enhances it.
Druski's Social Media Career
One of the big things to remember about Druski is that he hasn't been in the public eye very long, and doesn't have one of those stories about a long rise to fame after a lot of work.
Instead, fame in the social network sphere is something that basically fell on this cool fat guy with a winning personality.
While he had some thoughts of being a sportscaster, he started going into comedy around 2018. The world really needed comedy in 2020, during the height of the Covid-19 pandemic, and Druski stepped up to fulfill that need.
He began posting videos on Instagram, parodying other YouTube personalities and celebs. Before long, he was popular, with a following and a high profile.
| | |
| --- | --- |
| Druski | Social Media |
| Instagram handle: | druski |
| Instagram followers: | 5M followers |
| YouTube handle | @druski |
| YouTube subscribers: | 284K subscribers |
| TikTok handle | @couldabeenrecords |
| TikTok likes: | 22M likes |
| Facebook handle | druski2funnyofficial |
| Facebook followers: | 132K followers |
| Twitter handle | druski |
| Twitter followers: | 1M followers |
| Updated: | March 12, 2023 |
As you can see, he would soon become the "what do you mean by that?" guy, and that would help him really blast off.
Druski in Videos
Since he made comedy videos aimed at a young audience, Druski was a match made in heaven when it came to being asked to star in music videos.
Druski got opportunities to act in videos by Drake, Jack Harlow and Drake featuring Jack Harlow.
He also appeared on Lil Yachty's "Oprah's Bank Account." That's how to become a popular American internet star.
Controversies
When you're producing rib-tickling comedy skits, there will be some controversies. In one broadcast, Druski unspooled a long story about taking women back to his apartment trying to get them extremely drunk so he could take advantage of them.
The reception on twitter was not friendly.
In a skit on Druski's latest project "Sneakin' in with Druski," he crashed Snoop Dogg's residence disguised as a security guard and got the full tour and got into a few scrapes with the Dogg while trying to get him on point in terms of recycling.
Early Life
Druski was born Drew Dawit Desbordes on Sept. 12, 1994. His mother made the commute from Baltimore to work for the State Department while his dad was an air force captain.
Before long, the family moved to Georgia, where Desbordes spent his adolescence. Druski wasn't a great student and was a class clown. After high school he went to a community college called Georgia Gwinnett College, then to Georgia Southern University.
That's when he started churning out his comedy videos which would build his net worth.
Personal Life
Druski's net worth has mushroomed so big he must be living the life of a real baller, right? Well, we don't know too much about his personal life.
But we do know that Druski is a basketball fan who knows LeBron James. He still has a close relationship with his mom, and has his sights set on appearing in a drama on TV or in the movies.
He has a campaign to raise awareness of police brutality, and has been romantically linked with such up and comers like Cara Delevingne and Kendall Jenner.
Druski's Net Worth
How rich is Druski?
Well, that's a bit personal, isn't it? But I bet secretly all of us would like to be a person whose net worth people google, right?
He probably wouldn't mind if we told you that his net worth is $2 million.
Life Lessons From Druski
There are a lot of things about Druski's net worth and his career that can be inspirational to just about anyone.
What does this mean? Well, he struggled a bit in school, without a great work ethic. His mother, as any mother would, put his feet to the fire on this issue a few times.
Rather than panicking and forcing himself to succeed in a field that requires a college degree, our boy Druski did what he loved and it was successful.
He has the kind of personality that a lot of folks are drawn to, and he takes a few chances with his skits, pushing the envelope and getting laughs and attention in the process.
He didn't seem to force things, but to just put stuff out there hoping someone would enjoy it.
Druski FAQ
What is Druski Famous For?
Druski is an American comedian who mostly does comedy skits on videos, many of which have gone viral. He also appeared on Lil Yachty's "Oprah's Bank Account," a hilarious song.
How old is Druski
Druski was born in 1994. If you are reading this in 2023, he's 5086, and so on. He became famous at a young age, since he started pumping out videos rather than toiling in comedy clubs for years.
Is Druski from Gwinnett County
That's a great, if oddly specific, question. Indeed Druski did grow up in Gwinnett County, Georgia, after being born in Baltimore. Most of his life centers around Georgia.
Please note that the net worth of Druski is not publicly disclosed and the exact amount cannot be confirmed.