For sure you know Tiffany as a news host on MSNBC. But what is Tiffany Cross's net worth?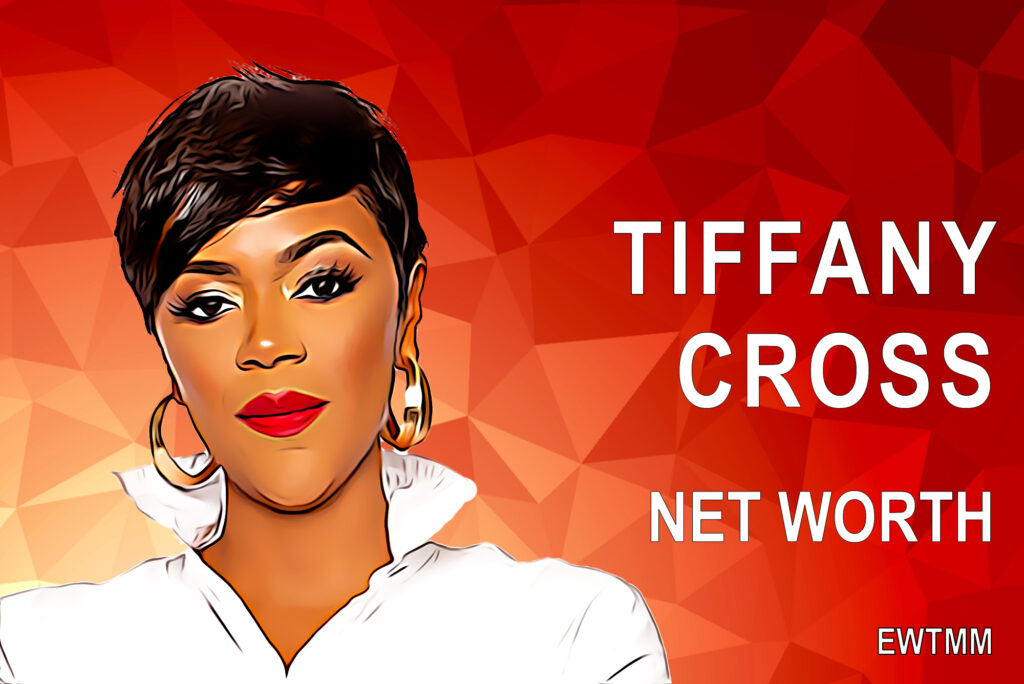 | | |
| --- | --- |
| Net Worth 2023: | $5 Million |
| Born: | February 6, 1979 |
| Age: | 44 |
| Height: | 5 ft 8 in (1.73 m) |
| Native Country: | United States |
| Place of Birth: | Cleveland, Ohio |
| Source of Wealth (SOW): | Journalism |
| Updated: | March 13, 2023 |
She had an interest in news from an early age, aspiring to be the "brown Murphy Brown."
She has been the subject of controversy, and in 2022 found her show The Cross Connection had been canceled.
She's at a Crossroads now (get it? ) and we'll see where this beautiful, intelligent woman goes from here.
Tiffany Cross's Early Life
Tiffany B. Cross joined humanity on Feb. 6, 1979, in Ohio. She spent some time in the American North but also some time in Atlanta, Georgia.
It was there that she developed a passion for reading, something she retains to this day.
However she is a TV personality, so she needed some inspiration in that field.
She got it from Oprah Winfrey, whose national show got big when Cross was in grade school.
At that point, Cross felt as though she had a role model or a frame of reference.
She loved the character Murphy Brown, but knew that as a black woman, she'd face challenges that this fictional character did not.
After high school graduation, Cross went to Clark Atlanta University to study broadcast journalism.
She participated in campus journalism, learned all she could, and got ready for a rewarding career.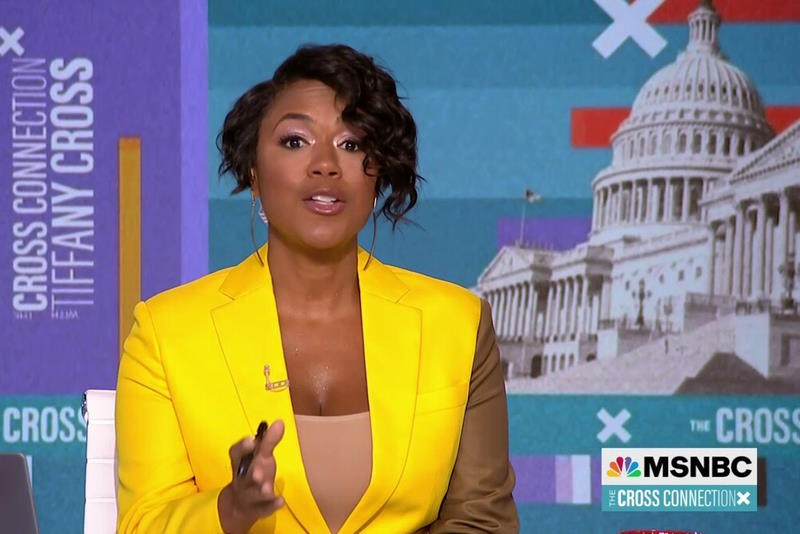 Broadcast Career
Tiffany Cross began her career at an Atlanta radio station. Then she hit the big time working in production at CNN.
From there, it was a hop-skip-and-jump to the BET Networks, where she served as the Washington, DC bureau chief.
But she wanted to be a political analyst to cover those who are supposedly shaping American democracy.
She got her chance in 2019 when she became a regular panelist on the MSNBC show AM Joy, hosted by Joy Reid.
But the way Tiffany Cross's net worth started to resemble what it is today when she started guest-hosting the show.
There have been dozens of TV political pundits who've really made names for themselves by starting as guest hosts.
Joy Reid was one herself, and so was Chris Hayes, who later got his own show, All In with Chris Hayes.
By the way, did you know that Chris Hayes' middle name is Loffredo? How cool is that?
After her stint as a guest host, Tiffany got a job hosting a new two-hour weekend show, "Cross Connection".
What a great achievement. And if that wasn't enough, she began to serve as a fellow at the Harvard Kennedy School Institute of Politics. It has the word "Harvard" in it, so it must be great.
Tiffany Cross Controversies
Tiffany has a very outspoken style, which is also true of almost everyone in a mediasphere in which verbal and written comments usually resemble tweets: to the point, punchy, incomplete, and oversimple, and also meant to shock.
Ms. Cross went to a Comedy Central show and said that the state of Florida looks like a dick and that we should castrate it.
On her own show, she talked about white people "annexing" anything they want and deputizing themselves in some issues when they should stay out of it.
Archconservative Fox News host Tucker Carlson then said Cross was starting a race war.
Rather than defending their host, MSBNC decided to cancel her show instead.
This move garnered much criticism on Twitter and other forums, much of it from other media figures.
However, it did not get Tiffany's job back or replace Tiffany Cross's salary.
Was her firing fair? You decide.
Tiffany Cross's social media
Tiffany Cross has built a strong social media presence across multiple platforms, with impressive followings on Instagram, Facebook, and Twitter.
Her Instagram account has a large following of 170K followers, which is a testament to her popularity and influence in the social media world.
Additionally, she has over 1K subscribers on YouTube, which may be a smaller number compared to her Instagram following, but still showcases her ability to engage her audience on that platform as well.
On Facebook, Tiffany's followers reach 70K, a significant number that highlights her appeal to a diverse audience.
Finally, on Twitter, she has amassed 40K followers, making her a significant figure in that social media space.
Overall, Tiffany Cross's social media numbers reflect her strong presence and her ability to connect with her followers across multiple platforms.
| | |
| --- | --- |
| Tiffany Cross | Social Media |
| Instagram handle: | tiffanydcross |
| Instagram followers: | 170K followers |
| YouTube handle | @tiffanycross3444 |
| YouTube subscribers: | 1K subscribers |
| Facebook handle | TiffanyDCrossSayItLouder |
| Facebook followers: | 70K followers |
| Twitter handle | CrossConnection |
| Twitter followers: | 40K followers |
| Updated: | March 13, 2023 |
Health Issues
Unfortunately, during her career, trying hard to do the busy job of a television journalist, Ms. Cross endured terrible pain. It went on for years.
Eventually, doctors determined that Cross had fibroids (non-cancerous growths on her ovaries).
She says there were five of them, grapefruit-sized, which would be similar to carrying triplets.
She had a procedure to have them removed, which alleviated her pain.
Tiffany Cross, Author
Tiffany Cross is the author of "Say it Louder!: Black Voters, White Narratives, and Saving Our Democracy", which came out in July of 2020.
This book is about how media can impact elections and how it affects our ideas of race and how members of different races do or do not have rights in the electoral process.
There are many policies around elections that some argue are unfair toward racial minorities specifically.
Cross is attempting to fight this injustice.
Tiffany Cross's Net Worth
You are here to learn Tiffany Cross's net worth. We are definitely the source for that kind of information, so let's unleash it.
Tiffany cross is known to be worth $5 million. Most of this probably comes from her book sales.
It's hard to imagine that her advance wasn't well into the six figures. The salary of an MSNBC host starts off around $100k and gets into the millions for the major superstars over time.
Because Cross only lasted a year and a half as a host, her net worth wasn't able to shoot well into the millions.
However, she'll probably either get another media job or will be part of some news and commentary channel on YouTube, one that will quickly get a large following.
There's no doubt that Tiffany Cross is passionate about what she does. Further, she tells it like it is.
Even though it cost her a show on MSMBC, it is also what has earned her plenty of respect among her fans.
She's also proven she can write books in addition to having the gift of gab.
This kind of versatility shows how Tiffany Cross is so rich.
Tiffany Cross's net worth FAQ
What is the Age of Tiffany Cross?
Tiffany Cross was born in 1979. At present, she is 17386 years old.
What Sorority is Tiffany Cross in?
While Tiffany has interviewed African-American women who are in sororities, there is no evidence she is in one. She's not even in the National Education Association.
Is Tiffany Cross still married?
It is likely that Tiffany Cross has never married, as there is no record of a man or woman who is her spouse.
What is Tiffany Cross's net worth?
So how wealthy is Tiffany Cross? As of 2023, Tiffany Cross's net worth is estimated at $5 million. Tiffany Cross became wealthy through journalism and media careers.
It is crucial to mention that the net worth of Tiffany Cross is not a publicly accessible information and the exact figure cannot be verified.