Welcome to the world of Lev Cameron, a Youtube star and all-around social media personality.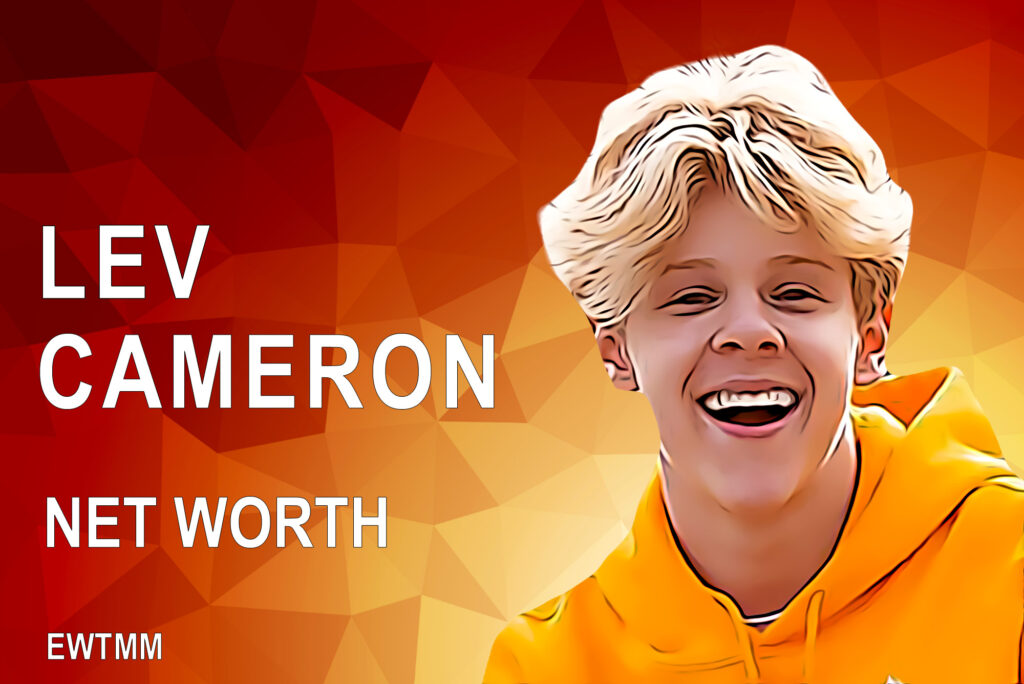 | | |
| --- | --- |
| Net Worth 2023: | $0.3 Million |
| Born: | October 11, 2005 |
| Age: | 17 |
| Height: | 5 ft 9 in (1.76 m) |
| Native Country: | France |
| Source of Wealth (SOW): | Entertainment |
| Updated: | March 13, 2023 |
In addition, Lev Cameron is a talented dancer and actor. Showing his versatility, Lev seems equally comfortable making prank videos and dancing with the likes of Justin Timberlake at world-class venues.
But you're here to know Lev Cameron's net worth. Hop in, let's go for a ride.
Lev Cameron's Youtube
Lev Cameron has a sort of happy-go-lucky, life's-good-in-the-suburbs appeal to him, and his curly mess of a haircut keeps him from looking like the future president of the national chapter of a fraternity.
Anyway, there are a lot of young youtubers who don't look much different from Lev, so there must be a formula there.
There's no doubt that Lev Cameron's youtube page cranks out material that a lot of people want to see.
He has quite a few pranks and premise-based videos like trading houses with his girlfriend or spending Valentine's Day with his girlfriend or other schemes to remind us that he has a girlfriend.
| | |
| --- | --- |
| Lev Cameron | Social Media |
| Instagram handle: | itsmelev |
| Instagram followers: | 2M followers |
| YouTube handle | @Lev.Cameron |
| YouTube subscribers: | 2M subscribers |
| TikTok handle | @lev_cameron |
| TikTok likes: | 155M likes |
| Facebook handle | LevCameronOfficia |
| Facebook followers: | 5K followers |
| Twitter handle | lev_cameron |
| Twitter followers: | 23K followers |
| Updated: | March 13, 2023 |
Many probably tune in for the pranks, a very popular youtube genre to be sure.
Well, Mr. Cameron (he was actually born Lev Cameron Khmelev) has more than 2.6 M subscribers for his efforts.
Do what you love and you'll never work a day in your life.
Lev Cameron, Master Dancer
Long before he uploaded a single vid to youtube, Lev Cameron was an accomplished dancer–he's the Tiger Woods of the dance game.
That's because he was demonstrating mad skills as young as 5. After putting in the hours to learn all sorts of various dance styles, our man appeared on "So You Think You Can Dance: The Next Generation," "Dancing With the Stars: Juniors" and "Dancing With the Stars."
Now, that might not sound like much, but imagine being a teenager and winning a spot in a Justin Timberlake video, namely "Can't Stop the Feeling."
Apparently, Timberlake placed Lev on his shoulder and spun him, 80's-breakdancing-style.
They edited it out, but the experience was cool.
Lev Cameron, Actor
While dancing became Lev's passion when he was super young, he also caught the acting bug.
He has appearances in a dizzying array of short films, as well as credits in other works.
For example, he snagged a part in the interesting TLC series "Evil Things" in which actors reinact stories of horrifying supernatural experiences that real people have had.
You can also catch him in small parts in "My Haunted House" and "Little Big Shots."
Mostly, though, his acting has been in projects with many of his friends, including the Claire RockSmith mafia. I mean, no one thinks those reality shows are real, right?
Lev Cameron, Youtube
Where Lev, like his other blonde social media friends, really excels is in youtube videos.
In one, he cleans out his girlfriend's "house" (you'd think she'd have parents and they couldn't just trash their real house) and throws a party in it, without inviting her.
So, it's kind of like normal kids stuff if normal kids had access to production crews to do all their work for them and the money to shoot these elaborate videos.
Anyway, Lev Cameron is making money, don't worry. His 155K subscribers have given him more than 3 million lifetime views.
The Personal and Family Life of Lev Cameron
Lev Cameron was born on October 11, 2005. He was advanced in school as in dancing.
He took California's high school proficiency test at the young age of 12–and passed it.
What a book-smart dancer. But he wasn't done there. He started taking online courses via Los Angeles Valley College at age 13.
As for Lev Cameron's parents, we admit that his father has remained a very good mystery.
However, we know that Lev's mother is named Irina Khmelev. We're not aware of any siblings.
Lev Cameron's Net Worth
So, you'd like to know Lev Cameron's net worth? This Lev Cameron biography wouldn't be complete without it?
I mean, sure he has a cushy lifestyle and probably gets free products constantly, but what does it all add up to?
What kind of money are we talking about? Well, we're looking at about $0.3 million.
He has been monetizing his youtube page to be sure, and roles in films pay something, but he hasn't really risen to stardom in mainstream film and TV in a way that would bring in seven figures.
But he's on his way.
There's no doubt that the future is bright for Cameron. His connections with his youtube squad buddies alone will assure that.
However, he has interacted with a lot of other big stars, and is multi-talented.
If you have the ability to cultivate a few different skills that work together, get on it.
Lev Cameron FAQ
What is Lev Cameron's real name?
Lev was born Lev Cameron Khemelev. While this last name seems to be from Eastern Europe, he is rumored to have born in either France or the United States.
What movies has Lev Cameron been in?
The full-length feature Lev Cameron appeared in is the Tyler Taormina-directed "Ham on Rye," about a "bizarre right of passage at the local deli," according to IMDB.
Lev has appeared in several short features.
Was Lev Cameron in Justin Timberlake's music video?
Sure. Cameron appeared in the 2016 Timberlake video "Can't Stop this Feelin'."
Is Lev Cameron a professional dancer?
He has been paid to appear in quite a few music videos, so Lev Cameron would have to be considered a professional dancer.
It is important to mention that the exact net worth of Lev Cameron is not publicly available and cannot be confirmed.