One of the best ways to save money may be to complain, and Comcast offers plenty of reasons for complaints.
So I recently called to say their service was too expensive and I wanted to cancel, and they cut my rate by $17 per month for six months.
I saved $102 for a few minutes on the phone — and it was the third time I've done that with Comcast.
You too probably love to save money and/or get better products and services, so add regular complaints-by-phone to your arsenal of consumer hacks.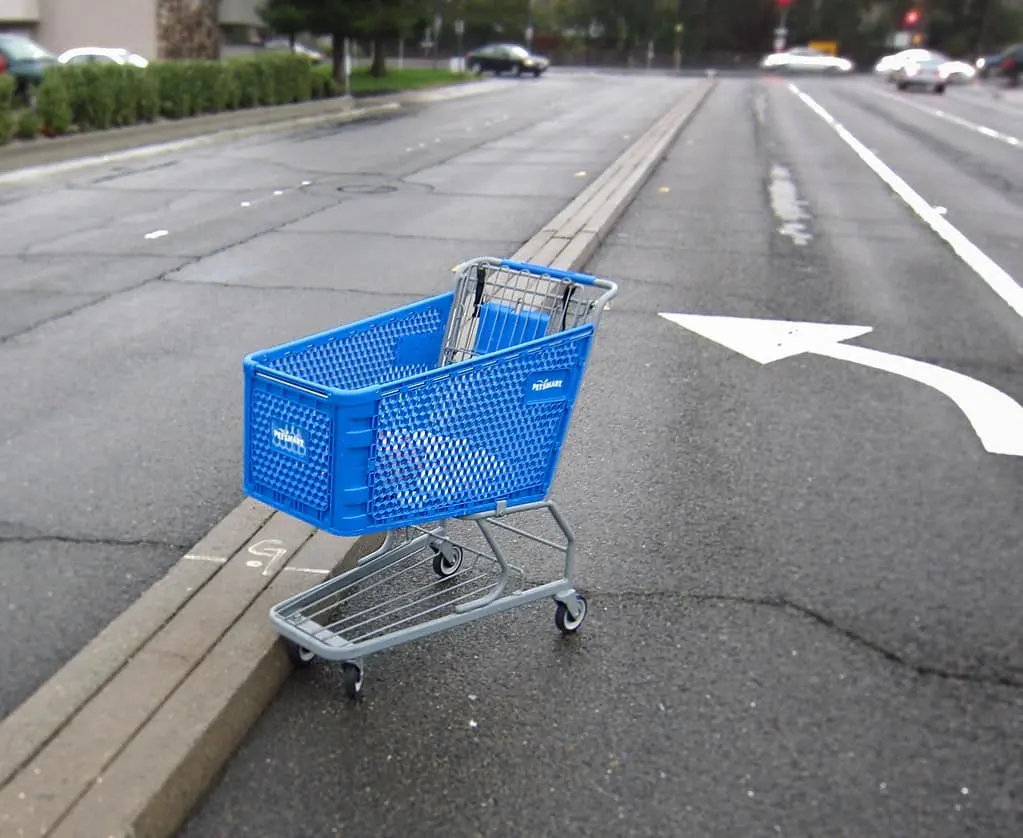 And keep reading to learn why you need to abandon your online shopping cart, order fries without salt, buy auto insurance in December, how to get free extended warranties, and much more.
Trade-in Your Stuff for Amazon Gift Cards
What do you do when you no longer need your DVDs, textbooks, and electronic devices?
Don't sell them for a few pennies at a rummage sale!
Use the Amazon Trade-in Program instead.
Submit your things to see if they qualify, print a mailing label, and send everything off to Amazon.
You'll be paid with an Amazon gift card.
Time Your Farmer's Market Visit
The best time to get a deal on vegetables at a farmers market is during the last half-hour before they close.
I've bought tomatoes and other vegetables for half-price in the final 30 minutes.
Vendors are happy to sell them rather than pack them up and possibly throw them away if they spoil.
Get Fresher French Fries
Sometimes those fries have been sitting there for a while before they get scooped into a bag or box for you.
But if you have a few minutes you can get really fresh fries.
Just ask for them without salt.
The kitchen staff will have to cook a new batch, because the ones waiting are already salted.
Once you get your fresh fries you can salt them yourself to taste.
Get Your Warranty Extended for Free
When the cashier asks if you want the extended warranty, do you say yes?
According to a Card Hub Sudy 31 percent of people buy extended warranties each year.
But many are already covered for free by their credit cards.
And Card Hub found that none of the cards which have this extra feature require you to sign up or register the product.
Check your credit cards and buy your next printer or TV with one that offers an extended warranty.
Use an Amazon Price Tracking Service
Not sure if you're ready to pay the price for something you see on Amazon?
Use a price tracking service like CamelCamelCamel to show you whether the price is trending up or down.
It will also notify you when there's a drop in price.
Use Cash Back Websites
Cash-back websites make a commission when you visit retailers through their links and buy something.
They refund much of that commission to you.
These programs are free and easy to use; once you sign up and go to retailers through the links on the rebate site you're automatically credited a rebate for each purchase.
You might get only 1 percent back shopping at Walmart, but it can go much higher.
For example, Ebates.com has been rebating 5 to 10 percent (on double rebate days) for Backcountry.com purchases.
Choose the Right Credit Card
You probably use a cash-back credit card, but do you use the right one for each purchase?
For example, my American Express business card gives me 5 percent back on purchases made at office supply stores, so I buy printer paper with that one.
For eating out it offers only 1 percent, so I use a different card, one that gives me 3 percent cash back at restaurants.
If you get confused, use a permanent marker to write "gas," "grocery," and such on the back of each card.
Use Cost Shredder
Another good tool for shopping online, Cost Shredder helps you combine savings strategies.
You choose the retailer and it locates the best discounted gift cards, best cash-back website to go through, and a cash back credit card.
Use all three to "stack" your savings (of course you can also do this yourself without the tool).
Save Big on Carpet Cleaning
As a former carpet cleaner I can tell you that during the slow winter season prices are very negotiable.
Do your annual cleaning during slow times to get the best deal.
And check out my list of 10 more ways to save on carpet cleaning.
Buy Your Car at the Right Time
Buy a car on the last day of the month, says the common advice.
Sales people are struggling to meet monthly quotas or book one more commission, so they're more likely to lower prices.
But a report on MainStreet.com suggests a catch; when the last day falls on a weekend, the dealership's "sales month" typically goes through the next Monday.
So when the month ends on a Saturday or Sunday, wait until Monday (the 1st or 2nd of the new month) to negotiate your purchase.
Abandon Your Shopping Cart
I've discovered by accident (several times) that you can often get a deal by abandoning your online shopping cart.
For example, I was buying a discounted Home Depot gift card for $94 (face value $100), and I had to leave before completing the order.
The next day I had an email offering me $5 off to complete my purchase.
Now I routinely abandon shopping carts and complete my purchases a day or two later — sometimes with a discount.
Subscribe and Wait
When you're considering buying a product or service, first get on any related mailing list and wait a while.
You might get a steep discount.
For example, I signed up for Udemy.com and considered taking some classes that cost $49 to $199, but I was busy.
After a week I started getting emails offering "Any Class for $15," an eventually "Any Class for $10." I've used this strategy numerous times.
Buy Car Insurance in December
A study done by InsuranceQuotes.com found you can pay much more for car insurance if you buy at the wrong time.
Nationwide, the cheapest month for auto insurance is December, and the most expensive is March.
Differences between lowest and highest-price months varied from state to state.
The worst one is Hawaii, where car insurance costs 47.9% more in March than in December.
The best month varies by state too, so use the handy tool on InsuranceQuotes.com to see when you should shop for a new policy.
Clean Your Headlights With Toothpaste
You can pay up to $60 to have the hazy headlights open your car "restored." Or you can polish them with a rag and toothpaste, according to MotoringAbout.com.
My results were okay — at least as good as a $10 cleaning product I'd previously tried.
Watch Price Cycles at Walmart
I've covered Walmart savings hacks before, and I've reported on what happened when I used Walmart's Ad-Match Guarantee.
But here's another trick: Buy when products are at the low end of their price-cycle.
Walmart routinely changes prices on some items, raising the price long enough to call it a regular price, so they can then announce a "price cut" when they lower it.
Once you identify these ups and downs you can stock up while prices are low, and wait out the high-price period.
I do this for several favorite products, saving as much as 33 percent.
Clear Your Browser Cookies
One contributor on Quora.com suggests that online retailers may track you and adjust prices upwards depending on which websites or pages you've previously visited.
He might be right, given the recent growth of dynamic pricing (instantly adjusting prices according to various factors).
The solution is to clear your browser cookies before shopping on a website, so the retailer can't know where you've been.
Shop Online Away From Home
Shopping-hack expert Mark Ellwood agrees you should clear your browser, but also notes that some retailers may use your IP address to determine your location and adjust prices accordingly.
He suggests VPN to hide your IP address, or simply checking prices away from home before you make a large purchase online.
Get a Refund if the Amazon Price Drops
Amazon will often refund the difference in price if you buy something from them and the price drops in the next 30 days.
They don't advertise this, and you have to ask for it, but there are numerous reports of customers successfully getting a refund.
Save on Non-Resident Tuition
Attend college in another state and you might pay double or triple what residents pay.
But you can get a big discount if the college participates in the Midwest Student Exchange Program, and if you live in Illinois, Indiana, Kansas, Michigan, Minnesota, Missouri, Nebraska, North Dakota, or Wisconsin.
The MSEP advises that you contact the Campus Administrator to ask how to apply as an MSEP student, and says to expect "savings between $500 and $5,000."
Get Executive Level Customer Support
Have you ever spent thirty minutes on the phone with customer support and still not had your problem resolved?
On LifeHacker.com, Alan Henry suggests you start with regular customer service, to establish an attempt to resolve your problem, but then quickly escalate to higher levels as necessary.
Asking for a manager might work, but Henry also recommends using CallRed.com, which he says "lets you send a private, complete message directly to a company's executive customer service team."
Your Thoughts: Do you know of any great consumer hacks for getting better prices, products or service?
Image by
Robert Couse-Baker
via
Flickr