Darci Lynne has found her niche in life, since there aren't many ventriloquists out there.
She won the 12th season of "America's Got Talent," the reality show hosted by Tyra Banks and featuring judges Howie Mandell, Simon Cowell, Heidi Klum, and Mel B. And she was twelve years old at the time.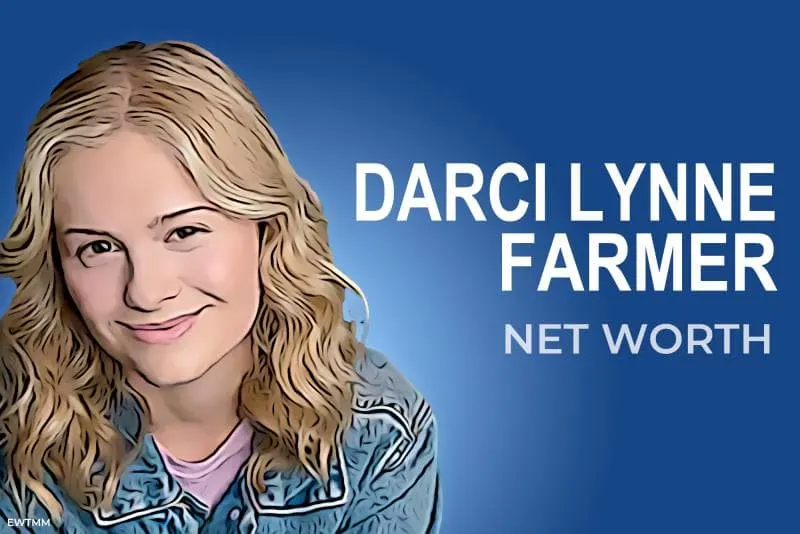 | | |
| --- | --- |
| Net Worth 2023: | $8 Million |
| Born: | October 12, 2004 |
| Age: | 19 |
| Height: | 5 ft 2 in (1.57 m) |
| Native Country: | United States |
| Place of Birth: | Oklahoma City, Oklahoma |
| Source of Wealth (SOW): | Entertainment |
| Updated: | March 12, 2023 |
She is currently on tour with her ventriloquist act and has appeared on "Little Big Shots" (NBC), "Kids Baking Championship" (Food Network), and numerous talk shows.
Further, she just made her motion picture debut in a movie called A Cowgirl's Song. I think we'd all like to have her net worth at any age, particularly before turning 18!
Darci Lynne's Childhood
Darci Lynne was born into a big family in the U.S.'s Southwest, with three brothers, Nick Farmer, Dalton Farmer, and Nate Farmer. Her parents are Clarke Farmer and Lynne Farmer.
Darci Lynne's real name is, of course, Darci Lynne Farmer but she decided to perform as Darci Lynne, a stage name and not a nickname.
While Lynne discovered early that she enjoyed singing, she was shy about performing. It was actually this that paid off for her, spurring the career that would lead to her amazing net worth.
Her parents encouraged her to enter a pageant when she was attending Deer Creek Middle School. It was at this pageant that Darci Lynne happened to spot Laryssa Bonacquisti, a teenage ventriloquist.
The two struck up a friendship, and Laryssa took Lynne under her wing, teaching her how to make a dummy seem to magically speak.
It was now ventriloquism all the way for Darci Lynne. If you're wondering how Darci Lynne got rich, that's how.
Terry Fator, a famous ventriloquist, said that Lynne was "the most perfect" ventriloquist he'd ever seen, and she was only 12 at the time!
The ironic thing is that she combines singing–which she was originally nervous about–with her puppetry. She also brings in comedy and is known to have great comic timing.
She'd had a few performances before going on "America's Got Talent" in 2017. In fact, she became the first under-18 ventriloquist to perform at the Vent Haven International ConVENTion.
As for the fateful TV show, her first performance amazed the judges so much that Mel B pressed her "golden buzzer" to send Darci Lynne to the next round automatically.
This was a memorable moment that caused Darci to burst into tears of joy on stage. It also made a lot of people think it would be really cool to have a golden buzzer sitting around at home just for fun.
Darci Lynne's Ventriloquism Career
When Darci Lynne won Season 12 of "America's Got Talent," it really kick-started her career. She came back for an All-Star season soon thereafter.
While she did get voted off in the 3rd round, she made a wildcard appearance back onto the show and came in as the runner-up.
She was much loved by the media, since not only was she young and accomplished for her age, but also because ventriloquism is such a rare and difficult skill.
Therefore, she began earning bookings far and wide to show her talents. She has appeared at Caesar's Palace (New Year's Eve), her own NBC Christmas special, and the grand Ole Oprey.
One unique thing about her act is that she has multiple puppets, including Petunia, Nigel, and Scarlett, mostly animals. It's one thing to have one dummy, like a lot of ventriloquists do, and to develop so many characters at such a young age is amazing! What a talent!
Television and Movies
Her unique talent landed her a role in the 2022 movie A Cowgirl's Song. The movie is about a girl who rides horses and competes in barrel riding who permanently injures her legs.
It is, however, an inspiring story. Lynne has also been on All That and Scooby-Doo and Guess Who? On the latter, she played the voice of her puppet, Petunia.
To put it in perspective, other guest stars on the show include Axl Rose, Mark Hamill, Halsey, and Gigi Hadid.
One of her biggest appearances was on "The Ellen DeGeneres" show in 2017. She wowed Ellen DeGeneres with a performance. A high-profile appearance like that is nothing to sneeze at.
Darci Lynne Personal Life
Lynne was homeschooled through the sixth grade. Ironically, just as she started public school, she had to miss school to appear on "America's Got Talent."
The filming of her film debut (on screen herself, rather than as voice talent) A Cowgirl's Song took place in Oklahoma, her native state.
Her favorite color is black. Her favorite sport is football.
Wisely, she keeps her relationship status under wraps. She's just too young, you see.
Darci Lynne's Social Media
When someone born after 2000 becomes famous, you can certainly bet she'll have a huge social media presence. After all, that's how young people get their content.
Instead of watching a little feature on a movie or reading an interview, they catch the material from their favorite stars' social media accounts.
Instagram is one of her main avenues for keeping her fans up to date on her tours and appearances.
She has just shy of a million followers, and she is sure to reward her fans with a few personal shots as well as photos of her and her mom and dad. It's all about keeping it real.
| | |
| --- | --- |
| Darci Lynne Farmer | Social Media |
| Instagram handle: | itsdarcilynne |
| Instagram followers: | 911K followers |
| YouTube handle | @DarciLynneOfficial |
| YouTube subscribers: | 1M subscribers |
| TikTok handle | @itsdarcilynne |
| TikTok likes: | 81M likes |
| Facebook handle | ItsDarciLynne |
| Facebook followers: | 2M followers |
| Twitter handle | ItsDarciLynne |
| Twitter followers: | 100K followers |
| Updated: | March 12, 2023 |
On Twitter, she has almost a hundred thousand followers and recently posted a video with her dancing around a couch with a bunch of her puppets, heralding her 2022 tour.
Darci Lynne Life Lessons
There are so many life lessons we can learn from Darci Lynne, the beloved ventriloquist from Oklahoma. Imagine learning life lessons from a teenager. Well, Darci Lynne's net worth is greater than yours, so pay attention!
The first thing is to be fearless. Imagine entering a pageant to sing as a way of getting over your fear of singing! So many parents would tell their child they didn't have to do such a challenging, frightening thing, and many children would take the opportunity to back out. But Lynne went for it, and not only did she excel, but at that pageant, she got into ventriloquism.
The next lesson is to be flexible. Imagine running into a girl a few years older than you who said you should get into "belly talking," a funny nickname for ventriloquism. If you were nervous about singing, singing without moving your mouth would seem impossible.
Plus, a lot of young kids would say that something so old-fashioned would never go over with today's audiences. But she went for it anyway, and look how it turned out! She's rich and famous.
Finally, a great takeaway from the life of Darci Lynne is to stay on brand. When she appeared on quite a few TV shows, she was playing herself–that is, one of her puppets would be on and she'd be doing the voice. That is a wonderful marketing tool.
Each time she makes an appearance on a well-known TV show in the character of one of her puppets, she's advertising her career!
Darci Lynne also took her act that had been so successful on AGT and turned it into a touring show. So many people want to branch out into makeup lines, recording deals, travel shows, everything. Darci has stuck with her brand and incorporates it into everything.
Darci Lynne Quotes
"I really, I really want a golf cart. But I know that won't happen."
"I go to California and New York, and it's not like the people are really mean."
Darci Lynne Net Worth
The champion of "America's Got Talent" and touring ventriloquist is known to have a net worth of nearly $8 million dollars. Sources differ on this number, and it can be hard to know.
However, there is no doubt that merchandise sales, the salary for movie roles, etc., really add up in addition to ticket sales for her tour. It's important not to get carried away, but there's no doubt that Darci Lynne is a successful business person. Why she hasn't gotten a golf cart yet is anyone's guess.
Perhaps they don't come in black.
Darci Lynne FAQ
What is Darci Lynne's Net Worth in 2023?
Without having access to her bank accounts, we estimate that Darci Lynne's net worth in 2023 is nearly $8 million dollars. Check back in 2024 to see if it's even higher!
How much Does Darci Lynne Earn?
Many of the details of her earnings are kept private. We know that she has made appearances at Caesar's Palace and has been on tour since 2017. She earns a lot!
How much is Darci Farmer worth?
By wild coincidence, Darci Farmer's net worth is the same as Darci Lynne's net worth, nearly $8 million. That keeps them from being jealous of each other.
How old is Darci Farmer now?
Darci Farmer was born in 2004. So subtract this year from that year, subtracting a year if it's not yet October 12. At the time of this writing, she is 5073.
It is important to bring attention to the fact that the net worth of Darci Lynne Farmer is not publicly available and the specific amount cannot be determined.