Taylor Sheridan is a rare breed, a Hollywood fixture who is also a member of the Texas Cowboy Hall of Fame! Sheridan is the co-creator (along with John Linson) of the acclaimed television series Yellowstone.
He is also the Oscar-nominated writer of Hell or High Writer. Sheridan transitioned into these creative roles after racking up a killer resume as an actor.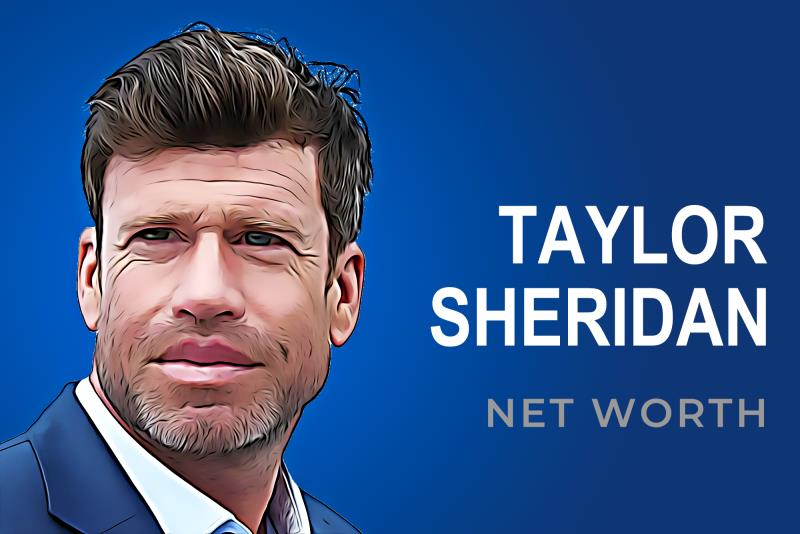 | | |
| --- | --- |
| Net Worth 2023: | $15 Million |
| Born: | May 21, 1970 |
| Age: | 53 |
| Height: | 5 ft 11 in (1.79 m) |
| Native Country: | United States |
| Place of Birth: | Cranfills Gap, Texas |
| Source of Wealth (SOW): | Entertainment |
| Updated: | March 12, 2023 |
A luminary like Taylor Sheridan is certainly going to have a solid net worth before all is said and done. If you'd be interested in knowing this juicy detail, read this scintillating article!
All your questions about Taylor Sheridan's net worth will be answered in this adventurous mystery article!
Taylor Sheridan's Early Life and Education
The American actor, writer, and producer Taylor Sheridan was born May 21, 1970 in Cranfils Gap, TX. His family was poor and worked a ranch.
Unfortunately, his parents bickered throughout Taylor's childhood and ultimately split up, though not until he'd graduated high school. Still, it wasn't the easiest childhood.
Another rough patch in his formative years came when Sheridan was bed-ridden with pneumonia at 11.
However, due to being laid up, he did watch a lot of movies, an important part of his future.
Taylor Sheridan then went to Texas St. University as a theater major, later explaining that it sounded like fun.
Not long after college, Sheridan ran into a talent agent who offered him a chance to go to Chicago and try to break into show business.
That's a strange destination for such a thing, but he would soon hit cities like New York and L.A. and hit the big time.
Taylor Sheridan's Early Career
As a young man–in his twenties–Taylor Sheridan made a name for himself as a co-star of Sons of Anarchy, in the role of David Hale. Further cementing his acting reputation as an actor was his recurring role as Danny Boyd in Veronica Mars.
From there, it was time for him to write his own screenplays, and that's when his career really took off. He authored Sicario, Hell or High Water, and Wind River, which are now known as the "frontier trilogy."
These films, with simple plots but well-developed characters became known as a new style of Western. Some of them involve Texas rangers.
They put Sheridan on the map as an excellent screenwriter. There's nothing like a great screenwriter because it is very difficult for actors to do their scenes with no script.
| | |
| --- | --- |
| Taylor Sheridan | Social Media |
| Instagram handle: | taylor_sheridan0908 |
| Instagram followers: | 7K followers |
| YouTube handle | @yellowstone |
| YouTube subscribers: | 1M subscribers |
| TikTok handle | @yellowstone |
| TikTok likes: | 15M likes |
| Facebook followers: | 9K followers |
| Twitter handle | taylorsherida0 |
| Twitter followers: | 338 followers |
| Updated: | March 12, 2023 |
Taylor Sheridan's Later Career
Taylor Sheridan took the momentum he'd built up and only improved his already-great career. He became a head honcho of a show when he created the TV series Yellowstone.
This Western is set in Montana and stars Kevin Costner as the head of the main family, the Duttons. Co-stars are Wes Bentley, Kelly Reilly, and Luke Grimes co-star.
While the first season might be an exception, the show has gotten incredible reviews on some of the online review aggregators.
It also has been nominated for dozens of industry awards. How's that for a boy from a tiny farm town in Texas?
Taylor Sheridan's Personal Life
Taylor Sheridan is married to Nicole Muirbrook. The gorgeous Ms. Muirbrook is a model who has been presented by Vogue Girl and Vanidades.
She also played a role in a movie directed by Jada Pinkett Smith.
One of Taylor Sheridan's buddies is Jeremy Renner, the established actor who played a nice role in "The Hurt Locker."
Sheridan is a Giant in the Industry
Hollywood is known to be a cutthroat industry. You can be a nice person and be handsome, and that's great.
You can come from a small town or New York or Tokyo and that's all very well and good. But you have to get results, and Taylor Sheridan has done just that.
For example, the season 4 premiere of "Yellowstone" got more than 14 million viewers.
That kind of clout allowed Sheridan to get two spinoffs to "Yellowstone" in addition to new non-Yellowstone projects, such as "Mayor of Kingstown" and "Lioness." What a boss.
Sheridan and Native Americans
When he was in his 20's, Sheridan visited a Lakota sweat lodge with a friend as a way of escaping the rigors of city life in Los Angeles.
He felt that it was an amazing experience, but he thought it may have been Americanized and not completely authentic.
He therefore went to a reservation in South Dakota to find a more authentic experience, and this is partly where his experience with Native Americans began to grow.
The authenticity of experience of Native Americans and its portrayal of television is crucial to Sheridan.
For that reason, he has put great effort into ensuring the utmost realism so that he is neither condescending to anyone or co-opting their culture.
Taylor Sheridan and Harvey Weinstein
Harvey Weinstein is a former film producer who was accused of terrible sexual assault by more than 80 women in the film industry.
Several years ago, Weinstein was at the helm of Taylor Sheridan's movie Wind River.
When the "me too" allegations began mushrooming, Sheridan, sensibly, had to distance himself from Weinstein and his criminality.
He did so by seeking backing from other companies and finally getting it from Acacia Entertainment.
This awesome company is owned by the Tunica-Biloxi tribes. It scrubbed all evidence of Weinstein's involvement from the movie, and then gave profits of the film to the National Indigenous Women's Resource Center, which assists Native American females who've been assaulted or abused.
Harvey Weinstein was sentenced to 23 years in prison and has had his appeals declined.
Taylor Sheridan and Feminists
We can see that Taylor Sheridan did not want to make a movie with the backing of Harvey Weinstein. It may be the case that the perception would be that he is fighting for the cause of women.
However, Taylor Sheridan has taken a fair amount of criticism. In fact, he does have a bit of a reputation as being disliked and maligned by women.
Some criticism has come from the depiction of some women in his programs, which were set well over a hundred years ago. Jane Banner from Wind River, played by Elizabeth Olsen, is one target.
There sure are a variety of different opinions out there, and we should all choose for ourselves.
Taylor Sheridan's Net Worth
I bet you're really wondering about Taylor Sheridan's net worth by now, right? Right? Well, spoiler alert, it's $15 million.
You're not going to be in charge of successful TV shows without making some bank.
Why is Taylor Sheridan's net worth so low?
Well, his net worth is $15 million. If you would like him to make more money, maybe text him your brilliant ideas for movies.
How Much Does Taylor Sheridan make?
Actor, director, and showrunner Taylor Sheridan makes $250,000. This is the material we have as of this year, and it could definitely change.
Who is Taylor Sheridan's wife?
Mrs. Sheridan. Just kidding. Actually, he is divorced, but was once married to model Nicole Muirbrook.
It is important to note that the net worth of Taylor Sheridan is not a publicly disclosed figure and the exact amount cannot be confirmed.