Pop music and Country music have intermingled for decades, and singer and songwriter Walker Hayes carries on that tradition.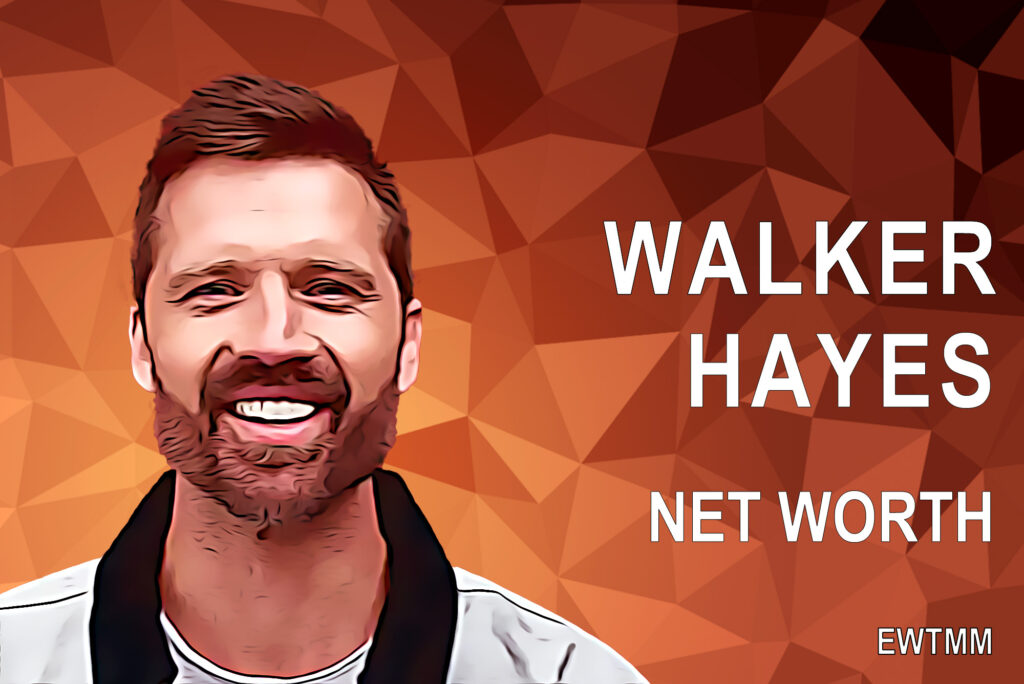 | | |
| --- | --- |
| Net Worth 2023: | $5 Million |
| Born: | December 27, 1979 |
| Age: | 43 |
| Height: | 5 ft 10 in (1.77 m) |
| Native Country: | United States |
| Place of Birth: | Mobile, Alabama |
| Source of Wealth (SOW): | Music Industry |
| Updated: | March 13, 2023 |
The CMT Music Award winner has made a career with catchy tunes that appeal to a variety of listeners.
He sings very "relatable" songs about very everyday occurrences. No doubt, Walker Hayes is making money, but how much?
Stay tuned for the shocking conclusion! Just keep in mind, he's "fancy like that."
Walker Hayes, The Formative Years
Charles Edgar Walker Hayes was born in the nutruting lap of tradition that is the American South–Alabama to be exact–in 1979.
He's He's the youngest of nine kids, and his father, Charles Hayes, was a realtor.
Like many American boys, Walker spent time throwing the pigskin around with his friends, later attending college football games.
His dreams of becoming a musician came a bit later. Along the way, he developed a taste for chain restaurants like Applebee's, and rather than going to the University of Alabama like some of his siblings, instead attended Birmingham-Southern College with a major in music performance.
Walker Hayes' Music Career
Walker Hayes is certainly no Hank Williams or Johnny Cash. Rather than singing for the downtrodden, he sings for fans of the Olive Garden to give them something to rattle around in their heads while they dip their breadsticks.
His music belongs to the sub-genre "bro country," which brings us good-time songs with joyous tunes, sometimes incorporating hip-hop or hard rock, almost as if its practitioners had listened to a few too many Kid Rock albums.
The gangly singer-rapper released his first single, "Pants" in 2011. For years, Hayes put out albums that met moderate success in the country music world.
But walker Hayes' net worth took a turn for the better when he adopted his bro country style and started being a bit more humorous.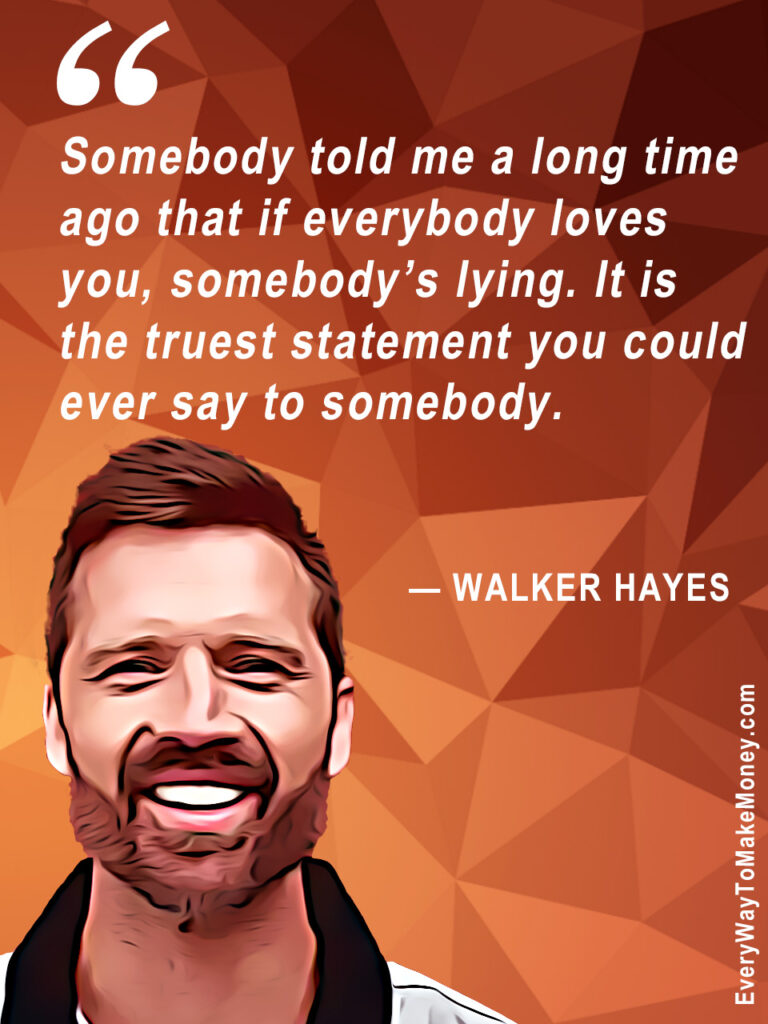 After his song "Pimpin' Joy" failed to make a dent in the country music charts, he finally struck platinum with his famous hit "You Broke Up with Me."
After that, Hayes kept going with "Fancy Like," a song whose popularity shows that a lot of people like hearing white guys rap as long as they think they're listening to country music.
Then again, some of the song's popularity comes from a dance Walker does in with his daughter in the video, which made the video a viral tik-tok hit.
His next big hit was "Y'all Life," with a video feautring trucking, church choirs, football players, and many teenage girls.
During his lean years, Hayes recorded with Capitol Records Nashville, before growing a beard and signing on with Monument Records.
In fact, being dropped by Capitol is the inspiration for "You Broke up with Me," in which "you" is meant to represent the Nashville music establishment.
As for his new home, Monument Records, the company's artists include Caitlyn Smith and Tigirlily.
Can any of those singers match Walker Hayes' net worth? Maybe one day we'll know.
Walker's All Life
Walker Hayes has a fulfilling personal life, which chiefly includes driving the pick 'em truck into town for shakes at a chain restaurant and then writing songs about it.
Hopefully, we'll soon get a smash hit about using the U-Scan at the local Sheetz or big ole bargains on jeans at the nearest Wal-Mart.
If Walker spends any time not doing those things, it's with his wife Laney, who he recently described as "bangin'" in an Instagram post.
If he comes up with words that rhyme with "bangin'," ("slangin'", "dangin'") look out!
Another top ten hit.
| | |
| --- | --- |
| Walker Hayes | Social Media |
| Instagram handle: | walkerhayes |
| Instagram followers: | 1000K followers |
| YouTube handle | @WalkerHayes |
| YouTube subscribers: | 538K subscribers |
| TikTok handle | @walkerhayesofficial |
| TikTok likes: | 41M likes |
| Facebook handle | walkerhayes |
| Facebook followers: | 569K followers |
| Twitter handle | walkerhayes |
| Twitter followers: | 60K followers |
| Updated: | March 13, 2023 |
Walker Haye's wife and he are raising seven children, which makes sense given the large family in which Walker was raised.
True, that's a lot of shakes at Applebees, but a lot of love, too. A lot of love.
It may be interesting to see how many of the Hayes kids become performers themselves.
But in the meantime, it's a bit interesting that Hayes has chosen to be more of a homebody–some performers purposely put off a family and keep it small, since their life involves the road.
Hayes takes his whole family–plus a dog–on tours with him. He keeps it real with his large family.
Walker Hayes' Net Worth
We know that Hayes is frugal, going to chain restaurants instead of living like a fancy celebrity.
No doubt his savings have played a role in his net worth being an impressive $5 million.
Think dancing with your daughter on Tik-Tok is a waste of time? Think again.
It's also important to remember that Hayes' popularity really didn't start until 2017, so while his net worth may seem modest, remember that net worth takes time to build up.
What Can Walker Teach Us?
If you want a net worth like Walker Hayes' net worth, take heed. Branding is everything.
If ever a man fit the image of a bro-country star it's Walker Hayes. He inherited a life that is so on the nose it's scary: born down south, big family, football fan, simple tastes, etc.
Some people, upon success, branch out into new and different cultures, religions, etc. But walker's brand is country, and country is about tradition.
So, Walker Hayes married Laney Beville Hayes and started building a big family like the one he grew up in.
He apparently had everything figured out by the time he was about twenty and seems intent on sticking with what works.
And that can mean what works for his audience. His videos are full of close-ups of American flags, shots of Walker sitting on bales of hay, and bros wearing mesh baseball hats.
He knows which buttons to push, and more to the point, which not to. You're not going to get anything deep, philosophical, or political from him anytime soon, unless they start putting vegan whipped cream on the shakes at Applebee's.
Give the people what they want and start counting the Benjamins.
FAQ
What does "Keep my daughter off the pole" mean?
In the Walker Hayes song "AA" he sings "tryna keep my daughters off the pole," which refers to the Chris Rock joke that a father's only job is to keep a daughter off the stripper's pole. That seems to strike a chord with a lot of people.
What Made Walker Hayes Famous?
Walker Hayes struggled in country music for years until his breakthrough hit "You Broke Up With Me," a barb at the Nashville music scene, which dropped him. His style is called "bro-country."
What Song is Walker Hayes Famous For?
The song that has brought Walker Hayes the most fame is "Fancy Like," in which he talks about a country lifestyle and does a dance with his daughter that celebrates milkshakes with whipped cream.
Is Walker Hayes Related to Hunter Hayes
No. Walker Hayes is from Alabama, Hunter from Louisiana. Walker records "bro country" songs whereas Hunter is much more rootsy, playing some 30 instruments.
It should be acknowledged that the net worth of Walker Hayes is not a matter of public record and the exact number cannot be confirmed.