Zac Stacy's net worth takes a backseat as we delve into the life of former NFL player Zac Stacy, renowned for his time with the St. Louis Rams.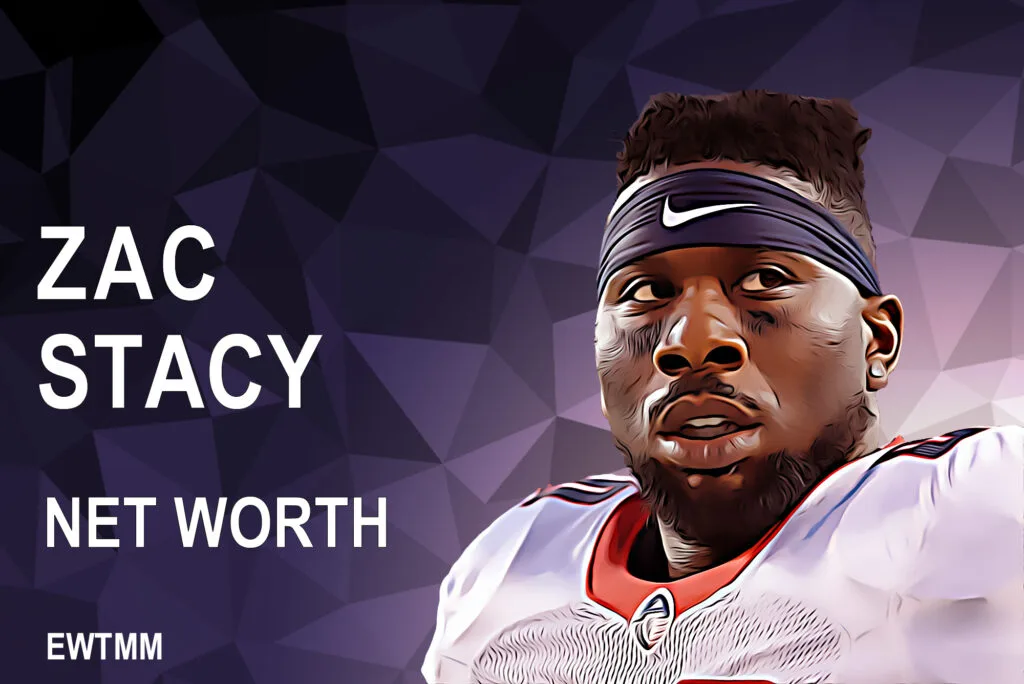 | | |
| --- | --- |
| Net Worth 2023: | $6 Million |
| Born: | April 9, 1991 |
| Age: | 32 |
| Height: | 5 ft 11 in (1.8 m) |
| Native Country: | United States |
| Place of Birth: | Centreville, Alabama |
| Source of Wealth (SOW): | Professional Sports |
| Updated: | August 8, 2023 |
Zachary Latrell Stacy goes by "Zac", and is known for two things. He played football, and was recently convicted of domestic violence.
The guilty plea only came in 2023. Here we'll explore details about former NFL football player Zac Stacy, who is perhaps best known for playing with the St. Louis Rams. We'll explore his education, professional career, and Zac Stacy's net worth.
The Way Life Started For Zac Stacy
Zachary Latrell Stacy was born April 9th, 1991 in Centreville, Alabama. Little is known about Zac prior high school, when he began to get offers from multiple schools for his football skills.
Vanderbilt University offered him a scholarship. There was also apparently interest from UAB, Alabama, Auburn, Kentucky, and Ole Miss universities; see more here. In high school, he was known as one of the most valuable players for Bibb County High School.
This got to the point where he was named player of the year.
Zac Stacy's Educational Background
Zac Stacy would accept the offer of Vanderbilt University. From 2009 to 2012, he excelled as a college football player.
Most his work centered around football while in college. He was there to play football, and played well. He would finish his final season at Vanderbilt with 182 attempts, and 1,034 "rushing yards"; read more here.
He excelled to the point where he was an obvious choice for NFL teams, and was drafted for the St. Louis Rams. We'll explore his professional career in closer detail shortly.
Uncomfortable Details of Zac Stacy's Personal Life
Beyond football, Zac Stacy's personal life has turbulent episodes. In large part this has to do with his ex girlfriend Kristin Evans. Zac Stacy was convicted of domestic violence against his ex girlfriend.
There was actually a video of this assault. Compounding the severity of the assault, at the time Zac had a son who was only months old.
The young child was nearby on a couch while Zac delivered multiple blows to Kristin, as evidenced by the video. This all took place in November of 2021. Stacy's girlfriend reported the crime, Zac was sought by local authorities for questioning.
It is alleged he left the state that day. However, he would be found in Florida the following day and arrested.
Zac's explanation for the event was that Kristin staged the assault. Looking at the video, it's clear Zac used inappropriate violence on his girlfriend, which is not justified.
However, it is possible he was instigated. Given the footage, Zac's treatment of a woman is not justified even in the event she pushed him to it.
See the footage yourself, viewer discretion is advised. In February of 2023, he was sentenced to six months in jail and a year of probation. Many say this was a light sentence for his treatment of his girlfriend.
In the same article, Stacy's ex says she doesn't think jail time will help, and that she favors other rehabilitative solutions.
Given the violence of the assault, this has caused some to question the event. Whatever the truth of it, violence isn't excusable.
Notable Professional Highlights of Zac Stacy
In terms of Zac Stacy's professional life, he has some significant accolades. He played for the New York Jets.
He also played for the Saskatchewan Roughriders of the CFL, or Canadian Football League. In the 2013 NFL draft, he was brought onto the St. Louis Rams before asking to be traded.
The best game of his rookie career took place while Stacy played for the Rams against the Seattle Seahawks. In 2019, he began to play for the Memphis Express
Examining Zac Stacy's Social Media Presence
The Facebook profile of Zac Stacy shows the assault had a serious impact on his life. His profile only has 2,400+ friends.
It shows him with his infant son, and varying videos of varying football games. By all accounts, Zac Stacy has had a serious turn-around in his personal life.
If you scroll through his Facebook, it's easy to see that his values have shifted, and he's trying not to let rage control him.
If you do a search of Zac Stacy's Instagram profile, you'll find more accounts, pictures, and other information concerning the domestic violence incident than you'll find posts from Zac himself.
There are 2k+ posts associated with Zac's name, many of them are from his ex, many from those who are irate at his treatment of her.
Since the name "Zach Stacy" is pretty common, there are multiple profiles with Zac's name that are not associated with him.
| | |
| --- | --- |
| Zac Stacy | Social Media |
| Facebook handle | zac.stacy.9 |
| Facebook followers: | 3K followers |
| Twitter handle | zacstacy |
| Twitter followers: | 91 followers |
| Updated: | August 8, 2023 |
What We Can Learn From Zac Stacy's Journey in Life
Zac Stacy worked hard and made it to the top, then he made a serious mistake. As a man, the mistake isn't excusable.
Exceptional strength comes with exceptional responsibility. It's like the Spider-man quote. With great power comes great responsibility.
Zac worked his whole life to become a powerful athlete, and he became one of the best. But he failed to control himself at a critical point.
He is far from the only famous person who has fallen from grace owing to crimes of passion involving women. The takeaway here is more relevant to males as a result.
Regardless how you feel, or whether or not you are being deliberately instigated, you can't get violent with people that aren't as strong as you are.
Especially in football, where chivalry isn't totally dead, this activity is not tolerated.
Examining Zac Stacy's Net Worth
So how wealthy is Zac Stacy? Zac Stacy's net worth is reckoned at around $6 million dollars. There are a variety of factors contributing to this reckoning.
One is his salary, which was $250,000 a month. Now that's actually a low salary, but it's above average. A low-end NFL player might make $50k+ a year, a high-end quarterback might be paid $2,000,000 a year. Zac Stacy played for multiple teams, and had some level of negotiation capability.
$250k a year for six years is only $1.5 million. For him to have a net worth reckoned at $6,000,000 is to say he has had some years where he was paid more than $250k or $50k.
From 2013 to 2015, he was apparently paid $1.7+ million. If we take those three years as an average, his net worth would only be around $3 million.
Lawyers would necessarily be expensive in 2023, and he'll experience some losses from conviction and probation going forward.
It's likely $6 million is a pretty accurate assessment of his net worth, especially if he's been wise enough to properly invest his annual salary.
FAQs About Zac Stacy's Net Worth
How much did Zac Stacy make?
According to estimates, Zac Stacy's present salary is in the neighborhood of $250k a year. He has made more, he has made less. In three years between 2013 and 2015, he pulled in $1.7+ million, which is more than twice the present annual average of his current salary.
How much was Zac Stacy's contract?
Zac Stacy has had multiple contracts, some worth as low as $88k a year, some as high as hundreds of thousands of dollars a year. During the height of his career, he was averaging $500k+ a year.
Where is Zac Stacy now?
In February of 2023, Zac Stacy was sentenced to six months of jail in Orange County, Florida, followed by a year of probation. Ostensibly, as of this writing, Zac Stacy is presently serving his time behind bars.
How long is Zac Stacy doing?
Zac Stacy is supposed to serve six months in jail and one year's probation, putting him out no sooner than August of 2023; unless other factors diminish the total sentence.
What is Zac Stacy's Net Worth?
As of 2023, Zac Stacy's net worth is estimated at $6 million. Zac Stacy amassed riches through his professional football career contracts.
It should be acknowledged that the net worth of Zac Stacy is not a matter of public record and the exact number cannot be confirmed.