When you're out and about, life throws surprises at you. Using public bathrooms can be inconvenient at best.
One group of entrepreneurs found they could market a sanitary wipe for men for any needed soothing of sensitive body parts.
This became Dupe Wipes, which made a successful appearance on Shark Tank, a reality show for people seeking funding for their startups.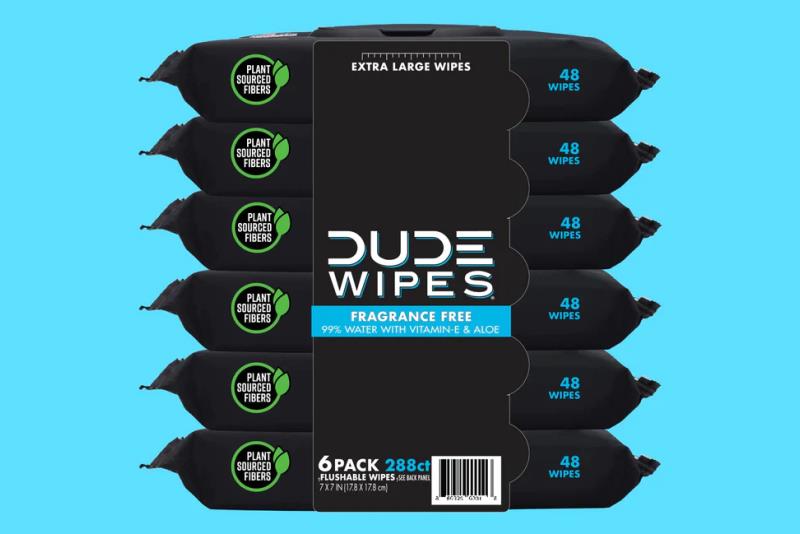 | | |
| --- | --- |
| Net Worth 2023: | $25 Million |
| Native Country: | United States |
| Source of Wealth (SOW): | Entrepreneur |
| Updated: | January 1, 2023 |
We'll get into Dude Wipes' net worth so you can quantify their success.
Dude Wipes Early Life
Ideas often come from one's personal experience, and Dude Wipes are no exception.
Founder Sean Riley was an average college student. At some point he decided to get candid with the friend who'd become the Dude Wipe Guys.
He asked them if they'd had the same experience he had, which was that toilet paper wasn't always adequate, and that sometimes left things a bit uncomfortable.
There's also an odor issue that can become a factor while out in public.
The fellows agreed that dude products could come into play, and they came up with flushable sanitary wipes.
At first this counterpart to women's products seemed like a joke to the dudes, but they ultimately found that something was there.
Shark Tank
Shark Tank is a fascinating, high-stakes reality show in which what's ultimately at stake is an entrepreneur's business.
Would-be CEO's go on the show and describe their business to a panel of real-life investors who have real money to invest.
Well, imagine the fateful Shark Tank episode on which a bunch of fresh-faced young men were displaying their wet wipes.
It must've looked like a fraternity field trip had stopped at the Martha Stewart show.
In any case, the world-renowned Mark Cuban offered the tidy sum of $300,000 for 25% of the company.
He counseled the boys that they should stick to the wipes and not to get drowned in opportunities that would come their way.
And with that, a company was underway and it just needed to grow. It was time for the dudes to establish the Dude Wipes brand and get the money flowing.
Covid Helps Dude Wipes
The four founders of the company didn't have much trouble getting their products in stores.
And then something happened. In March of 2020, Covid-19 began to rocket across the globe.
With threats of being quarantined for an indefinite period of time, a lot of Americans began hoarding toilet paper like so many selfish gorillas.
Soon, news reports were popping up all over the place, creating a panic with their video footage of empty shelves!
Well, Dude Wipes had the hookup with available product, and when people read the package and figured it was worth a try, even for non-dudes, Dude Wipes appeared invincible.
With revenue skyrocketing close to $30 million by the end of the year, the company's net worth was heading for the moon.
Dude-oderant
As Mark Cuban had predicted, there were opportunities and ideas flying around due to the Dudes' early success.
They decided, in the midst of Covid, to expand to deodorant. I mean, if you're going to be sitting around in quarantine all month, you don't want to offend yourself with your stink, right?
Well, they ran into a problem, but maybe not the one you might guess. It wasn't that this product line didn't sell.
No, they sold out their line, bringing in $180,000 in the process. However, when they regrouped and thought about it, they felt as if they'd essentially lost money.
What? Well, their sanitary wet wipes were beginning to really make a dent in the toilet paper market share.
Dude wipes struck a nerve due to people's frustration with the low availability of toilet paper.
Could their flushable wipes wipe out Charmin? Well, that's the mystery of which they never got to the bottom.
That's because by spending so much R&D and time and money on their deodorant, the Wipes Dudes weren't spending as much time and energy on their number one product.
Finally, they got rid of the deodorant altogether.
Diversified Dudes
Now, because this dynamic quartet wanted to stick with their golden sanitary wipes didn't mean that they couldn't diversify their product line some.
So, in addition to minty and unscented varieties, they also went with various sizes and levels of portability.
Then the creative juices really started flowing and they decided to open up products like powder, shower wipes, and even underwear.
Once they launched their bidet-like product, you could forget about it–this was a successful company.
Dude Wipes Net Worth
While this company has been the butt of quite a few jokes due to its product line, they've definitely had the last laugh.
Their net worth, as of 2023, is estimated at $25 Million. Now, this must be split four ways, but it's still nothing to sneeze at.
The company definitely took a chance, and it may not have known where it was headed.
Indeed, the female investors on Shark Tank thought their wipes were too thin, and were never interested.
Is it the case that the dudes tapped into something truly dude-ly? Did they find a way to meet a need that many businesspeople just hadn't recognized?
Maybe. Maybe.
Dude Wipes FAQ
How much did Mark Cuban make from Dude Wipes?
Well, the investment Mark Cuban made in that fateful episode of Shark Tank was for 25% of the company. If the company is now valued at $25 million, does that mean Cuban got $6 million out of the deal? Maybe.
Is Dude Wipes Still in business?
Yes, they are very much in business and going strong, adding more accessories and products, and making dude-blog posts about some icky subjects. It's a pretty good strategy, since most people will skip to the call to action at the end.
Did Shark Tank invest in Dude Wipes?
You ask a good question, my dude. It turns out that one of the people on Shark Tank, Mark Cuban, made a $30,000 investment in the company.
Are Dude Wipes Worth it?
They're definitely worth it if Dude Wipes swoops in and starts dumping cash on us. If they don't, then we'll find some other wipe company to give us money and then we'll recommend them. Watch this space.
It is important to bring attention to the fact that the net worth of Dude Wipes is not publicly available and the specific amount cannot be determined.