David Pilkey, known by his author name Dav Pilkey, is a popular children's book author. But what's David Pilkey's net worth?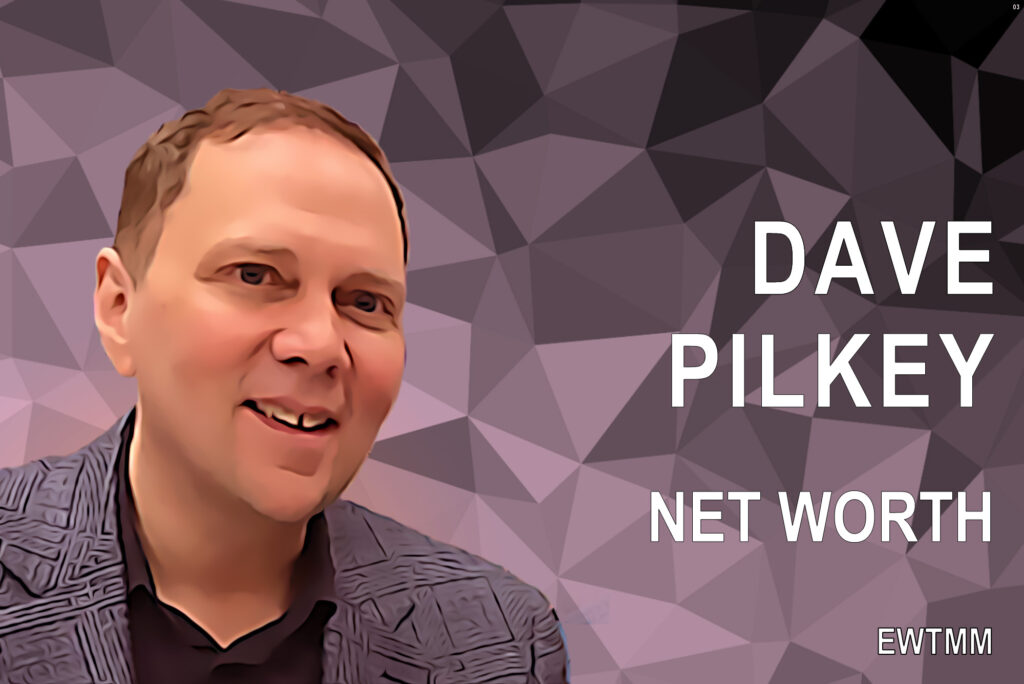 | | |
| --- | --- |
| Net Worth 2023: | $52 Million |
| Born: | March 4, 1966 |
| Age: | 57 |
| Native Country: | United States |
| Place of Birth: | Cleveland, Ohio |
| Source of Wealth (SOW): | Publishing |
| Updated: | May 29, 2023 |
His career has featured several bestselling kids books series such as the Dog Man series and the Captain Underpants series.
Dav has made an impressive career for himself as a kids book author and illustrator, but how rich is Dav Pilkey?
In this article we'll take a look at his life journey, and dig into Dav Pilkey's net worth.
Young Dav Growing Up Cleveland
Dav was born on March 4, 1966, in Cleveland Ohio. His parents David Pilkey Sr. and Barbara Pilkey named him David Murray Pilkey Jr.
Growing up, Dav's parents were actively involved with the church. David Pilkey Sr. was a reverend, and Barbara played organ for their church.
Dav's family stayed in the Cleveland Ohio area and Dav went to elementary school in Elyria, Ohio.
Dav's Hidden Gift
As a young kid, Dav was diagnosed with attention deficit, hyperactivity disorder (ADHD) and dyslexia.
As a result Dav would often run into trouble with his teacher in class. This would often result in him getting kicked out of the classroom to sit at a desk by himself in the hallway.
It was during this time sitting alone in the hallway outside the classroom, that Dav first came up with his famous character, Captain Underpants.
After finishing high school, Dav went to Kent State University in Ohio. Dav married Sayuri Pilkey to be his wife in 2005. The two don't have any children.
Sayuri is also a creative person like Dav and has worked as a professional musician. The couple live together in the Pacific Northwest on Bainbridge Island, Washington.
From Classroom Troublemaker To Bestselling Author
The character eventually got turned into an animated movie produced by DreamWorks.
The movie featured big name celebrities including Kevin Hart and Ed Helms. Dav made his debut graphic novel after the new millennium, in the year 2002.
It was a comedy adventure book called The Adventures of Super Diaper Baby.
The book did well and placed Number 6 on the USA Today bestseller list for both adult and children books.
The Adventures of Super Diaper Baby was also a New York Times bestseller for the Children's Middle Grade books category.
Dav continued to write and illustrate for his various projects until 2007, when he took a few years off on hiatus to be there for his terminally ill father. His father passed away on November 13, 2008.
In 2008, Dav agreed to return to publish four new books with scholastic and continues to write today.
Dav Pilkey's "The Adventures of Ook and Gluk: Kung-Fu Cavemen" Controversy Resurfaces in 2021
Dav Pilkey's book "The Adventures of Ook and Gluk: Kung-Fu Cavemen" faced renewed controversy in 2021, leading to its withdrawal by publisher Scholastic.
The book, which was originally released in 2010, was criticized for perpetuating harmful racial stereotypes and passively racist imagery.
Pilkey apologized for the book's offensive content in a video posted on YouTube, acknowledging the harm caused by the book's portrayal of Chinese culture.
Critics argued that the book relied heavily on offensive caricatures of Chinese people, including the use of "Chinglish" and other stereotypes. The book's portrayal of Kung-Fu as a mystical and magical practice was also criticized for perpetuating the "mystical Asian" stereotype.
Scholastic made the decision to withdraw the book from publication, citing its perpetuation of passive racism. Pilkey expressed regret for his past work and pledged to do better in the future.
Pilkey's apology and Scholastic's decision to withdraw the book from publication demonstrate a commitment to promoting diversity and inclusivity in children's literature.
Finding Dav Pilkey On Social Media
Dav keeps his and his wife's personal life private and is not active on social media.
However, several of his popular long running book series have their own official Facebook pages.
| | |
| --- | --- |
| Dav Pilkey | Social Media |
| Instagram handle: | dav_pilkey |
| Instagram followers: | 12K followers |
| YouTube handle | @PIlkeyDotCom |
| YouTube subscribers: | 35K subscribers |
| TikTok handle | @dav..pilkey |
| TikTok likes: | 3K likes |
| Facebook followers: | 6K followers |
| Updated: | May 29, 2023 |
Books Sales And Movie Deals: Breaking Down Dav Pilkey's Net Worth
Dav keeps his finances private like much of his life. So we can't say what his net worth is for sure.
But based on his decades long career of publishing books, Dav Pilkey's net worth is estimated to be roughly around $52 million.
Dav quietly earned this massive wealth through his popular children's book series such the Captain Underpants series and the Dog Man books, which have sold more than 80 millions of copies worldwide.
On printed books, a conventionally published author typically receives 5-20% royalties. Dav Pilkey's books retail for around $8. Based on the 80 million copies sold, this would place his income before taxes between $32 million and $128 million. Applying average tax and savings rates, this leads to an estimated net worth of over $52 million.
Dav has also partnered with film and TV production companies to turn his books into animated movies and TV shows, from which he is able to earn royalties.
Dav Pilkey's Net Worth FAQs
What does Dav Pilkey suffer from?
Dav was diagnosed with ADHD as a young kid, and as a result, would constantly get into trouble with his school teacher for misbehaving. While sitting in detention, Dav would come up with his famous character captain underpants.
Is The Dog Man Series Over?
The Dog Man series is still running today. The latest edition was released on March 28th 2023. There is even a movie currently in the works.
How Does Dav Pilkey Pronounce His Name?
Dav pronounces his name like Dave with the 'e'. He got the idea to remove the 'e' while working a job at pizza hut. While at work, the letter 'e' was removed from his name tag, giving him the idea to use the spelling Dav.
Is Dav Pilkey A Best-Selling Author?
Dav has written several bestselling children's books, including The Paperboy, the Captain Underpants series, and the Dog Man books have sold millions of copies all over the world. Dav's work has been translated to many languages.
Please note that the net worth of Dav Pilkey is not publicly disclosed and the exact amount cannot be confirmed.